Ducky Grand Prix Children's Health Clinic fundraiser

Visit the Members Making a Difference page
Written by Connie Somers, Grand Prix Region President 
Photos by Royce Rumsey & Connie Somers
PCA Grand Prix Region (GPX) members enjoy giving children healthier and brighter smiles and have contributed to Children's Dental Health Clinic (CDHC) for many years. Normally GPX collects donations at each of its events. Unfortunately, 2020 has been a difficult year. All our events were canceled during COVID quarantine and our charity donations were almost non-existent. What could our club do to give back to our community?
GPX Region is proud to help CDHC each year. The Children's Health Clinic (www.cdhc.org) is the only hospital-based dental clinic in the Greater Long Beach area in California. They are unique in providing Specialty Care Pediatric Dental Treatment to 10,000 underprivileged children and young adults each year, from birth through age 21. Over 30% of the children they serve have special needs or complex medical considerations, such as autism, Down Syndrome, and cleft palate.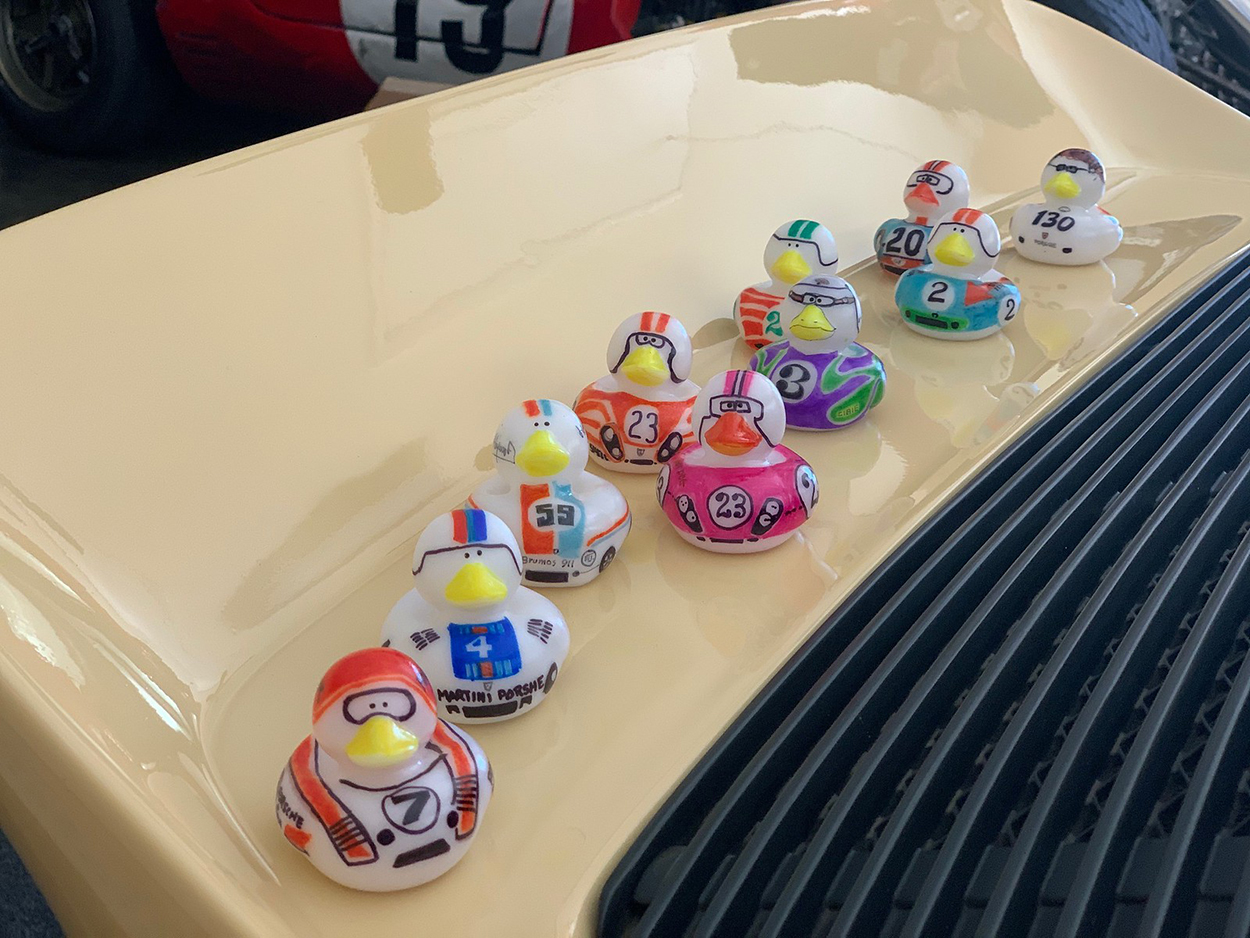 GPX didn't want to let down the children at CDHC. Therefore, the Grand Prix Region hatched the idea of a virtual ducky race. Our club could have some fun, while social distancing, and give a child a smile! And since we are the Grand Prix Region, what better name than the Ducky Grand Prix!
As the idea grew, so did the donations. Anyone could sponsor a duck and enter the race, and sponsorships ranged from $11 to $50 per duck. We had all kinds of ducky models to choose from — just like configuring your Porsche. You could enter the race with a Ducky "Base" Model or select from a multitude of Specialty Ducks. The Unicorn Ducks, Race Cars Ducks, Armed Forces Ducks and Rock Star Ducks were very popular. GPX loved offering a duck for everyone! We gratefully supported our First Responders with Firefighter and Law Enforcement Duckies.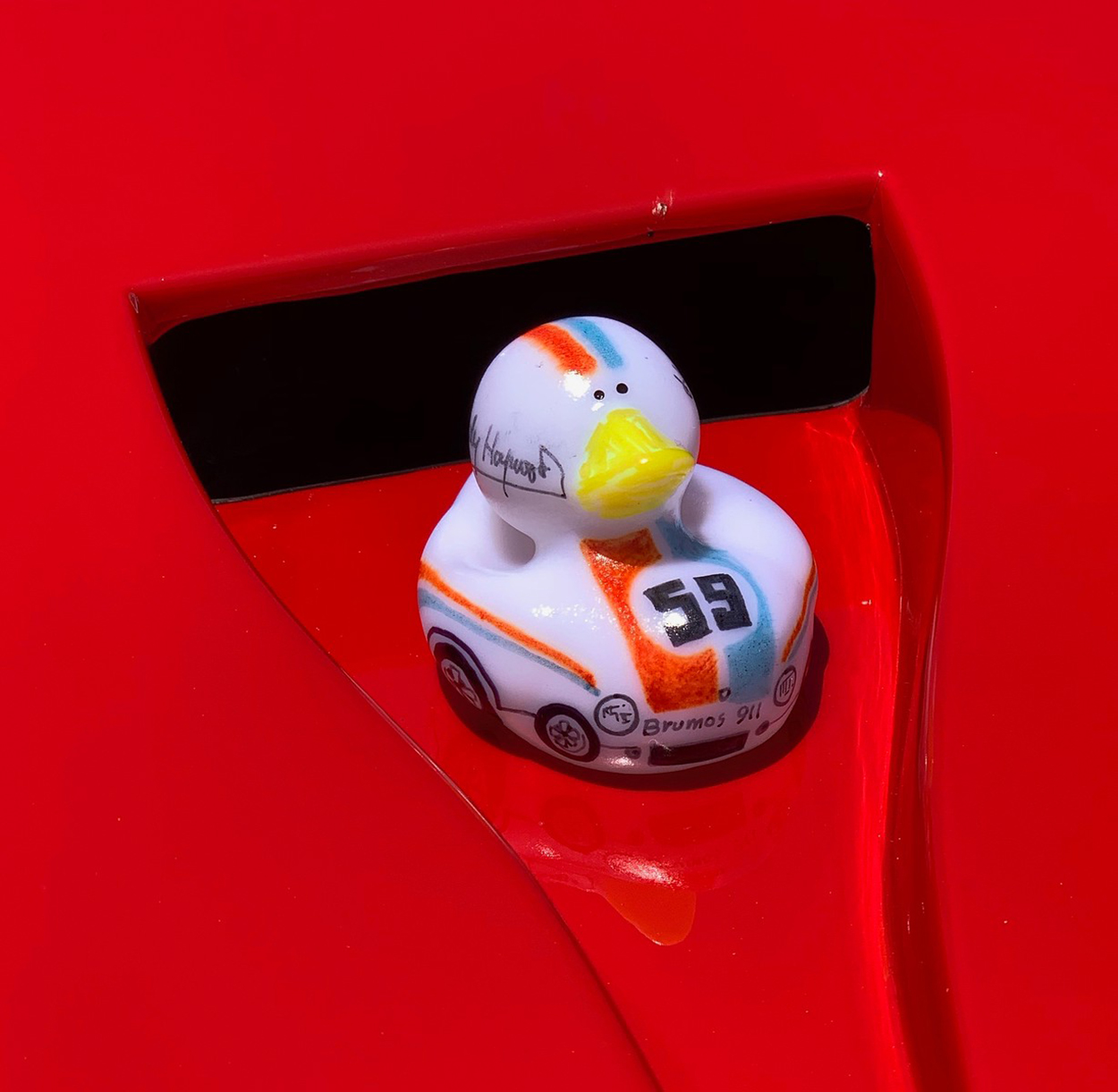 But the Ducky Racers favorite entries turned out to be the famed Paint-To-Sample (PTS) ducks! The PTS ducks were hand painted by GPX's President - yep that's me! The PTS duckies got more and more elaborate! Each PTS ducky had the drivers name on their duck helmets. Options included: racing numbers, stripes, headlights and Porsche badges. Racers were very specific on their paint selection on their racer duckies! They wanted THEIR actual Porsche car color. Shhh... don't tell anybody, but the same "orange" sharpie marker was used no matter if they wanted Blood Orange, Gulf Orange, Tangerine, or Lava Orange! We will have to get Porsche involved next time with some actual Porsche paint!
We had a selection of One of a Kind Ducks including the Duck Trooper, R2Duck2, Grateful Duck, Dr. Duck and many more! Our GPX Artist, Steve Foster, created amazing historically accurate ducky replicas of Iconic Liveries in Motorsport in our Heritage Collection! Among them were: #3 Hippy 917, #130 James Dean 550 Spyder, #4 Martini 917, #23 Pink Pig 917, #20 Steve McQueen Gulf 917, #7 Follmer 917/10 Can-Am and of course #59 Brumos Haywood/Gregg RSR.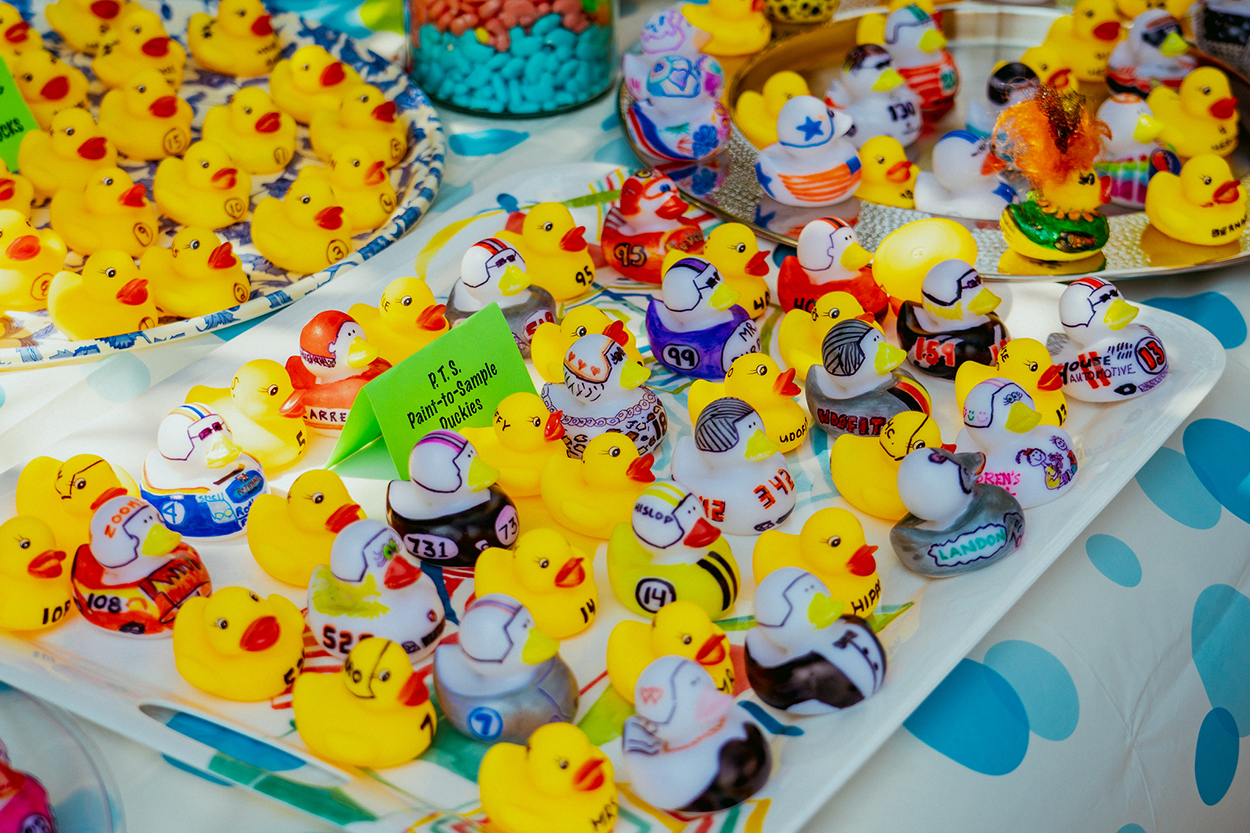 Our web designer extraordinaire, Bill Simon, quickly updated our GPX web page to display all the Ducky Grand Prix information. It included all the unique photos from the duckies on location photo shoots. The favorite Racer Ducky shots included the images of the Heritage Collection on a Spyder wheel and the ducks all lined up on a real '82 911 Ducktail. The ducks trained hard for the race and even partook in some training sessions at the Pacific Ocean, which resulted in some fabulous video. Pictures and videos are on our website (gpx.pca.org) and PCA Grand Prix Region Facebook page. Suesan Way Carter coordinated the massive registration and ducky selection on MotorsportReg and collected all our donations. Our event photographer, Royce Rumsey, documented the action with lots of outstanding shots. We had fabulous prizes for the podium winners donated by House Automotive. 
After weeks of training, all the entries were ready to race. The duck pool was prepped with banners and flags. The Grid area and Finish Line were in place. Floating tires helped define the apexes. We had high-tech rubber hose propulsion in place to assist the ducks reach maximum speed. The special pit crew helpers, Anastasia Berta, Lisa Hunter & Roz Rustigian, were awesome in getting the ducks on the grid and waving the checkered flag. Some of duckies tried their best to escape the grid, but the pit crew and grid marshall quickly corralled them back behind the start line.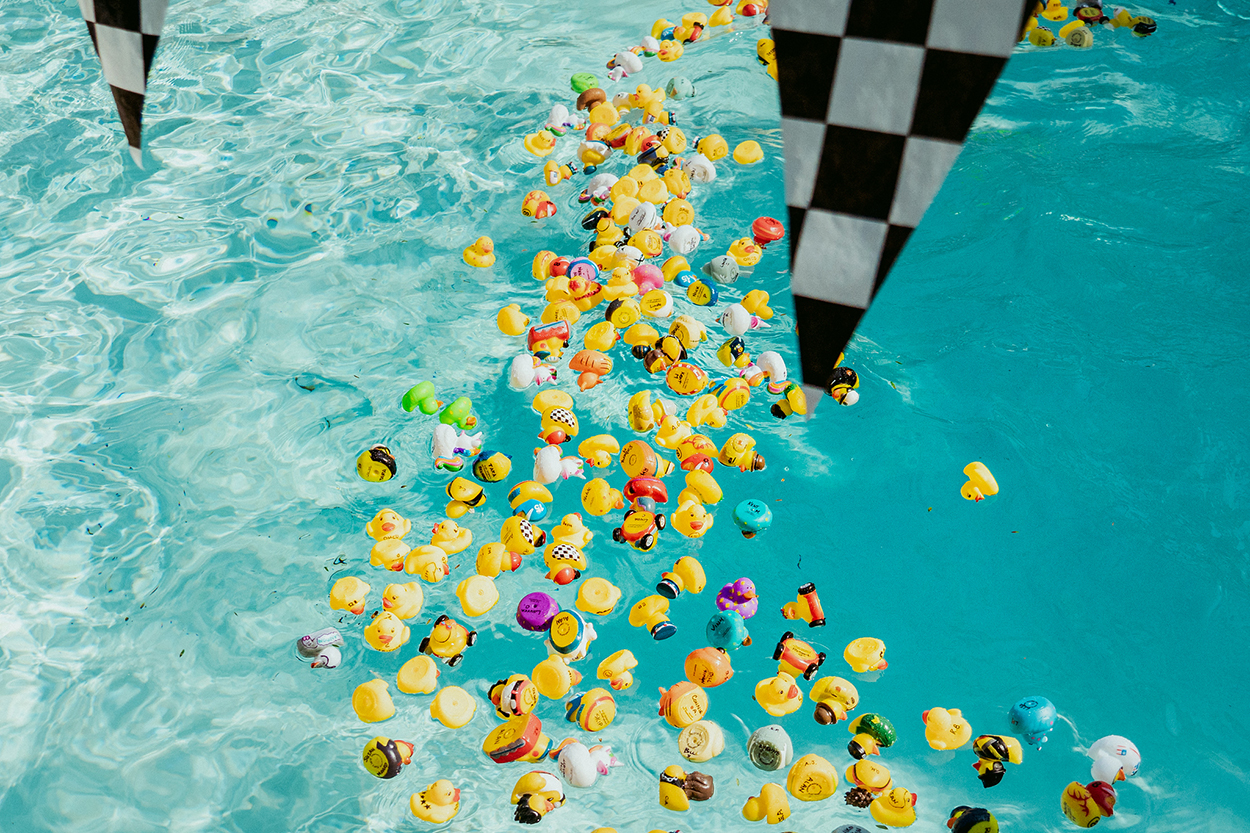 Our announcers, Michael Dolphin and Tiffani Lewis, were full of enthusiasm as they called each race. The races were set up by classes and multiple heats that resulted in a fierce competition. The anticipation was immense and even the Racer Ducks felt it. It's probably why we encountered a few false starts! Luckily our Technical Advisor, Bill Follmer, quickly challenged them and the pit crew got them back in grid. A couple of the volunteers even shouted out "fowl play!" after one false start.
Once off, the duckies tended to clump together and run in one giant flock as they approached Turn 1. Most of the cluster took Turn 1 very wide with a few going completely offline. Some even crashed into the concrete side barriers, but quickly recovered and got back in the race. The announcers were questioning, "What racing line are the racers following?" The ducks seemed to be using the splash and go technique. Paddle shifting seemed to be the norm. Most of them made it around the Daffy Hairpin and through the Somer Esses. The pack seemed to veer off the Porsche Straight, but made the drop on the back Quackscrew. They had a tough time keeping traction with all the water on the course, but eventually got back on the racing line. Some had trouble in the GPX Chicane but found their way on the last Pool Sweeper. Almost to the Checkered Flag a couple of racers missed the apex and got sucked into the Carousel Skimmer.
The level of anticipation was unbelievable! Each of the winners were announced after every heat. All the duckies that reached the podium received their Quacktastic Awards. One of the most exciting moments of the day was when Landon's Hippo Duck pulled away from the pack. With the Hippo Duck's incredible paddling technique and passing skills, he became the first recipient of the checkered flag. The Pink Pig Livery has nothing on the Landon Hippo. Rumor has it that Porsche will be using the Hippo design for its next Le Mans Prototype.
Of course, it turned out to be the Duck Race of the Season. Thanks to everyone's generosity the Ducky Grand Prix was a huge success. Everyone thought our goal of $5,000 was optimistic. Not only did we reach that goal, we exceeded it! GPX will be presenting Children's Dental Health Clinic a check for $7,000. So blessed and thankful to have everyone get involved and give back to our local community. A huge Thank YOU to EVERYONE who raced & donated!
---
Every year across Porsche Club of America, members are making a difference with many heartwarming and thoughtful acts of kindness. The above are a few of those community contributions. Be sure to check e-Brake News to read more about PCA Regions making a difference and visit the Members Making a Difference page for additional past articles. If your Region has a charitable activity or event that you would like to share, contact us to share the story.