Werks Reunion 2015
The Porsche Club of America will hold it's second annual Werks Reunion Friday, August 14, 2015. It is the premier Porsche event during the world-famous "Monterey Car Week" on California's Monterey Peninsula. From 7 AM to 4 PM, attendees will be treated to a stunning display of nearly 700 classic and new Porsches, special presentations, vendor booths, celebrity guests, and a few surprises. Porsche Cars North America and Michelin will have the latest Porsches on display, while the world-renowned Ingram Collection is bringing a handful of classics, including an Abarth Carrera GTL, a 550 Spyder, and two 356 Carreras.
Werks Reunion is free for spectators and open to everybody who wants to enjoy the Porsches.


2015 is also the 40th anniversary of the 911 Turbo, Porsche's first turbocharged, road-going supercar that took the world by storm during the 1970s fuel crisis. Though it was not the first turbocharged road vehicle, it was the first to bring the performance-enhancing technology into the mainstream in a time when high-performance cars seemed a dying breed. Today the 911 Turbo is still Porsche's top non-GT 911 model, employing twin turbochargers and a high level of standard equipment.
2015 Features:
Porsche Concours d'elegance
Porsche Corral
Nearly 700 Porsches of all types will be on display
Celebration of the 911 Turbo's 40th anniversary
Rare Porsches onsite from collectors such as the Ingram Collection 
See the limited-edition 911 GTS Club Coupe and other new Porsche models
Visit the vendor booths
Relax in the Bier Garten and enjoy the food and drinks


Cash bar opens at 10 AM
Lunch served on site from 11 AM to 1 PM. This year we have new food vendors with many choices. 

Free entry for all spectators, PCA membership not required
Prizes given away to Werks Reunion participants


A trip to the 2016 24 Hours of Le Mans
A trip to the Porsche Experience Center in Atlanta
A set of Michelin tires every hour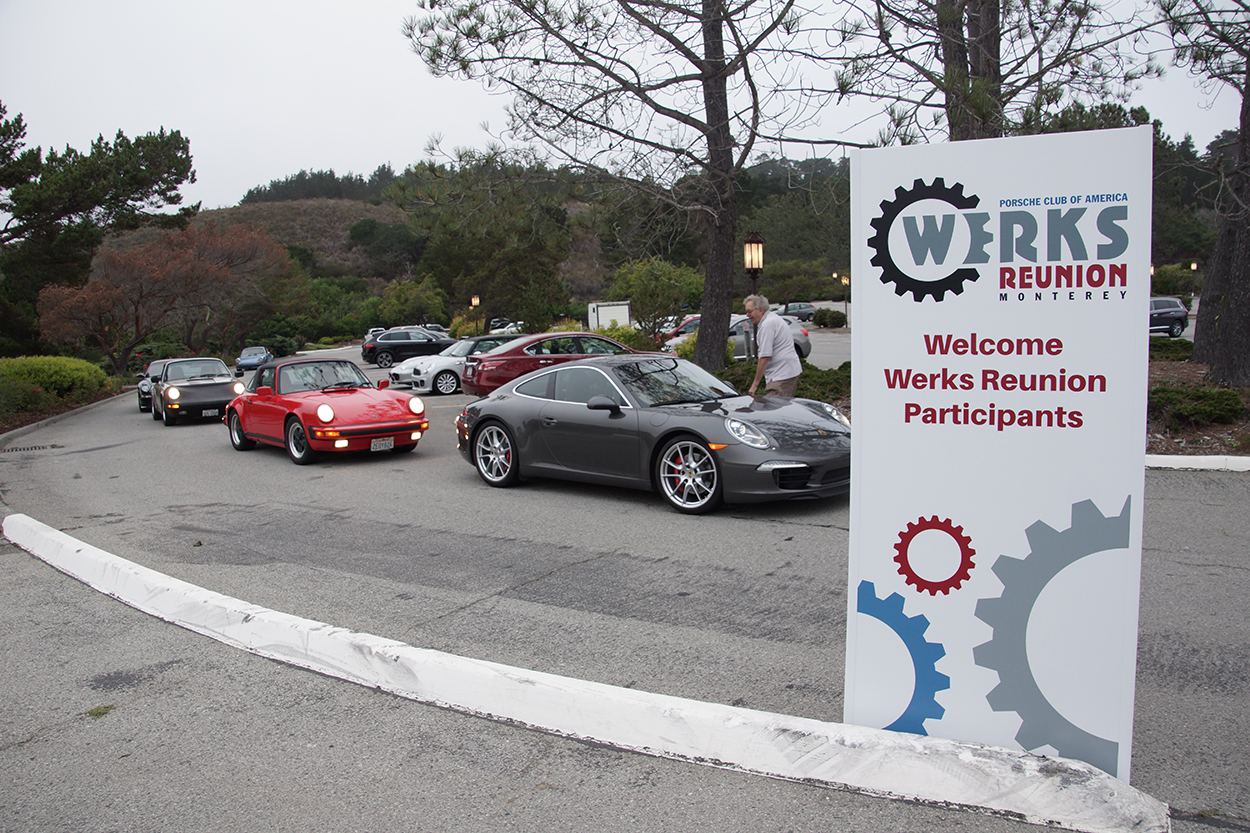 Werks Reunion Parking Details: Porsche owners who registered for the event may display/park in the concours or corral. Spectator parking will be available for $10 at the Community Church of the Monterey Peninsula adjacent to Rancho Cañada Golf Club and also on the course's fairways.
PCA held the first annual Werks Reunion last year after co-hosting Legends of the Autobahn car show with other German car clubs at Rancho Cañada for several years. PCA's Executive Council thought that a Porsche-only car show could sustain itself, an idea that was proved correct when thousands of spectators came to see more than 500 Porsches at Werks Reunion.

Where to find coverage of Werks Reunion
PCA.org: PCA's official website, PCA.org, will host a blog during Werks Reunion that will be updated throughout the event. Expect to see posts about the event, its participants, their Porsches, and more. Journalists may use event photos on PCA.org. Any photos used must be credited to Damon Lowney/Porsche Club of America unless otherwise noted.
WerksReunion.com: Visit the official website for information about Werks Reunion. Concours winners and runners-up will be posted on the website after the event.
Facebook: Official Werks Reunion content on Facebook will appear in two places, PCA's official Facebook page (Facebook.com/PorscheClubofAmerica) and Werks Reunion's official Facebook page (Facebook.com/WerksReunion).
Twitter: Official Werks Reunion content on Twitter will appear at PCA's official Twitter account, @PCANational. 
Instagram: Official Werks Reunion content on Instagram will appear at PCA's official account, @PCANational.
Hashtags:
Event-specific hashtags:
#WerksReunion
#WerksReunion2015
#40Years911Turbo
Porsche Club of America hashtags:
#PCA
#PorscheClubOfAmerica
#PCANational