Friday, September 15, 2017

to

Saturday, September 16, 2017
Porscheplatz at the Lone Star Le Mans
Circuit of the Americas, Austin, Texas, September 15-16, 2017
TICKETS STILL AVAILBLE!!!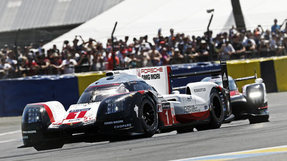 Join Porsche Club of America (PCA)  and Porsche Cars North America (PCNA) at the Porscheplatz for a thrilling weekend of speed culminating in six hours of world class endurance racing. The same stars and cars that battled for victory in the 24 Hours of Le Mans will be there.  Don't miss this historical race and cheer Porsche on to victory!
The Porscheplatz tent will be located at Turn 15 (new location) adjacent to the grandstands, and provides great viewing of several turns. Catch the action live, or relax in the Porscheplatz tent, watch the races on live feed TV and enjoy a cool beverage.  All PCA members and Porsche owners are welcome to the Porscheplatz tent, with a general admission ticket to the races. Be sure to bring proof of PCA membership (membership card) or proof of Porsche ownership (key, key fob, insurance papers) 
The Porscheplatz is sponsored by Porsche Cars North America (PCNA) and staffed entirely by PCA volunteers.
Enjoy unrivaled access to teams and drivers, an open paddock, and grid walks. Every guest is invited to be on the grid before the start of the six hour WEC main event.
  CLICK HERE for ticket information. Circuit of the Americas (CoTA) has many ticket and parking options are available. Call 512-655-6300, visit  CoTA website, or contact Jimmy Glodich, CoTA sales representative at 512-655-6317. 
(You do have to purchase the Car Corral ticket package from CoTA for entry to the Porscheplatz tent, just a general admission ticket to the races.  Admittance to the Porscheplatz tent is complimentary to all PCA members and Porsche owners.)
FOR MORE INFORMATION: Contact  PCA Car Corral / Porscheplatz Chair, Lynn Schermerhorn Friedman or 832-563-9577
Helpful Links:
Porsche and the FIA World Endurance Championship (WEC)
FIA World Endurance Championship (WEC)