Wednesday, October 4, 2017

to

Saturday, October 7, 2017
Porscheplatz At Petit LeMans
Join Porsche Club of America (PCA) and Porsche Cars North America (PCNA) at the Porscheplatz at the Motul Petit Le Mans at Road Atlanta, Braselton, GA., Friday, October 6 and Saturday, October 7. The Porscheplatz tent will be the hub of activity for PCA members and Porsche owners. The Porscheplatz tent is located just over the bridge between  Turn 10B and 12. 
You can relax in the tent, enjoy a cool beverage, and watch the races via live feed TV.  We will have presentations by Porsche GT and GT4 teams and drivers, Mobil 1 and Michelin. There will be a special garage/paddock tour to Alegra Autosport (space is limited, sign up required at the Porscheplatz Tent) ​ Special raffles will be held both days, including ones for a Hot Pit Experience. Hot Pit Experience winners are given the exclusive opportunity to have a personally guided  tour into the hot pits during the races. (Winners must be 18 years of age, have closed toed shoes and wear long pants) On Saturday morning, PCA Cafe will have coffee and donuts to jump start your race day.
The Porscheplatz tent is open to all PCA members and Porsche owners. Be sure to bring proof of membership (PCA membership card) or Porsche ownership (i.e. key fob, insurance papers)
NEW UPDATES 9/30/2017
​PORSCHEPLATZ AGENDA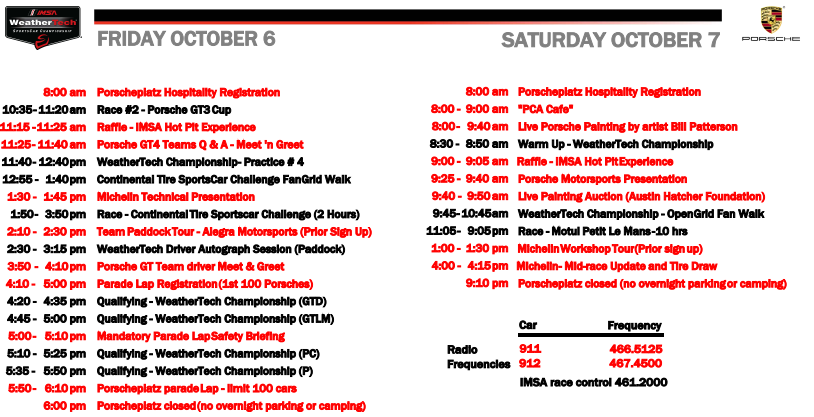 Parade Lap
If you purchased the Porsche Car Corral** parking pass from the track, (and are parked in the Porsche Car Corral)  you have the opportunity to participate in "Porsche Only" Parade Laps that will be held on Friday, October 6. Sign up for Parade Laps will be Friday,  4:00 - 5:00 pm in the Porscheplatz tent, and is limited to the first 100. No advance sign up. You will be required to attend a Mandatory Safety Briefing at 5:00 pm (also in  Porscheplatz tent) before Parade Lap staging. Cars will be on track for Parade Laps at 5:50 pm.
Special this year at Road Atlanta
Road Atlanta and IMSA will celebrate the  20th Anniversary of this world-famous endurance race, and it will be an event to remember. The 10-hour sportscar enduro finishes under the stars and serves as the season finale for both the IMSA WeatherTech SportsCar Championship and the Tequila Patron North American Endurance Cup. Factory and privateer teams alike from all four classes of competition will battle into the night for the championship, as it all comes down to this race.
All-new fan activities this year include taking a ride on a 90-foot tall Le Mans-style Ferris Wheel, with great views of the track. The Fan Zone will also feature live music and a kickoff party at Zac Brown's Southern Ground tailgate and a 20th Anniversary Celebration Tent, and guests can catch Le Mans playing on Friday night at Spectator Hill and Turn 10.
Tickets:
 CLICK HERE to purchase tickets from Road Atlanta. You can also call the track direct at 1-800-849-RACE. A variety of ticket packages are available. 
**To  park your Porsche in the Porsche Car Corral, you must purchase the Car Corral parking pass in addition to your race ticket from the track.
Note:
As a Porsche owner or PCA member, you are always welcome in the Porscheplatz tent with your general admission ticket to the races.
More information:
Vic Rola, PCA Zone 3 Representative
Lynn Friedman, Porscheplatz / PCA Car Corral Chair -  porscheplatz@pca.org or 832-563-9577