Thursday, January 25, 2018

to

Sunday, January 28, 2018
PCA Car Corral at Rolex 24 at Daytona
Agenda update 1-24-2018 (see below)
The world-renowned 56th Rolex 24 at Daytona is scheduled for January 25-28, 2018 at Daytona International Speedway, Daytona Beach, Florida.  PCA welcomes all PCA members, Porsche owners, and their guests to the PCA Car Corral Hospitality Tent, located trackside infield at "The Kink" (Turn 5). There will be interviews with Porsche drivers, product demonstrations, programs and updates from Porsche Motorsports North America. Don't miss your chance to win one of the special drawings, such as a guided Hot Pit Tour during the races. (Must be present to win, 18 years of age or older.) You can also relax in the tent and watch the races on large screen television monitors.
Your general infield admission ticket to the races will get you into where the PCA Car Corral Hospitality Tent is located at Turn 5 Remember to bring proof of your PCA membership (membership card) or proof of Porsche ownership, such as your key, for admittance to the tent.
All tickets sales are handled by the Daytona International Speedway Ticket Office.  or call direct 1-800-PIT SHOP (1-800-748-7467) to purchase.
Please note: All 'Porsche/PCA Car Corral Packages' (admission ticket and "Porsche Only" parking pass in the Car Corral) are SOLD OUT. You must have purchased the Porsche Car Corral Package from Daytona Speedway in order to park your Porsche in the infield PCA Car Corral parking area. No exceptions. (You do not have to have purchased this Porsche/PCA Car Corral package for you to personally come to the tent, you just a general infield admission ticket) 
UPDATED 1-24-2018
​AGENDA - (subject to change)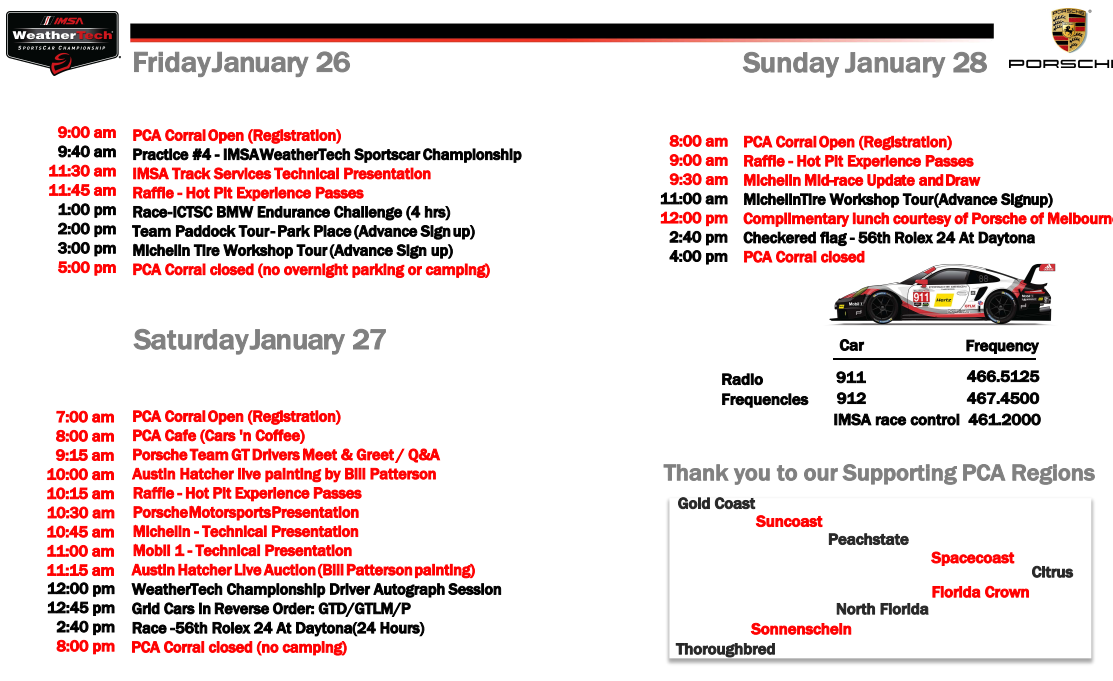 PCA Car Corral / Tent Hours:
Friday: 9 am - 5 pm    Saturday: 7 am - 8 pm
Sunday 8 am - 4 pm
"Porsche Only" Car Corral Parking Hours:
Friday: 9 am - 5 pm    Saturday: 7 am - 8 pm
Sunday 8 am - 4 pm
NO OVERNIGHT PARKING IN THE CORRAL ON FRIDAY EVENING
Porsche vehicles (or any other vehicles) left Friday overnight are subject to tow by the Daytona International Speedway  at owners expense.
Only Porsche vehicles with a Porsche / PCA Car Corral parking pass are permitted in the Car Corral. You must have purchased the Porsche/PCA Car Corral ticket  package from the track  and  be driving a Porsche to park in the Car Corral. NO EXCEPTIONS
Please have your Car Corral parking pass / placard ready to show the PCA volunteer at the entrance to the Car Corral parking. PCA volunteers will assist you in parking. Your PCA Car Corral parking pass must remain  visible in your front windshield at all times while in the Car Corral.
Trailers and golf carts are not permitted in the Car Corral
Camping of any type is not permitted in the Car Corral. Pop up tents are not permitted.
"For Sale" signs and other advertising are not permitted in the PCA Car Corral
***More about the 24 Hours at Daytona  can be found HERE including entry list, spotters guide and more***
For more information contact Zone 12 Representative Lisa Lewis or PCA Car Corral / Porscheplatz Chair, Lynn Friedman(link sends e-mail) 832-563-9577