Friday, June 1, 2018

to

Sunday, June 3, 2018
PCA Car Corral at Detroit Grand Prix
May 23 - NEW UPDATES! Scroll all the way down for the Car Corral Agenda to plan your race day expereince. Items in RED take place in the PCA Car Corral tent.
Join us at the Porsche Club of America Car Corral for the Chevrolet Detroit Grand Prix presented by Lear at the Raceway at Belle Isle Park, Detroit Michigan, June 1-3, 2018. The event will feature the cars of the Verizon IndyCar Series, the IMSA WeatherTech Sports Car Championship, the high-flying trucks of the SPEED Energy Stadium SUPER Trucks and the Trans Am Series presented by Pirelli.
At the PCA Car Corral Hospitality Tent you can enjoy a cool beverage and watch the racing on our live feed TV monitor. We will also have "Meet and Greet" teams and driver visits, paddock tours, and raffles. (including a raffle for "Hot Pit" Experiences) Kick start your race day on Saturday at the PCA Café with some coffee and donuts, and some special guest appearances.
The PCA Car Corral Hospitality Tent is open to PCA members and Porsche owners. Just be sure to bring your PCA membership card or proof of Porsche ownership (key, insurance paper etc.)
Make it a weekend!
Join us at The Henry! A special block of room for PCA  members has been made at The Henry Hotel, An Autograph Hotel,  for a special rate of 139.00.   CLICK HERE to make your reservation before May 21. If you are interested in joining fellow members for a dinner on race weekend, please contact Lori Schutz, PCA Zone 4 Representative.  
SPECIAL POLICE ESCORT from The Henry Hotel on Saturday morning. RSVP by May 29th to Lori Schutz if you would like to join your fellow Porsche Drivers on a tour escorted by a few of the State of Michigan finest from The Henry to Belle Isle.  We will be gathering at 8 am, departing at 8:30 am.  To participate in the special police escort, you must have  purchased and have with you the Porsche Car Corral ticket package from Detroit GP, with respective parking pass in your car. We need a minimum of 20 Porsches to make this happen.  Please let Lori know asap.
 Friday, June 1 is Comerica FREE Prix day!
Gate admission and access to the Fifth Third Paddock is FREE of charge
TICKETS
Porsche Car Corral Ticket Package (admission and parking in "Porsche Only" Car Corral  on Belle Isle in front of the PCA Car Corral Hospitality Tent)
Driving your Porsche to the races? You can purchase a Porsche Car Corral ticket package from the track that includes reserved premium grandstand seating, paddock access and special on-island parking on Belle Isle in the "Porsche Only" Car Corral in front of our PCA Car Corral Hospitality Tent. CLICK HERE to purchase. You must purchase this ticket package if you want to park your Porsche on Belle Isle.
Note: You must be driving a Porsche vehicle to park in the Porsche Car Corral, regardless of the purchase of a Porsche Car Corral Ticket Package. NO exceptions. There is NO general parking on Belle Isle.
General Admission
A variety of single and multi-day general admission tickets are available and may be purchased HERE or contact Detroit GP at 866-464-PRIX (7749)
​Transportation and Parking
A FREE shuttle service will be operating from two downtown Detroit locations to Belle Isle. Parking will be available in specified garages. For more information CLICK HERE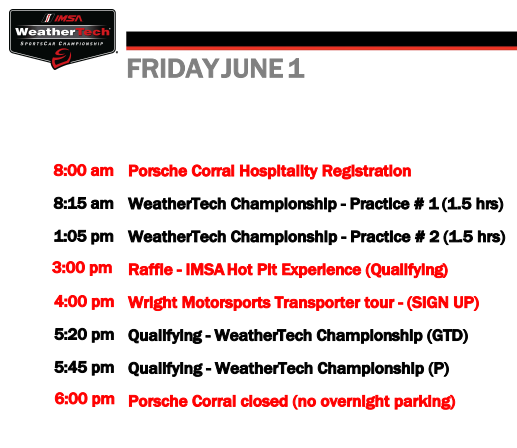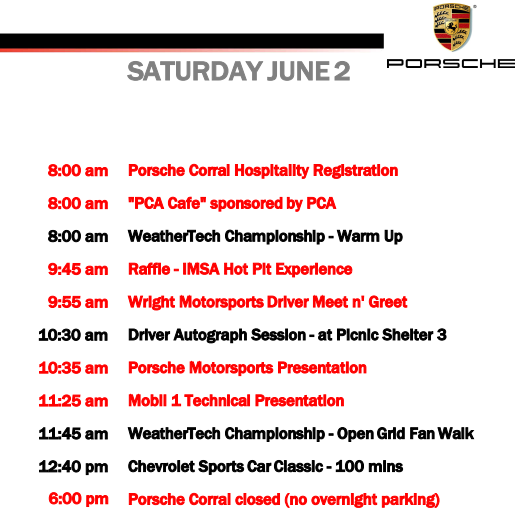 Reminder:
As a Porsche owner and / or PCA member, you are personally welcome to come to the PCA Car Corral Hospitality Tent with your general admission ticket to the races, and do NOT have to purchase the Porsche Car Corral ticket package. Be sure to bring your proof of your PCA membership (PCA membership card) or Porsche ownership (Key fob, insurance etc.)
For More Information
Contact Lori Schutz Zone 4 Representative or Lynn Friedman, PCA Car Corral / Porscheplatz Chair  at 832-563-9577 
Helpful Links:
2018 Chevrolet Detroit Grand Prix Event Guide
FAQ's for the Detroit Grand Prix
Map of Raceway at  Belle Isle (PCA Car Corral Hospitality tent and Porsche Only Car Corral parking is located in the west side of Continental Car Corral)
IMSA and the WeatherTech Sportscar Championship Series