Friday, August 2, 2019

to

Sunday, August 4, 2019
Porscheplatz at the IMSA Road Race Showcase
UST IN! Scroll all the way down for our Porscheplatz Agenda
IMPORTANT UPDATE: PLEASE READ FOR PARADE LAPS
*****Porsche Parade Laps will be offered by Road America.  YOU  MUST PURCHASE  A PARADE LAP TICKET  FROM ROAD AMERICA TO PARTICIPATE. CLICK HERE to purchase and for more information. Space is limited, so purchase your ticket in advance.*********
Join Porsche Cars North America and Porsche Club of America for the Porscheplatz at Road America, August 3 and 4, for the IMSA/Continental Road Race Showcase. The IMSA WeatherTech® SportsCar Championship and IMSA Michelin Pilot Challenge take over Road America's four-mile circuit for what will be one of the most incredible weekends of sports car racing in the world. Fans will get to see the IMSA Michelin Pilot Challenge race on Saturday, Aug. 3, with the WeatherTech® SportsCar Championship race on Sunday, Aug. 4., plus races from the IMSA Porsche GT3 Cup Challenge USA all weekend.
The Porscheplatz is the hub of activity for PCA members and Porsche owners at the races. The Porscheplatz tent is located at Turn 5 and provides a great view of all the racing action. There will be presentations by Porsche Motorsports North America and Porsche GT team drivers. Meet your favorite Porsche drivers in the Porscheplatz tent. You can also just relax in the tent, enjoy a cool beverage, and watch the races via live feed TV.  Other activities include Porsche team garage/paddock tours. Mobil 1 and Michelin will also give presentations.  Special raffles will be held both days, including ones for "Hot Pit Experiences". "Hot Pit Experience" winners are given the exclusive opportunity to have a personal tour into the hot pits during the races. Our 'PCA Cafe' will have coffee and doughnuts to jump start you for race day on Sunday. 
The Porscheplatz tent is open to all PCA members and Porsche owners. Be sure to bring proof of membership (PCA membership card) or Porsche ownership (i.e. key fob, insurance papers)
"Porsche Only" parking is available at the "Porsche Park" in Road America.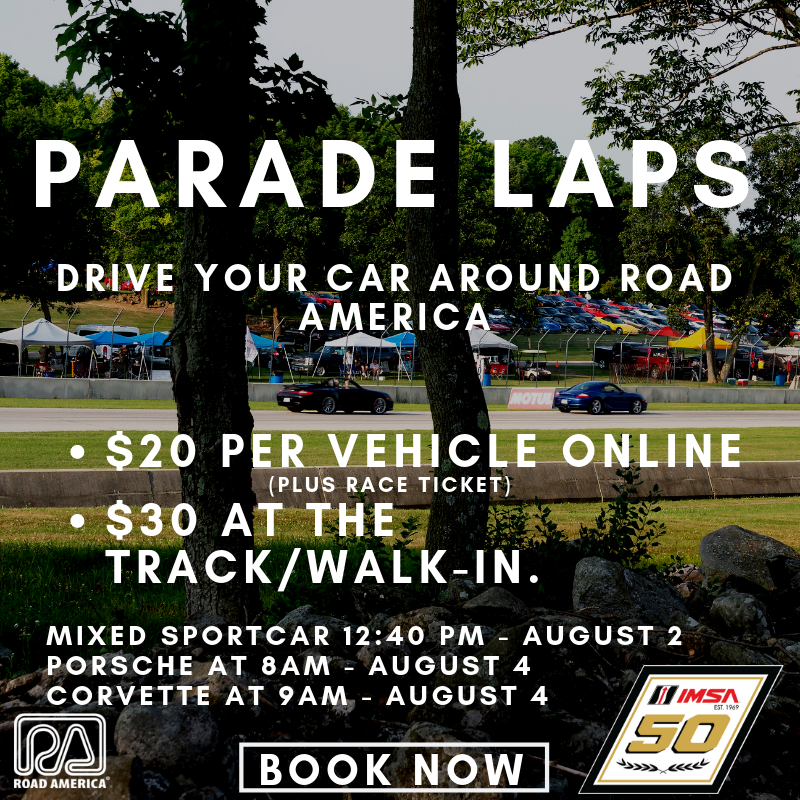 CLICK HERE to purchase your tickets from Road America.