Friday, October 11, 2019

to

Saturday, October 12, 2019
Porscheplatz at Motul Petit Le Mans
Just In: Porscheplatz Agenda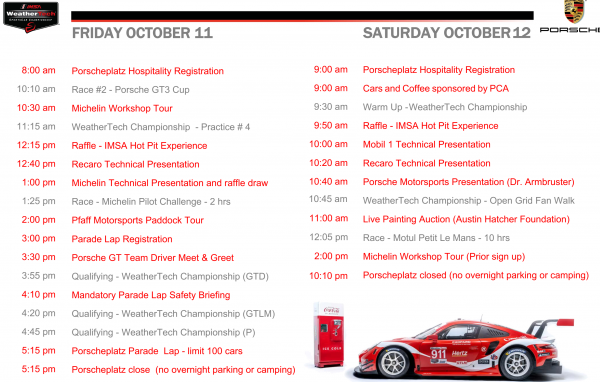 Join Porsche Club of America and Porsche Cars North America for the Porscheplatz at Road Atlanta for the 2019 Motul Petit Le Mans / IMSA Weather Tech Sportscar Championship. The Porscheplatz tent is the hub of activity for PCA members and Porsche owners at the races and includes presentations by Porsche GT team drivers, Michelin, Mobil 1, Recaro and more. Watch the races trackside from the tent or just relax, enjoy a cool beverage, and watch the races via live feed TV.
Other activities include Porsche team garage/paddock tours. Special drawings will be held both days, including ones for IMSA Hot Pit Experiences. IMSA Hot Pit Experience winners are given the exclusive opportunity to have a personally guided tour into the hot pits during the races.
Admittance into the Porscheplatz is exclusively for PCA members and Porsche owners with a General Admission ticket to the races. Remember to bring your PCA membership card or proof of Porsche ownership for admittance to the Porscheplatz. (Porsche key, insurance papers, etc.)
The Porscheplatz is sponsored by Porsche Cars North America and is staffed by PCA volunteers.
Porscheplatz Tent Hours:
Friday 8:00 am – 5:15 pm
Saturday 9:00 am – 10:05 pm
RACE ADMISSION TICKET AND PARKING PASSES
CLICK HERE to purchase your Race Admission from Road America. Race Admission and Parking Passes are purchased separately. A variety of options are available. (Free parking is also available just outside the track near the entrance)  You can also call Road Atlanta directly at 1-800-849-RACE or 770-967-6143
KID FRIENDLY! Children 12 and under enter the event free with a paid adult.
As a PCA member or Porsche owner, you  are always personally welcome to the Porscheplatz tent with your general admission to the races. No special ticket or pre-registration required. Just be sure to bring your proof of PCA Membership (membership card, etc.) or proog of Porsche ownership (key, key fob etc) 
However, you must have purchased a Porscheplatz Car Corral Parking Pass  to park you Porsche vehicle in the Porsche Car Corral. The Pass must be prominantly display in your windshield upon entry and while parked at the Car Corral.
PORSCHEPLATZ CAR CORRAL PARKING PASSES ARE NOW SOLD OUT
"PORSCHE ONLY" PARADE LAP INFORMATION: PLEASE READ
If you purchased the Porscheplatz Car Corral Parking Pass from Road Atlanta, you are eligible to participate in the "Porsche Only" Parade Laps on the track on Friday. Parade Lap Sign up / Registration begins at 3:00 pm. Friday. Everyone must register in person. Parade Laps are held at slow, street legal speeds, and are limited to the first 100 drivers who sign up.  There is no advanced sign up. Driver must have purchased the Porscheplatz Car Corral Parking Pass to participate. Your Porsche must also be parked in the Corral.  All Parade Lap related business, including sign up, waivers, Safety Briefing and staging will take place at the Porscheplatz tent on Friday and will be administered by IMSA and Road Atlanta. No advance sign up. Only Porsche vehicles are allowed. All drivers must present a valid driver license and proof of insurance. Passengers must have valid picture ID (i.e. driver license or government ID with them.) All drivers and passengers are required to sign a waiver. Parent or legal guardian will sign for passengers under 18.
Friday, October 11, 2019
3:00 pm - 4:14 pm          Parade Lap Sign Up / Registration opens. Only PORSCHE VEHICLES are permitted. Limited to first 100 drivers who sign up. All drivers and passengers must sign a waiver. EACH DRIVER AND PASSENGER WILL RECEIEVE A SPECIAL WRISTBAND THAT MUST BE WORN THAT INDICATES THEY HAVE SIGNED A WAIVER. NO EXCEPTIONS.
4:10 pm           MANDATORY IMSA PARADE LAP SAFETY BRIEFING – All drivers and passengers must attend. Safety Briefing will take place in the Porscheplatz Tent. Each driver will receive a special sticker indicating their Safety Briefing attendance that must be placed on windshield (driver side, upper left)
Parade Laps will follow Safety Briefing. Drivers must be at their cars ready to stage. If you are not ready to stage or are late to staging, you will not be able to participate in the Parade Laps.
Check back here for updates on the event and the Porscheplatz Agenda for both days.
More About the Motul Petit Le Mans
For the past 20 years, Motul Petit Le Mans has been THE sporting event in the southeast to experience. With four days' worth of on-track battles, culminating in the 10-hour IMSA WeatherTech Championship finale showdown on Saturday, October 13th, the action is nonstop. Once you add in the heated manufacturer and team rivalries, kid's zone, vendors, food trucks, displays, car corrals, camping, Patrón bar, grid walk, autograph sessions and so much more, this event has it all, and at family-friendly prices, too!
The Daytona Prototype internationals (DPi) debuted last year to much fanfare and acclaim, with a slew of new auto manufacturers and teams joining the ranks to put their machines to the ultimate test. This year, all three classes of competition will battle for the top spot on the podium and the overall season-long championship after 10 hours of grueling, wheel-to-wheel racing. The technology on board these race cars is jaw-dropping and seeing it in action is a thrill like no other.
The access for fans at Motul Petit Le Mans is unparalleled, as any ticketholder can step right up to their favorite team and driver for an autograph during the autograph session or can catch them at any point during race week in the open paddock. The pre-race grid also opens on both Friday and Saturday for all fans to wish their favorite drivers good luck before they take the green flag.
The newly-paved Fan Zone is a great place to retreat to and grab a bite to eat, a cold drink or a souvenir to take home. With interactive displays, entertainment and memorabilia also available to browse, the Fan Zone is just another reason why Motul Petit Le Mans offers something for everyone.
Families can also check out the Kid's Zone out on Spectator Hill, which is one of the greatest vistas around the circuit. Parents can let their kids loose on inflatables and relax with the picturesque Road Atlanta esses framing one of the most well-known series of curves in all of racing. Best of all, children 12 and under enter the event for free with a paid adult.
Check back hrere for more infromation about the Porscheplatz and activities. CLICK HERE for more information about  Road Atlanta.