Friday, June 7, 2019

to

Sunday, June 9, 2019
Lighthouse Drive II
Join us  for a three-day scenic weekend tour of Southern Maryland's back roads, lighthouses, museums and of course, a winery! This year, we will visit Piney Point and Drum Point (at Solomons). Also we will visit the Patuxent Naval Air Museum. Then we'll wrap things up on Sunday with a visit to the Running Hare Winery and Vineyard ("A little bit of Tuscany and Napa in Southern Maryland") and the adjoining Calvert Brewery.
Friday June 7, we will meet for brunch near Bowie, then head on an epic drive toward the bay, stop for ice cream, and head down to the historic Piney Point Lighthouse (1836) Museum and Historic Park (county park). We'll stop here for a while and enjoy the oldest lighthouse on the tidal Potomac -- and you can climb it!
Afterward, we'll head up to Solomons where we will check in at the hotel and then enjoy happy hour and then dinner that night at a restaurant TBD on Solomons Island.
On Saturday June 8, we will have breakfast at the hotel and then take a ride out to the Patuxent River Naval Air Museum when it opens. If the weather cooperates we may be able to have a photo event along the flightline. The flightline consists of 22 one-of-a-kind aircraft and aircraft configurations unique to the Naval Test Center at NAS Patuxent River, as well as the historic display of the Cedar Point Lighthouse cupola that was once the mariners' guiding light at the junction of the Chesapeake Bay and Patuxent River. The museum features exhibits including an extensive collection of flight test and naval artifacts ranging from ejection seats and weapons to unmanned aerial vehicles and full size aircraft. And for $10, you can spend 30 minutes in a flight simulator!
We have a group rate for museum tickets, so you will need to purchase them in advance as part of your registration.

After the PAX Naval Air Museum, we will stop for lunch and head back to the hotel. Later in the afternoon, we will take a walk or short drive to the Calvert Marine Museum, which houses the Drum Point Lighthouse (you can take a tour of it as part of the Museum ticket price). But that's not all. At 5 pm we will set sail on a supper cruise (BYOB) on the Wm B. Tennison! Cost will be $50 per person and will be part of the registration, and will include appetizers on board and a light supper afterward at the museum.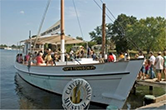 On Sunday morning June 9, after breakfast and hotel checkout, we will head north toward the awesome "a touch of Italy in Maryland" Running Hare Winery (and adjoining Calvert Brewery) where we can enjoy a relaxed noontime activity.
We have a reasonable overnight rate at the Holiday Inn Solomons Conference Center and Marina for two nights June 7-9 ($109 per night for either king or double, excluding 6% state tax and 5% county tax). You must make your hotel reservation by May 17!!
Your Host: Glenn Havinoviski
Join us for this early summer drive, as we enjoy a trip back into the 19th Century maritime era as well as an exploration of our region's fabulous naval air history.   Plus seafood on Friday and a supper cruise on Saturday.  Planes, boats, crabs and Porsches.  What's not to love?  You will remember this trip for a long time!
It's not the cars, it's the people!
PLEASE REGISTER FOR THIS EVENT AT:  msreg.com/lighthouse19