Saturday, July 6, 2019

to

Sunday, July 7, 2019
Mobil 1 SportsCar Grand Prix at Canadian Tire Motorsport Park
NEW UPDATED AGENDA as of July 2, 2019 (see below)
Join Porsche Cars Canada and Porsche Club of America at the Porscheplatz, Saturday and Sunday, July 6 and 7, at the Canadian Tire Motorsport Park for the Mobil 1 SportsCar Grand Prix.  At the Porscheplatz you can relax, watch the races on live feed TV and enjoy a cool beverage. There will be presentations by Porsche GT Team drivers, Porsche Motorsport North America and Porsche Global Partners.  Register to win an exclusive 'IMSA Hot Pit Experience' and more. Admittance into the Porscheplatz is exclusively for PCA members and Porsche owners only. Remember to bring your PCA membership card or proof of Porsche ownership for admittance to the Porscheplatz. (Porsche key, insurance papers, etc.) The IMSA WeatherTech SportsCar Championship is focused on giving the fans an unforgettable experience with interactive activities as the popular "Open Grid Walk," driver autograph sessions, and open team paddocks.  For the Open Grid Walk on Sunday morning, spectators can gather in pit lane, along with all the cars, drivers and crews. CLICK HERE to see the current race schedule and track activities. Our Porscheplatz Agenda will be posted here soon that will list all the activities that take place in the Porscheplatz tent.
And like all IMSA WeatherTech SportsCar Championship races, the event is KID FRIENDLY!!! Bring the whole family out for a great racing experience and the chance to personally meet the drivers and teams.   
Here is our current agenda  
TICKETS ARE NOW AVAILABLE!
CLICK HERE to purchase your Porscheplatz Ticket Package from Canadian Tire Motorsport Park. This ticket package includes  race admission, exclusive "Porsche Only" Car Corral parking adjacent to the Porscheplatz tent, lunch on Saturday and Sunday, and the opportunity to participate in Parade Lapss on Sunday. (See below for Parade Lap Information)  All of this and more for only CA$120.75. Space is limited in the "Porsche Only" Car Corral so be sure to get your tickets before they sell out. Only Porsche Vehicles are allowed in the "Porsche Only" Car Corral. No Exceptions.
General Admission tickets are also available.   CLICK HERE TO PURCHASE
As a PCA member and/or Porsche owner, you are always welcome to personally come to the Porscheplatz with your General Admission ticket to the races. No special ticket is needed. (However, you must purchase the Porscheplatz Ticket Package to be eligible for Parade Laps, lunches, "Porsche Only" parking etc.)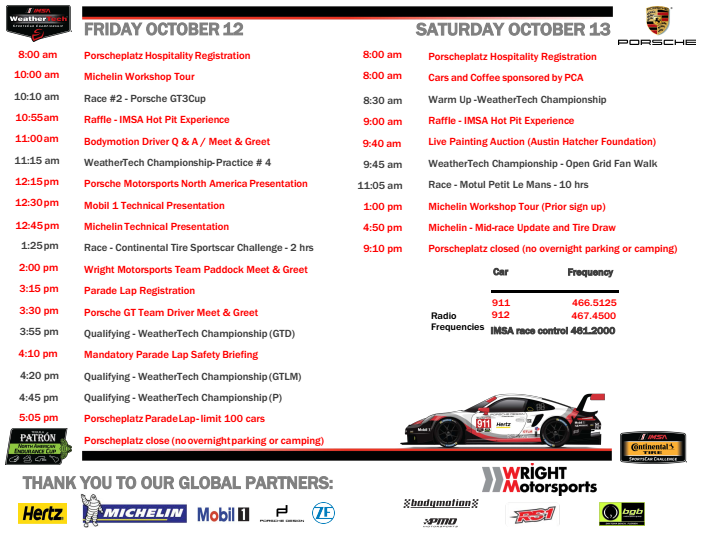 PARADE LAP INFORMATION
If you purchase the PORSCHEPLATZ Ticket Package from Canadian Tire Motorsports Park, you have the opportunity to participate in "Porsche Only" Parade Laps on the track Sunday morning. Parade Laps are held at slow, street legal speeds and are limited to the first 100 drivers who sign up.  You must sign up in person. No advance sign up.  Sign up for Parade Laps opens Sunday at 8:30 am. All Parade Lap related business, including sign up, waivers, Safety Briefing and staging will take place at the Porscheplatz and will be administered by IMSA and CTMP.
SUNDAY, July 7, 2019
8:30 am          PARADE LAP SIGN UP OPENS IN PORSCHEPLATZ TENT
Limited to first 100 drivers who register. All drivers and passengers are required to sign a waiver. Parent or legal guardian will sign for passengers under 18. All drivers must present a valid driver license and current proof of insurance. Passengers must have valid picture ID (i.e. driver license or government ID with them.)
Each driver and passenger will receive a special wristband indicating the waiver has been signed. The wristband must be worn. No exceptions.
Only PORSCHE VEHICLES are permitted. You must have your PORSCHEPLATZ PARKING PASS displayed in the windshield of your vehicle.
9:20 am          MANDATORY IMSA PARADE LAP SAFETY BRIEFING
All drivers and passengers must attend. Each driver will receive a special sticker indicating their attendance at the Safety Briefing that must be placed on windshield of their Porsche. (driver side, upper left)
PARADE LAP FINAL STAGING WILL FOLLOW BRIEFING
Drivers must be at their cars ready to stage. If you are not ready to stage or are late to staging, you will not be able to participate in the Parade Laps.
YOU WILL NOT BE ALLOWED ON THE TRACK WITHOUT THE WINDSHIELD STICKER PROVIDED AT THE SAFETY BRIEFING INDICATING YOUR ATTENDANCE.  DRIVER AND PASSENGER MUST WEAR THE PARADE LAP WRISTBAND INDICATING THEY HAVE SIGNED THE WAIVERS.  NO EXCEPTIONS.
More Information: Mike Bryan   PCA Zone 1 Representative
Lynn Friedman Porscheplatz / PCA Car Corral Chair or 832-563-9577