The Lingenfelter Car Collection
Unfortunately this event has been postponed to a later date due to the Coronavirus (COVID-19).
We will inform you as soon as we have a new date.
Join us on March 21st. from 9:00 am to 11:30 am at The Lingenfelter Car Collection Special Event for our continuous support of the Special Olympics Program.
An amazing collection of over 175 Exotics, Corvettes and muscle cars in one of the most significant collections of its type in the country.
Meet and Speak with Ken Lingenfeler, a fantastic 'Story Teller'. It will be a "Once in a lifetime" experience!
Compare this collection yourself with Jay Leno's Collection which consists of around 183 automobiles and 90 motorcycles, or Jerry Seinfeld's collection which has an estimated count of 150 cars. The Lingenfelter Car Collection is right in our backyard, located at
7819 Lochlin Dr, Brighton, MI 48116
which is between Detroit and Lansing, the capital city of Michigan. It is around an hour away from either city.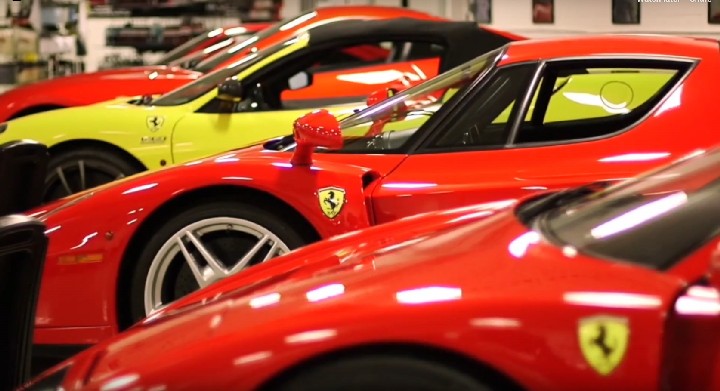 Visitors at The Lingenfelter Collection.
Please register for this great event at Clubregistration so we have a head count.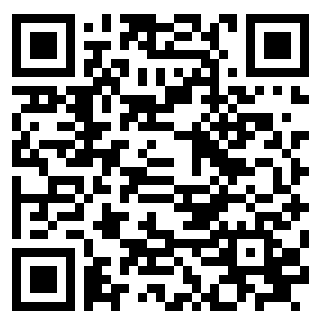 This private collection is open for special events only. Donations appreciated.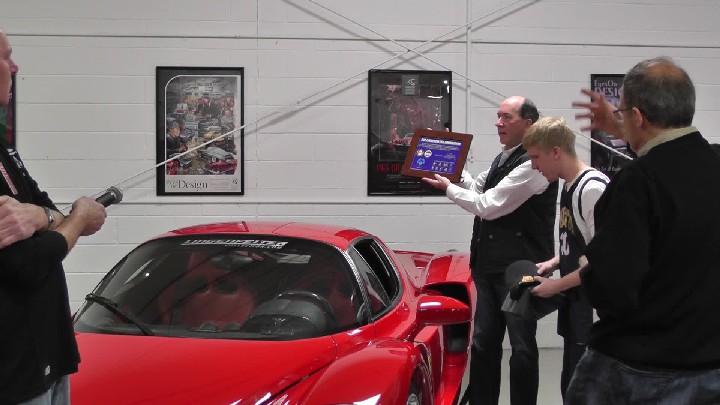 SEM President Gretus Hoogestraat, Ken Lingenfelter, Special Olympic Athlete and SEM Past President John Keilly (left to right) at an earlier event.
Ken Lingenfelter is a SEM/PCA member and owns several Porsche.
This Event supports the Michigan Special Olympics Program. The Special Olympics Program has just grown to about 100 athletes in certain areas/regions with mental impairments, ranging in age from 15-26, living in the many school districts. The Special Olympics Program receives no funds from federal, state or school districts. The athletes are not supported in regular sports programs like High school athletes. All of the funds must be raised by fundraisers or donations. That is why The Special Olympics Program appreciates people like PCA members. They need funds to attend competitions, overnight stays, transportation, uniforms and equipment, training fees, etc. They train and compete in Soccer, Cycling, Poly Hockey, Basketball, Swimming, Track & Field, Bowling, Snowshoe, Snowboard & Alpine Ski, Kayaking etc.
Without Special Olympics the athletes may not have the same opportunities as other young people in the communities to train, compete, and just have fun. The program provides social outlets for the athletes with mental impairments. They are proud of the opportunities that are provided to them, not just for our impaired athletes but for their parents and siblings. They provide support and fun for family, friends, coaches, volunteers and of course the athletes with mental impairments. Thank you for supporting the Special Olympics Program. Because of our support they are able to continue to provide these programs and to expand to more sports offerings for the athletes with cognitive disabilities.
Thank you,
Chrissy Crowe
Charity Chair Southeast Michigan Region Porsche Club of America