Member volunteers at no-kill animal rescue organization Priceless Pets

Visit the Members Making a Difference page
Article and photos by Julie Husting, Orange Coast Region
It was just before Veteran's Day 2019 when my rally navigator, Marsha Kane, sent out the "Batman" signal to all of her friends — Priceless Pets needs volunteers to walk the dogs on the holiday. Priceless Pets is a no-kill animal rescue operation that, like PCA, depends on volunteers to fulfill its mission: Rescuing animals from a variety of unfortunate circumstances.
Marsha is a good friend of mine and has been volunteering there for a while now. She walks dogs, feeds them, does the dishes, and even does laundry. I decided I would go in just this once to see this place I had been hearing such good things about and get my fill of animal loving, too.
I had just broken my arm and it was in a cast so they wouldn't let me walk the dogs. Fortunately, they have a little fenced-in area that I could sit in. They brought dog after dog to me. I played, cuddled, and petted the dogs while other volunteers and the one paid staff member worked diligently to clean their living spaces. I fell in love with a sweet Chihuahua wearing a pink coat! I resisted the urge to adopt that adorable dog, but I had a feeling I wasn't going to volunteer "just once" after all.
The location at which I volunteer is in Costa Mesa off of Old Newport Road near Hoag Hospital. It is also fairly close to my doctor and physical therapist where I regularly go for appointments because of my arm. You guessed it, when I had an appointment, I would go to Priceless Pets to volunteer. The organization also has two other locations, in Claremont and Chino Hills.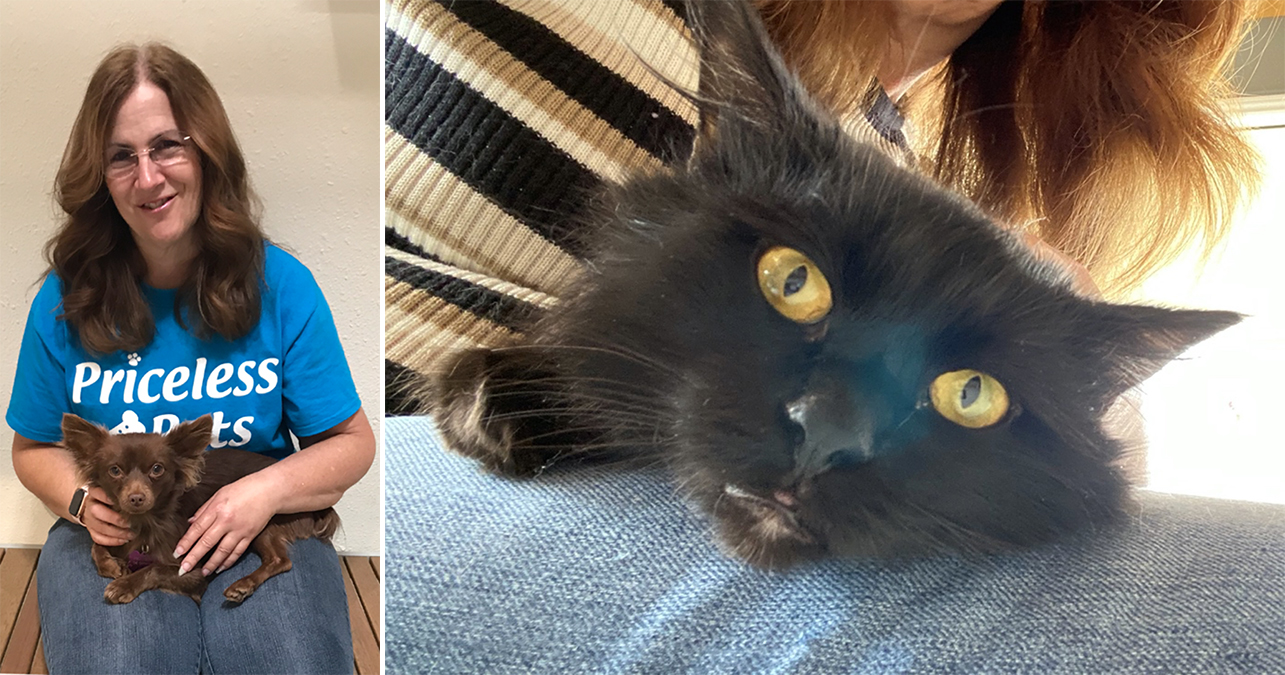 I couldn't walk the dogs for a long time, but the cat section desperately needed my help, too. My cat, Kenya, died In May 2018. She was quite the evil kitty. She loved me but that was about all. She regularly hissed at anyone else that looked at her wrong. I missed Kenya and was happy to help socialize the cats. The job was easy: simply sit in the room while the cats ate and then either pet them or play with them while the other volunteers cleaned out their spacious habitats.
Every now and then there would be a cat or kitten that was too afraid of people and would hide in their kitty igloo refusing to come out. I looked at them as my personal project. It didn't take much for me to get them to snuggle contentedly on my lap. The other volunteers were amazed and called me "The Cat Whisperer." I guess I give good kitty massages.
One cat, Rain, got me into trouble. The cat sitting area has one wall that connects to the ceiling. The other three walls stop a few feet short of the ceiling. There is no covering between the top of those walls and the ceiling. Rain jumped up on the cat tower and then she jumped up onto the top of the wall! She proceeded to walk across the exposed air duct that connected to another room's ceiling. There was about three feet from the top of that room's ceiling and the building's ceiling. She decided that was a good place to stay and wouldn't come down. Unfortunately, that was a Monday which is the day they are closed to the public. Once we left, there wouldn't be anyone in until the evening volunteers came. Boy did I feel bad! They wound up getting Rain down by coaxing her with food. Whew! Crisis solved! I noticed there is a mesh ceiling on there now.
Currently, I regularly go in a few hours a week to both walk dogs and socialize cats. I fall in love with a different animal every time I go in. I'm so impressed with the organization. They only have a couple of paid staff members that work at the adoption center. The rest of the work is done by volunteers. These people truly care about the animals and it shows. The place is immaculate, and the animals are well cared for.
If you love animals, volunteering could be perfect for you. Walking a dog is better than walking on a treadmill any day! They would be happy with as much or little time as you want to give. If you've got some extra cash lying around, they can use that, too! Of course, all of the animals are looking for their forever home — why not invite them to yours? Go to pricelesspetsrescue.org to learn more.
---
Every year across Porsche Club of America, members are making a difference with many heartwarming and thoughtful acts of kindness. The above are a few of those community contributions. Be sure to check e-Brake News to read more about PCA Regions making a difference and visit the Members Making a Difference page for additional past articles. If your Region has a charitable activity or event that you would like to share, contact us to share the story.