Members Making a Difference: Members and Regions offer help during covid-19 pandemic

Visit the Members Making a Difference page
Above: Coastal Empire Region has donated to Roebling Road Raceway to help the track and its cornerworkers survive the covid-19 pandemic.
Coastal Empire Region's Audrey Woodman says, "With the onslaught of COVID-19, most PCA regions have seen their activities brought to a halt.  This has had a devastating impact on local businesses, as well as many supporters who rely on PCA events for their livelihood."  Coastal Empire Region (covering the coasts of southern South Carolina and northern Georgia) has spearheaded a regional effort to help corner workers at Roebling Road Raceway in Bloomingdale, Georgia.  Various PCA regions host approximately nine weekend DEs at Roebling each year, of which three are hosted by Coastal Empire Region.  Although the track has not been shut down entirely, it is limited to a 5-car test and tune, which drastically decreases the employment opportunities for corner workers.  Regional DE chair David Selvig started a GoFundMe page (https://www.gofundme.com/f/rrr-workers) and the region committed to match the first $2,000.  Their neighbors from Florida Citrus and Ocmulgee Regions have also generously contributed sizable amounts to the effort.  Audrey reports, "In six days, we have raised $13,260 and $8,000 has already been distributed to the track workers to help make ends meet.  Our weekends would not happen without this crew, and their smiles and waves make our track feel like a second home.  While we all hope that we are not the car that makes the flags wave, we are grateful for the flaggers who work rain or shine to keep us safe.  We aim to inspire other regions to give back to their own local track family, and we hope to see the green flag waving soon!"
---
David Butler, who manages the Appalachian Region's charity work for MANNA FoodBank, writes:
"Looking for an additional way to collectively contribute to our community, in 2017 the region established a PCA volunteer group to work at MANNA FoodBank. Currently twenty-three individuals, depending on their schedules, fulfill a region commitment of ten volunteers to work a two-hour shift once per month. We never know what tasks we may be assigned; activities include repacking healthy food purchased in bulk, packing MANNA Packs and Summer Packs for kids, sorting fruit and vegetables, etc. Regardless, we try to make it fun, enjoy the fellowship and engagement with region members and MANNA staff.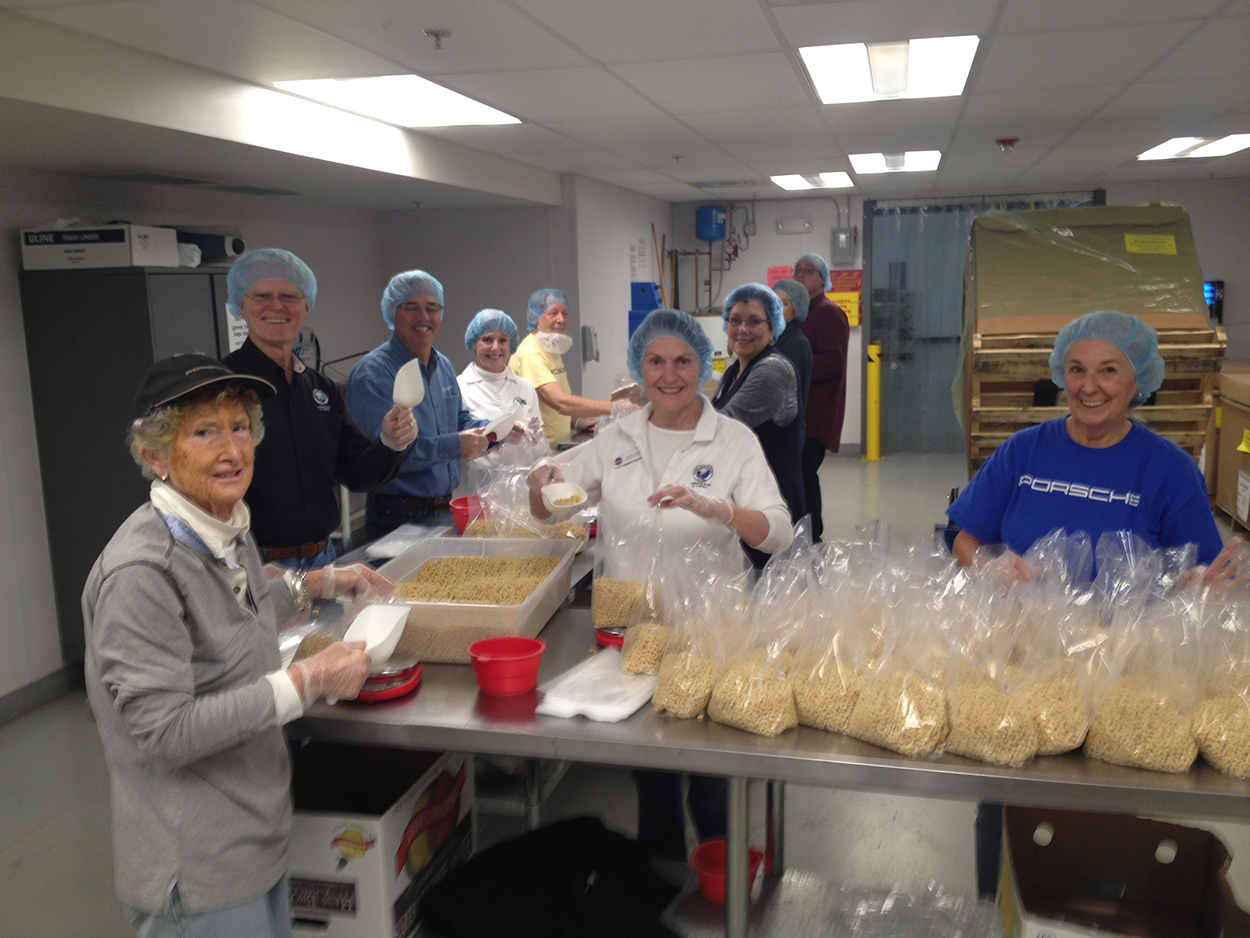 "MANNA FoodBank is a private not-for-profit service organization headquartered in Asheville, NC providing food with hope and dignity to Western North Carolina since 1983. It links the food industry with over 200 partner agencies in 16 counties of WNC, the same foot print as the Appalachian Region. It works to build and deepen relationships with local and national food retailers, packing houses, farmers, other food banks, and individual donors to acquire most of the food that is distributed. Efforts to provide more fresh produce have resulted in millions of pounds of perfectly good food redirected from the landfill to fill families' plates instead. In fiscal year ending 2019, MANNA distributed 19.8 million pounds of food and 6,992 volunteers donated over 73,000 hours. MANNA distributes enough food through its partner agencies to provide 45,000 meals every day.
"Prior to this volunteer effort, the region identified MANNA as one of our charity partners and has donated funds raised during past social events. Multiple region members have engaged with MANNA volunteering in various capacities including driving a MANNA box truck to deliver fresh produce to pantries, collecting donations from area grocery stores, and assisting at fund raising events. In addition, members have served and continue to serve on the MANNA Board of Directors including terms as President, Secretary and Vice President.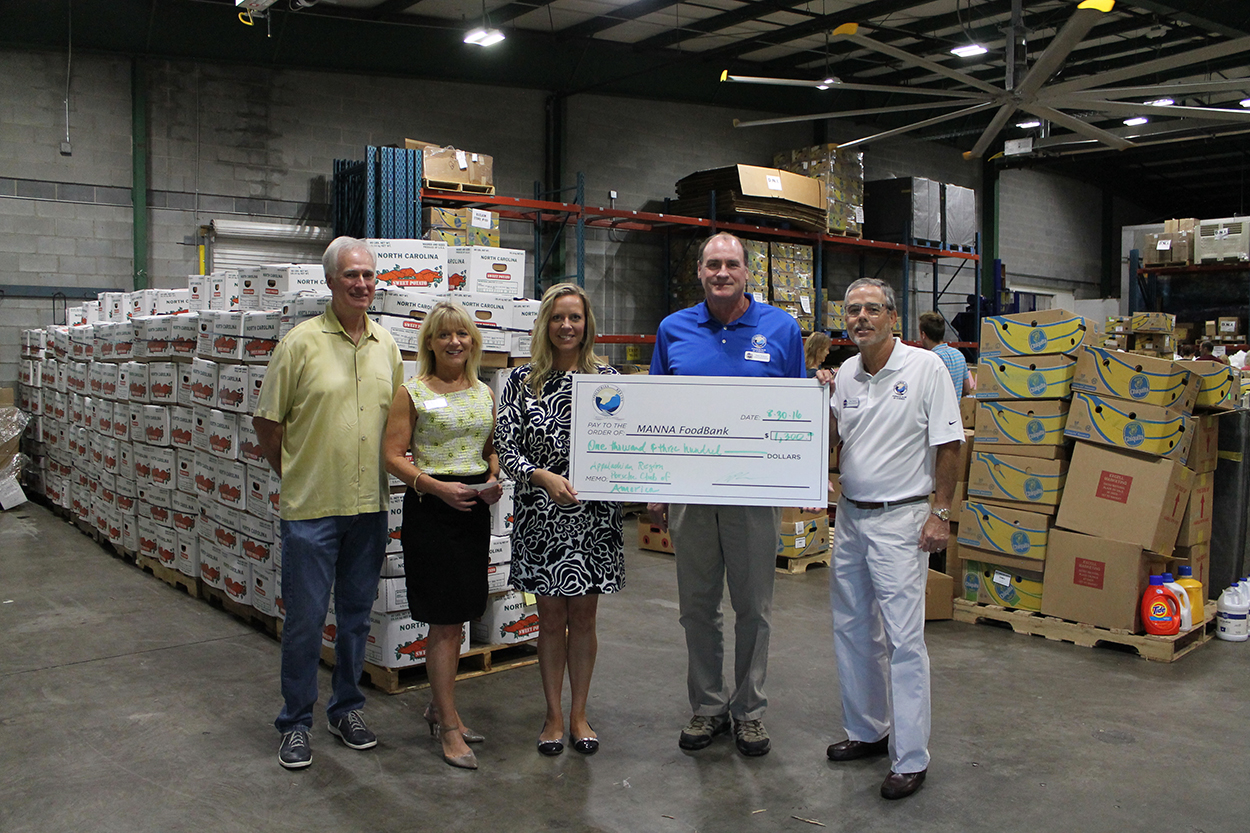 "Regrettably, with the emergence of COVID-19 on a state, national, and global level, the region cancelled our volunteer April effort. Our volunteers are all in the high risk group and it's important to follow public safety recommendations. But we look forward to our return to MANNA to assist food delivery to those in need as soon as it is safe to do so. In the interim, we have notified region members of the urgent need for volunteers at MANNA and provided contact information for those that may be able to assist during this critical period.
"MANNA is a member of Feeding America, the nation's largest domestic hunger-relief organization, working to connect people with food and end hunger. Donors, staff, and volunteers all play an important role in efforts to end hunger in our region and throughout the United States. www.mannnafoodbank.org."
---
Andy Bizub, a generous member of the Chicago Region and the owner of Midwest Performance Cars has made the following offer: "If you know of any first responders (police, fire EMT), nurses, or doctors who need something done with their car, we have been reaching out to let them know we will take care of it at cost while this crisis is ongoing. We can pick up, sanitize, and deliver their cars back to them... The cars don't have to be Porsches, we will take care of anything they have. It's the least we can do for their saving us all."
Andy has also sponsored the the Chicago Region Swap Meet and donated all the proceeds he received for the event to the Chicago Region Charity, The Automotive Mentoring Group (AMG), which educates inner city youth about automobile restoration leading to an opportunity to enroll in the local technical colleges.
---
Santa Barbara Region President Rod Hersberger says, "Our Region has donated $1,000 each to FoodShare in Ventura County and the Food Bank in Santa Barbara County. After I shared these donations with our members, a few have made their own donations.We wanted to help feed some children until federal aid arrives."
---
North Country Region Vice President Karl Leinsing, who is also the president of ATech Designs, Inc., a small medical device company, says, "We halted normal business and work on our Porsche race car so that my family could make face shields for our local hospital. We made over 100 face shields in our first day and delivered them to four hospitals. We are also working on getting N95 masks from our supplier and should get a shipment this week. A video of our efforts is below and provides instructions for others to do the same. Pictures of our deliveries to hospitals is on our Facebook page. All are donated free of charge to the hospitals, fire departments, police, and EMS personnel."
---
Every year across Porsche Club of America, members are making a difference with many heartwarming and thoughtful acts of kindness. The above are a few of those community contributions. Be sure to check e-Brake News to read more about PCA Regions making a difference and visit the Members Making a Difference page for additional past articles. If your Region has a charitable activity or event that you would like to share, contact us to share the story.