911 GT3 RS first drive: Live updates [w/video]
By Pete Stout
It's the track-focused Porsche you've been waiting for: the 911 GT3 RS. And Porsche Panorama Editor Pete Stout is in Germany to test it out for the first time — today he'll be taking some laps in it at the Bilster Berg Drive Resort. Of course that means that we'll read his review of the 500-horsepower 911 in the magazine soon, but to satisfy the here and now, he's bringing us live updates of the test on our Facebook page. Feel free to ask him any questions about the car and he'll answer them the best he can. Impressions of the car and Q&A sessions also will be posted here throughout the day. Enjoy!
Stout: Just arrived in Germany for the 991 GT3 RS launch. Meeting with the engineers tonight, on track tomorrow. As with GT4, if you've got questions, we'll look for answers!
Nick Hong: Please ask and get clarification on the full bucket seat delay due to supplier constraints. Thanks!
Stout: The lightweight bucket seat availability vexes Porsche just as it does customers, as demand has exceeded expectations and the supplier has had difficulty meeting demand as the seats have been made available on additional models. It sounds like it will still take some time for the supplier to be able to meet that demand, and that's probably measured in months.
Peter von Behrens: The RS tires are identical type and size but with different load ratings to the 918. What's different and why?
Stout: The RS's tires are Michelin Pilot Sport Cup 2s in the same sizes as the 918 Spyder, but carry an N1 rating versus the N0 on the Spyder. Reason? The RS's tires are Michelin Pilot Sport Cup 2s in the same sizes as the 918 Spyder, but carry an N1 rating versus the N0 on the Spyder. Reason? They were custom tailored to the RS due to its weight, weight distribution, drive concept (RWD), etc. That tailoring includes aramid belts of different rigidity, compound changes, and, at the front tires, the elimination of the "longevity section" in the outer tread of the 918 version of the tire—because the lighter, rear-drive GT3 RS does not require it.
A Dunlop will also be an OE tire for the RS, and Porsche says its current 7:20 Ring time for the RS has been achieved on the Dunlops and the Michelins. It further predicts a time 7:17, but will be back to the Ring to confirm.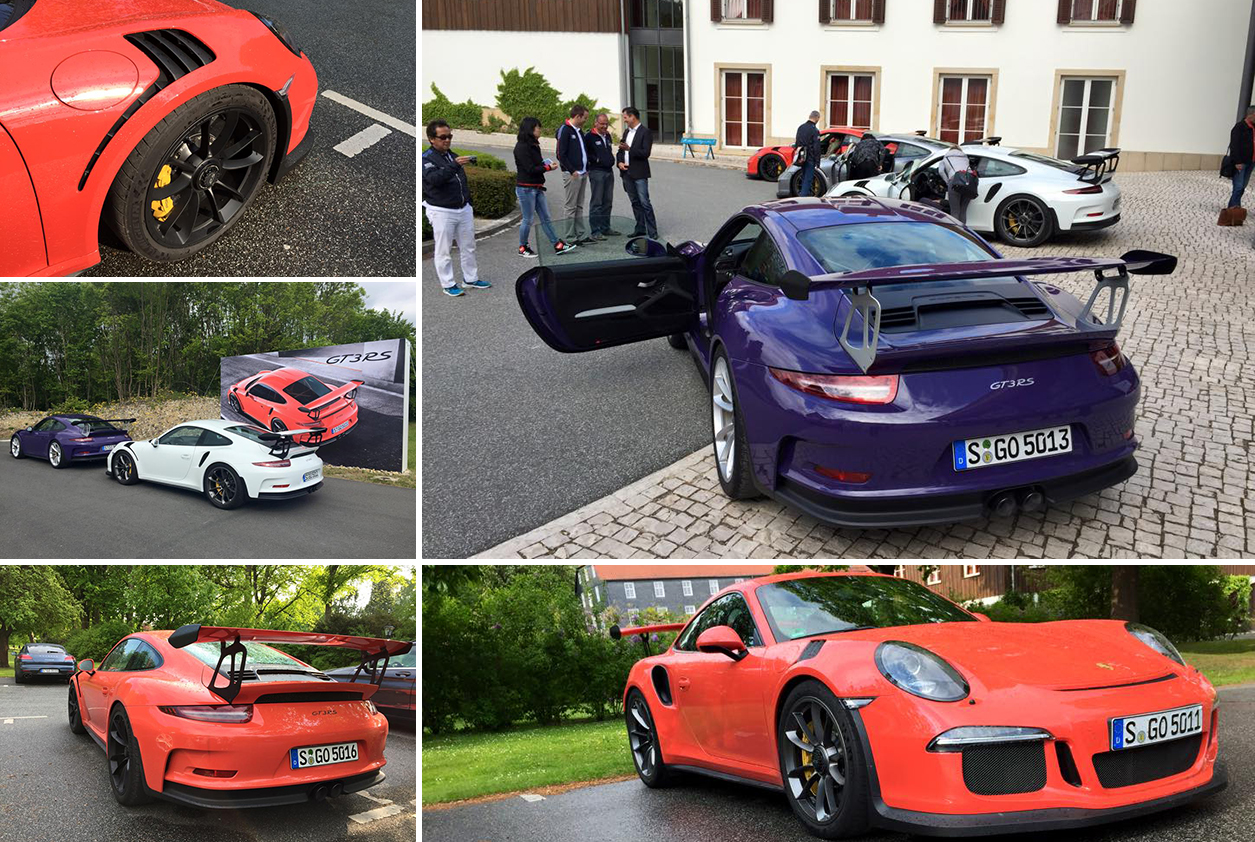 Michael G Cypher: I recognize those cars... (Ed.: Thanks, Michael, for sharing Chris Harris' video!)
Peter von Behrens: The RS ride-height is raised vs the GT3- how much of this is to allow clearance for suspension to compress with aero load at speed? Can one safely lower the ride-height if autobahn speeds are not anticipated?
Stout: As with the regular GT3, the ride height can be adjusted. Engineers say the RS's front ride height is only 2-3mm higher than the regular GT3, as they found this to be optimum for most conditions. Of course, owners may choose to tailor these settings for different tracks. 
Jeff Sudman: Find out if they will make a manual as a special order only, even if they charge more.
Stout: No manual will be offered in this RS, as an option or otherwise. Response to GT4 has been a powerful message, however, and while Porsche is not ready to talk about future GT3s, one gets the sense that the idea of an optional manual in future GT3s is almost certainly part of internal discussions.
Michael Rys: Would love to get some answers on the GT4 (and you can ask about the GT3 RS as well): When can we expect to order LWB seats again and when will PTS be available. Can we order the Club Sport package in the US for track use "only"?
Stout: PTS availability is still uncertain, and also part of discussions, as requests—particularly from the U.S.—have been overwhelming.
There is no way to option or equip a U.S. GT3 RS with the Club Sport package, whether for the road or for "track only" purposes. This comes down to NHTSA regs, and is a legality issue.
Tony Callas: Engine base? MA1?
Engine is based on same 9A1 block as 991 GT3, but boasts significant changes related to the 4.0-liter displacement, Tony. The 919-grade, ultra-pure, multiple-melt crankshaft is probably the most exotic piece.
Check out the video on the PCA Facebook page of Porsche factory driver Jörg Bergmeister driving the RS at full-tilt around around Bilster Berg circuit. Be sure to watch the whole thing, as Stout does a short interview with him at the end.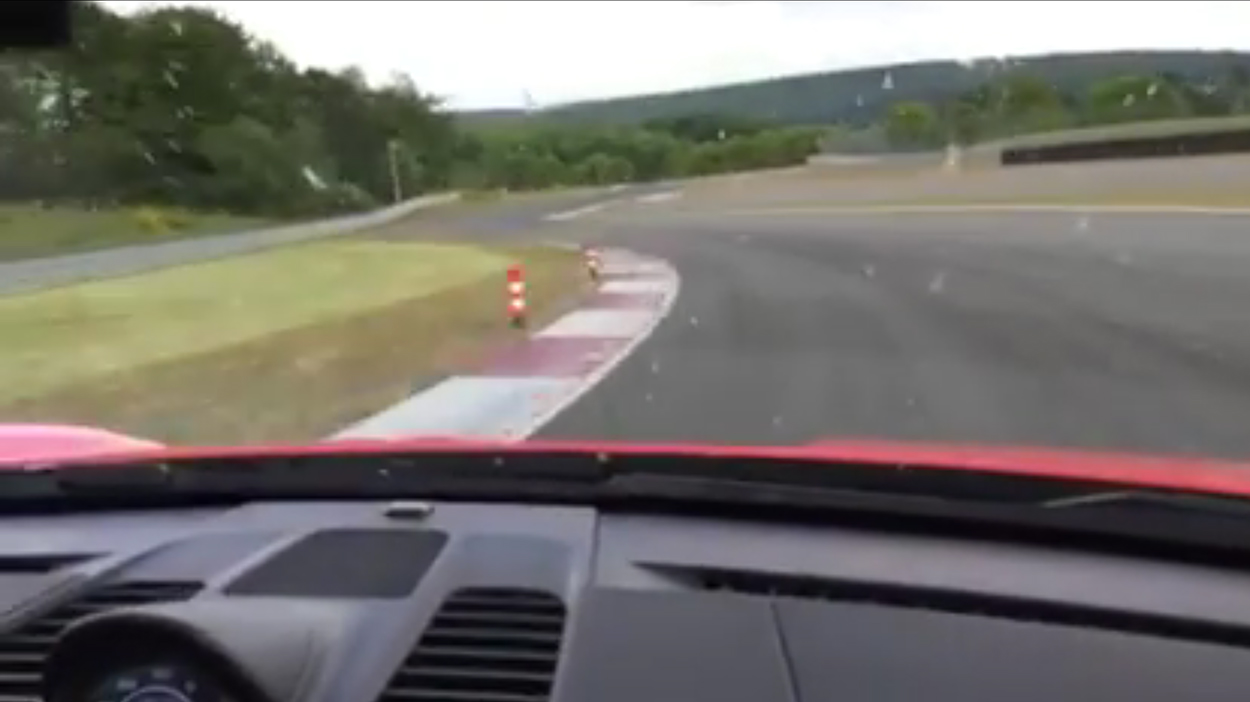 Stout: So, first thoughts on new GT3 RS after driving it on road and track:
Leap from 997 RS (any of them) to 991 RS is a huge one compared to 996 RS to 997 RS. Not just in performance or Ring times, but in terms of driver confidence. New track + new car + jet lag usually = high intimidation factor that may or may not fade during the first day. No such problem with the new RS, which felt great, predictable, and inspired confidence on the install lap and utterly natural from lap two forward. Very "911," but some 911s are more dialed than others. Not sure any are more dialed for their purpose than this one, 997 4.0, 997 GTS, and 991 GT3 (three of the very best) among them. So, it's easy to drive if you know what you're doing in a 911, but it won't tolerate a loss of concentration.
Car feels (and is) big, especially on the road. The additional width over the plain GT3—already a wide-body—due to the Turbo shell means you've really got to watch your placement on small roads. Even so, the car is so precise that moments with Euro tour buses coming at us on narrow back roads aren't as "clinchy" as expected.
Any worries about the 4.0 feeling lazy are gone after the first run through the gears. As flat sixes go, this is as big as they come from Porsche, but this 9A1 4.0 feels more elastic, freer-revving, and even more manic than the Mezger 4.0. The trip to 8800 rpm is quick enough that PDK really comes in handy. Do I miss the extra 200 rpm to be had in the normal 991 GT3? No.
Engine noises are fantastically maniacal when you're on it, but the engine "goes away" when you short shift into higher gears—to the point of being quiet. The latter is the bigger surprise, but this is a car you could tour in—at least on these roads and this pavement.
PDK gearbox is perfectly executed in the RS, as it was in the regular 991 GT3. Don't miss a manual gearbox around Bilster Berg, but do out on the road.
Mechanical grip with the 918-sized tires is phenomenal, and the level of refinement—the one word that most comes to mind with the RS—in the steering, damping, and overall handling dynamics is fantastic. This is no mere GT3 with some go-fast gear bolted onto it. It's a complete car, and worthy of its own badge. Gap from regular GT3 to GT3 RS has never been bigger.
Ride quality is exceptional, especially given the car's ability on track. Around town, this is a spouse-friendly chassis that takes the edge off lumps and bumps. The only time it was notably compromised was over repeated small bumps equal in size that jiggled the chassis.
High rear wing is more effective, but also makes rear visibility a non-issue, a welcome change from the 997-2 GT3 and GT3 RS.
There is always one color setup that blows you away at press launches than the others, and this time it's Ultraviolet on silver wheels. If you like Aubergine, you'll love this shade of purple—and it calms down all of the black elements without making them go away.
More brain dumps to come...
Photos by Pete Stout unless noted