Zone 6 Grand Tour: Glaciers in Canada to prairies in Montana [w/video]
By Tim Hagner, Zone 6 Representative
Day 6, July 30, 2015: Glaciers in Banff National Park
I have only one word to describe today: glacial. Words and photos really can't describe the splendor of today's drive.
We held our drivers meeting in Canmore, A.B. with 21 Porsches lined up and ready to go. Wild Rose Region started the day as our host and led us through Banff National Park to Lake Louise. What a spot! This is one of those places you need to see to believe (like the Grand Canyon). I've seen photos of Lake Louise, and it's nice. In person it's wow!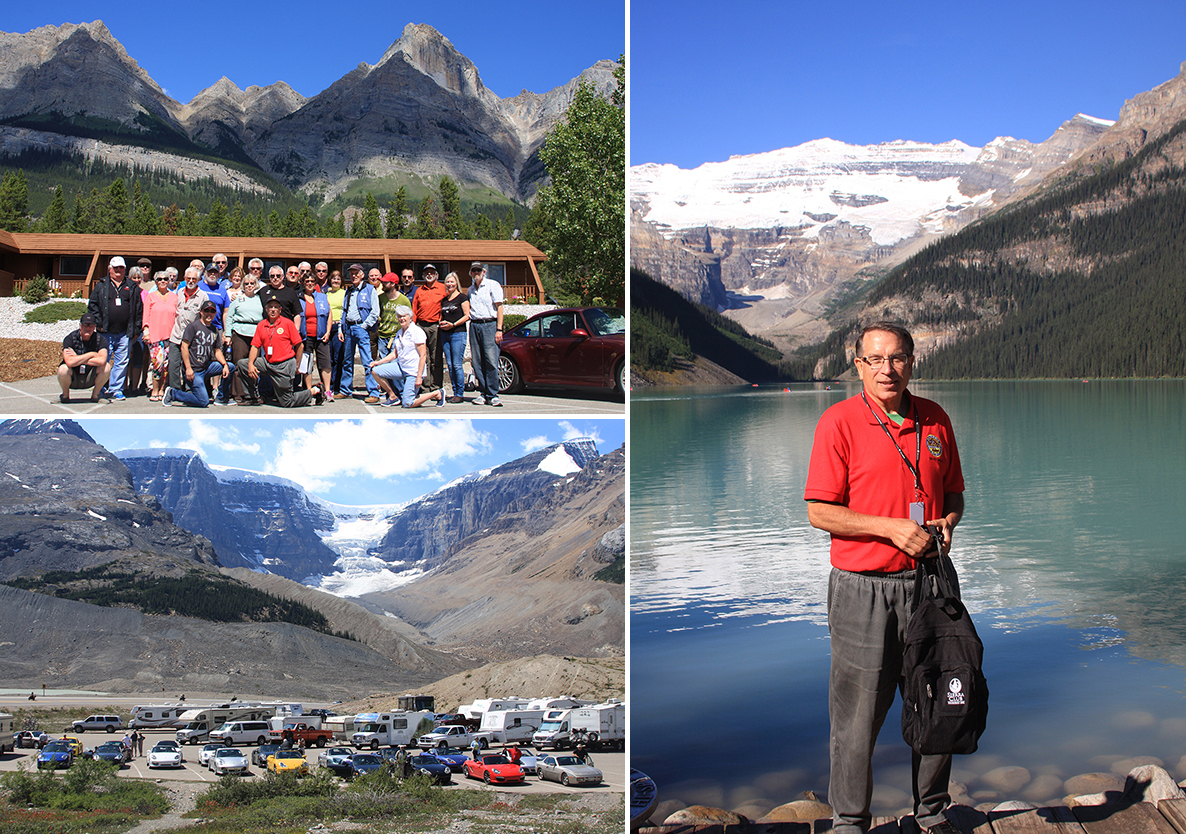 After an hour-and-a-half stop for strolling the lake, photo ops, and shopping, we were off for more adventures. You know, 21 Porsches really put on a show everywhere they go. Smiles, waves, photos, and "Nice car!" are common occurrence as we travel, and we are doing our best to be good ambassadors for PCA.
More driving, and then it was onto lunch and into the care of Polar Region, our hosts for the rest of the day. We drove through Jasper National Park to the Columbia Icefields. Everywhere you look there's another glacier. Did you know that Snow Dome Mountain in Canada is considered by some to be a hydrological apex in North America, meaning that melted snow and ice drain to three major oceans, the Pacific, Arctic, and Atlantic? (There is dispute as to whether the Hudson Bay drains into the Atlantic or not, which is why Triple Divide Peak in Montana is also considered by many to be the hydrological apex in North America.) Google it and be amazed. As we rolled out of Jasper we watched the magnificent Canadian Rockies fade in our rear view mirrors. But we are also looking forward to our stop for the day, Edson, A.B., and all that that lays in front of us on the Grand Tour.  
Today was a pivotal day for five of our Porsches: They started heading back to the West Coast and home. Some will be joining us again for the last legs of the tour, and we look forward to seeing them again. Others are changing plans so they can complete the whole Grand Tour with us. Everyone is enjoying each other, meeting new PCA friends, driving their Porsches on great roads, the thrill of adventure, and buying 94-octane unleaded gas. Talk of "The Next Time" has already begun. Word is spreading, and we're now having some "pop-ins" along the way joining in on the Grand Tour adventure. Will you join us?
William Fong of Pacific Northwest Region tells us why Grand Tour is special:
The Count
Total miles driven: 1,788
Driven day 6: 295
Regions visited: 7. Pacific Northwest, Olympic Peninsula, Vancouver Island, Canada West, British Columbia Interior, Canada West, Polar Region
9 Regions to go
---
Day 7, July 31, 2015: Out of the mountains and onto the prairie. 
It was a 8 AM drivers meeting and waiver-signing frenzy in Edson, A.B., and then we were off. Nineteen Porsches in a row heading down the highway with rock-'n-roll music blasting through the T-tops — well something like that.
Our twentieth Porsche made a side run to the airport in Edmonton to meet his wife, who will accompany him for the remainder of the tour. That's the spirit! It was mostly interstate driving today with few roads to choose from all the way to our evening stop in Saskatoon, Saskatchewan.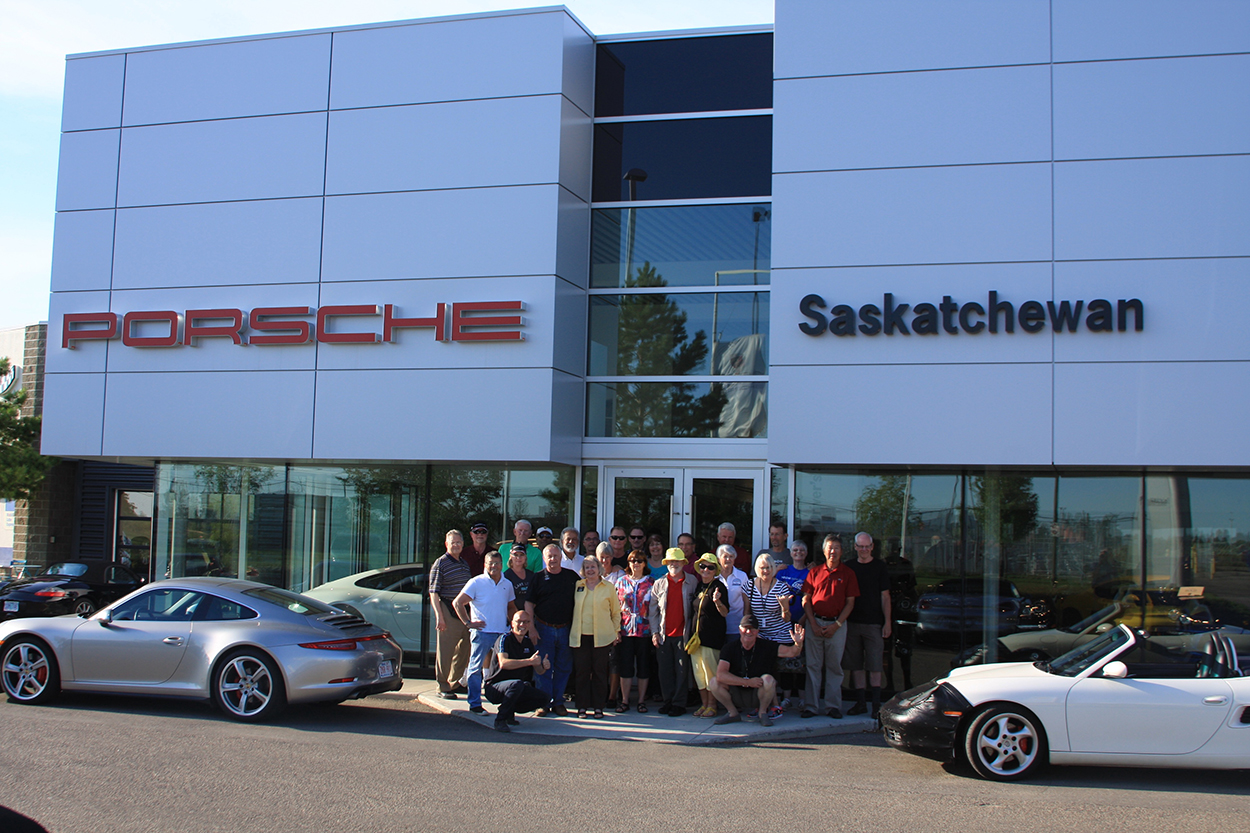 When we arrived in town we stopped by the Porsche Centre of Saskatchewan for a meet and greet by the staff and members of the Living Skies Prairie Region. Thank you for the warm reception.
I nearly forgot to mention, the rainy days ended on day six, with big blue skies since. So far on the trip the Boxster is getting 26.6 miles per gallon, which means we've used 85 gallons of gas.
No Porsche left behind is our motto, so what did we pack for the "just in case"? Here's a brief tour of the tool box: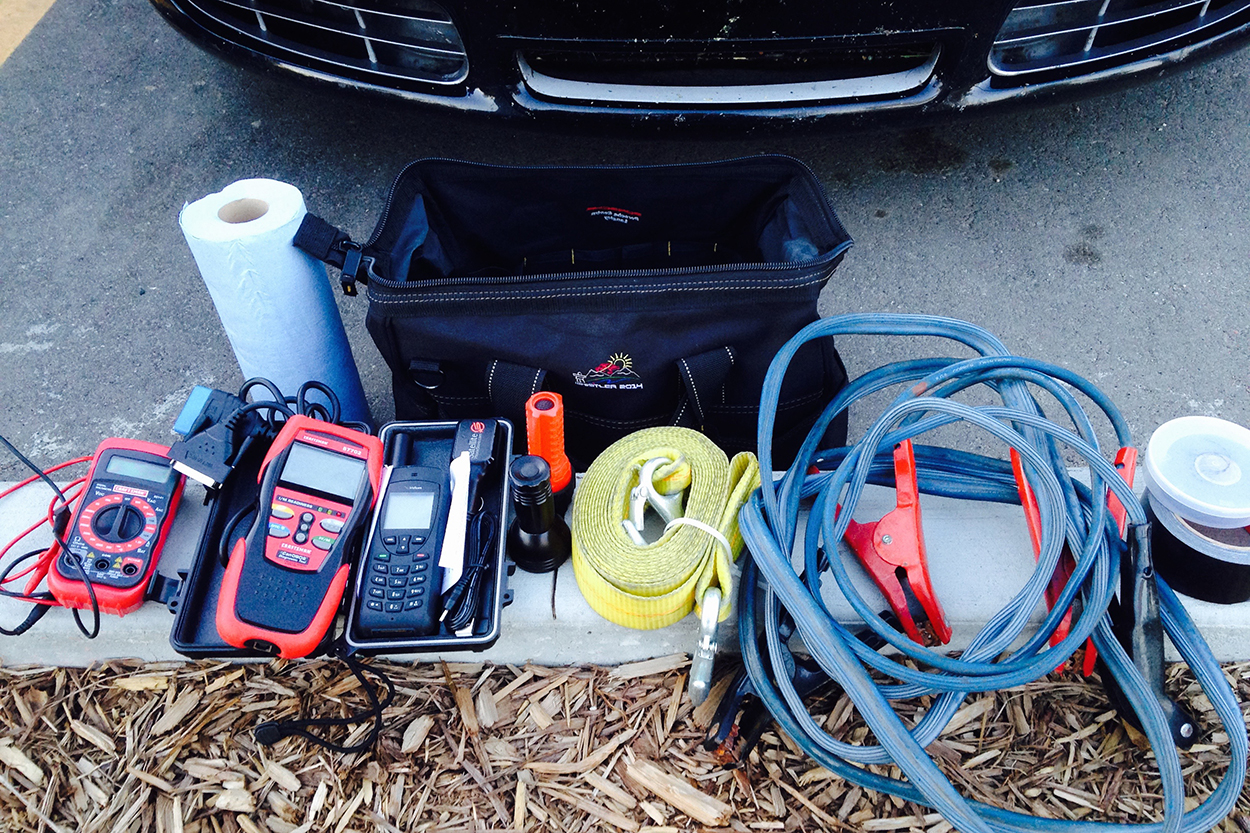 Satellite Phone
OBD II reader
Multi reader
Duct tape
Electrical tape
Porsche coolant
Quart of oil
Flashlights
Gloves
Jumper cables
Metric wrenches
Adjustable wrenches
Tow strap
Some others things I've forgotten
The Count
Total miles driven: 2,261
Driven day 7: 473
Regions visited: 8, Pacific Northwest, Olympic Peninsula, Vancouver Island, Canada West, British Columbia Interior, Canada West, Polar Region, Living Skies Prairie
8 Regions to go
---
Day 8, August, 1, 2015: Porsches on the Prairie or I Can't Believe There're any Bugs Left 
We held a 8 AM drivers meeting in Saskatoon, Saskatchewan, then saddled up and headed south to the border on a nice two-lane road through the gentle hills and scenic vistas that make up the heartland of farming in Canada.
We arrived at the border crossing and all of us made it across (yeah!). We continued south on the two-lane road, which was broken up by an 11-mile section of dirt and gravel. That brought the average speed down. During a stop in Malta, Montana at the Hitching Post Restaurant, we attracted the attention of the editor of the local newspaper. She left us armed with photos and Grand Tour information, which we expect (hope) will be used for coverage in the local newspaper.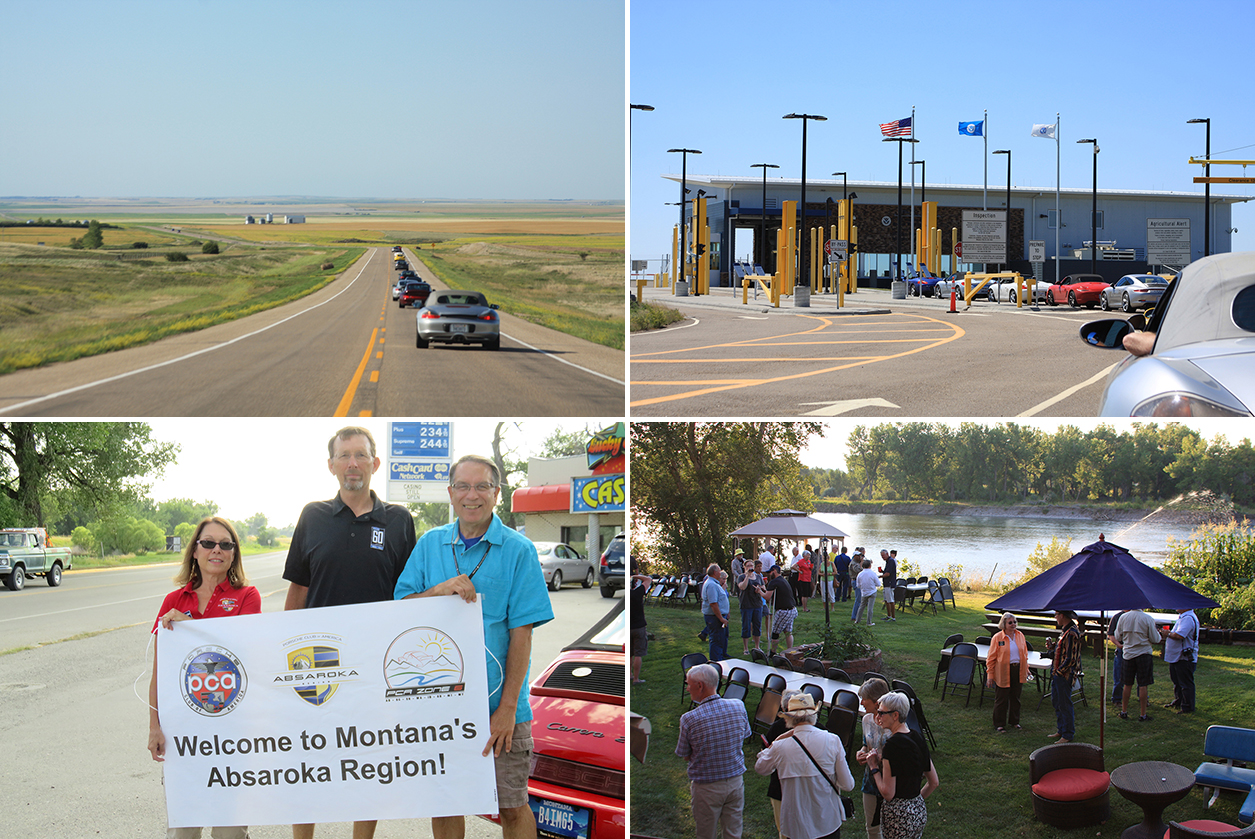 The drive took us even further south towards Billings, Montana, and the Absaroka Region. What a super reception they put on! A potluck dinner and prime Montana steak grilled to perfection, all provide by the Absaroka Region members. The location was as super as the meal, in the back yard of Absaroka members Herb and Sharla. With green grass, tall trees, and the Yellowstone River flowing through the backyard, it was the quiet, peaceful stop we all needed to catch our breath and enjoy the sunset.
Miscellaneous thoughts:
We did drive into the Central Time Zone. That's three time zones we've driven in. 
Canada, please raise your speed limits. You can't fool me, 100 kilometers per hour sounds fast, but it's not (equals 62 miles per hour) and 110 km/h is the max posted speed anywhere — please visit Montana.
We passed some trucks with those big hay rolls on them, then later we saw a random hay roll in the center median of the highway. It must have fallen off the truck — I'm just glad I wasn't around close enough to see it happen. Then, a little while later, we saw someone in the center median making hay rolls. Now that's efficient use of land!
Driving through Banff and Jasper we saw these very cool-looking bridges over the highway. These are just for the wild animals to use to cross the highway. With trees, brush, and plants, the wild critters feel at home and now cross the road in safety — which also helps keeps the road safe. 
The Count
Total miles driven: 2,807
Driven day 8: 546
Regions visited: 9. Pacific Northwest, Olympic Peninsula, Vancouver Island, Canada West, British Columbia Interior, Canada West, Polar Region, Living Skies Prairie Region, Absaroka
7 Regions to go