Zone 6 Grand Tour: The way back west - from Big Sky to big city
By Tim Hagner, Zone 6 Representative
Day 9, August 2, 2015: The longest day
It was Sunday morning in Billings, Montana on day nine of the Grand Tour, and it was anything but quiet during the drivers meeting before we started the next leg. There were Harley-Davidsons everywhere, all on their way to Sturgis, Wyoming. We've been told about a million people are riding their motorcycles in an annual motorcycle rally, and it feels and sounds like most of them are in our hotel parking lot. (Observation: the Harley riders we encountered didn't like to move over for faster traffic or go around corners, but I digress.)
We had 21 Porsches headed toward the city of Red Lodge, and from there to the Beartooth Highway pass. Last week it was closed for a day due to snow! This road switchbacks its way to the pass from the valley floor at 5,200 ft., up the side of the mountain, to just under 11,000 ft. in 12 miles. It is an unbelievable road with incredible views.
We stopped at the top to enjoy the view and talk about the amazing drive up, which was once called "the most beautiful drive in America" by the late CBS correspondent Charles Kuralt. Then we turned onto the Chief Joseph Scenic Byway and then over Dead Indian Pass (real name), elevation 8,061 ft. More fabulous Porsche roads took us to Cody, Wyoming where we had lunch and Absaroka Region handed us off to Yellowstone Region, the tour's host for the next leg. Thank you Absaroka Region, you were great hosts of the Grand Tour.
Since we were touring with a Region named after a famous national park, we all knew where we were going after lunch. Off we went to Yellowstone National Park's east entrance. This is peak season at Yellowstone, and you could tell. We drove to the West Thumb Geyser Basin to tour the hot springs, watch the geysers, and see boiling mud. Not enough you say? Lucky for you, day nine was our longest one yet.
From Yellowstone, we drove through the Grand Teton National Park to Jackson, Wyoming for dinner. Then we climbed the Teton Pass (8,432 ft.) and the Pine Creek Pass (6,764 ft.) on our way to Idaho Falls, Idaho, and then into our motel room beds (elevation 2.5 ft.) after arriving at 9:45 PM.
Everyone is having a great time, wish you were here!
The Count
Total miles driven: 3,240
Driven day 9: 312
Regions visited: 10. Pacific Northwest, Olympic Peninsula, Vancouver Island, Canada West, British Columbia Interior, Wild Rose, Polar Region, Living Skies Prairie, Absaroka, Yellowstone
6 Regions to go
---
Day 10, August 3, 2015: Porsches back on the high desert
At this point we'd moved out of the high country and back into the high desert. As we rolled north through Idaho we saw a building off in the distance with guard gates and tall fences. Area 52? As we neared it, we could make out the building's sign: Idaho National Laboratory, way out there, away from everything. Nuclear energy research was the lab's mission back in 1949 when it was founded. Today it seems to have expanded its mission to include energy, environmental, and national security research, according to the website. I wonder if they give tours?...
Further down the road, signs for the Experimental Breeder Reactor-I (EBR-I) Museum start to sprout. No time to stop, so I Googled it for you. Amazingly, it was the first nuclear power plant in the world to produce electricity, in 1951, and we drove right past it in the middle of Idaho. It was decommissioned in 1964 and is now a historical footnote. 
Forward toward Salmon, Idaho and lunch at the Junkyard Bistro — seems appropriate for a car tour.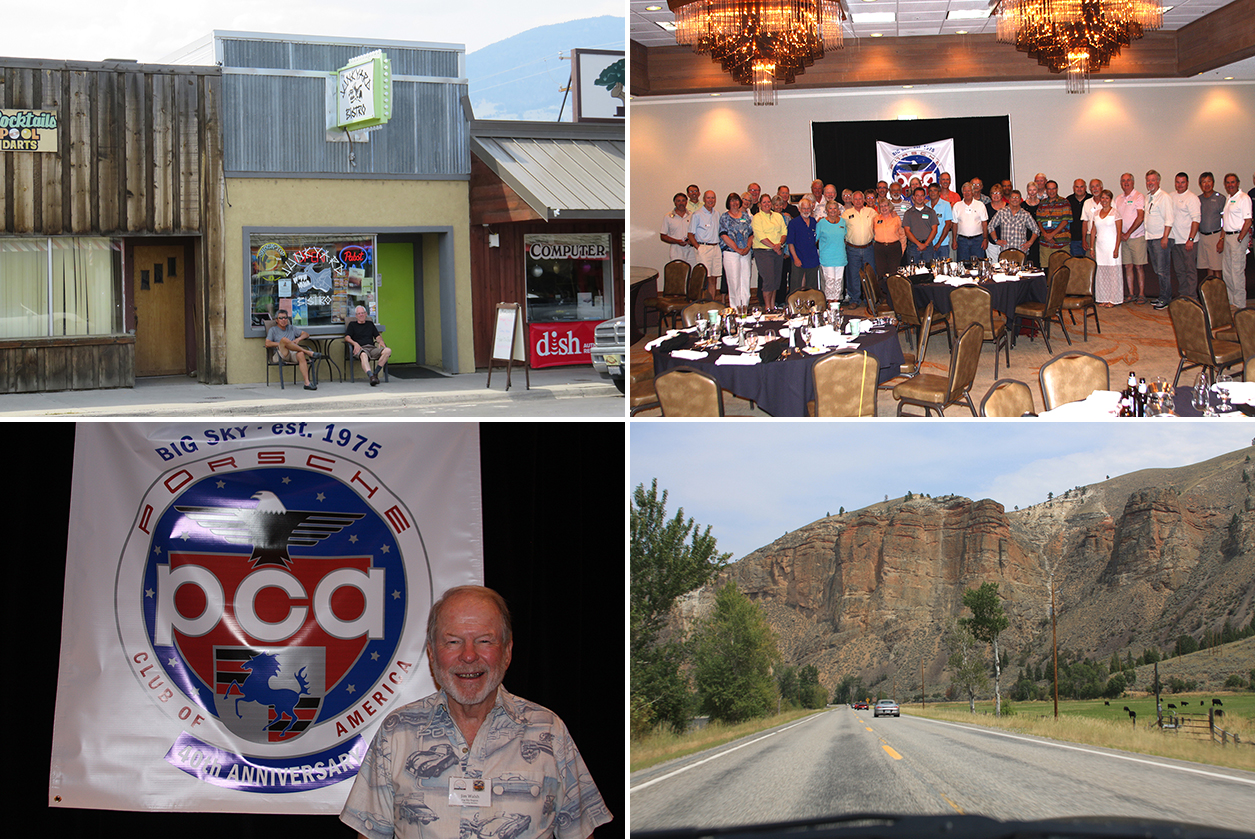 We are in a hurry today to reach Missoula, Montana, where we have an important date: It's the 40th Anniversary celebration for the Big Sky Region. Big Sky planned their celebration to coincide with the arrival of the Grand Tour. It's a party! Founded in 1975, Big Sky currently has 70 primary and 40 family and affiliate members.
Jim Walsh, one of the founding members of Big Sky, told us about his first Porsche, which will be his last and only Porsche, a 1971 911T. It was in the parking lot waiting to take him home after the party. Jim was an Army Officer in the rice paddy fields during the Vietnam war when he decided to special order a Porsche. He was told there was almost a year wait. But he thought that was ok because he wasn't going anywhere for the next year.
Jim loves his Irish Green 911 and still drives it regularly, though there is a daughter that has been spotted sporting the 911 around town occasionally.
The Count
Porsche mishaps (proving that nothing is perfect):

One low beam headlight bulb failure - replaced
One brake light bulb failure - replaced
A bolt vibrated lose and out of an A/C mounting bracket - replaced
One Porsche on a flat bed truck today, cause still TBD (sounds like water pump)
A air hose failure - duct taped to perfection

Total miles driven: 3,590
Driven day 10: 350
Regions visited: 11. Pacific Northwest, Olympic Peninsula, Vancouver Island, Canada West, British Columbia Interior, Wild Rose, Polar Region, Living Skies Prairie, Absaroka, Yellowstone,Big Sky
5 Regions to go
---
Day 11, August 3, 2015: Big Sky to Big City
Our morning in Missoula, Montana started with the obligatory drivers meeting, with new cars and drivers who join the tour everyday. Everyone was ready to go and gassed up, which brings me to a rule about touring: don't come to drivers meeting without full tank of gas.
Through the valleys, along the rivers and between the mountains we drove. Another scenic day on the Grand Tour has begun. Our lunch stop is scheduled for the Sawtooth Grill in Noxon, Montana. The owner is ready and waiting for us. She even went onto the PCA website to read about us. She then spread the word in town so the locals could enjoy the Porsches, all 21 of them, as we came through.
On to Lake Pend Oreille and to Sandypoint city beach. Here are some Lake Pend Oreille fun facts. It is 43 miles long, and 1,150 feet deep in some areas, making it the fifth deepest in the United States. During World War II, it was the second largest naval training ground in the world. It is still used by the Navy's Acoustic Research Detachment to test large-scale submarine prototypes because the depth gives acoustic properties similar to the open ocean. And we just thought it was a very cool looking lake!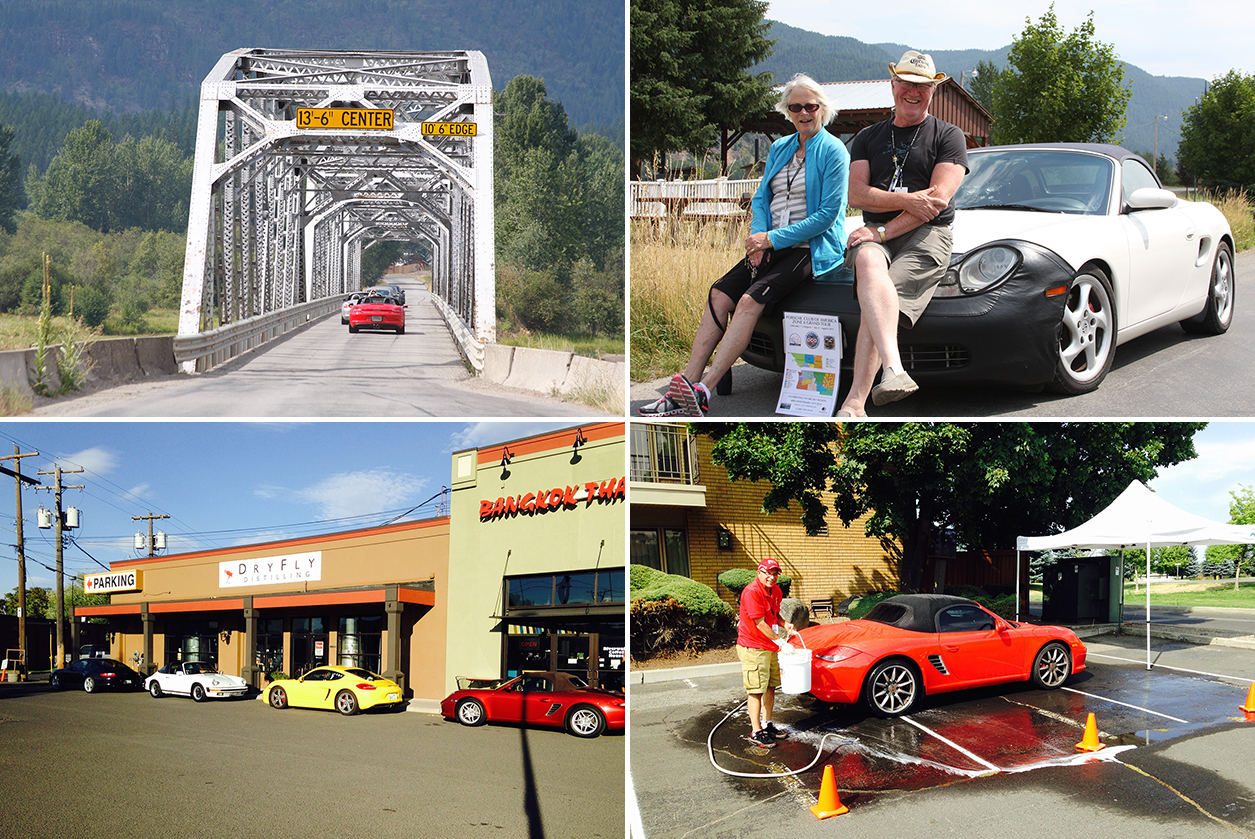 Into the city we charged, interstates, stop lights and traffic. Hello Spokane. We have been spoiled by the "road less traveled" the last 10 days and suburbia was a shock. We got over the shock and into old habits quickly. There was a do-it-yourself car wash waiting for us at the hotel, bless you Inland Northwest, and one-and-a-half hours later I got to the room. After a shower and some almost clean clothes (it's been 12 day on the road for us) it was off to dinner, and then the tour of Dry Fly Distilling followed by a tasting. Owned by a PCA member, it is the first new distillery in Washington state since prohibition, and all products used in the distilling process are grown within miles of Spokane. This is turning into an educational tour, not just another pretty view tour! 
We had some Tourers leave us today, a sad moment due to the time we spent making friendships and forming bonds. Here's to hoping they can be at the end of the road and we can get together Saturday in Wilsonville, OR. 
The Count
Porsche mishaps: 

No new mishaps

Total miles driven: 3,860
Driven day 11: 260
Regions visited: 12. Pacific Northwest, Olympic Peninsula, Vancouver Island, Canada West, British Columbia Interior, Wild Rose, Polar Region, Living Skies Prairie, Absaroka, Yellowstone, Big Sky, Inland Northwest
4 Regions to go