Zone 6 Grand Tour: Into the home stretch
By Tim Hagner, Zone 6 Representative
Day 12, August 4, 2015: Dancing through time
We started our day in Spokane, Washington, in the Pacific Time Zone, after leaving the Mountain Time Zone yesterday. Still with our host, Inland Northwest Region, we headed south through eastern Washington — wheat country.
The scenery is of rolling hills, amber waves of wheat, punctuated by little oases of trees and lawn in front of the wheat farmers' houses. In the distance we could see dust clouds rising from the fields stirred up by the combines — the machines used for harvesting. The farmland in Canada was much flatter and seemed to go on forever, a stark contrast to what's found out here.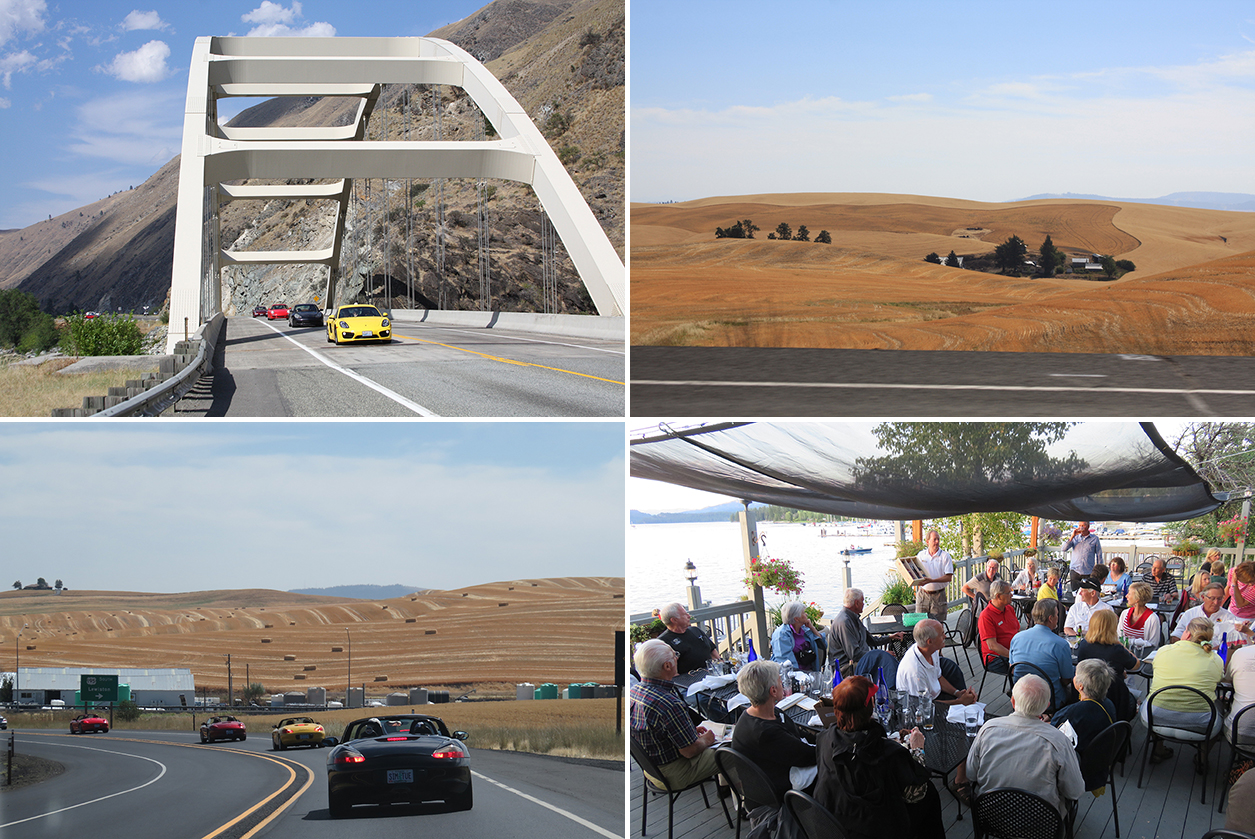 We turned east, back into Idaho and Mountain Time, and met our new host Region, Silver Sage. So long and a hearty "Thank you!" to Inland Northwest.
As the drive continued, we started to gain elevation and move back into the trees and the road construction. There is lots of roadwork going on in most of Zone 6 right now, though there is a short window of clear roads when construction ends before winter hits.

We arrived in McCall, Idaho, for the night and enjoyed a fabulous dinner on a deck overlooking Payette Lake. Silver Sage raised the bar tonight on hospitality!
(Did you know that McCall has the highest average snowfall in the state of Idaho? Another Grand Tour fun fact.)
We have added two more cars to the "I'm going all the way" list and lost one a while back, bringing the total to nine. We had one couple drive 1,250 miles from Southern California to Seattle to start the Grand Tour and drive through day nine, but they ended up completing the whole thing after revising their plans.
Another couple joined us in Canada for three days and decided to stay with us until the end. Some who had to leave early will be back for the final two days of the tour. This is the kind of tour it's been. Nobody wants the journey to end, in large part because of all the great support and hospitality the Regions along the way have shown to us!
The Count
Porsche mishaps: No new mishaps
Total miles driven: 4,155
Driven day 12: 295
Regions visited: 13. Pacific Northwest, Olympic Peninsula, Vancouver Island, Canada West, British Columbia Interior, Wild Rose, Polar Region, Living Skies Prairie, Absaroka, Yellowstone, Big Sky, Inland Northwest, Silver Sage
3 Regions to go
---
Day 13, August 5, 2015: Welcome to Oregon
We were back in McCall, Idaho on Thursday morning, standing in the motel parking lot at 7 AM (Mountain Time). It was 48° F during our drivers meeting. We knew we would be traveling through some road construction zones and gave ourselves some extra time. I'd rather try to get back that hour we lost yesterday.
We are starting the day in the high country with conifer trees all around. As we wound our way into the valley we emerged from the forest and into high desert, fertile land where the farmers and ranchers source water from the high country to irrigate crops and hydrate their cattle. We then climbed out of the valley and back into the next high country conifer forest. We repeat this process at least four times today.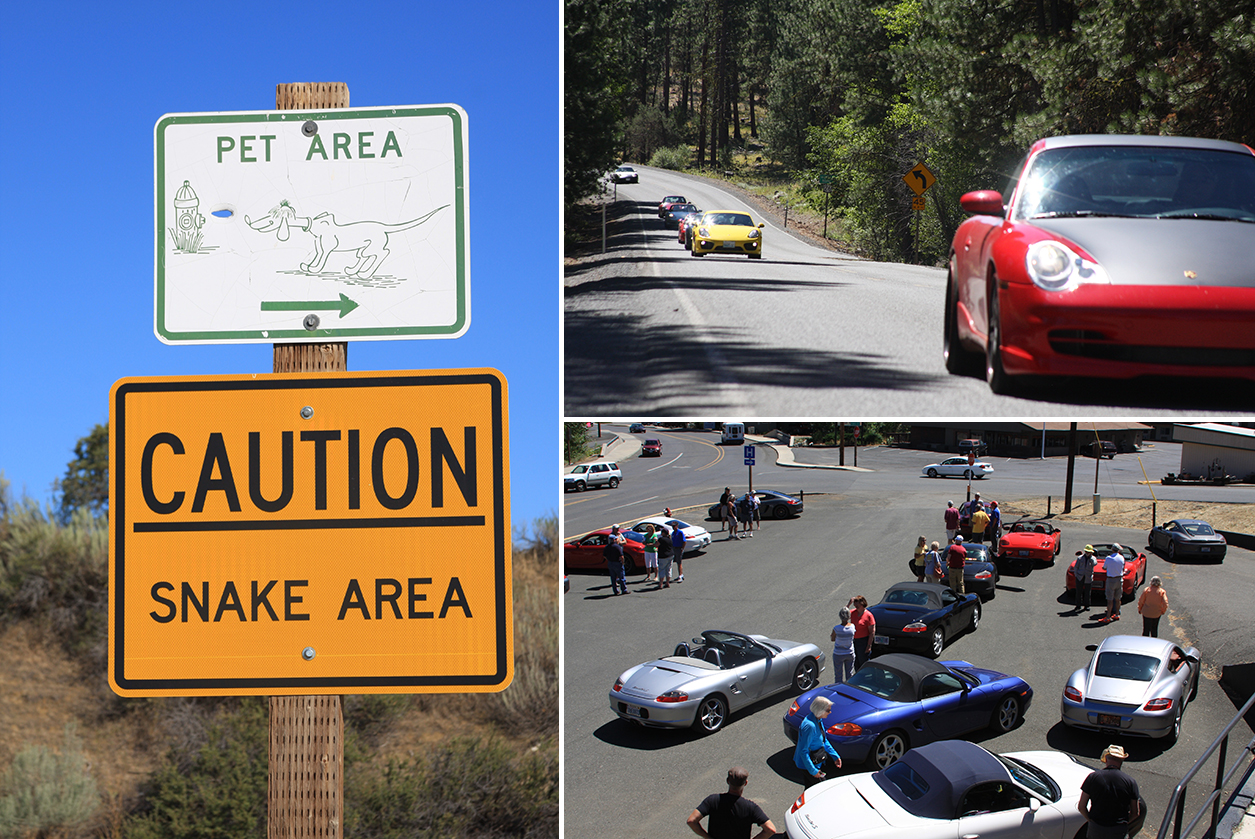 Along the route we saw the "Welcome to Oregon" sign and felt both sadness and excitement. It meant we were nearing the end of the Grand Tour, and we felt like it just started. We traveled onward to lunch in John Day, Oregon, where the gracious hosts of Silver Sage Region pass the baton — 16 Porsches — to the High Desert Region, my home region. Smiles and hugs all around. It feels like the end of the tour, but there are still two days left. We fill our tanks, eat lunch, and keep movin' down the road. With High Desert Region along with us, the group swells to 22 Porsches. We continue the climb-and-descend cycle to our destination in Bend, Oregon.
Today we drove one of the great Porsche roads: Crooked River Canyon. This follows the Crooked River through the farms and pastures and then starts to climb. We climbed along the side of the canyon with drop-offs down to the river on one side and stone cliffs on the other.
After crossing the dam, there were more twisty roads before heading back onto flat land with high desert scenery: juniper trees and desert shrubs. Tomorrow we'll be driving another great Porsche road, the Aufderheide Memorial Drive. This is 60 miles of green canopy, squiggles of tarmac — pure Porsche fun. Another fabulous day on the Grand Tour. 
The Count
Porsche mishaps: No new mishaps
Total miles driven: 4,535
Driven day 13: 407
Regions visited: 14. Pacific Northwest, Olympic Peninsula, Vancouver Island, Canada West, British Columbia Interior, Wild Rose, Polar Region, Living Skies Prairie, Absaroka, Yellowstone, Big Sky, Inland Northwest, Silver Sage, High Desert
2 Regions to go
---
Day 14, August 6, 2015: Into the home stretch
A drivers meeting with a pleasant change: breakfast served. Thanks to High Desert Region and Porsche of Bend for hosting our morning drivers meeting. With a truly fine selection of cars around us, we ate and socialized, two things we've become very good on the Grand Tour. With full bellies, we head to the Cascade Mountains for some great driving on fun roads and then lunch.
At the second rest stop of the morning, High Desert stepped aside as our hosts and Cascade Region stepped in. Thank you High Desert. Goodie bags with fruit, snacks and water were distributed and route instructions discussed before going west, toward the Pacific Ocean. Stop when you see sand!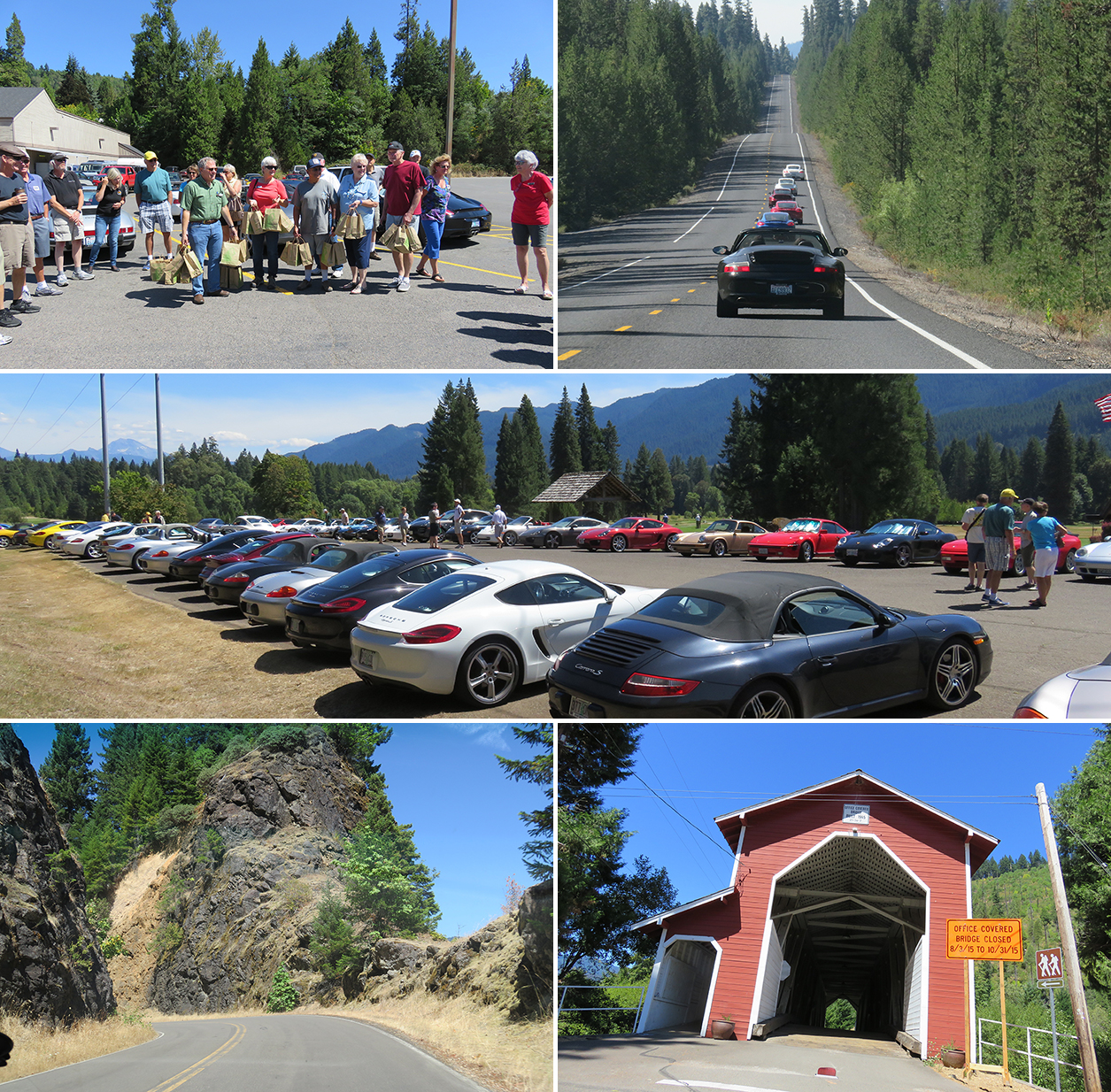 The drivers' jewel of the day was the Aufderheide Memorial Drive. Sixty miles of road with no crossings and minimal traffic. We drove lots of great roads on the Grand Tour, but this one is my favorite — a real "driver's road."
That night at dinner I felt a slight mood change in the long-distance travelers; we know the end is near, and it's a bittersweet feeling. The dinner venue afforded great views, great food, great Porsche People…you get the picture. The President of the Cascade Region gave each of us an Oregon state quarter for continued good luck. 
The Count
Porsche mishaps: No new mishaps
Total miles driven: 4,855
Driven day 14: 320
Regions visited: 15. Pacific Northwest, Olympic Peninsula, Vancouver Island, Canada West, British Columbia Interior, Wild Rose, Polar Region, Living Skies Prairie, Absaroka, Yellowstone, Big Sky, Inland Northwest, Silver Sage, High Desert, Cascade
1 Region to go