PCA Club Racing will have run group at Rennsport Reunion V
Tuesday, September 8, 2015
Article by Vicki Earnshaw
Photos courtesy PCA Club Racers and Susan Shire
PCA Club Racing is proud to announce that it will host the Sholar-Friedman Cup race group (Group 1) during Rennsport Reunion V (RRV) September 25-27 at Mazda Raceway Laguna Seca. This is the second Rennsport Reunion at Laguna Seca to have a PCA Club Racing run group.
The Sholar-Friedman Cup will have 50 racers from multiple classes, ensuring a wide variety of cars that range from factory-built GT3 Cups to modified air-cooled 911s to Caymans and even stock race cars. The 50 PCA Club Racers represent club Regions and Zones throughout North America. Sholar-Friedman Cup windshield banners will distinguish their Porsches.
Group 1 will be on track all three days at RRV. On Friday there will be two practice sessions, one at 8 AM and the other at 1:20 PM. The qualifying session is on Saturday at 8 AM. Warm-up on Sunday is at 8 AM, followed by the Sholar-Friedman Cup race at 10:45 AM. Be sure to attend the podium awards after the race. 
Naming this run group Sholar-Friedman honors two PCA members crucial to the formation of the club and PCA Club Racing. Bill Sholar founded Porsche Club of America in 1955 after realizing Porsche owners wanted to learn more about their cars and socialize with — and compete against — other Porsche owners.
Alan Friedman spearheaded PCA Club Racing in 1990 after observing a need for PCA's own race series, for members who wanted to take the step beyond High Performance Drivers Education (HPDE) events. He used his experience in vintage racing, and, over the course of two years, pursued the development of what is now the world's largest single-marque racing venue: PCA Club Racing.
"It was obvious we needed to take two world-class brands in the automotive enthusiast category, PCA and Porsche, and combine them to create a major new program," Friedman comments.
He certainly was correct. The first race season, in 1992, had four races on the schedule and 200 members racing. Today PCA Club Racing has 32 races and over 2,000 racers. Friedman is one of them and will take to the track in the Sholar-Friedman Cup.
In addition to the Sholar-Friedman Cup, PCA will have a presence at RRV in the form of a hospitality tent in the paddock area for members, which will have scheduled presentations by former and current Porsche drivers.
Rennsport Reunion occurs every three to four years and is a celebration of all things Porsche with an emphasis on motorsport. In addition to the racing, spectators who take time to walk around the paddock area may get up close and personal with the prestigious machines and the people who race them.
For more information on Rennsport Reunion V and to buy tickets, visit: http://www.mazdaraceway.com/porsche-rennsport-reunion-v
To get a better idea of what PCA Club Racing is about, watch the video below. Scroll down further for a look at the PCA Club Racers who will be racing in the Sholar-Friedman Cup.
---
Lineup of PCA Club Racing drivers who will race in the Sholar-Friedman Cup
Includes 41 of 50 racers who will race in the PCA Club Racing Sholar-Friedman Cup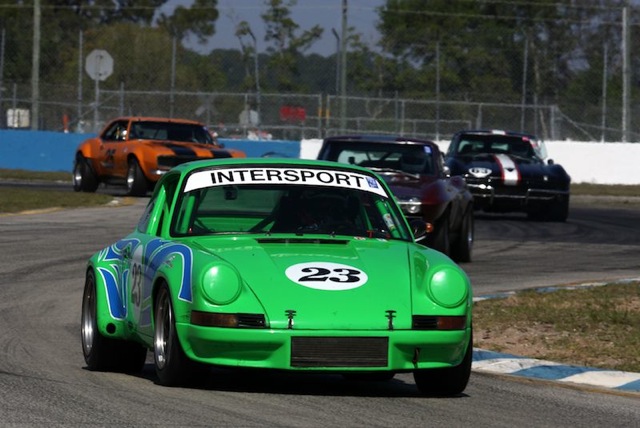 Alan Friedman. #23 1973 911 RSR. GT4 Class. Potomac Region: "The car did about two years of Historic SportsCar Racing (HSR) before I bought it (it was solid green then). I sold my Cup car to buy this in early 2011. I wanted to have a car to do both vintage and PCA racing. I've done 18 races with it — mostly vintage racing.
"The car was built by James Cox (now deceased), and he built a number of them for vintage competitors who wanted an RSR (but not the expense of a real one!)."
---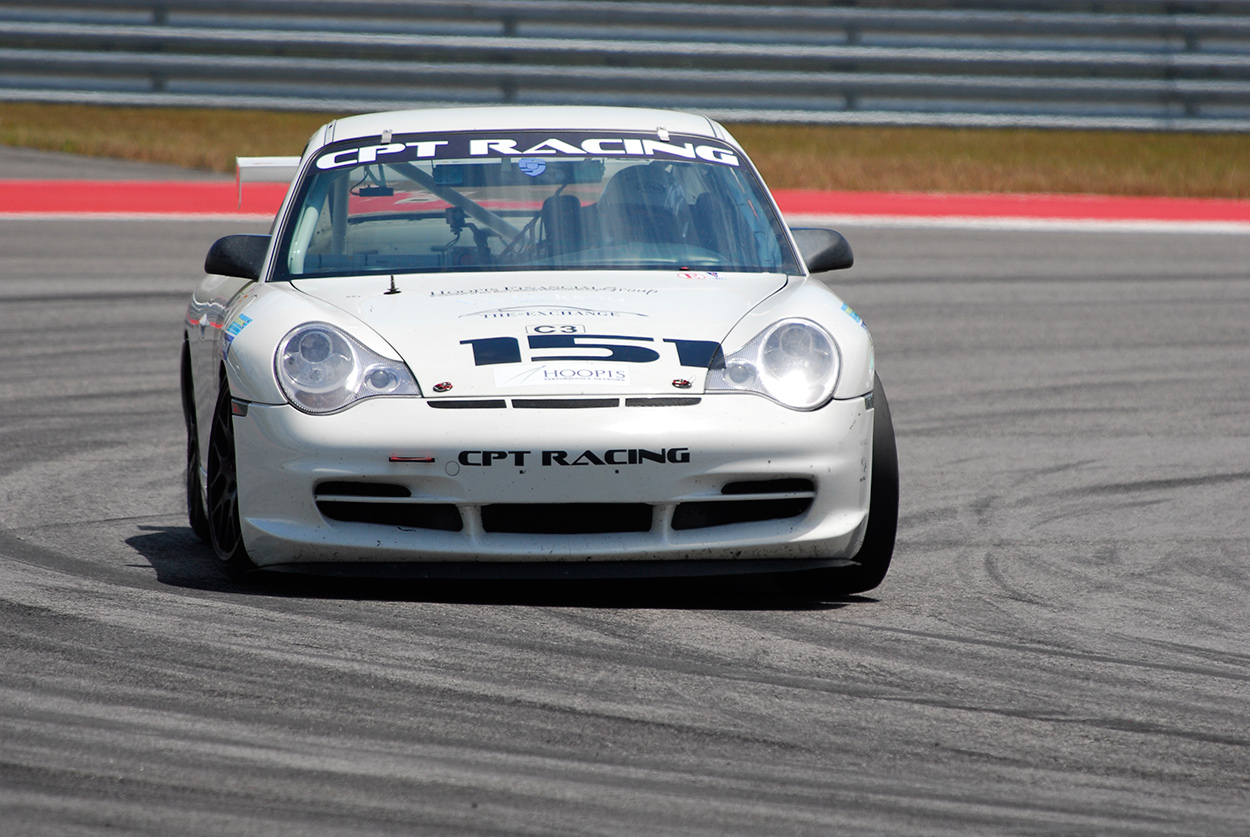 Al Uscinski. #15 2002 911 GT3 Cup. GTC3 class. Chicago Region
---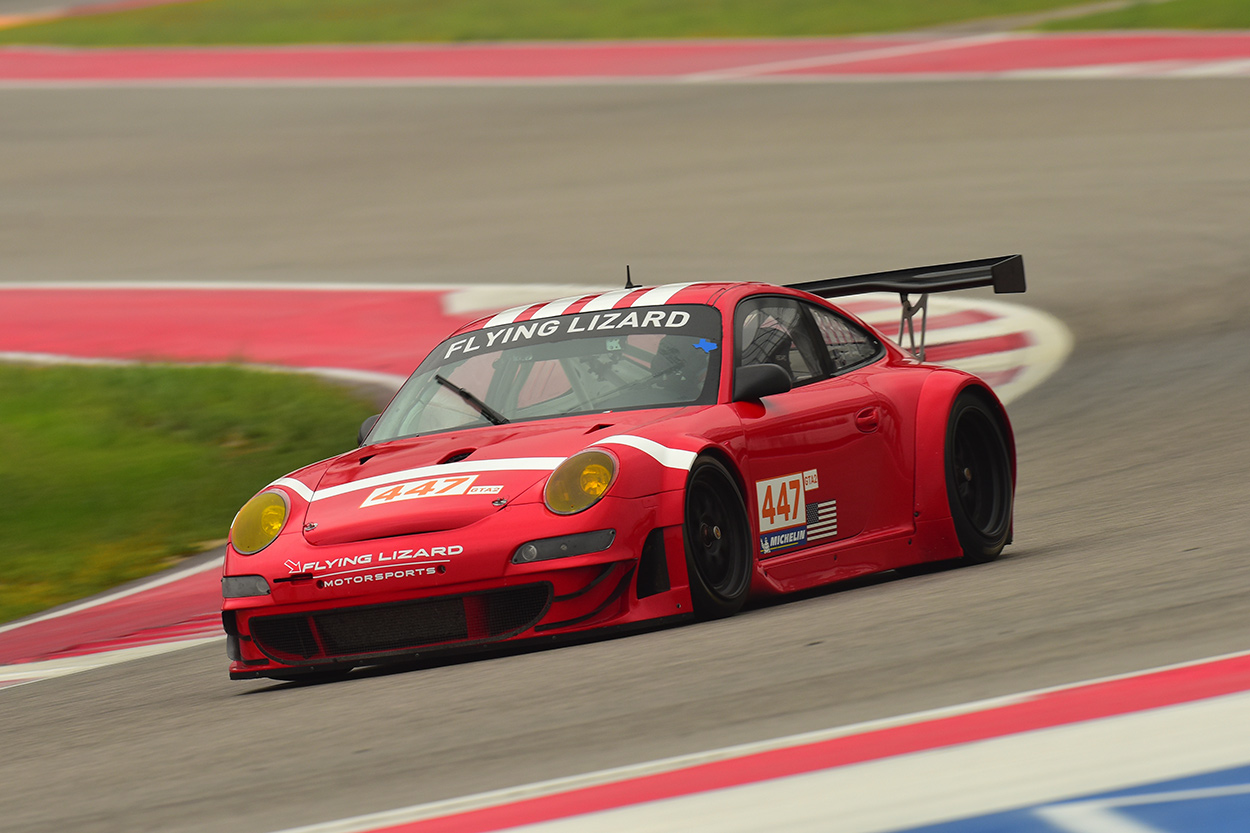 Andy Wilzoch. #447 2008 911 RSR. GTA2 class. Rocky Mountain Region.
---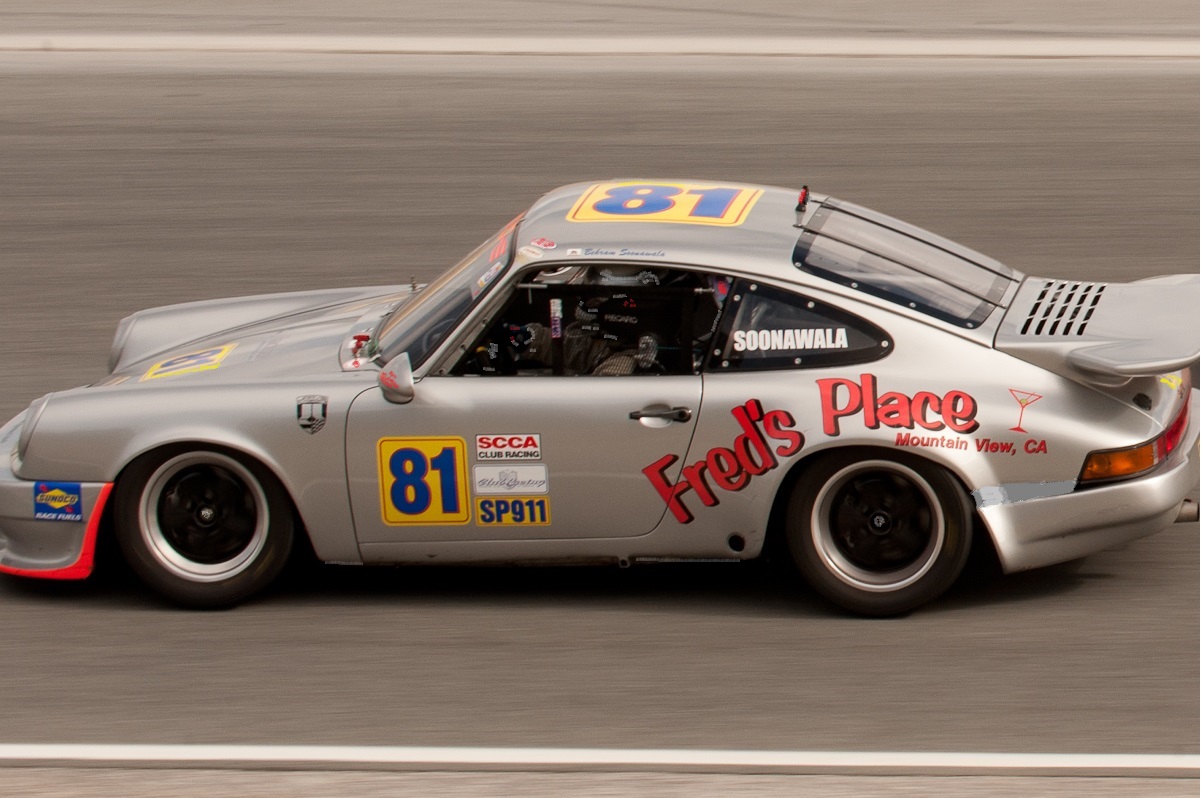 Behram Soonawala. #81 1975 911. SP911 class. Golden Gate Region: "Spec 911 built from 1975 chassis, raced in PCA and SCCA since 2002. Converted to G50 transmission. Winner of three Porsche Club Racing championships."
---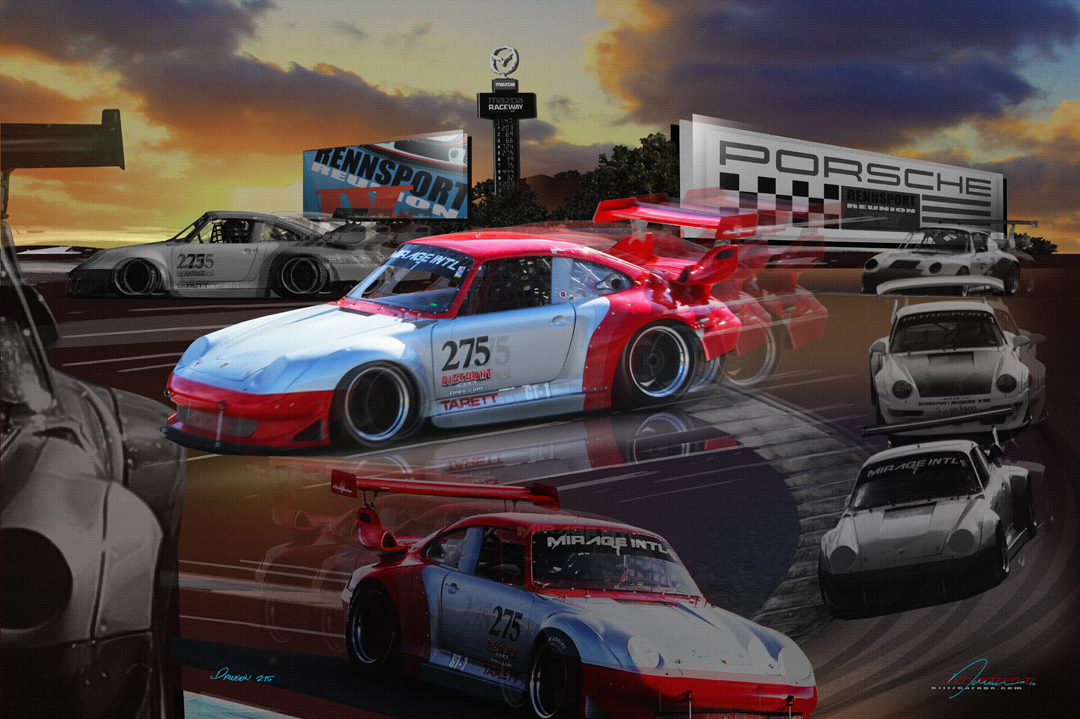 Bill Dawson. #275 1997 911. GT1 class. San Diego Region: "Car #275, a Porsche 993 TT, has won the four-hour Tribute to Le Mans put on annually by the Porsche Owners Club. It also competed in the 24 Hours of Daytona. It has more than 20 class wins in PCA Club Racing and POC races."
---
Bill Smith. #428 2003 911. SP996 class. Maverick Region: "My car was built by Topp Racing in 2014, and I first raced it at Circuit of the Americas in 2014. I'm currently leading the SP996 class, however this car doesn't have any particular history."
---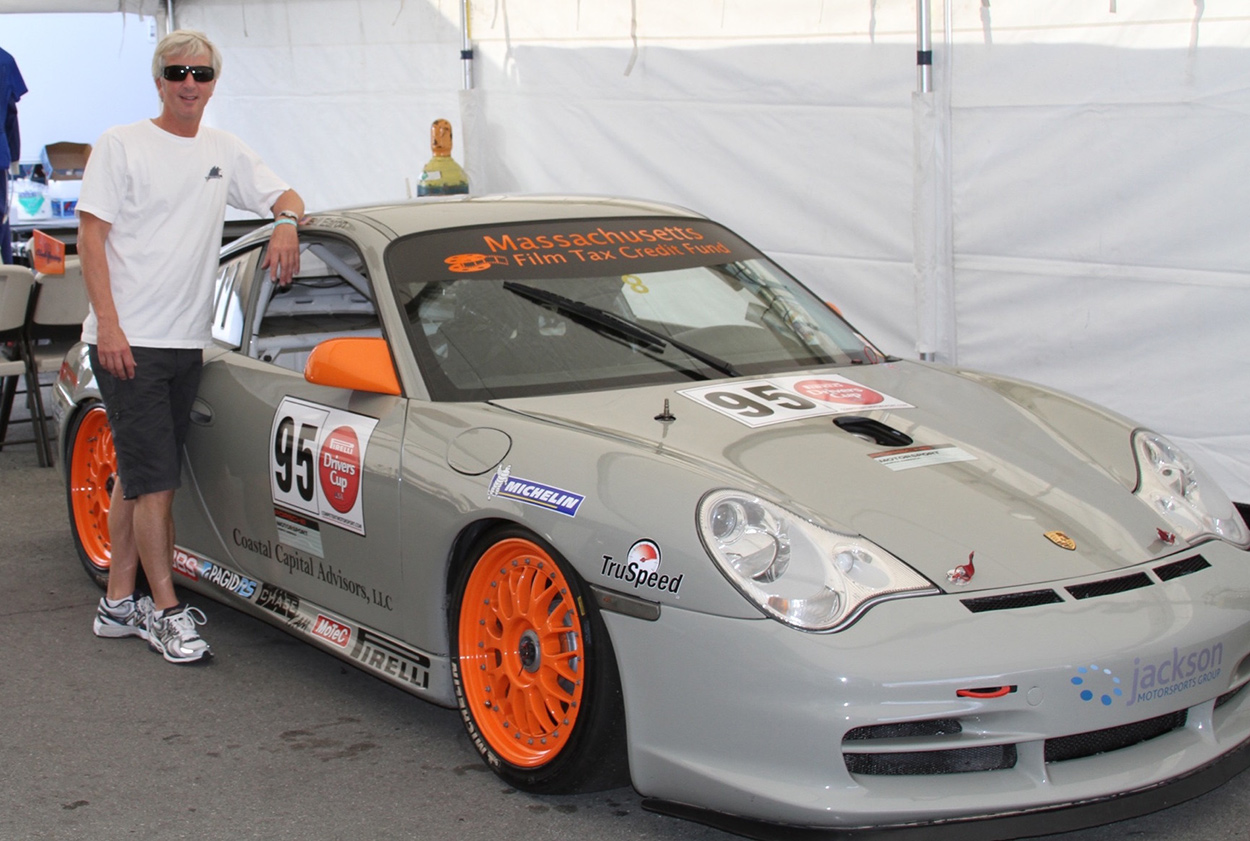 Bill Earon. #95 2003 911 GT3 Cup. GTC3 class. San Diego Region.
---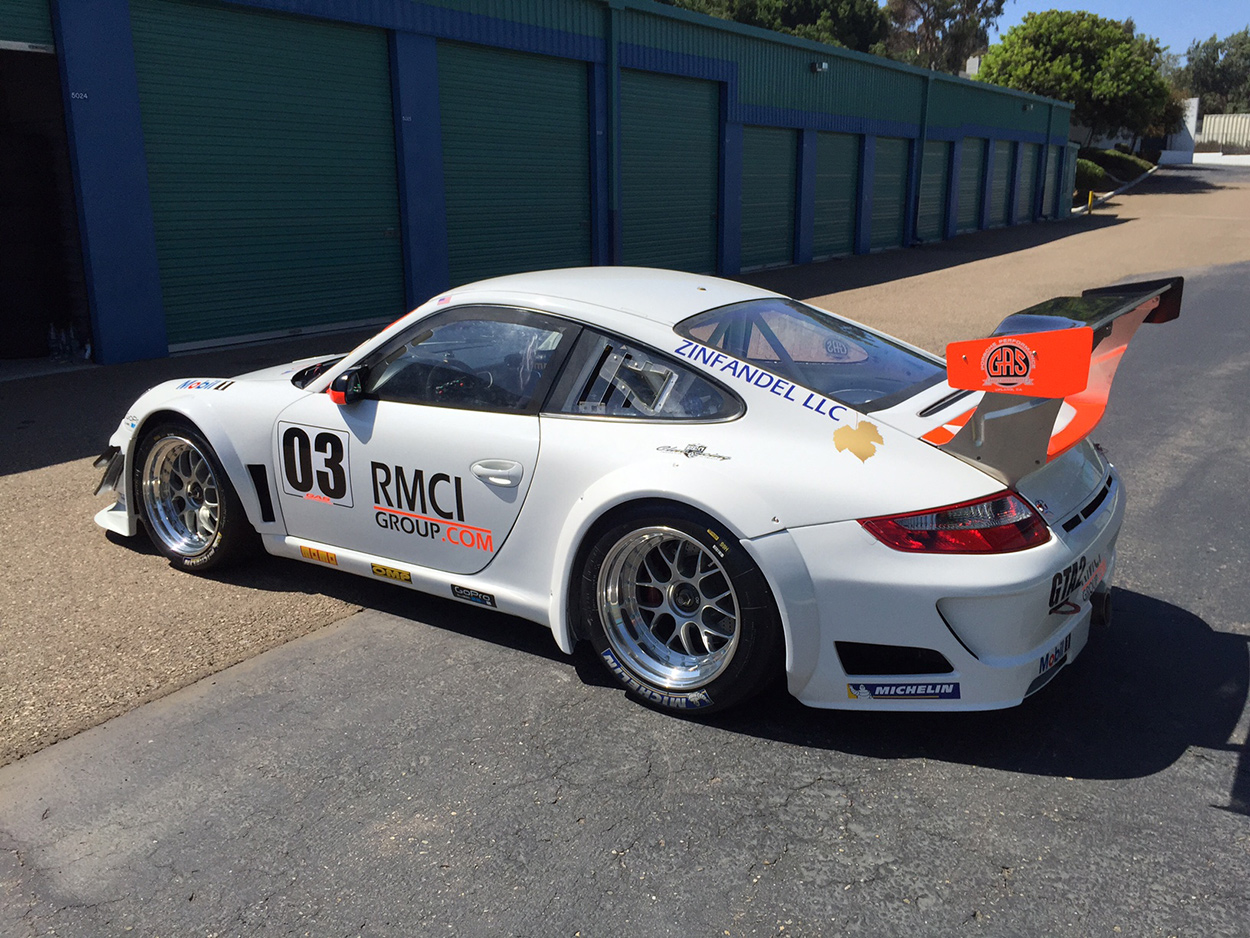 Bob Mueller. #03 2007 GT3 Cup. GTA2 class. San Diego Region: "This car raced the 25 Hours of Thunderhill in 2011, 2012, and 2013 and was the overall winner in 2012.
---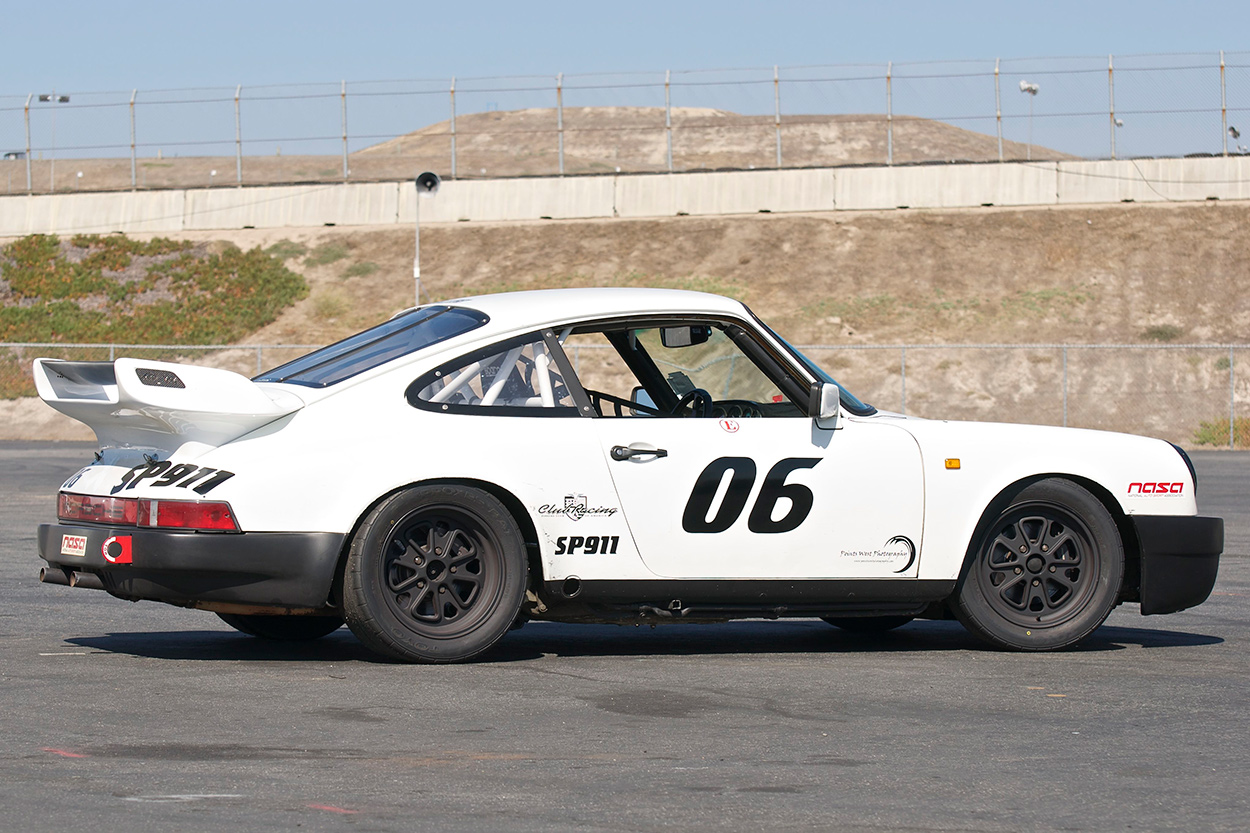 Brian Lynch. #6 1984 911 Carrera. SP911 class. Golden Gate Region: "The car is a 1984 Euro-spec Carrera that was converted to the SP911 class slowly over a couple of seasons. Most of the real dirty work of stripping out the interior, cleaning up all of the glue, carpet and insulation residue, re-painting the interior, and installation of the safety equipment was performed by me. The motor and transmission are nearly 100% stock and currently have a little more than 112,000 miles on the clock. A nice testimony to the robust build quality of Porsches!"
---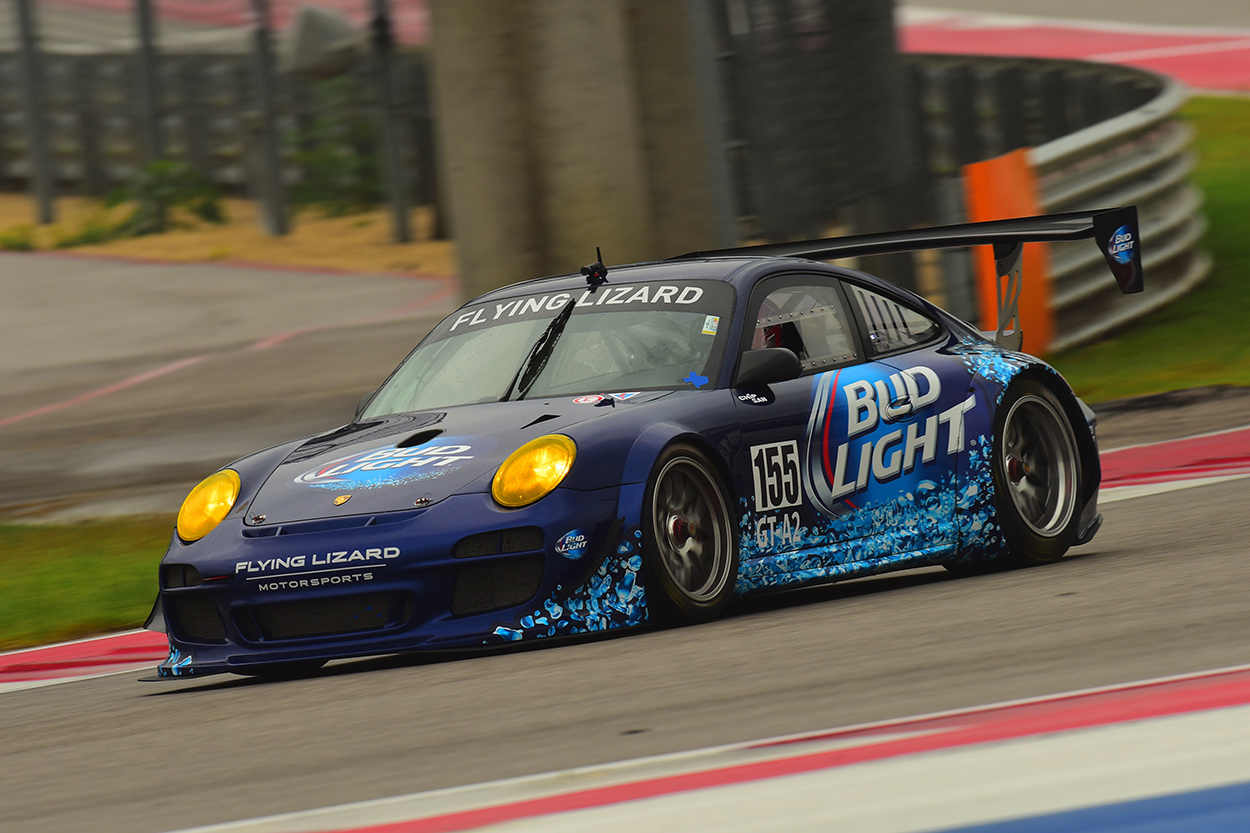 Chip Romer. #155 2012 911 GT3R. GTA2 class. Arizona Region: "It is the 2012 GT300 season champion. It is from Asia. It was owned by Team Taisan Endless. Drivers were Mineo and Yokomizo. I bought the car from the team."
---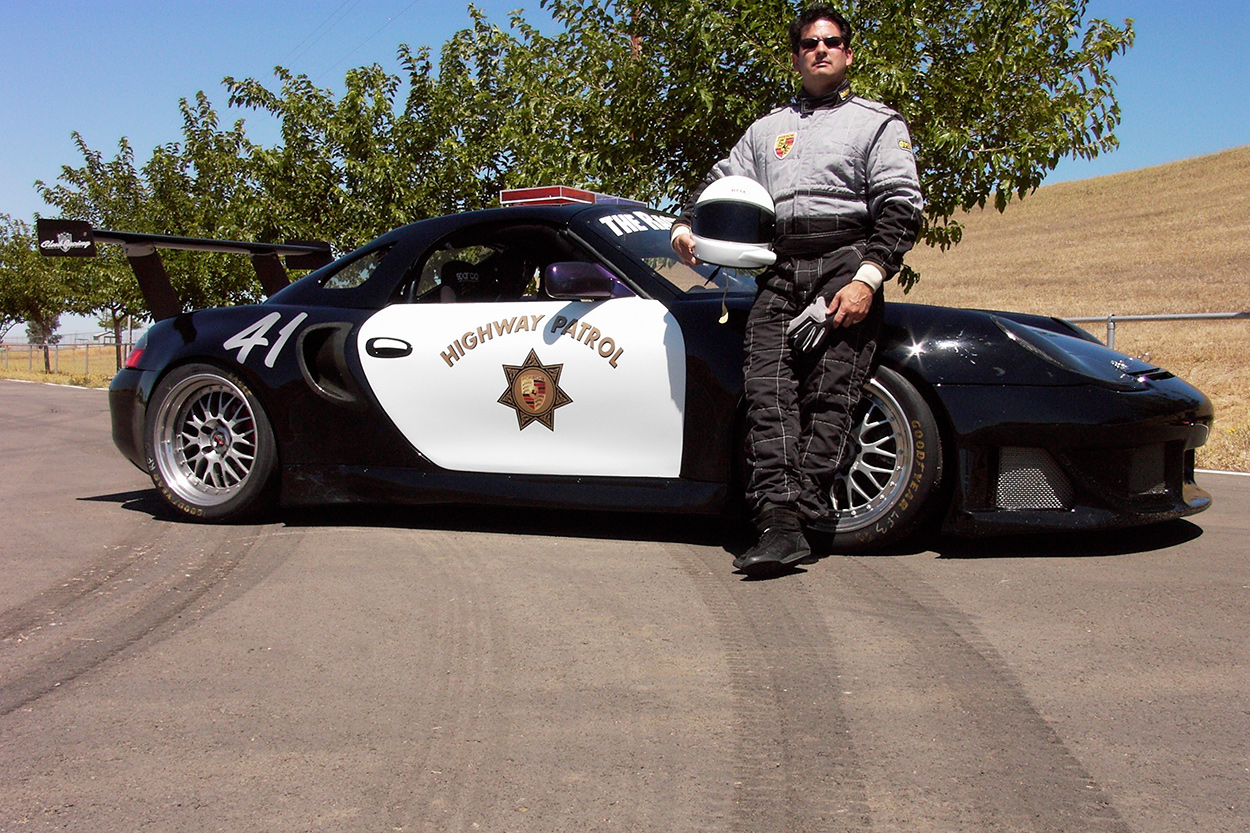 Chris Murray. #41 2000 Boxster S. GT3 class. Golden Gate Region: "This is the pic used in the June 2006 Excellence article."
---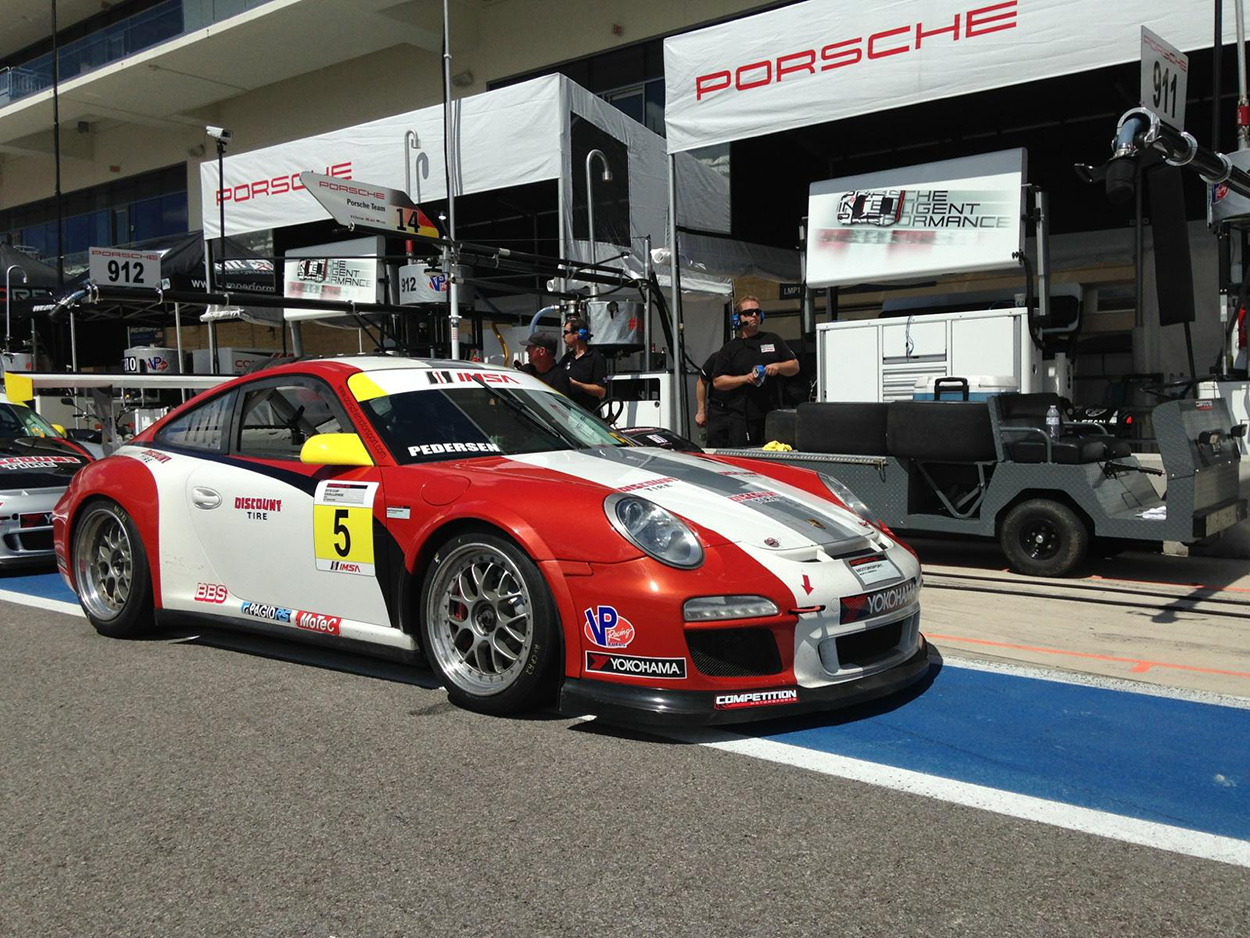 Chris Pedersen. #205 2010 911 GT3 Cup. GTC5 class. San Diego Region: "It has raced in multiple Porsche Motorsports and PCA Club Racing sponsored race series both in the USA and Canada."
---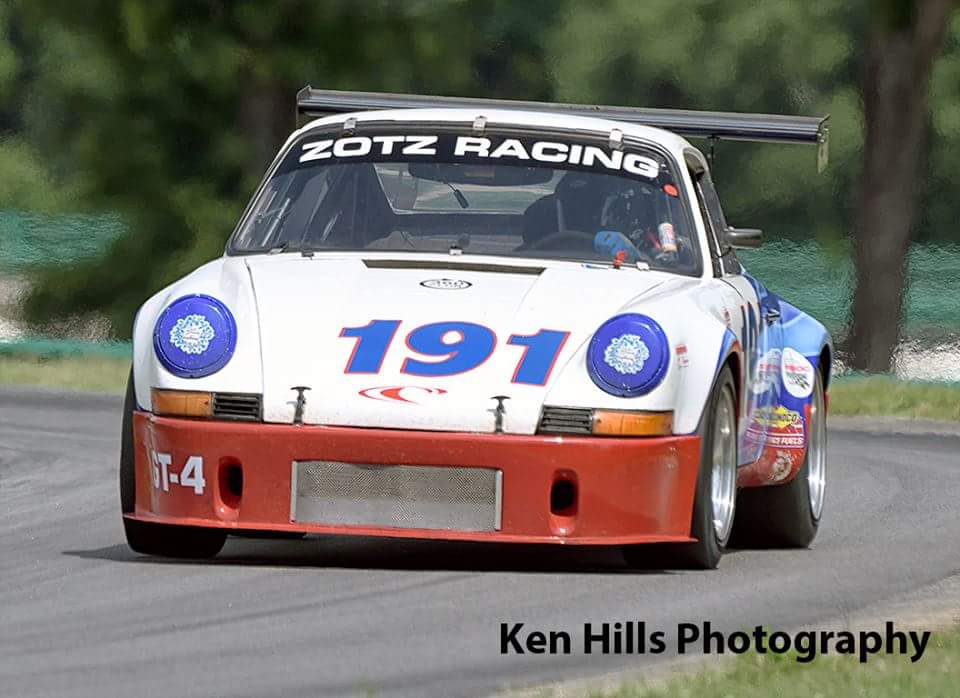 Clarke Simpson. #191 1971 911 RSR. GT4 class. Potomac Region.
---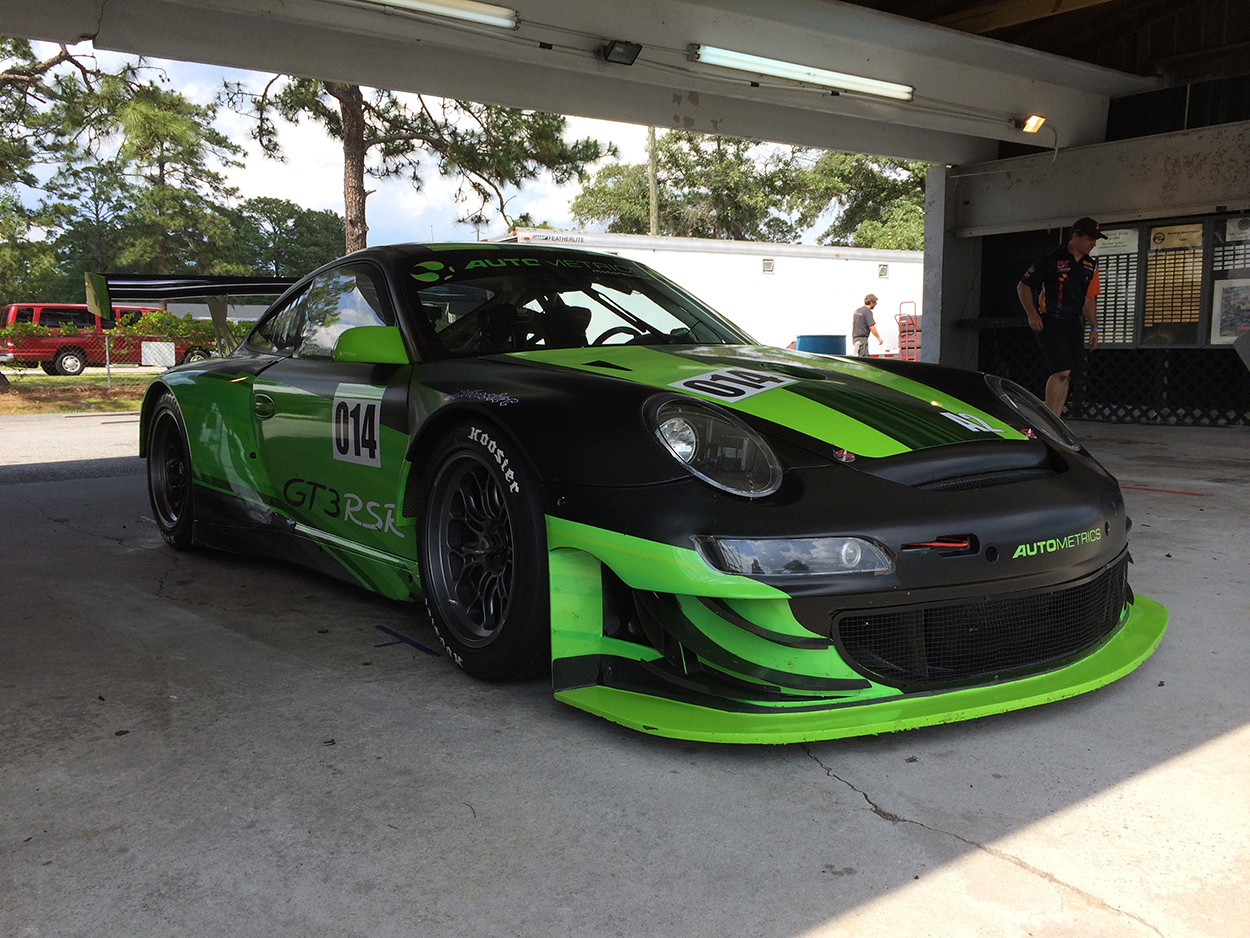 Cory Friedman. #014 2007 911 GT3 RSR. GTA2 class. Palmetto Region: "One of only a handful of factory RSRs in the country. It ran in the ELMS (European Le Mans Series) at Interlagos in Brazil. It has won in three out of three of its most recent PCA Club Racing weekends and holds track records in its class at two of the three most recent tracks it visited."
---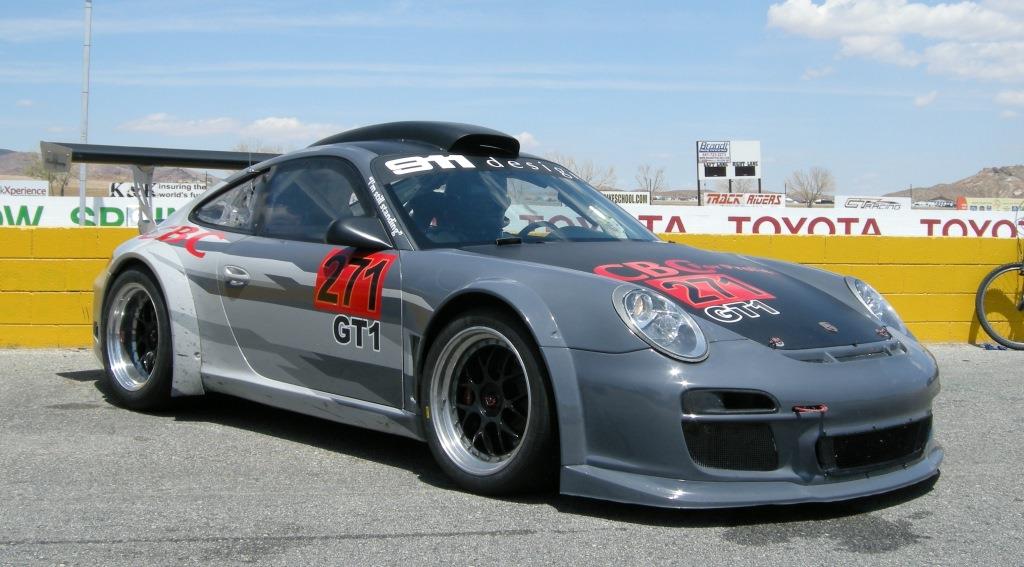 Dan Davis. #271 2006 911 GT3 Cup. GT1 class. Orange Coast Region: "It started life as a 2006 Cup car, owned by multiple individuals. Before I bought it, it was Loren Beggs' primary race car, where a number of Cup car titles were won, but I don't have the specifics.
What makes the car unique is the rarely seen conversion of a Cup car to a 900+horsepower turbo. It's basically the same engine that I have run since 2007 in my 1977 car that won over three-dozen races outright, plus a number of POC GT1 championships (and three PCA workers choice awards)."
---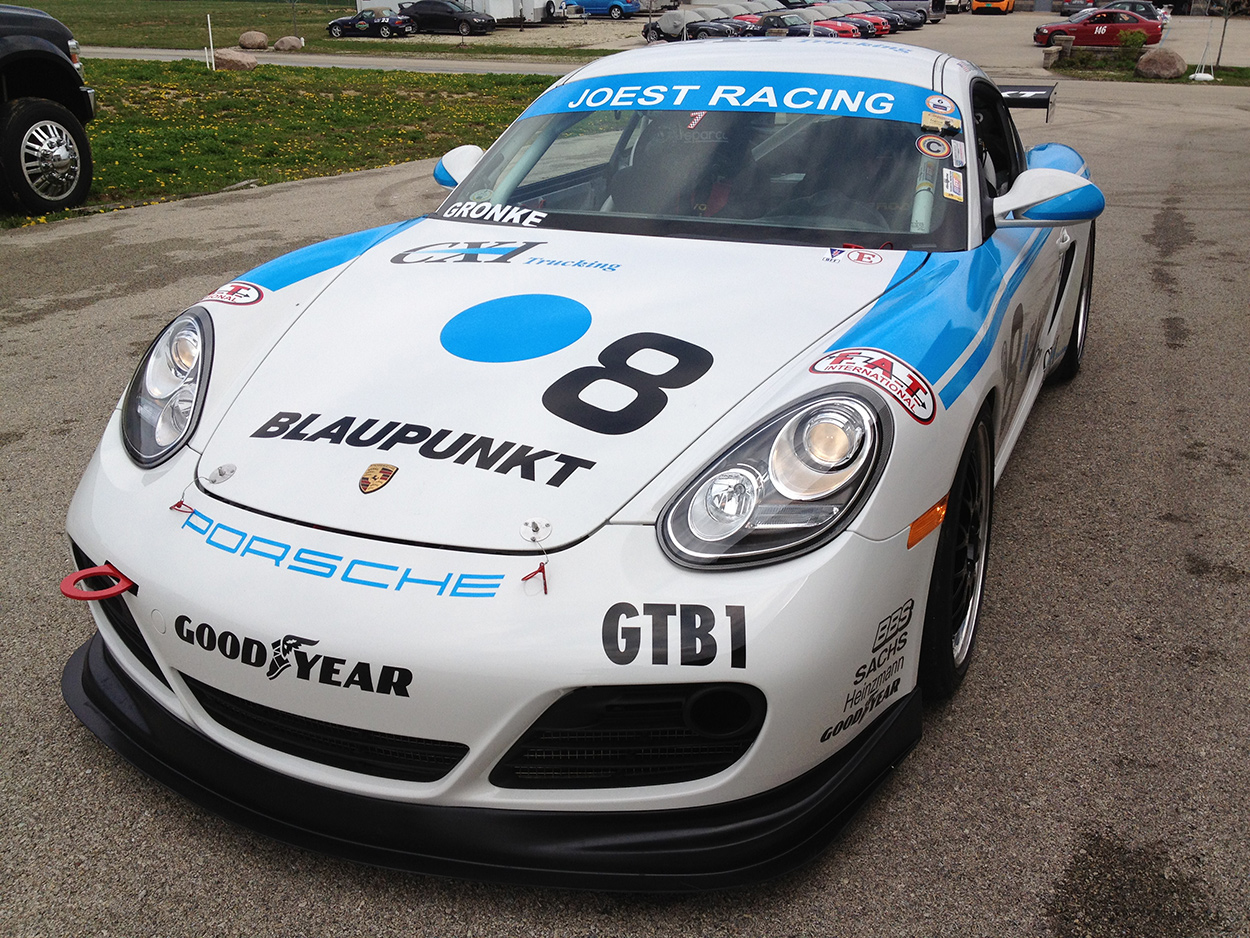 Dave Gronke. #8 2011 Cayman. GTB1 class. Chicago Region.
---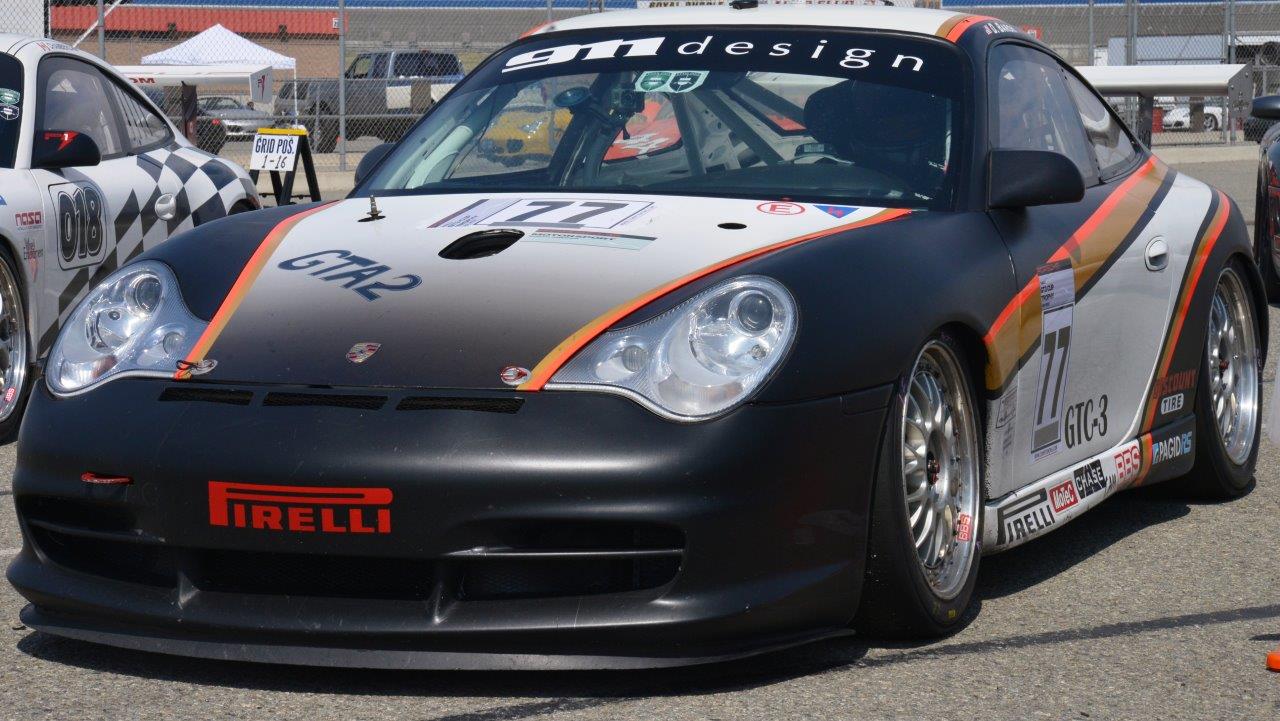 Doug Baron. #77 2004 911 GT3 Cup. GTC3 class. Los Angeles Region: "My car ran in the Grand-Am series for two years in 2005-2006. It did the 24 Hours of Daytona both years. It won first in class championship in the Pirelli Drivers Cup 2010-2011. It won POC championship in 2012."
---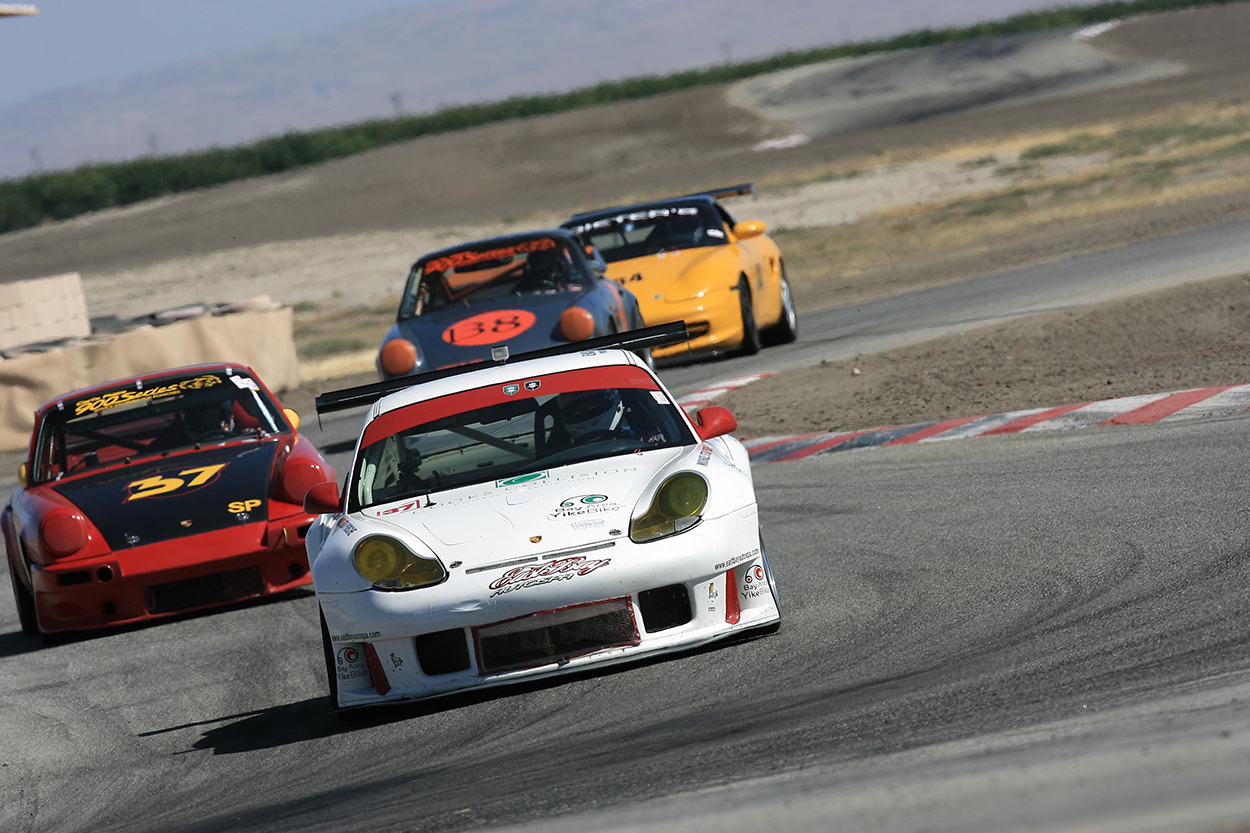 Ferd Carneiro. #37 911 GT3 RS. GTA1 class. Diablo Region: "My car was purchased by a large cosmetics company in Japan in 2000 and was sold in '01. The car needed a lot of work after being raced throughout Asia, from Fuji to Sepang to Suzuka, just to name a few. It was last raced in 2003. Then it sat at what was then Symbolic Motors in La Jolla, California until I purchased it."
---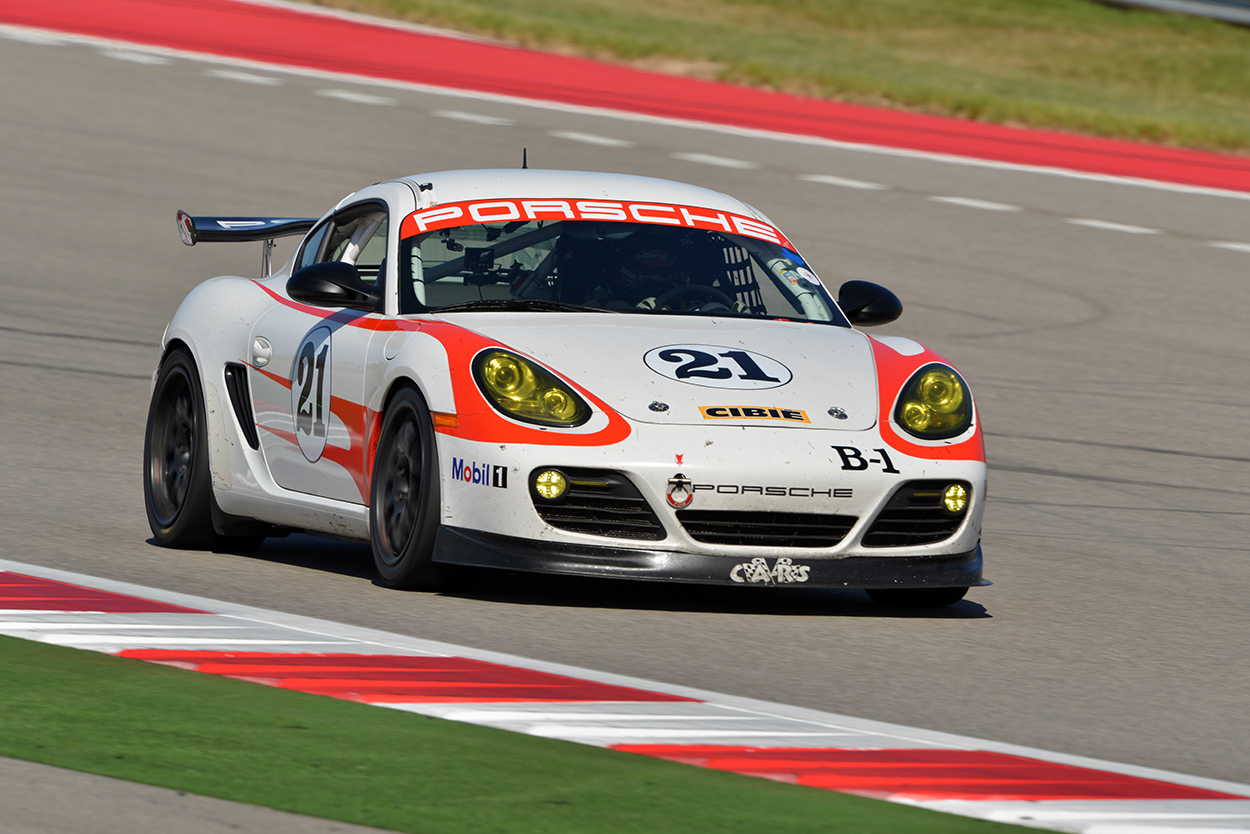 Henry Davis. #21 2011 Cayman. GTB1 class. Great Plains Region.
---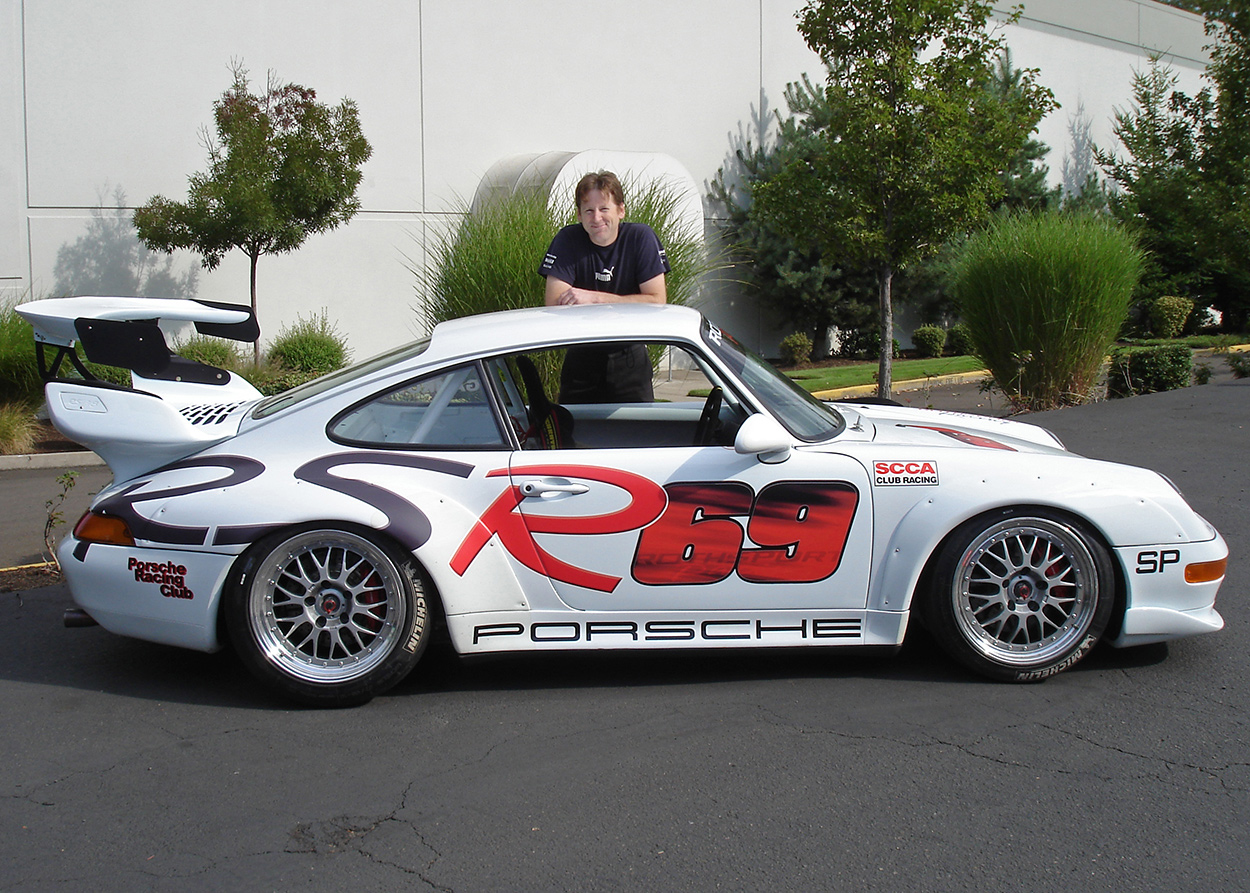 Jeff Gamroth. #69 1997 911 RSR. GT3 class. Oregon Region: "The car is a factory 993 RSR. I raced the then brand-new car in the 24 Hours of Daytona in 1997, where we finished fourth in class, 12th overall. I ran the 12 Hours of Sebring and a race at Sears Point (now Sonoma Raceway) that year. The owner kept racing the car that season and sold it to one of Alex Job's customers. At that time, Alex hired me to crew for him, and I continued to work on the car. Long story short, the original customer who I raced the car with at the 24 Hours of Daytona bought the car back and hired me to restore it in 2004. In 2006 I made a deal to purchase the car. In 2008 I took delivery of it and continue to race it in special events. I love this car…."
---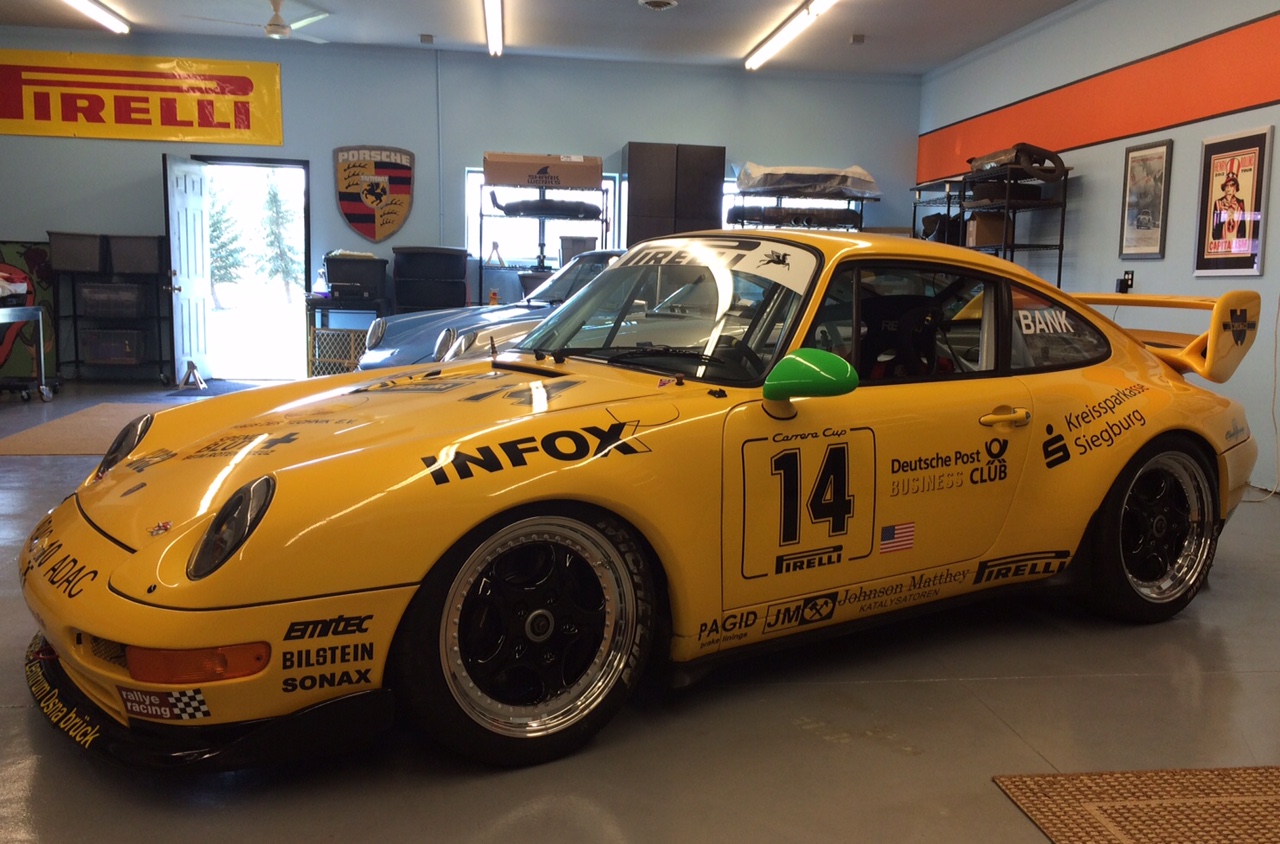 Joe Bank. #14. 2011 911 GT3 Cup. GTC5 class. Rocky Mountain Region: "This car is #001 of the last 15 air-cooled Porsche factory 993 Cup cars made in 1998. It was raced by Frank Schmickler, who was one of three drivers for Tolimit Motorsports. This original 993 Cup finished fifth overall in the German Carrera Cup and had the following race results:
Hockenheim: 5th overall
Zolder: 6th overall
Norisring: 5th overall
Lahr: 5th overall
Siegerland: 3rd overall
Nürburgring: 2nd overall
Diepholz: 1st overall
---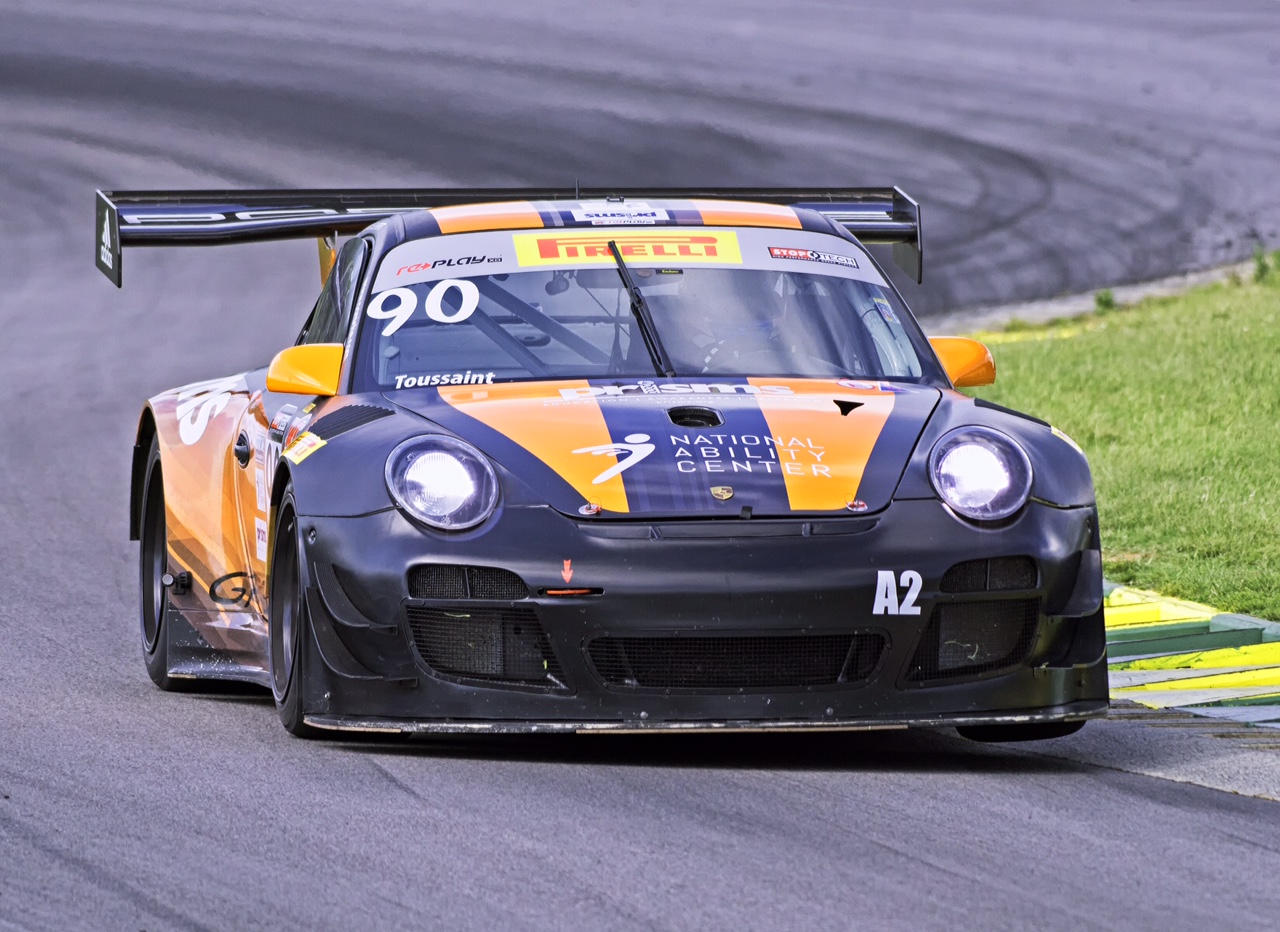 Joe Toussaint. #997 2014 911 GT3R. GTA2 class. Lone Star Region: "This car is the very last 997 race car of any variety (cup, GT3R, RSR) ever built by Porsche. The livery was custom made by Becker for Porsche to commemorate the car. I have raced it in PCA CLub Racing as well as the Pirelli World Challenge."
---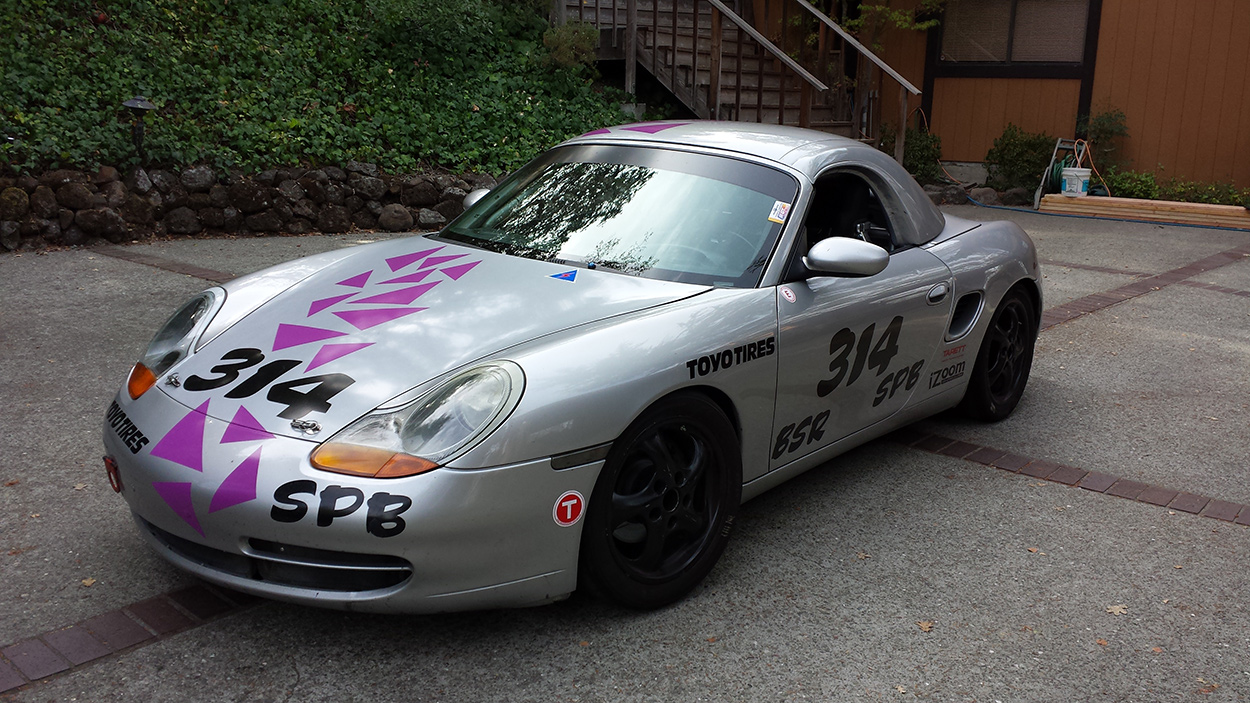 John Seidell. #314 1999 Boxster. SPB class. Golden Gate Region.
---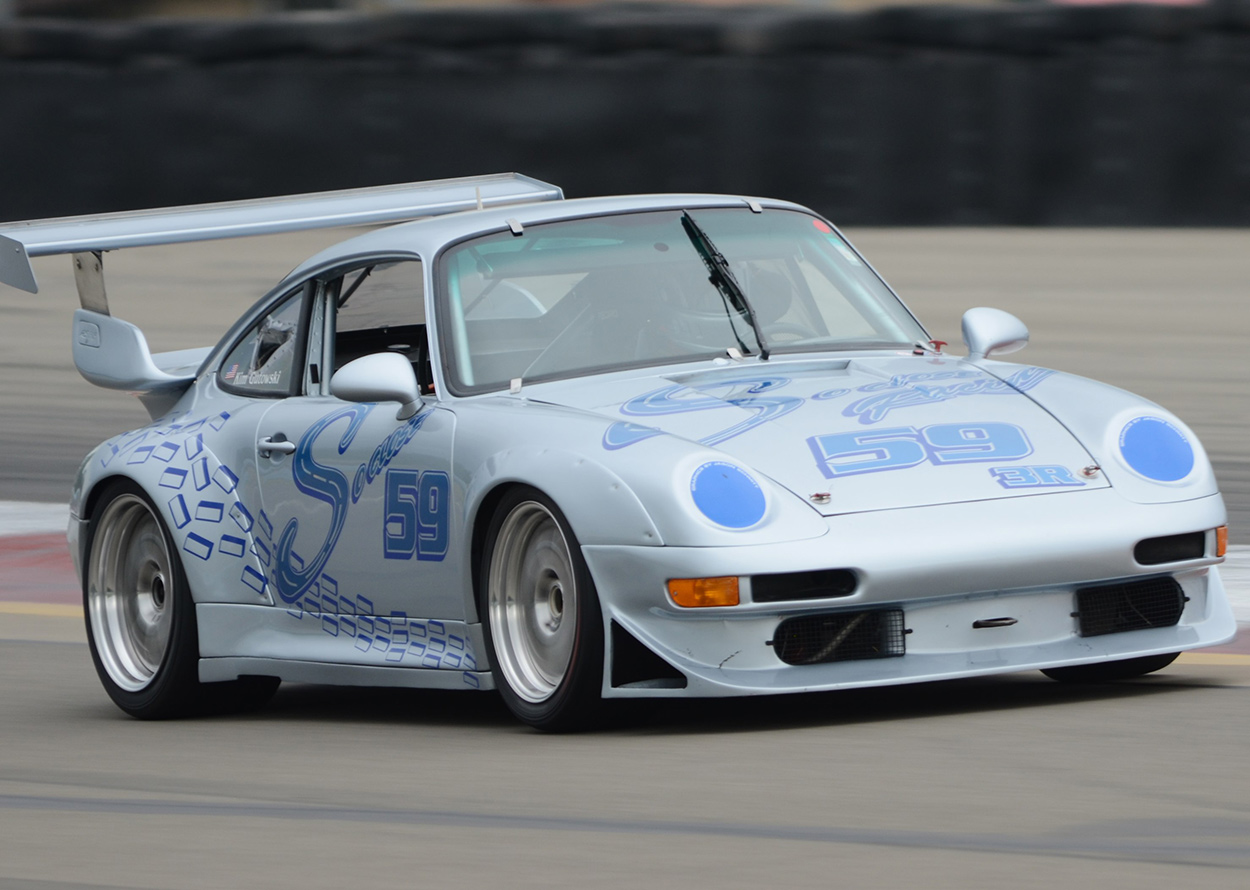 Kim Gutowski. #59 1995 911 RSR. GT3 class. Rocky Mountain Region.
---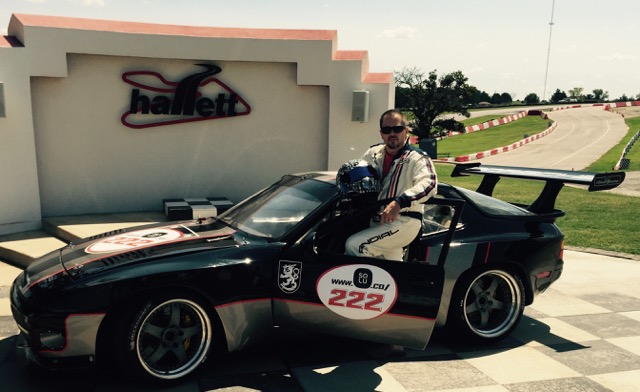 Klaus Viljanmaa. #222 1989 944 Turbo. Wichita Region.
---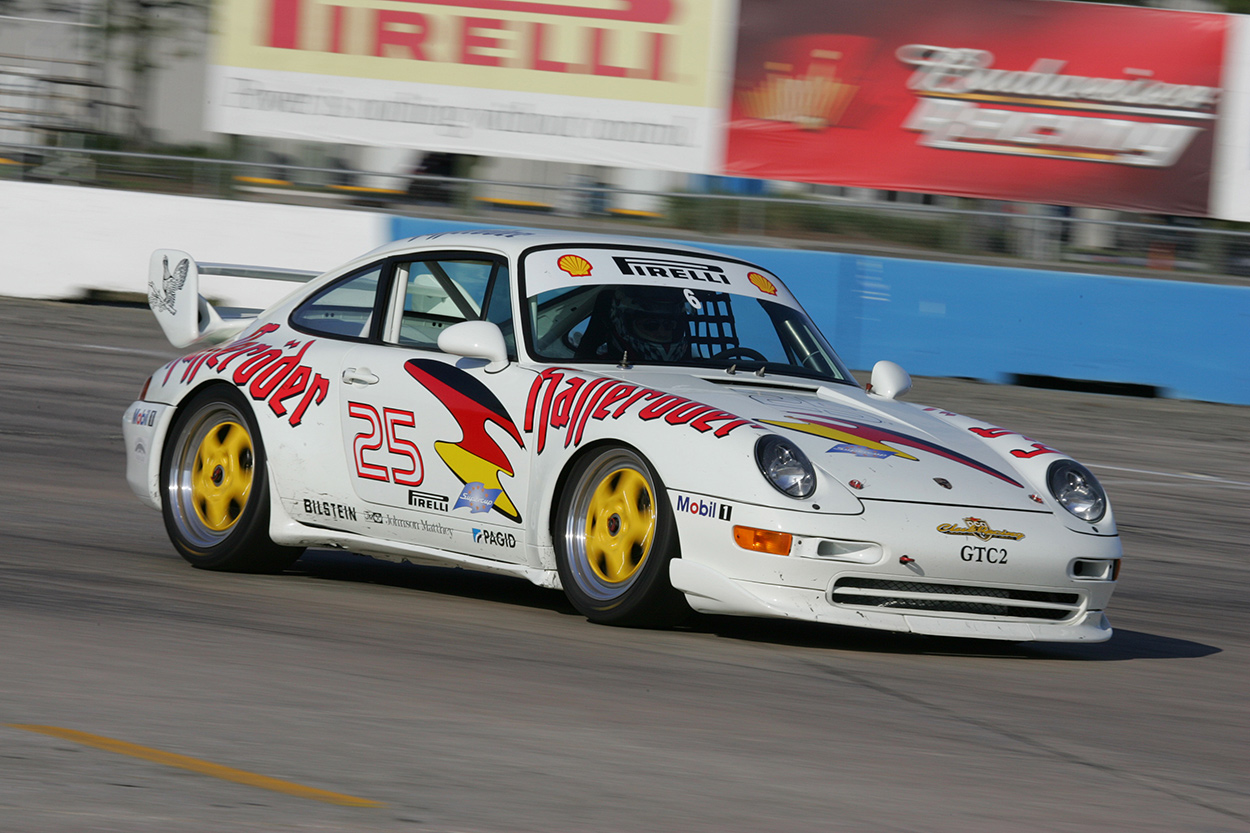 Mark Nasrallah. #25 1995 911 Super Cup. GTC2 class. Florida Citrus Region: "The car was delivered to Probst in 1995 (see pic). It was campaigned by Harold Grohs 1995-96 as car #25 for both MAXCOM and Hasseroder along with Car #3. It was then brought to the US in 1997 and raced with PCA Club Racing 1997-05.
I purchased the car in 2006 and rebuilt it from the ground up, and I've raced it since the PCA Club Racing 48 Hours of Sebring in 2008."
---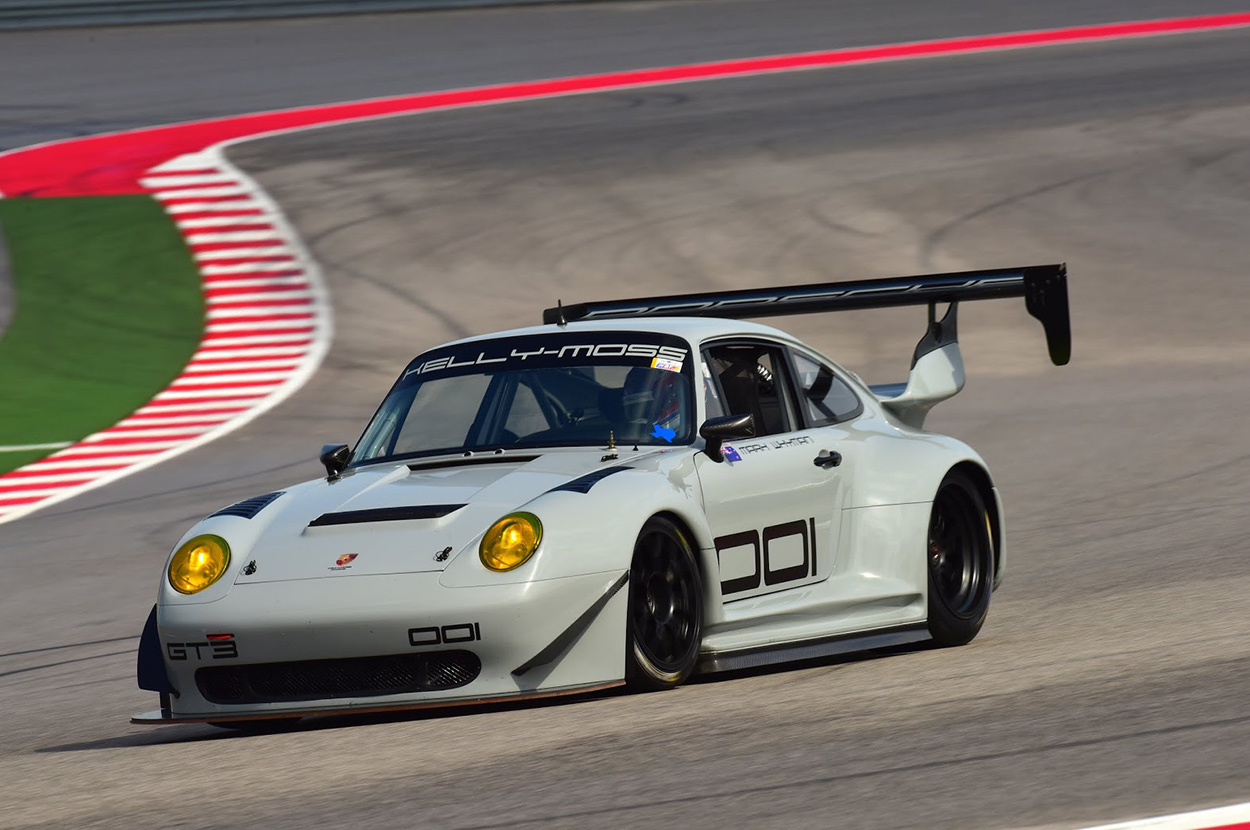 Mark Whyman. #001 1995 911. GT3 class. Oregon Region: "001 (and the sister car 002) was built by Kelly Moss Racing back in the day to race against the factory 993 RSRs. The objective was to use the Porsche Motorsport 993 RSR drivetrain but produce cars that would be faster than the factory cars. Kelly Moss undertook a significant amount of chassis, suspension, and aerodynamic development to produce cars that would be capable of this. In their first event at Road America the story goes that 001/002 were five seconds a lap quicker than the factory 993 RSRs. Soon after they were banned from pro racing and were subsequently used in limited PCA Club Racing and other racing series. 002 was later converted to a water-cooled 996 RSR drivetrain with some success. Over the years both 001 and 002 have featured in several Porsche publications (Panorama, Excellence, etc.). I purchased 001 in 2013, and with Kelly Moss Motorsport and Rothsport Racing, undertook a complete back-to-bare-metal restoration and updated much of the mechanical, suspension, and aerodynamic components. Since then I have done limited PCA club races, breaking the the GT3 lap record at Road America and Circuit of the Americas."
---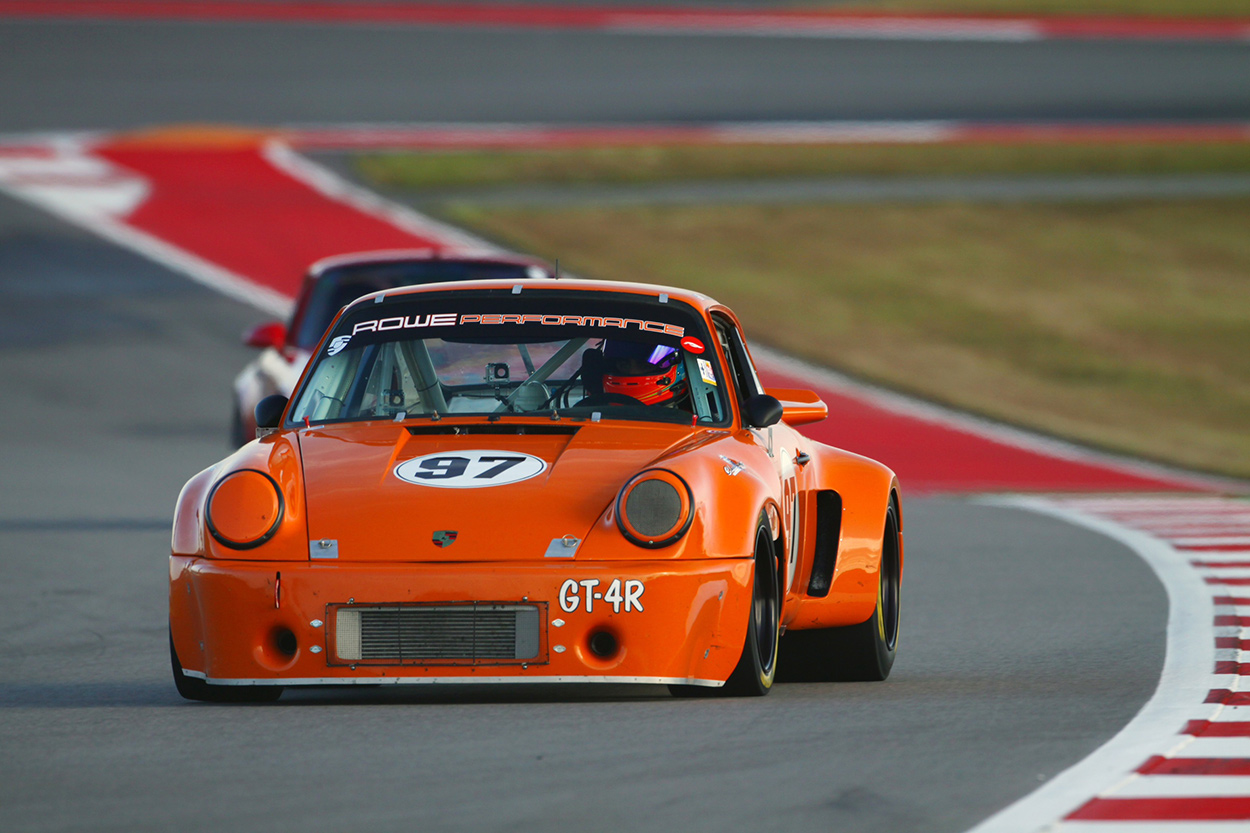 Michael McGrath. #97 1974 911 RSR. GT4 class. Rocky Mountain Region: "I won the GT-4R PCA Club Racing Championship in 2013 with this car. The car has numerous class wins in PCA Club Racing and NASA"
---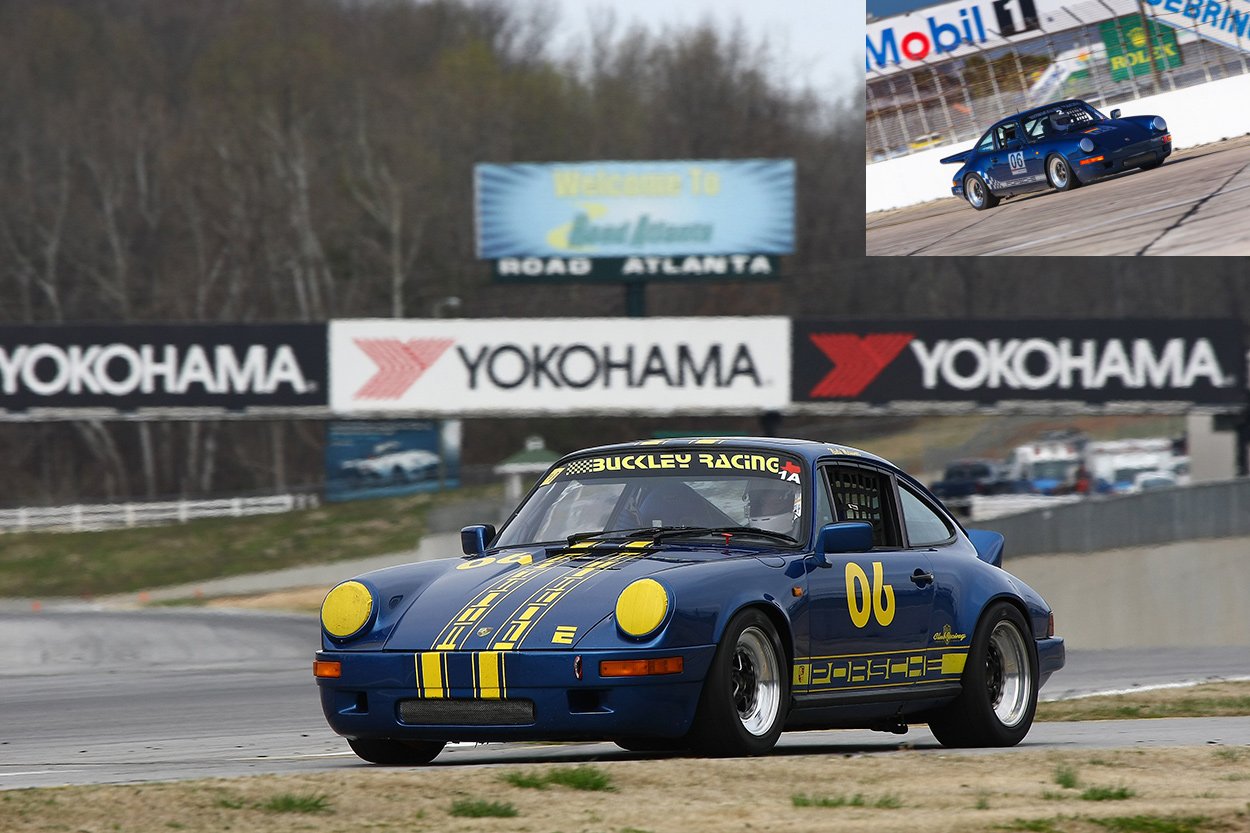 Niels Messner. #06 1979 911 SC (Euro). E class. Lone Star Region: "I purchased my car from Jim Buckley in 2009, after having been an active DE participant, and eventually an instructor. The picture with the yellow stripes is how the car looked when I purchased it from Jim, and the blue and silver is how she looks currently. After purchasing the car, I have not only made several good racer friends, but had an excellent activity to share and make memories together with my father. Two years later, we have built him a car, and now both race together in E-stock. Since then we have travelled around the country attending many of the club races and having a fantastic time."
---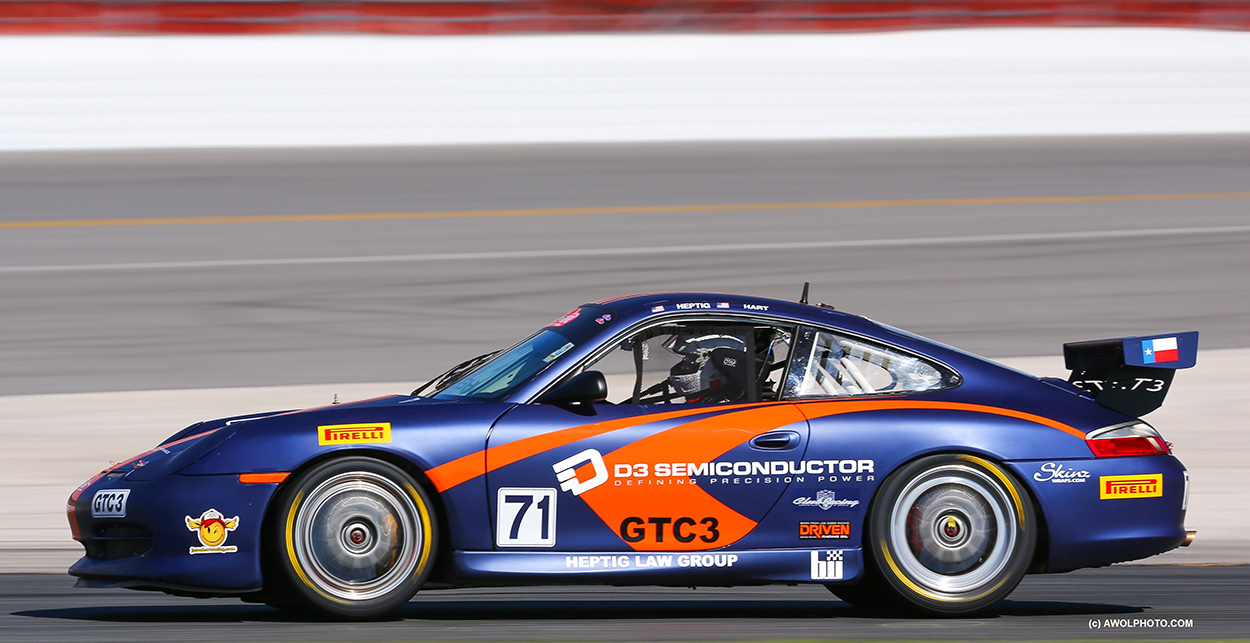 Pat Heptig. #71 2000 911 GT3 Cup. GTC3 class. Maverick Region: "Car was upgraded to 2004 specifications. It took second place in 2014 PCA Club Racing National Championship in GTC3 class."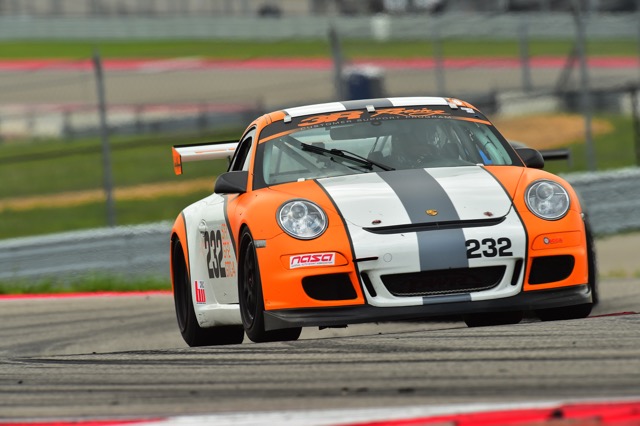 Pat Laughlin. #132 2007 911 GT3 Cup. GTC4 class. Rocky Mountain Region.
---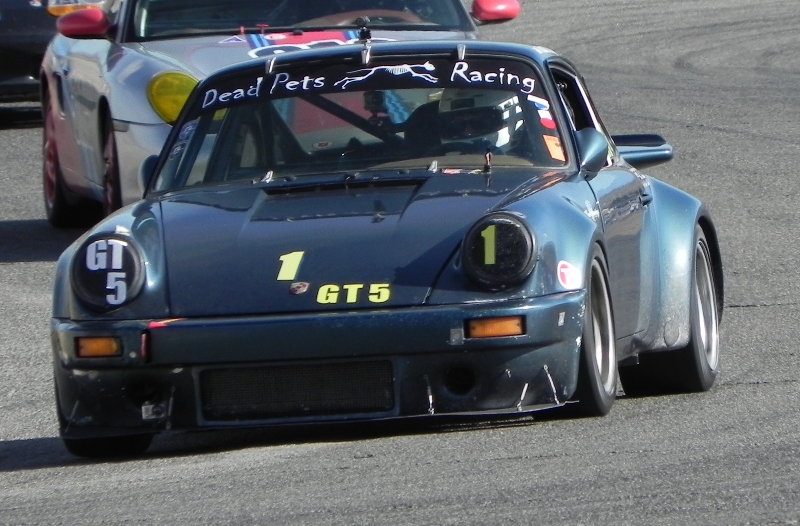 Paul Young. #1 1978 911 SC. GT4 class. San Diego Region: "'Butch' the car was named after a cat we had back in the 1970s, and is a member of the 'Dead Pets Racing' team.
"This 1978 911SC was purchased in September 2007 from long-time fellow racer friend Glenn Killingbeck. Glenn drove the car in PCA and POC Time Trials, and Club Races from the mid-1980s to the late '90s, including several 'Grand-Prix de Tecate' street races in Mexico.
"After severe damage in 2008 at Lowes Motor Speedway in Charlotte, NC (due to a wheel failure), Butch was resurrected with new body work and returned to service.
"In the subsequent years, Butch has set dozens of track records in POC and PCA, despite having a lightly modified 3.0 liter engine with only 200 horsepower. The car has bested many larger displacement Porsches, with several autocross and Time Trial TTOD (Top-Time-Of-Day) awards, including overall National Championship TTOD at the 2013 Porsche Parade in Traverse City. Butch also has earned many season championships in Time Trials and Club Racing, as well as several overall podium finishes, and even outright race victories!
"Butch has been on many historic and famous race tracks including Road Atlanta, MoSport (Canada), Mid-Ohio, and Laguna Seca. Butch has earned coveted "Workers Choice" and "Best Prepared" awards at PCA club races as well.
"For 2014, Butch was POC GT5 season winner as well as overall points champion for all classes, earning the honor to run with the race number '1'. Butch also was the 2014 PCA National Club Racing GT5 winner."
---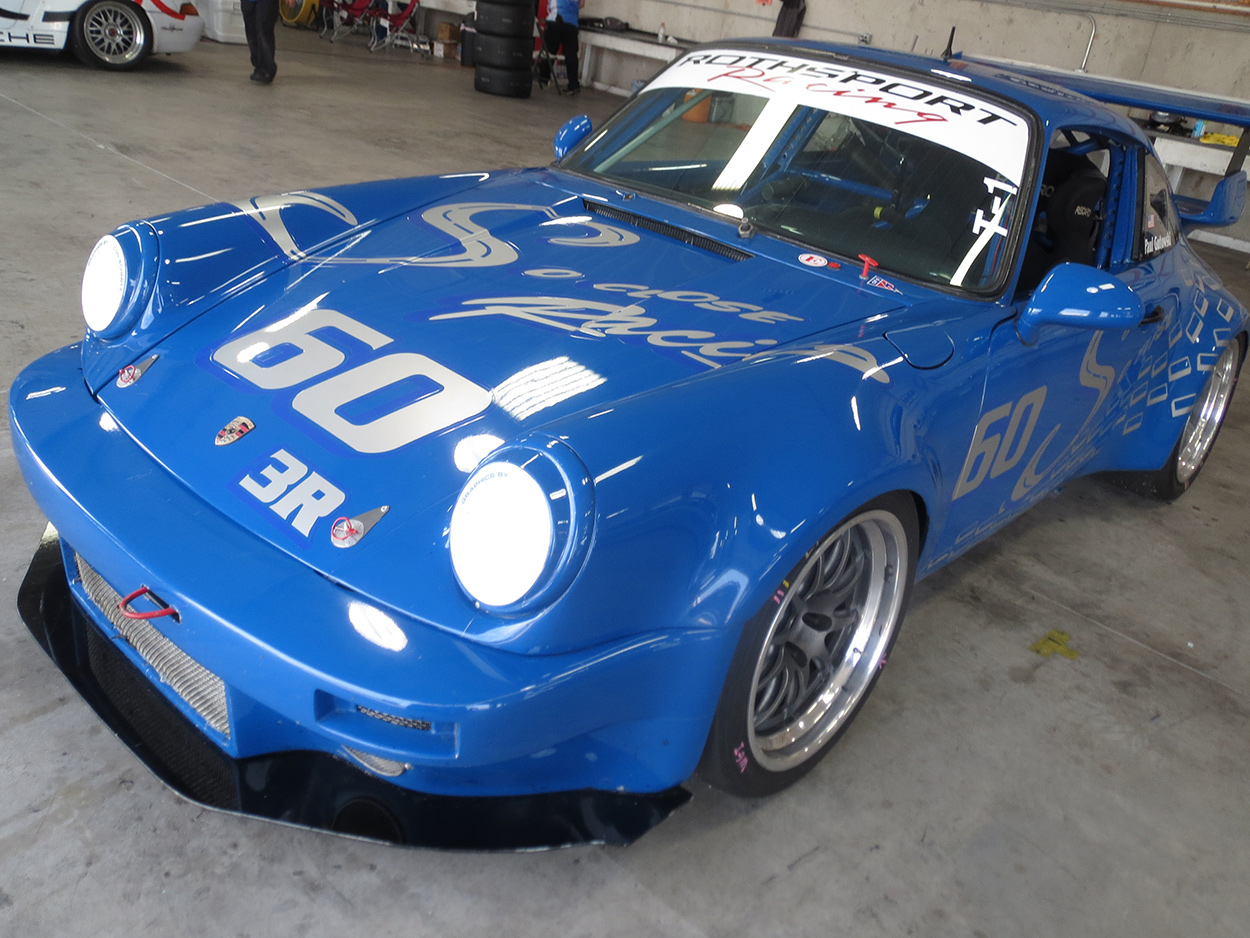 Paul Gutowski. #60 1975 911 RSR. GT3 class. Rocky Mountain Region.
---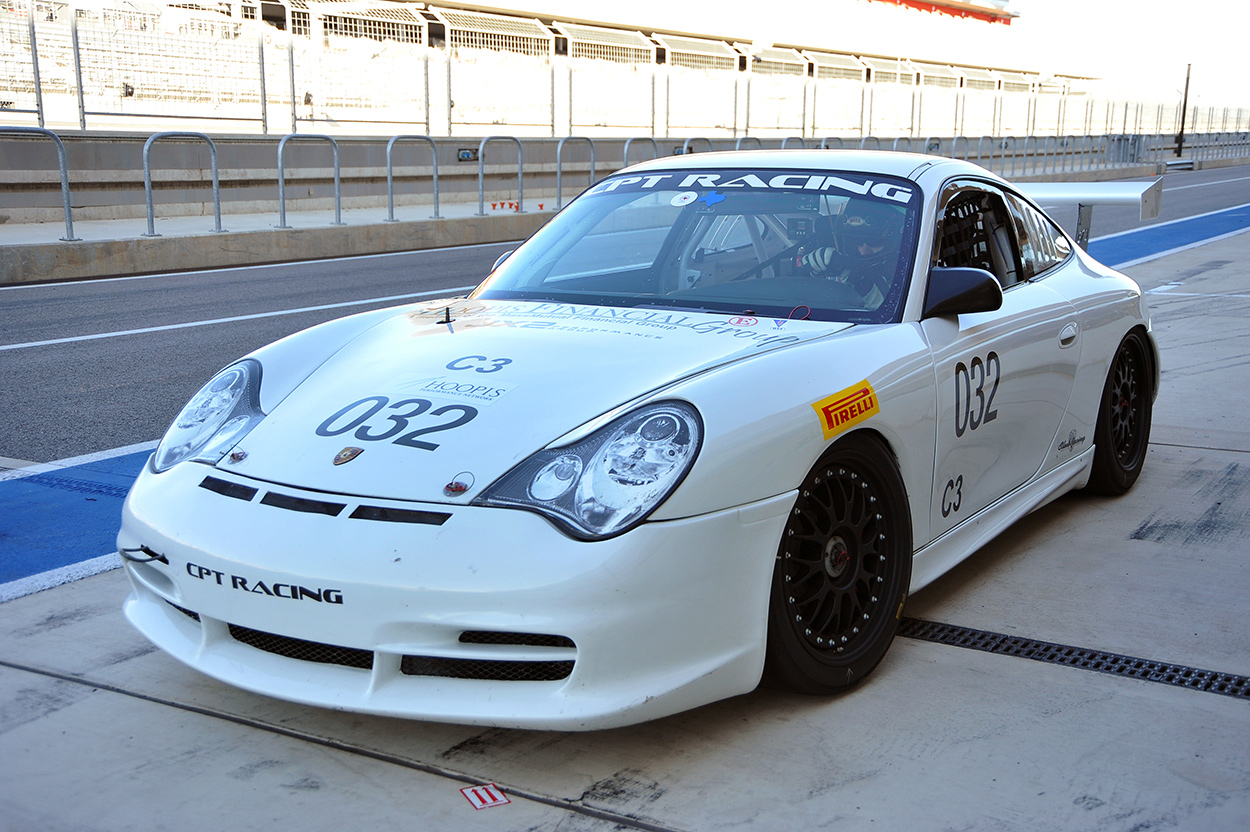 Peter Hoopis. #032 2005 911 GT3 Cup. GTC3 class. Chicago Region.
---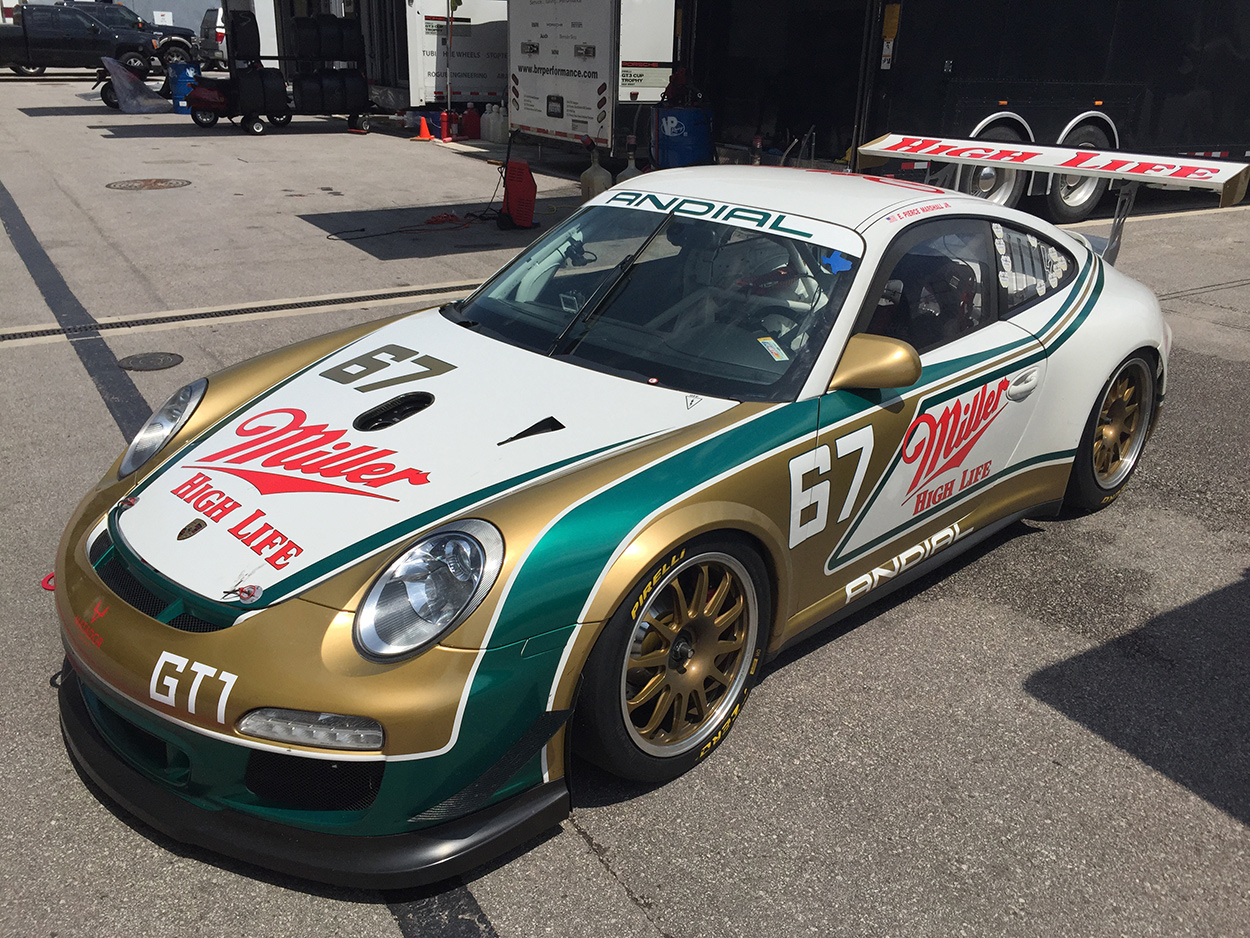 Pierce Marshall. #67 2012 911 GT3 Andial Cup. GT1 class. Maverick Region: "My car is a 2012 ANDIAL Edition Cup car, built by Porsche Motorsport North America in early 2015. I had this car built from my 2012 GT3 Cup Car, in which I won second place overall in GTC5 in the 2014 PCA Club Racing Season.  PMNA will only build 5 ANDIAL Edition Cup cars, and this is the second one. The ANDIAL Edition engine has been converted to 4.0 liters from the stock 3.8 and puts out 515hp. The remainder of the upgrades on this package are customer-specified, and this one has Bosch ABS, the KMP paddle shift system and an RSR gearbox. The Miller High Life livery is a commemorative livery honoring the last ANDIAL-powered Porsche to win the Daytona 24 Hours race overall in 1989, which was a 962 driven by Derek Bell, Bob Wollek, and John Andretti. This was also Derek Bell's last win in a 24 hour race."
---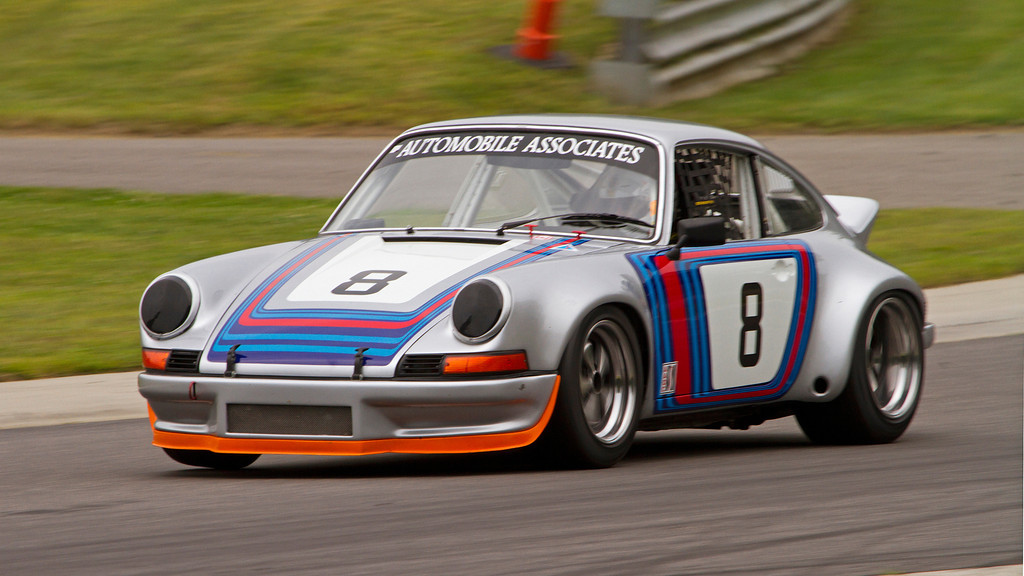 Richard Strahota. #18 1973 911 RSR. GT4 class. Connecticut Valley Region.
---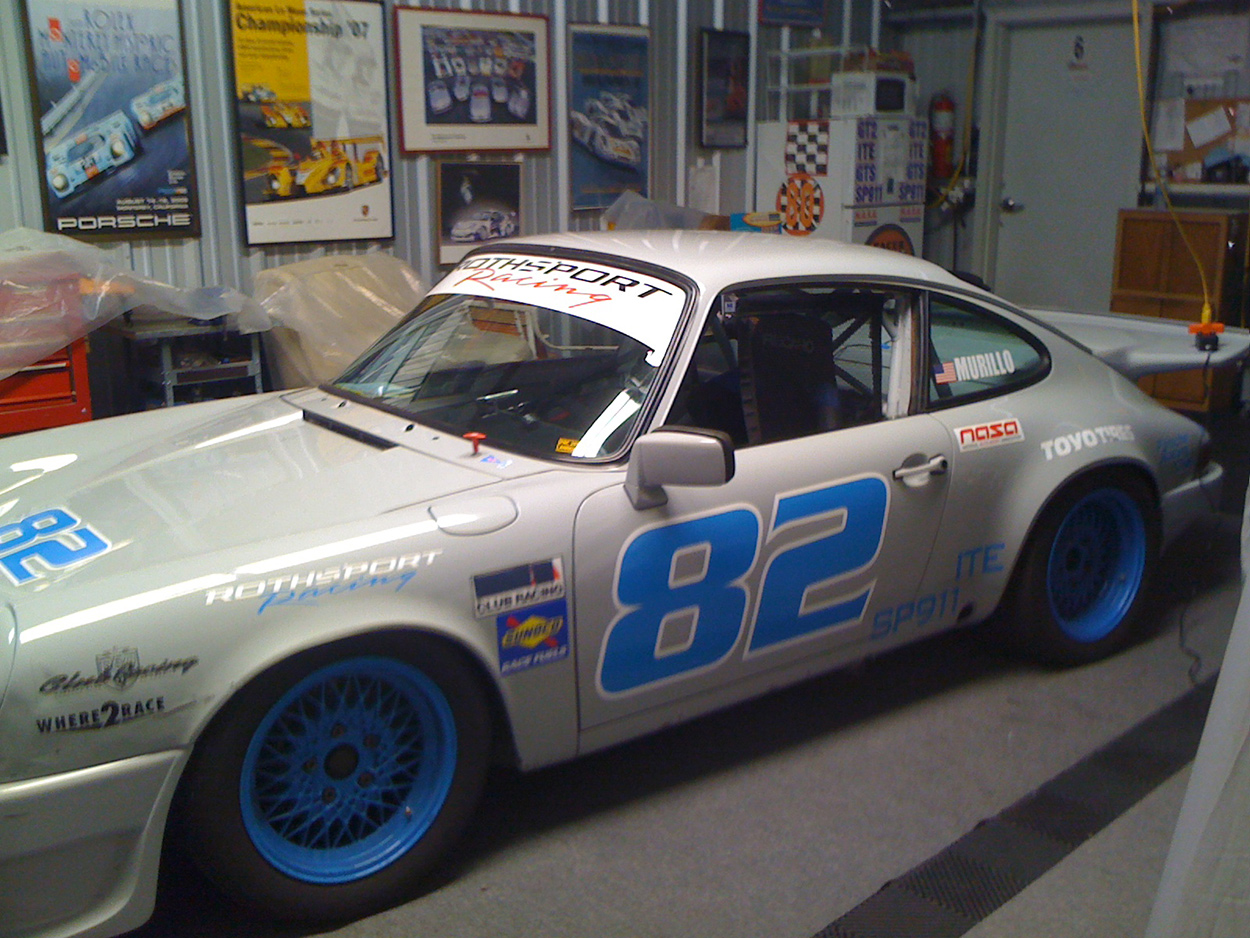 Robert Murillo. #82 1985 911 Carrera. SP911 class. Golden Gate Region: "The #82 SP911 was built by Rothsport Racing to the Spec 911 regulations several years ago. It is a 1985 Carrera with a stock 3.2 liter engine and 915 transmission. Minimum weight is 2,350 pounds with driver.
"This car (and driver) has achieved three PCA Club Racing national championships (working on the fourth) 2012-2014 in SP911.
"It has raced  in PCA races at Portland International, Circuit of the Americas, Hallet Raceway, Road America, Motorsports Ranch, Thunderhill Raceway, Sears Point, Laguna Seca, Auto Club Speedway, Buttonwillow Raceway and Willow Springs Raceway.
"It also competes in SCCA ITE class, and PRC SP911 class."
---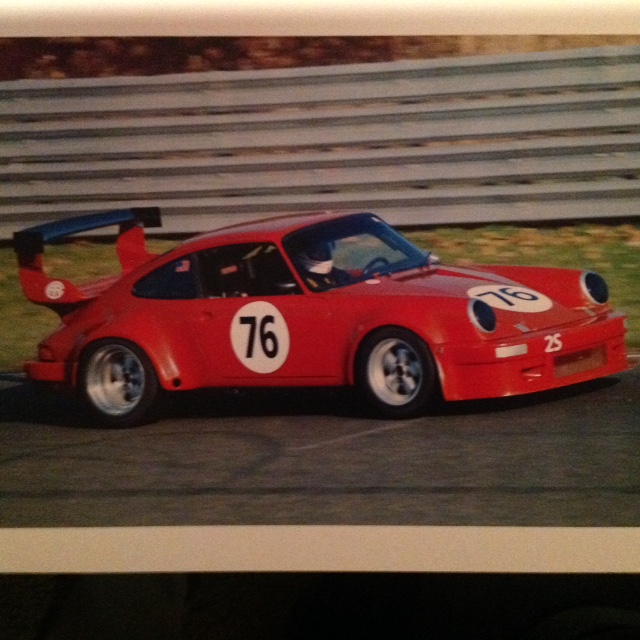 Roger Funk. #76 1976 911. GT4 class. Connecticut Valley Region: "My 1976 911 was originally built by Automobile Associates of Canton as a dedicated DE track car. It is affectionally known as "The Brick," painted in its original Porsche color, Peru Red. I have owned it since 1999, have logged approximately 26,000 track miles, and have raced it with PCA raced since 2006. I won the national class championship in 2012. I have raced in Rennsport Reunion III, IV, and now V."
---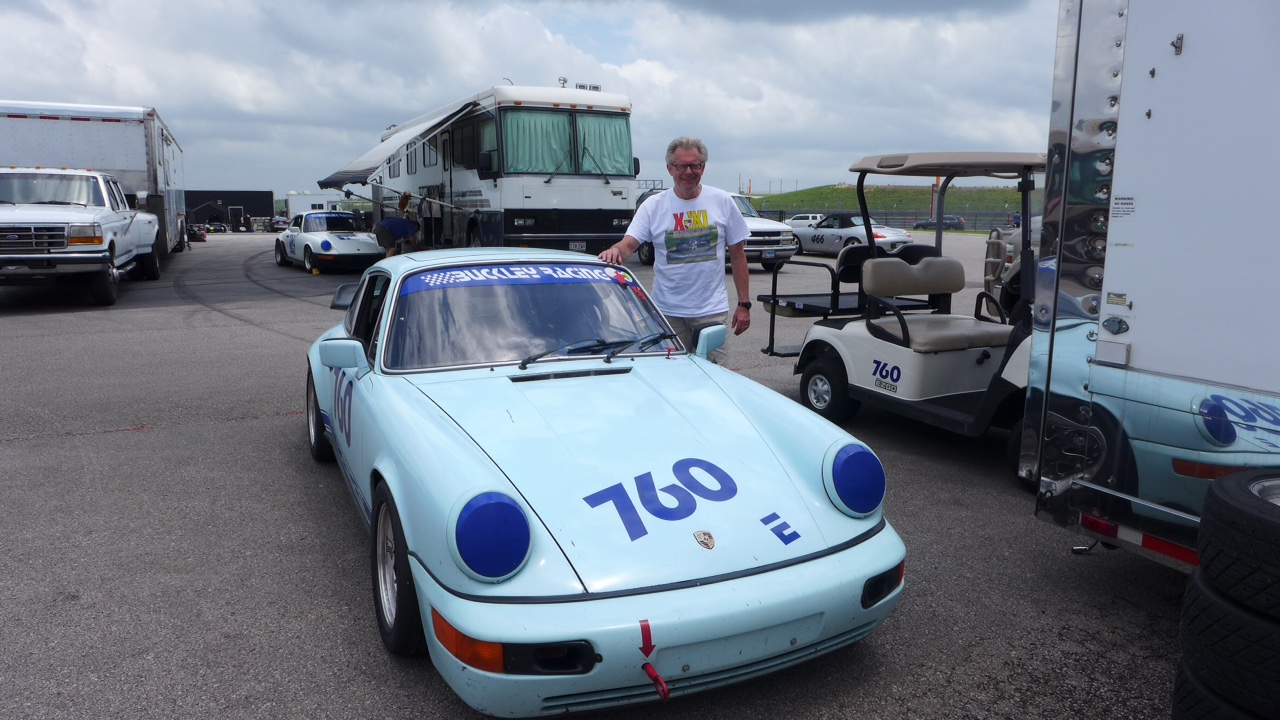 Siggi Meissner. #760 1979 911 SC (Euro). E class. Lone Star Region: "My car was factory paint-to-sample "polar blue," which is still the color of the car today. 
"The car used to belong to a gentleman called Lance Weeks from Salt Lake City, and he was a national scrutineer and chief scrutineer in the late '90s. 
"The car has been a race car since the mid 90's. 
"Encouraged by my son Niels, I purchased this car in June 2012, and with Jim Buckley's support, the car was converted to E class from D class. 
"The time I purchased the car was basically the time when I started racing with PCA. Prior to this time I was supporting and accompanying my son Niels during his race weekends with PCA, who races car #06 in E class."