Mission E concept is Porsche's answer to Tesla Model S [w/video]
Monday, September 14, 2015
By Pete Stout
Photos courtesy Porsche
FAST FUTURE: Porsche debuted its Mission E concept alongside the 991-2 in Frankfurt this evening. While the word has been out on the new turbo Carreras, the small electric sedan is sure to raise some eyebrows. With high style bodywork, a "needs based" all-wheel-drive system, and more than 600 horsepower claimed, this is Porsche's answer to ever-faster Teslas. 

The German carmaker says the Mission E accelerates to 62 mph in less than 3.5 seconds, hits 124 mph in under 12 seconds, and laps the Nürburgring Nordschleife in under eight minutes. It wasn't so long ago that the 911 GT3 raised eyebrows with similar performance. Porsche claims a range of more than 500 kilometers (310 miles), and that an innovative 800-volt charging system allows a charging time of "just slightly longer than it takes to fill a car's fuel tank today." (Today's EVs typically run 400-volt systems.) Porsche says its Porsche Turbo Charging (get it?) station can charge the Mission E to 80% capacity in just over 15 minutes. By doubling the voltage, the factory's engineers say they realized advantages in charging times as well as vehicle weight, noting "the lighter, smaller gauge copper cables are sufficient for energy transport."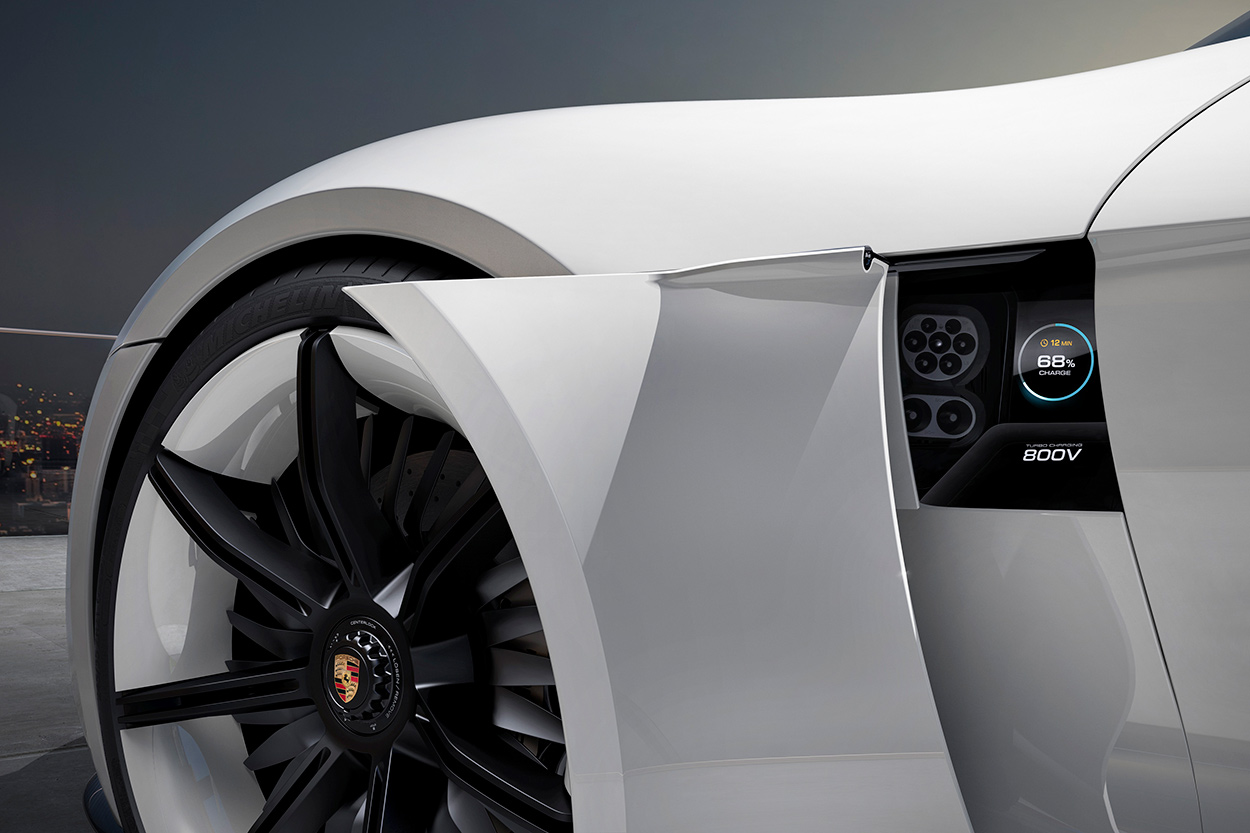 The Mission E mounts its lithium-ion batteries low, stretching them out between the front and rear wheels, to optimize the car's balance as well as provide an extremely low center of gravity. The sedan's body is constructed from aluminum, carbon-fiber, and steel, while its carbon-fiber wheels measure 21 and 22 inches in diameter, front to rear. The car is low, at 51.2 inches tall, and is a true pillarless design—with the front doors and "suicide" rear doors closing to meet one another. The Mission E dispenses with door mirrors in favor of cameras, and uses the rearview mirror inside the car to monitor driver mood. Gesture-based UI is a new feature, while Organic Light Emitting Diodes (OLED) create a new take on the classic five-dial instrument cluster that moves with the driver—a la 928. The driver and passengers sit in lightweight race-style bucket seats, while bystanders see a three-dimensional "PORSCHE" logo hovering in the back glass element. 

It will be interesting to see how similar and how soon for a production version of the Mission E, but Porsche has done a lot of the homework it needed to with its hybrid sedans and SUVs, not to mention the 918. And Porsche rarely introduces concept cars without moving on to produce them—think Gruppe B, Boxster, and Carrera GT…
Scroll down to watch a video of the MIssion E concept.
Source: Porsche