It's not just the cars — it's the people (and the bikes!)
Tuesday, December 8, 2015
By Jim Hemig
"Porsche makes a bicycle?" I remember saying years ago when a family friend mentioned seeing one in a Reno, Nevada store selling used sporting goods.
I wasn't sure what I'd find at that store. I suspected maybe a bike with Porsche stickers on it, but as a long-time enthusiast I just had to take a look.
The Guards Red color, Porsche logos, words "Bike S," and the quality components made the mountain bike look authentic. Next thing I knew my credit card was in my hand, then the bike was in my car headed home to join the Boxster and Cayenne in the all-Porsche garage.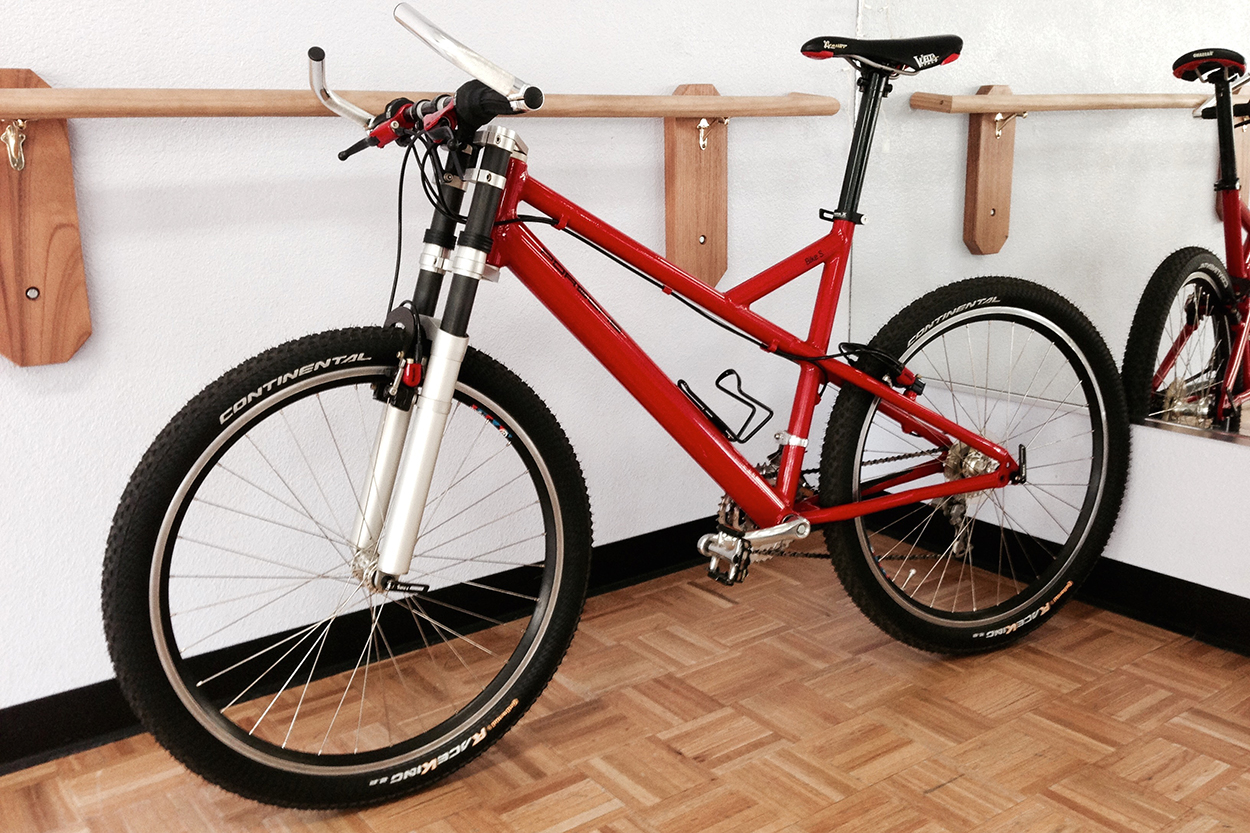 Over the years I've scoured the Internet and PCA events asking about this elusive Porsche mountain bike. There isn't much available online and what I found was dated.  What I could piece together is Porsche commissioned a German bicycle company, Votec, to design and manufacture to Porsche's specifications. At the time, which was the mid-to-late 1990s, it was full of the most modern biking technology. By today's standards, though, it's out of date, heavy, and almost impossible to find parts for.
Yet it rides like a dream. The Bike S shifts smoothly, turns effortlessly, and can climb any mountain. I didn't ride it much in Reno. It looked beautiful sitting in the garage under all the Porsche posters. But after recently moving to Grass Valley, California, near the old stomping grounds of cycling legend Greg LeMond, I felt the urge to really get out and ride this secret Porsche racer.
I would bet most PCA members now know about Porsche bikes. We see the ads in Porsche Panorama, the latest bike models on the showroom floor, and the videos on YouTube, but when I first found my bike, all this was unknown to me. And I have been an avid Porsche fan for a long time.
I was 11 years old when I fell in love with Porsche cars. Delivering the morning newspaper on my Schwinn ten-speed bike brought me face to bumper with a white 911T each morning. From there I was hooked.
Many years later, I have a garage full of Porsche automobiles and a plethora of Porsche paraphernalia including everything from posters, flags, hats, shirts, sunglasses, scale models, a wristwatch, and much more; all of the normal stuff any average PCA member has collected.
But one of my most prized Porsche possessions is this Guards Red 1998 Porsche Bike S mountain bike. It has now seen some miles, but I keep it on the road and away from dirt trails and only ride on dry days. It's in excellent condition, and a garage queen by the strictest definition.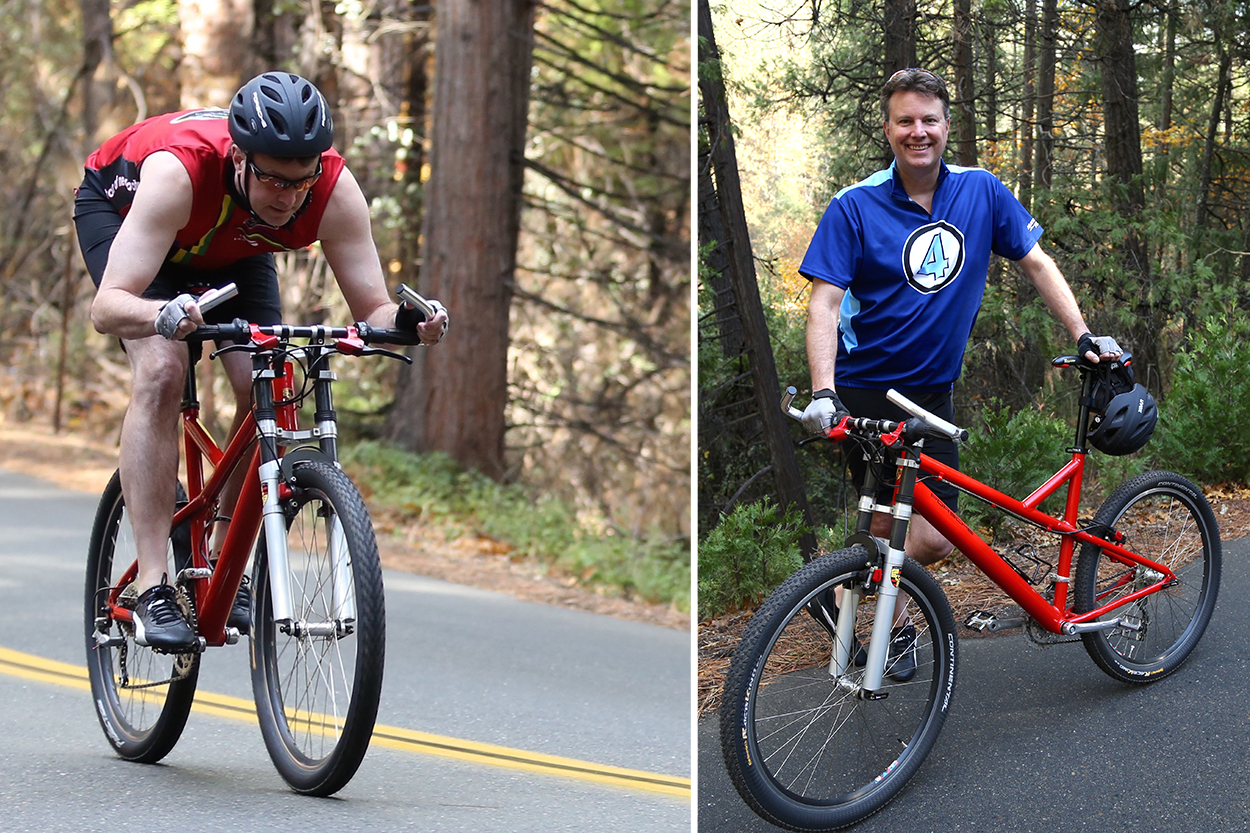 Not unlike Porsche cars, leaving such a beauty in the garage isn't a good long-term strategy. With this realization, I have something special in mind for 2016. I will reach my half-century mark and, with that, I have planned an adventure that I'd like to share with the Porsche Club of America: I intend to ride my Porsche mountain bike, fitted with road bike tires, on a century ride in Sacramento, California.
This isn't any normal 100-mile ride. This one ends in downtown Sacramento during an Oktoberfest, which seems fitting for the German marque. I could be wrong, but to my knowledge this has not been accomplished, or even attempted, on a Porsche bike before. So why not be the first?
I plan to train over the winter and into spring, and then sign up for a 53-mile bike ride in the California foothills in May.
This first ride takes place on Saturday, May 14, 2016, with a challenging road ride through the Sierra Nevada foothills. The shorter ride is in preparation for the longer century ride in October.
A long summer of training will follow for the big 100-mile finale at the Sacramento Century on October 1, 2016, which undoubtedly will be celebrated immediately after with a bratwurst and beer.
I am prepared to ride this solo, with friends and family driving my Cayenne S as a supply chase vehicle. However, with almost a year to train, I hope other PCA members and Porsche bike owners take notice and join me for the ride.
Don't own a Porsche bike? I am sure your local Porsche dealership would be happy to help you out. Or perhaps frequent used sporting good stores. Maybe you'll get lucky like I did.
If you'd like to take part in either of these two bike rides with me, do your own hometown Porsche bike ride, or just follow along with my journey, visit the Facebook page or blog that I have created to share the adventure and send me a message if you're interested in participating.
Photos by Laura Mahaffy
---
Click here to read more about Jim Hemig's Porsche Bike S adventures at his website.