An ounce of prevention (is worth more than a Big Repair Bill)
Tuesday, January 26, 2016
Article by Beti Spangel
Photos by Josh Brown
Larry and his 1999 911 Carrera spent some quality time together in October when he attended a PCA Drivers Education course. Sponsored by the Mardi Gras Region of PCA and held at the NOLA Motorsports Park just south of New Orleans, it was a weekend long, intensive training in understanding your car, driving your car, and how to not crash your car. It boasts a 2.75 mile road course with 16 fun-filled turns.
At an earlier visit to the complex, an employee extolled the virtues of taking the course. He gestured towards numerous busted up Porsches sitting like broken toys in the large garage.
"See these cars?" he asked. "These are cars that were bought and driven by people who wanted to drive a fancy sports car without knowing what they were doing. They didn't know how to drive them. Take a Drivers Education course, and your car will never end up like this."
That was all Larry needed to hear. He was signed up for the course before I could say "Oh, and look, it's the weekend of our anniversary…"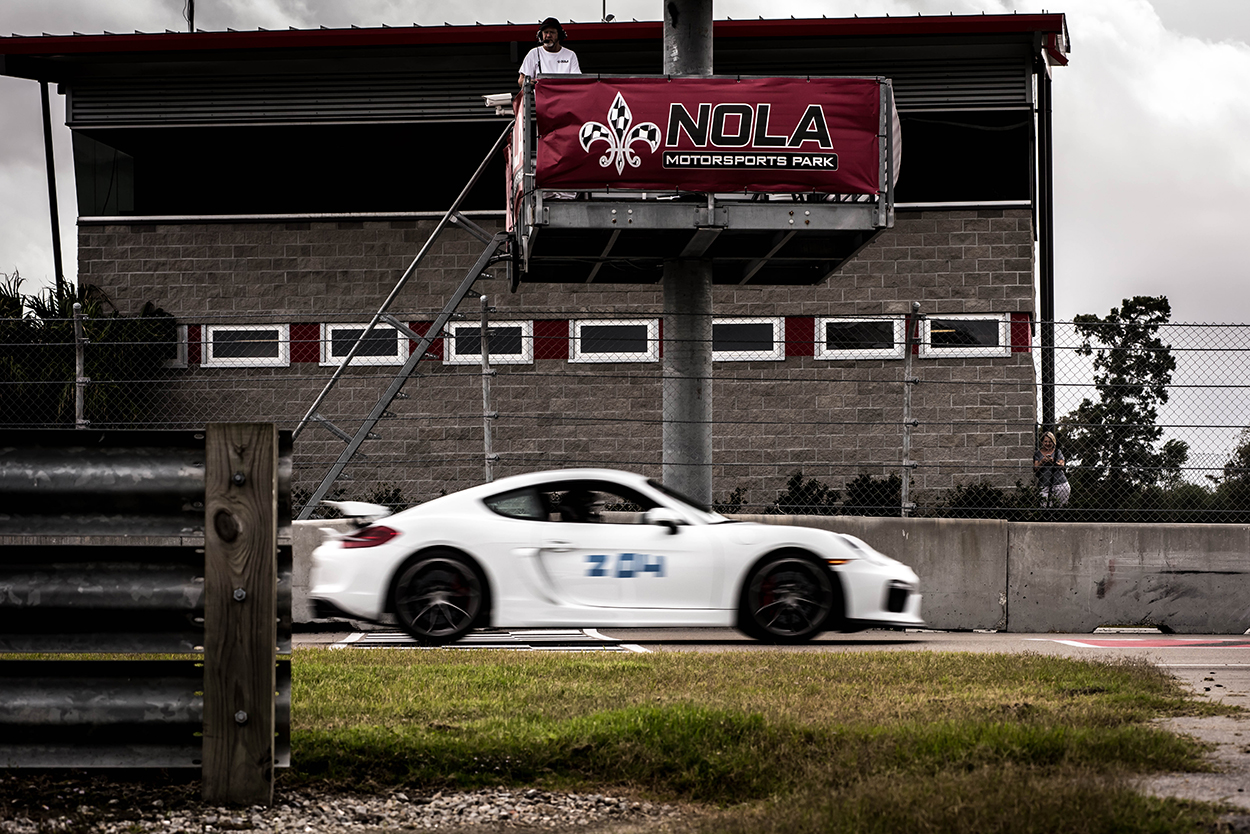 Ah yes, the date that trips up many a man, the dreaded Wedding Anniversary. We were married on Halloween in 2005 in New Orleans, two months after Hurricane Katrina had decimated the city. (We had planned our quickie wedding before the storm hit, and by pure perseverance, still managed to pull it off.)
This was our 10th anniversary and we had intended to spend the weekend in New Orleans. The mistress was now making demands on my husband's time that were interfering with my plans.
When Larry told me the date of the course, I put on my good sport game face. I knew it was something he really wanted to do, and I thought a safety course was a good idea. Not that the word safety was in the title, but education was. He would be a "green" driver, with the advancing driver levels in DE speak being green, blue, yellow and red. A driver must complete six days at the green level before advancing to the next.
We rented a little shotgun cottage off Magazine Street for the weekend of October 31. Friday night we had a great dinner out on the town and in the morning he was off to the track while I took myself to the French Quarter for the day.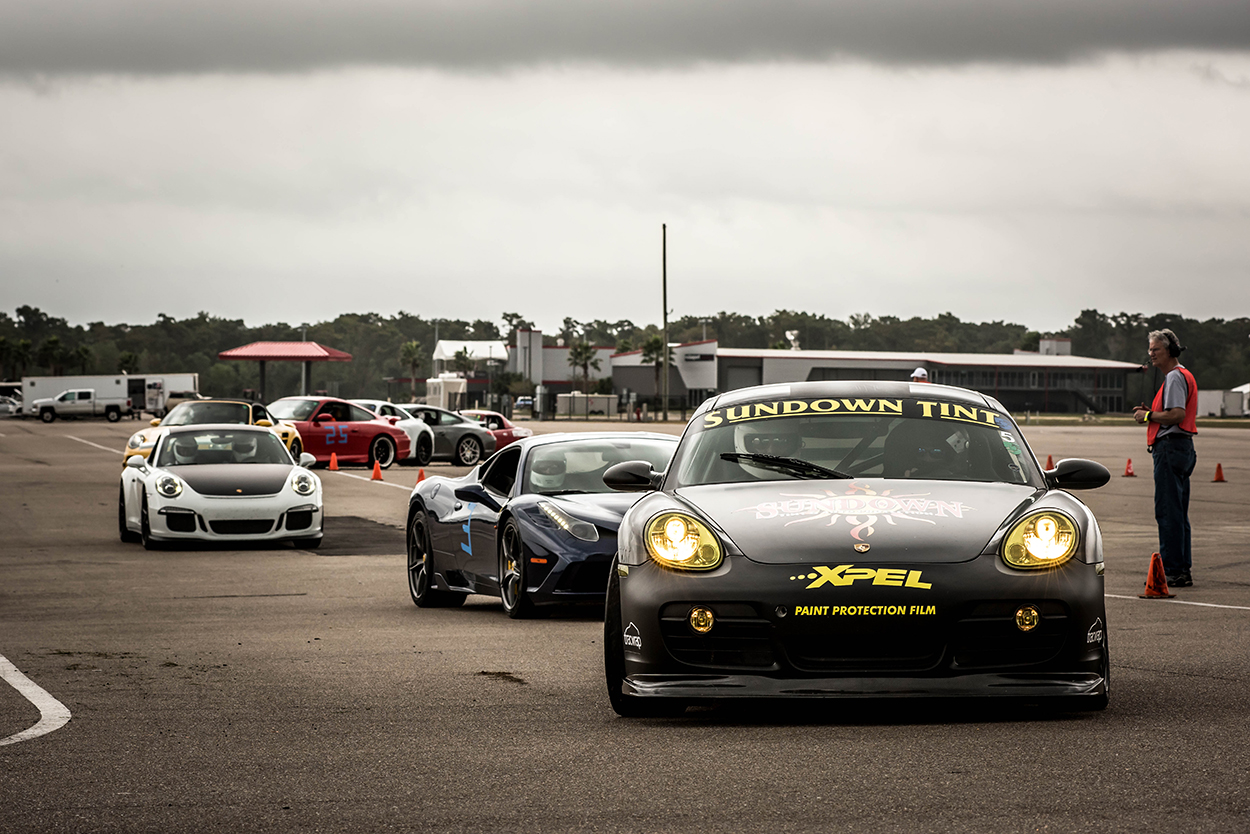 When we reconvened at dinnertime, Larry was exhilarated, animated, and exhausted. I think he was even vibrating slightly. "That was intense," he told me over drinks. The morning was spent in the classroom with the afternoon session being out on the track itself.
"I was surprised to find that going fast around the race course isn't about quick or abrupt movements," he said. "It's about being smooth and gradual in your motions." 
"They make you take out your floor mats, anything in the car that may fly around in case you roll it." Well, if you're going to crash in a sports car doing 100 mph, it would stink to get a black eye from a floor mat smacking you in the face.
On Sunday he returned to the complex for more of the same. The group had the added element of driving on the course in the rain and learning skills for wet roads at speed. "I figured I would lose traction at a much lower speed, but I was able to go much faster than I expected in the rain," Larry said. "Another good thing is that I felt more at ease over steering and under steering because it happened at a lower speed. Puddles are brutal. Driving through puddles at speed just shudders the car." (I personally prefer my rainy weather driving tactic of simply slowly down, or – even better – staying home with a book and cup of tea.)
At the end of the weekend, he was a more confident, educated, and safe driver, and ready to sign up for the next course. He said the best part was learning what the car is capable of, and I'm sure tearing around on a racetrack at 120 mph was more than a little fun.
One of the best lessons he got out of the weekend was letting the instructor drive his car with him as a passenger. "I gained as much [knowledge] then as when I was driving," he said. "I learned a lot when I let the instructor take over – everything he wanted to teach me, I watched him do it, and it was another way I could learn. I learned by doing, but then I learned by watching him apply [the techniques] he wanted me to do."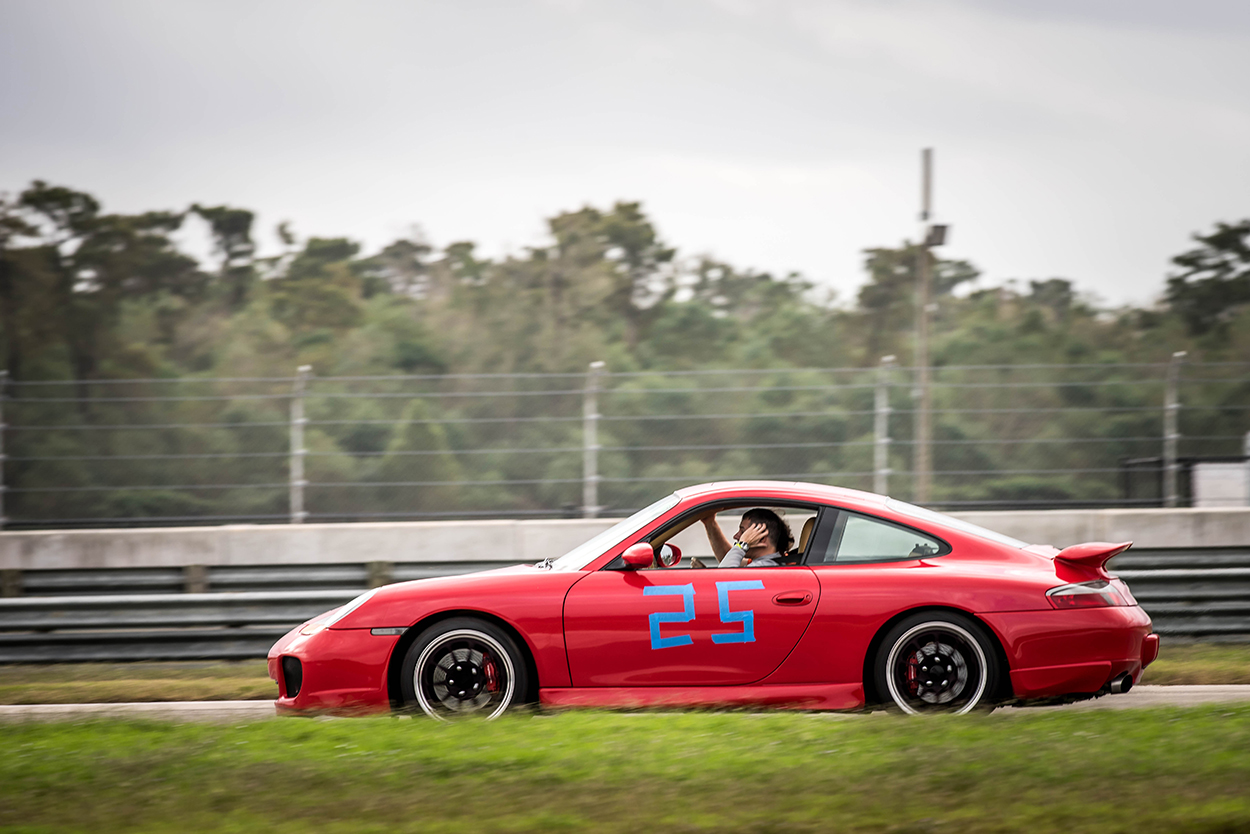 Yes, I felt a little gypped out of our anniversary weekend at our rented Love Shack, but I wasn't jealous of his quality time with the mistress. I pretty much spend 365 days a year with the man. It was worth it for him to spend a fun weekend focusing on safety and education in his fancy new car. 
What's one weekend out of the year? Although – silly me - I now know that was just the beginning.
Beti Spangel and her husband, Larry Phillips, recently joined Porsche Club of America after Larry's purchase of a 1999 Porsche 911 Carrera. Determined to support her husband's passion for 911s and find her own, follow Beti's stories of their (mis)adventures from the perspective of a Porsche greenhorn.