20 years of Porsche bicycle development
Tuesday, February 9, 2016
By Jim Hemig
Photos by John Hart
While admiring my 20-year-old Porsche mountain bike alongside the brand-new Porsche Bike RX against a backdrop of 911s in the Niello Porsche showroom, a distinguished older gentleman approached me.
"Nice bike," Richard Niello Sr. said.
It made my day when I realized I was standing on the showroom floor, surrounded by all the latest eye candy from Stuttgart, talking to the man who opened the first Porsche dealership in the Sacramento area back in 1956. It's now the longest-owned Porsche dealership in the country.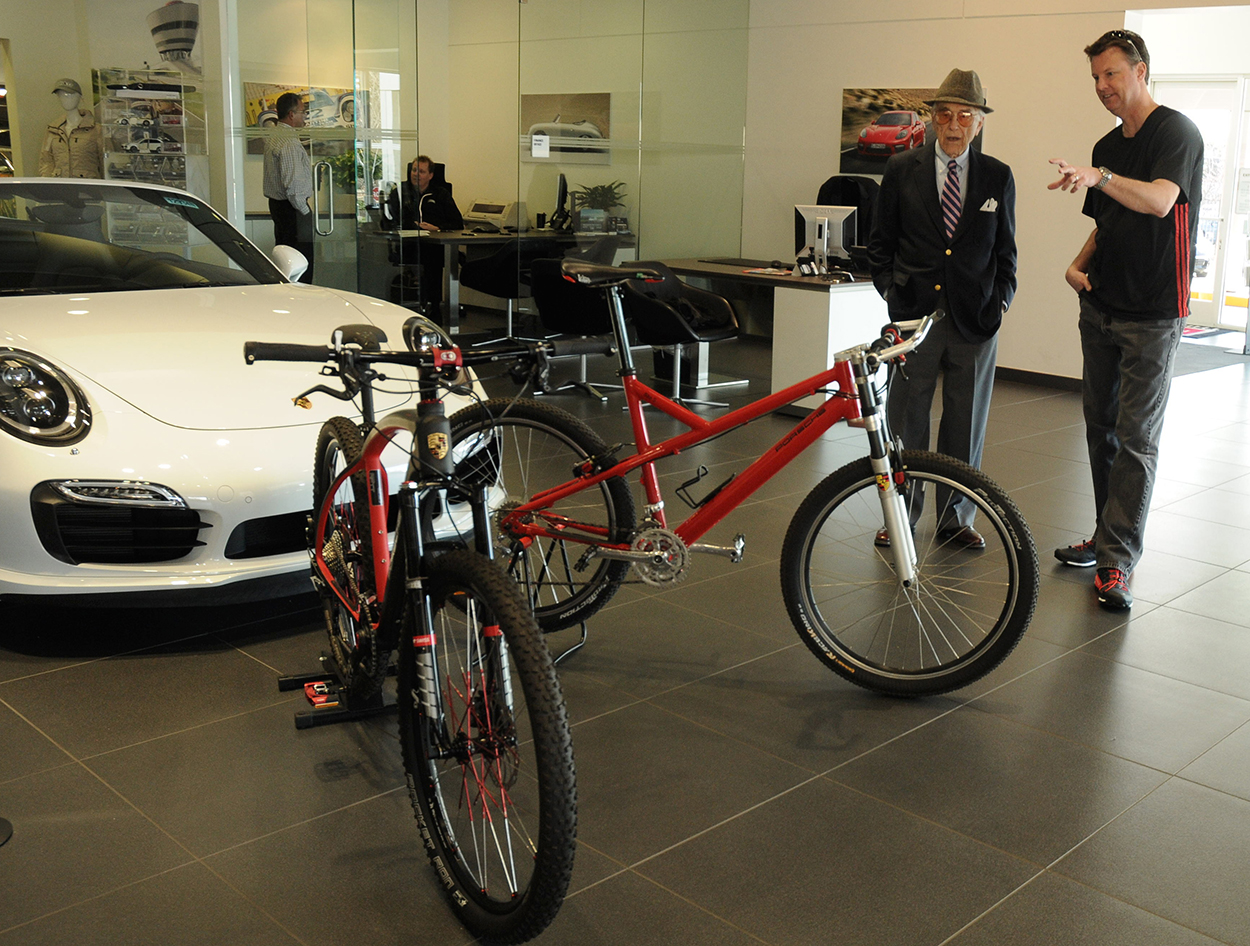 Not only that, but with about 100 new and used Porsche automobiles and numerous parts and merchandise on hand, this dealership has just about everything for the true enthusiast. 
Being a bit of a super-enthusiast myself, I was sure Niello Porsche would be the best place to compare my 1996 Porsche Bike S with the 2016 Porsche Bike RX. My goal had been to take some photos of the two bikes together to appreciate what was different and what was similar about the two well-crafted bicycles produced 20 years apart.
With Mr. Niello, it all came together. He started asking questions about my bike and how it compared to the latest generation.
I explained that my 1996 mountain bike weighs 26 pounds with an all-aluminum frame; it was high-tech and lightweight for the time period. But the 2016 mountain bike has a high-end carbon frame, which creates a smoother ride and shaves four pounds off the bicycle.
Both bikes have fat mountain bike tires, springy front shocks, hydraulic brakes, handle shifters, and are beautifully designed. But that's where the similarities end.
The new Porsche Bike RX has 27.5-inch wheels compared to the 26-inch wheels on my Porsche Bike S. I could feel the difference when riding the new RX around the dealership lot. The added circumference allowed me to get more distance per pedal — making it more efficient to propel the bike forward.
Both bikes have front shocks, a high-end item even back in the mid-'90s, but the 1996 shocks used soft, semi-clear, rubbery polymer spacers, called Elastomers, to provide the shock fork its cushion. This technology is long gone now. Today's Bike RX shocks are DT Swiss air suspension forks. And what a smooth ride these front forks provide.
One part, and manufacturer, in common between the two bikes is the Magura hydraulic brakes. But my 1996 Bike S has the old school "rim" style braking while the 2016 Bike RX has the latest high-tech disc brakes. The brakes on the new bike look like they could stop the 991 GT3 R race car.
The last major components to compare on these bikes were the gears and shifting. The 1996 Bike S has a 3 x 8 Sachs Neos 24-speed setup. Yes, Sachs; the same manufacturer of the clutch in my 2001 Boxster. The gears shift well, but with this style of gearing not all of the 24 gear options can be efficiently used. Four to six are outside the gear range and can cause a chain-grinding noise.
The new Bike RX went a different direction with the ultra-smooth shifting 2 x10 Shimano 20-speed gearshift. All 20 speeds are fully functional. I noticed that this provided particularly quick gear changes and comfortable gear shifting while riding around the dealership parking lot.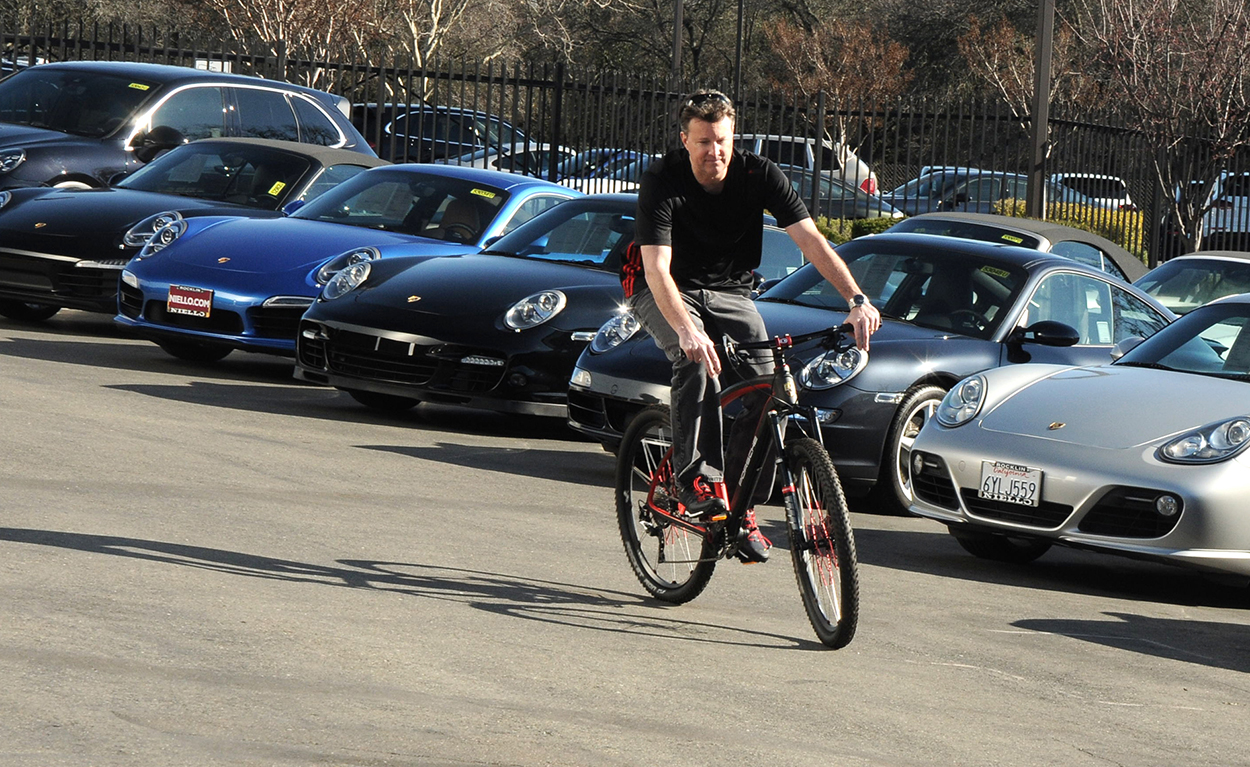 The new bike is super smooth and well-developed with design cues straight from the 911. Riding around on this lightweight bike with the best bike components on the market today and the heavy-duty, yet elegant, design made it clear why this bike is worth every penny of its $6,700 list price.
My 1996 bike is still classy and a good performer in its own right. The Bike S went for $2,250 back then. Today, I've seen it on Ebay with an asking price of over $3,000. This older Bike S seems to be rare, and information on the bike is even rarer. After multiple Internet searches, I was able to discover that the bike was originally manufactured by the German company Votec. Today, parts and service information is extremely hard to find.
I also couldn't find anywhere on the World Wide Web if anyone has ridden this bike on any long distance rides. To date, I've covered almost 500 miles on my 1996 bike. It has performed so well that I have planned to participate in a 100-mile ride in Sacramento on October 1 – ending with an Oktoberfest. I'm looking for other like-minded Porsche bike enthusiasts to join the ride. For more information on my bike adventure check out my webpage.
I enjoyed talking Porsche bikes with Mr. Niello, and the staff members at Niello Porsche were friendly and knowledgeable about all things Porsche.
When I asked Todd English, Niello Porsche General Manager, why people buy these bikes, he said, "Whether it's the automobiles, clothing, office supplies, or bicycles, Porsche designs products that people desire to own."
Todd and I had a good talk about Niello's car selection and great customer service record, and then he mentioned that when I'm tired of my "old" bike I could always come back and buy this new Porsche Bike RX.
I am seriously considering it.
---
Click here to read more about Jim Hemig's Porsche Bike S adventures at his website.