Take a look at this huge Porsche memorabilia collection [w/video]
Article and photos by Alberto Pugliese
A passion for Porsche was instilled in Bruce Hollander at a young age, since his father owned a 356. Today, he has one of the most extensive Porsche memorabilia collections — impressive enough to be featured in a large Porsche gathering in Miami last Sunday.
The purchase of his first Porsche in 1984 triggered his interest in Porsche memorabilia. He found a collection of 100 Porsche and 100 Formula 1 toy cars and bought it for $100. He sold the F1 models and kept the Porsches. Since then and for the past 30 years he has been a regular at swap meets and car shows around the country looking for collectibles and was even an early adopter of eBay in 1998 in his search for memorabilia. Back then searching the auction site for "Porsche" returned at most 300 items – compared to today's roughly 1.4 million items (cars, parts, collectibles, toys, and more)!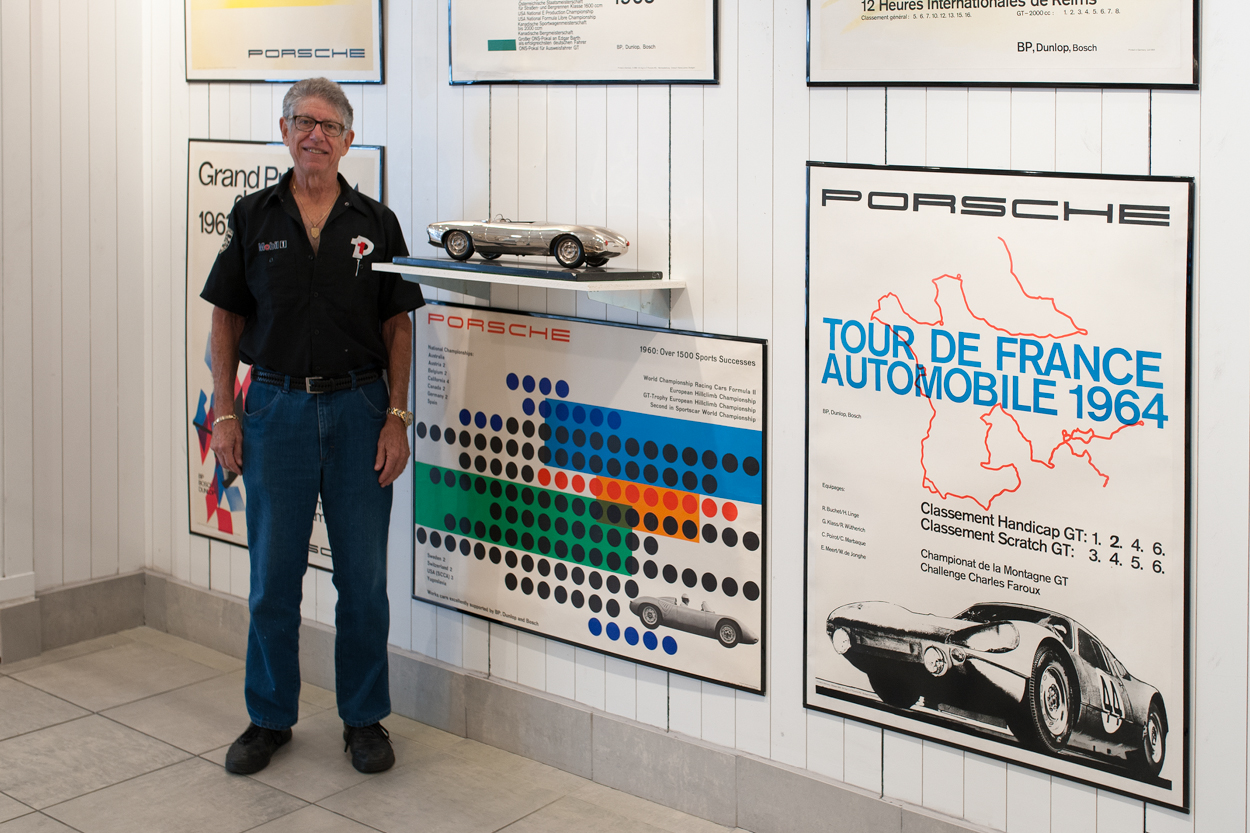 Above: Bruce Hollander with his collection.
Bruce has accumulated close to 5,000 items in his collection of the most disparate nature: Porsche models, posters, paintings, documents, brochures, promotional items, stamps, sculptures — anything  related to Porsche that was ever made. Many of the pieces in his collection are rare and some are even unique. For example: three booklets with technical data assembled by a mechanic who worked on the Gulf 917s; the original script of Steve McQueen's Le Mans movie; original oil paintings and drawings that were later reprinted in larger series; many posters and prints signed by drivers and other personalities; several rare "Hoffman  Trophies " given out by Max Hoffman,  the first U.S. importer of Porsche's; and  early documents and letters signed by Ferdinand Porsche, including one from 1942 in which the final salutation was "Heil Hitler" – a reminder of a tragic period in history. 
The collection is so vast that Bruce has never been able to display it properly. For years these items have been partially displayed in his home, but most of the collectibles were living in boxes. As his sons moved out of the house, more space became available and he converted their rooms to display studios. Having moved to an apartment in recent years, all items had to be stored and could not be enjoyed on a regular basis.
However, there's another chance to view his collection this weekend. It will be displayed on Saturday March 12, 12-5 PM, at The Shops at Sunset Place, a shopping mall in Miami. Address the address is 5701 Sunset Drive, Miami, FL 33143.
Full disclosure: Bruce has decided to sell the collection to somebody who'll enjoy it more than he can. This weekend's shopping mall showing will be the last hurrah for his collection under his care. We hope the next owner, who must purchase it whole, will share it with others from time to time.
Having visited him a few days ago, I must congratulate Bruce for how nicely he organized the display, virtually by himself. The pictures I have taken give you an overview of the collection (click on the lead image at the top of the page to initiate the photo gallery), but you really ought to see it in person if you can – this Saturday may be your last chance, unless you are the lucky buyer of the lot.
If you can't make it, then head on over to his website, www.myporschecollection.com, to view some truly fascinating, historical Porsche memorabilia. Scroll down for a video tour of the display.