A weekend with a temperamental mistress
Article by Beti Spangel
Photos by David Burgess
Larry and the Mistress (his 1999 911 Carrera) tangoed at their second Drivers Education event at NOLA Motorsports Park, which was sponsored by the Mardi Gras Region PCA. In a moment of weakness I agreed to go along. I wanted to show Larry I wasn't threatened by the object of his affection and maybe learn a few things.
As a green level driver, Larry's schedule included two classroom sessions and several track times throughout Saturday, with Sunday being all track driving. This time, he had his own newly purchased helmet. One morning he wore it at the breakfast table, spooning oatmeal into his mouth while looking out through the visor. He looked like a little kid pretending to be a Power Ranger.
Being green also meant Larry would be accompanied in the car by an instructor. Gary Schaeffer was an affable and gregarious fellow who has been there, done that in the world of cars and racing.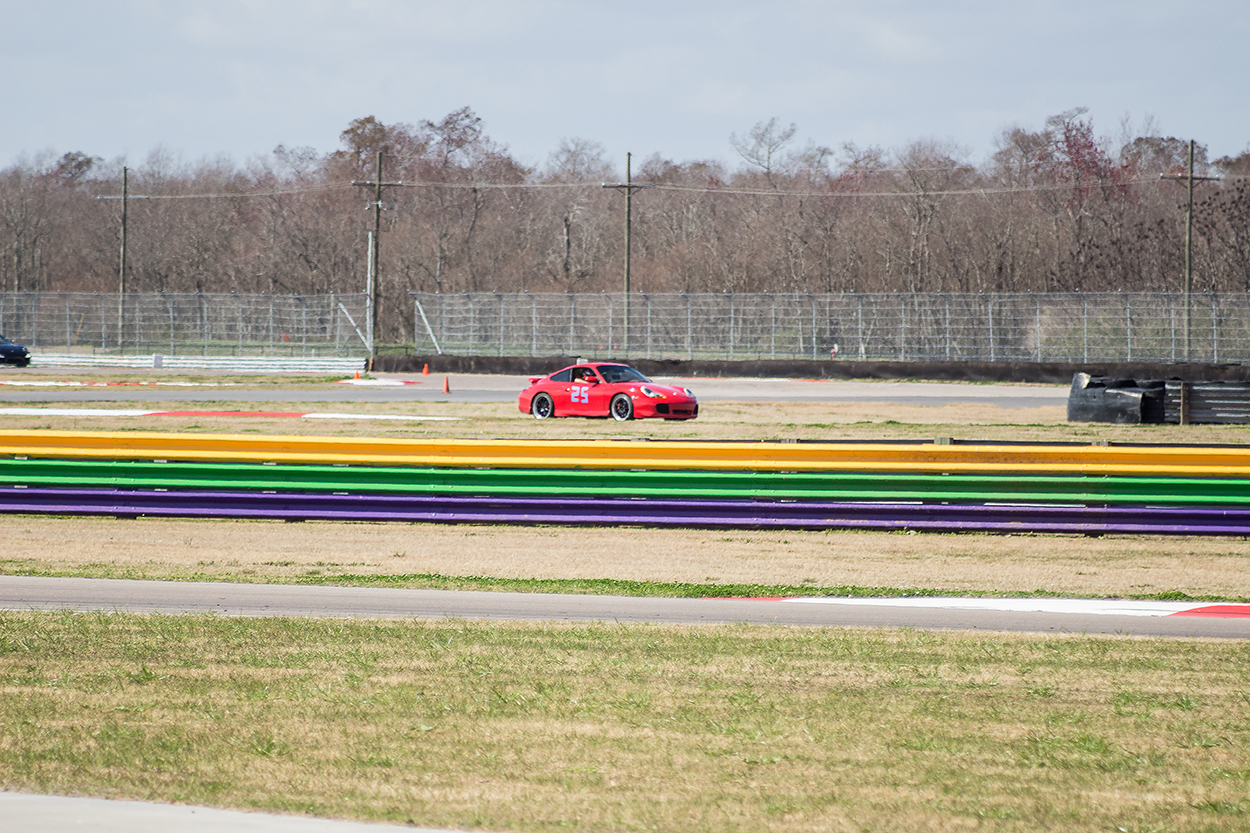 Gary's endless good humor and insight was an asset for the weekend. The Carrera, which came with an aftermarket supercharger, spent most of Saturday overheating and refusing to idle once hot, at which point it would shut down and refuse to start until it felt like it, about 45 to 60 minutes later.
The car did this all day. On his second track session, Larry spun out on a turn, and the car stalled. I had gone to the restroom at that time and missed this singular moment of spectator excitement.
At the end of one session, I saw the sad scene of Larry being towed off the track.
At the end of another, I saw Larry and Gary pushing the car off the track themselves.
But not once did Larry not have a smile on his face.
Uber technician James Riemens Van Laare is Larry's go-to garage guy at NOLA Motorsports. He's worked on the Porsche since day one and has been a great help to Larry in understanding its mechanics and particular idiosyncrasies. At the end of each track session the Porsche would come limping off the track and into the lot. Larry, Gary and James would pop the trunk (hood?) and look at the engine and poke and prod. James hooked up the diagnostic computer to try and pinpoint what the Mistress's issue was. 
Two of Larry's coworkers, David and Mark, fellow car aficionados, had come for the day. All together, they looked like a poor man's version of the cartoon King of the Hill, arm chair quarterbacking while patient James was trying to get a bead on what was wrong with the car.
"The supercharger…."
"This relay switch…"
"Why is this plate like this?"
"Could there be a crack in the (insert any engine part you can think of)?"
"Try it again."
"What kind of a reading are you getting now?"
"The strobe hoffenganger isn't reading the guttenblerg correctly…"
"Is the timing hootenanny hitting the whirleygig capacitor?"
(Okay, those last two are just what it sounded like to me.)
Josh Brown, a Mardis Gras Region member whose lovely wife Katie shares my tolerance for this whole car thing, stopped by after getting off the track to see what was going on. I gave him the quick low-down, at least to the degree I understood it.
"It's overheating and stalling and not starting." That about summed it up.
Josh nodded. "It isn't a matter of 'if' with these things – it's a matter of 'when,'" he said. "It can be running great forever, and then something goofy like this happens."
By the end of the day, Larry hadn't been able to complete any of his track sessions. Once the car got to a certain degree of hot, he took it off the track to cool down. But while he had been out there, he was honing his skills and getting valuable input from Gary. He was loving it, which was the name of the game.
The Carrera, however, was still under the weather at the end of the day. An electronic component in the dash had been sent out to be rebuilt before the DE, and a substitute had been put in as a temporary fix. Larry seemed to think that was the culprit, but a diagnosis hadn't been nailed down.
Against my better judgment, Larry said he wanted to follow me (driving our more reasonable car, the Jetta) in the Porsche to the hotel where we were spending the night. This proved to be an optimistic lapse in judgment. Following me in city stop-and-go traffic, the Porsche decided to quit for the day in the middle of a busy intersection, after I had lost sight of him behind me in heavy two-lane, one-way traffic. Add a few wrong turns looking for the hotel, and the evening had "heavy drinking" written all over it.
Not knowing if he was still behind me or had somehow gotten ahead of me, I tried texting him to no avail. That was because he was busy pushing the car down thea block on his own, until some local cops helped him get it off the road. I finally found him and we moved it underneath a bright parking lot light, locked it up, and left it for the night.
In my next post, I'll tell you about the following day at the DE, and my opportunity to ride with a driver in a real race car. (Helpful hint: Don't do this immediately after lunch.) But first I'd like to leave you with the following tips on how to have a good experience as a tag-along at a Drivers Education event:
1) If you've ever been a horse-show mom, soccer mom, hockey mom, etc., use those skills and treat this like any other kind of sporting event, which means you will be left to your own devices for long periods of time interspersed with your partner's appearance asking for food, water, accolades for a job well done, or a sympathetic (and uncritical) ear when things go poorly. Be a good sport and provide all these things with a sincere smile. He'd do it for you.
2) Pack a cooler with water and other drinks, and snacks that hold up through a long day. It will keep you out of the pricey and fattening concession stand. (We purchased the optional box lunch, which was excellent, but you still need munchies throughout the day.)
3) Bring portable seating. Your partner will be driving, you will be sitting. Not in a car. Might as well make yourself comfortable. Which leads to:
4) Sunscreen. Forget it at your own risk. You will probably be sitting in a sea of asphalt, and there's a good chance it will be hot (at least, it was in Louisiana). Add sun and you'll be burning any exposed skin. Be sure to bring sunglasses and a hat as well.
5) Reading material. A good trashy novel is always a good bet. Because no matter how much you love him, you can only watch him go around that track so many times before you're ready to go hari-kari on a crescent wrench.