Porsche engines floating in color
Article and photos by Jim Hemig
"The first thing I did was take the radio out. I just wanted to hear the six-pack of killer German bees," said artist Phil Gallagher as he reminisced about when he first received his 1971 911E Targa.
He had wanted one of these cars ever since his cousin took him for a ride in a 911 back in 1969. Many years later, he was able to acquire one.
"In 2003 I traded some of my artwork for this vintage 911," Gallagher recently shared with a group of Porsche Club of America (PCA) members at his art studio.
This car prompted a change in Gallagher's interest in painting and automobiles. 
"I felt a new passion when I got my car," he added. "I love the engine, the center, the heart of the car."
This passion led Gallagher to take a new direction in his art career. Instead of primarily painting his signature Hawaiian petroglyph artwork, he started painting Porsche engines.
"I wanted to paint the essence of the car and realized it is behind me. I wanted to bring the outside in with my art, just like the sound of the engine through my open Targa top," Gallagher said. "With my paintings, I wanted to bring the engine inside the house or in the living room. I was after the juxtaposition of outside and inside"
Gallagher has now painted more than 30 large format paintings of both historic and modern Porsche engines, ranging from a four cam, four cylinder engine to a twin-turbo, flat twelve cylinder engine. Most of these pieces are a large four and a half feet by three and a half feet, and the turbo twelve cylinder is an even larger seven feet by four and a half feet.
Gallagher wanted to honor the early Porsche engines with his artwork.
"I wanted the engines to be larger than life," Gallagher said of his vision. "I wanted to see these engines floating in color."
PCA members know Porsche engines. When looking at Gallagher's renditions, the Porsche power plant is clear to see. But other than identifying the engine, the rest is creative harmony that is pure Phil Gallagher.
Gallagher modified a painting technique he pioneered while living in Hawaii to these completely unique Porsche engine paintings.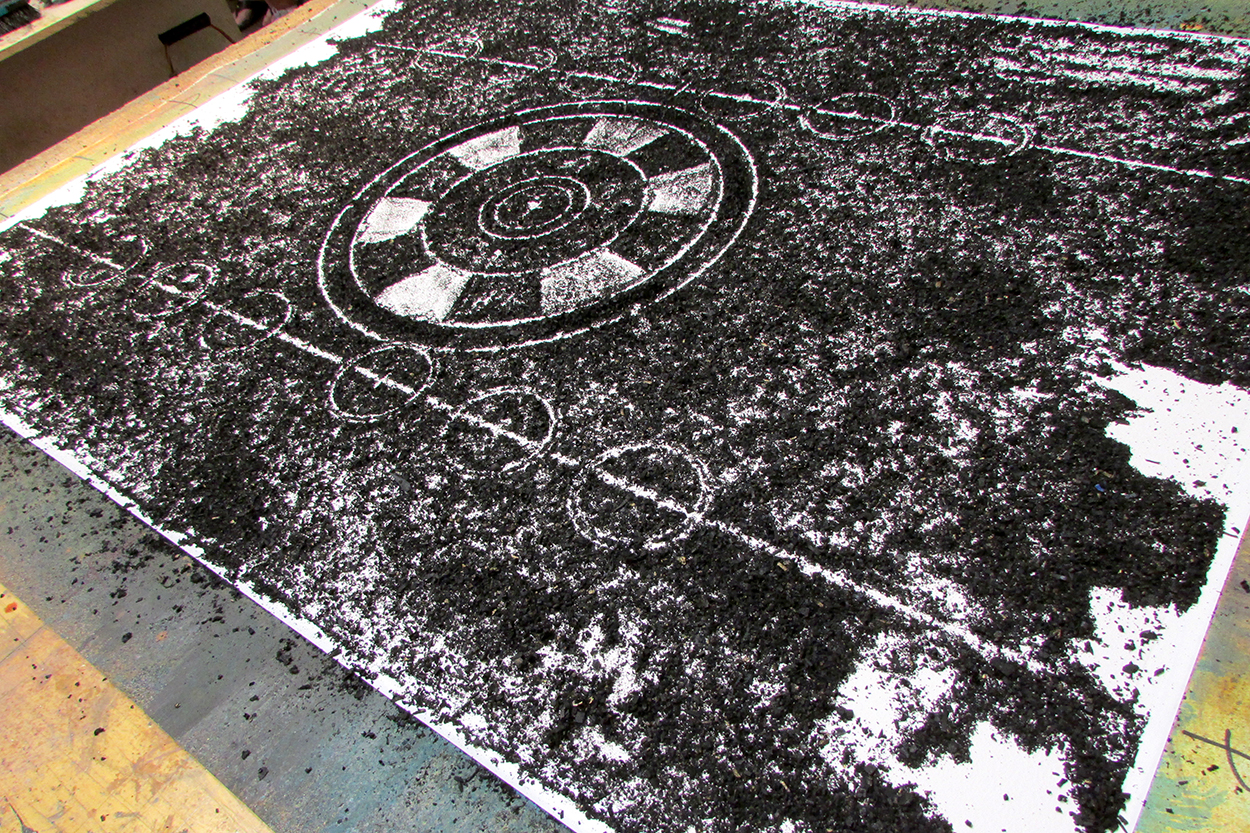 He describes the technique as "painting through an organic screen." He developed it in 1985 and has produced more than 2,000 paintings with pieces shipped throughout the U.S. and Europe.
"I simply use a scrub brush to throw tiny fractals of paint," Gallagher explained.
He has created his own visual language in color and texture that is unique—people recognize his work around the world.
Gallagher stretches large, 300-pound watercolor paper from France. Once dry, he covers it with fine sawdust. With compasses, straightedges and other drafting instruments, he draws through the sawdust to expose the paper.
With an initial shape or pattern exposed, Gallagher uses common scrub brushes and applies color by "shooting" tiny fractals of pigment with his hands.
"These engines were built by hand. I wanted to paint them by hand," Gallagher said.
When it's dry, he removes the sawdust to reveal the painted image underneath. He then covers the paper with more sawdust and creates new shapes or images and applies more paint.
This process happens over and over again until the shape and pattern of a Porsche engine emerges. 
Once the engine is complete, Gallagher uses a sponge to pull color out of the painting.
"This leaves the engine floating in color, with a very textured and fractal look," he said.
At the recent gathering at his art studio of the visiting PCA regional group, Gallagher shared that it takes a minimum of a couple of weeks for each painting.
"Half the time is studying the painting and letting it dry before the next step," he mentioned as he stood over his latest piece.
This PCA group came to Gallagher's art studio in Meadow Valley, California, near the Sierra Nevada foothill town of Quincy, to test drive one of the September Treffen event tours. And these members of the local region were glad they did. Gallagher's Treffen drive tour, studio visit, and pizza lunch was the first Treffen tour to sell out.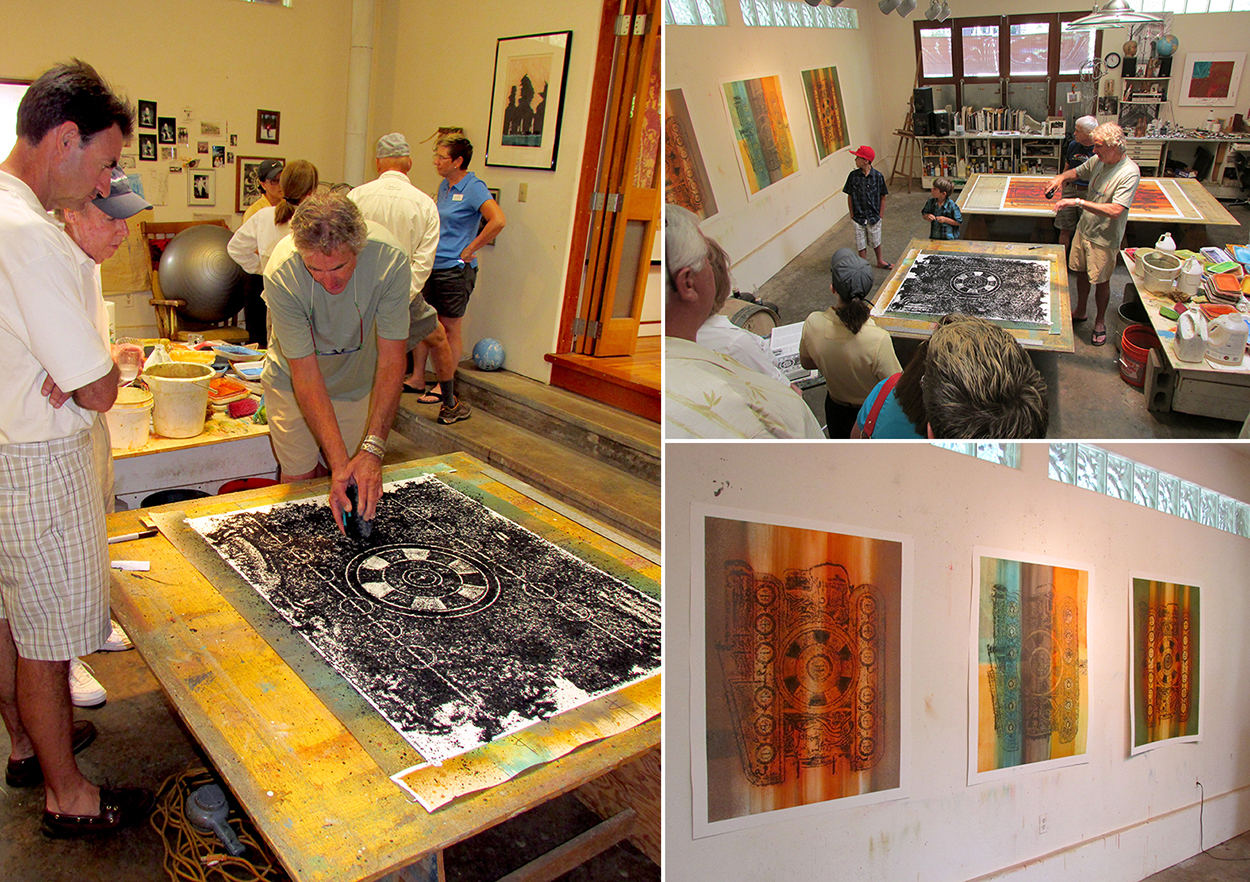 The folks signed up for this Treffen trip, "Porsche, Pizza & Portraits," will be pleasantly impressed, not only with the mountain drive and Gallagher's artwork, but also with Gallagher's hand-tossed, homemade pizzas. The pizzas are loaded with ingredients fresh from his garden and are cooked in his outdoor garden pizza oven.
Gallagher said at the test drive event, "I love to cook. I love to feed people."
The pizzas, one of which was made in the shape of a Porsche 911, were fresh and tasty, but the folks came to see the artwork. They were not disappointed.
Gallagher has most of his large format Porsche engine paintings mounted on the walls of his studio. With the proper lighting and seating, a Porsche enthusiast can spend hours just sitting and enjoying these unique works of art. His work is impressive to see in person.
Gallagher is willing to sell these paintings he's poured so much of himself into. The weeks of work put into these unique and large format pieces of art make them well worth the price. Any Porsche enthusiast fortunate enough to purchase one will have a one-of-a-kind work of Porsche art. Gallagher also sells two different sized photo reproductions, as well as special orders.
If you are one of the PCA members driving to Phil Gallagher's home during the Treffen event, you will get to experience his art firsthand. If not, you can see all of his work on his website at http://www.philgallagherart.net/porsche.html.
Gallagher will likely continue his passion of painting Porsche engines. And Porsche enthusiasts will continue to enjoy his efforts. He even welcomes other PCA groups to drive up to his studio garden home in the Sierra to see for themselves.
When asked what is next for his Porsche artwork, Gallagher simply said, "Where everything goes, who knows? But I have more to do. My latest painting is the best. But as an artist that's always the case. I feel this art, just like the Porsche engine, is timeless.