Heptig Shows Passion for Porsche, PCA Club Racing through Interesting Dual Role
Tuesday, September 13, 2016
Above: Pat Heptig and his wife, Flossie, at Road America following Heptig's endurance race win.
COLUMBIA, MD — Texas attorney Pat Heptig just can't get enough of Porsche.
Heptig loves the iconic German automobile so much that he plays a dual role in the Porsche Club of America (PCA) as a driver and scrutineer.
"My first passion for Porsche started when my dad bought a 1972 Porsche 911E," he said. "My brother took me for a ride in it, and that car did things back in 1981 that no other cars could do. It was a wonderful car. At that point, I was sold."
Heptig, who represents the Maverick PCA Region, started in PCA's High Performance Driver's Education (HPDE) program in February 2006.
"When I was doing HPDE, I was having a ball," Heptig said. "But then I saw the race cars, and I said: 'What are they doing? I want to do that.'"
So he did. Heptig's first race was in 2007 at Motorsport Ranch in Cresson, Texas.
"I got bit by the Porsche bug," he said. "Racing was the missing link. Once I got out there, there was no turning back."
Heptig, who drives a 1987 Porsche 911 Carrera, converted his proclaimed "garage queen" into a race car. He competes in the Stock E Class, which had the largest number of entries, 38 cars, over Labor Day weekend at The Challenge at Road America (TRAC).
"Road America is always a big gathering, and it's a big race that I always try to go to," Heptig said.
During the Chicago PCA Region's prestigious race, he placed third in Sprint 1, second in Sprint 2, and first in the Endurance race against some of his favorite competitors in the E class from Texas and across the country.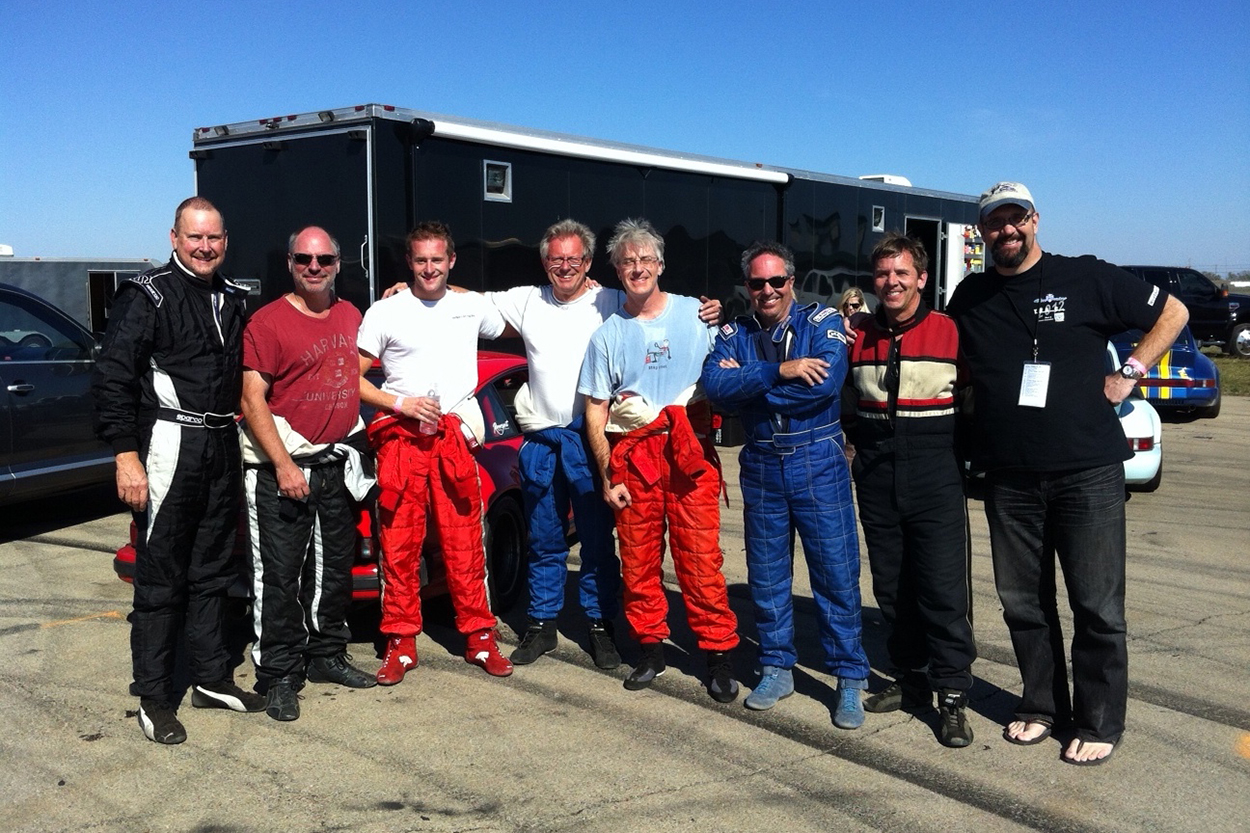 Above: A group photo of the E Class drivers. (From left: Jim Buckley, Carl Fehres, Niels Meissner, Siggi Meissner, Pat Heptig, Bill Miller, Jeff Wiggins, James Shoffit)
Heptig said it's also important to give back to PCA as a volunteer. He's an instructor for the HPDE program in the Maverick PCA Region, and he started scrutineering at PCA club races last year.
"This organization is all volunteers, so I wanted to give back," he said. "It's tough, when I'm at a track, I want to be racing. But it's an important job, and it's my way of giving back.
"There are a lot of things going on behind the scenes that go into making a smooth, safe race. It's really been interesting to be on both sides of the equation. It's interesting to see how it happens on the other side. We want to make it a fun and safe weekend - that's always the goal."
Heptig is also the co-chair for the Maverick Region's Texas Showdown Club Race. He handles all of the coordination and scheduling leading up to the race and then participates in the event while his co-chair, Joel Nannis, also a PCA scrutineer, handles the logistics of the actual race.
Heptig, who lives in Dallas, Texas, owns four Porsches - his 911 race car, a 996 GT3 cup car (GTC-3) that he also races, a Cayman GT4, and a 997-generation 2005 911 Carrera S that he picked up straight from Porsche's factory in Germany. 
"The 997 S was going to be my first brand-new Porsche, and I wanted to do it right," he said. "I talked to my wife, and we decided to go to Germany and Austria on a vacation. We picked up the car at the factory in Stuttgartand, did the factory tour, and then we went all throughout southern Germany and Austria. We drove the car around and just had a ball. I wasn't sure if my wife would have fun, but she loved that trip."
Heptig has worked as an intellectual property litigation attorney for years, but it wasn't until he started his law firm - Heptig Law Group, Ltd. - 10 years ago in Dallas that he could take racing seriously.
"Being in control of my own time is what allows me to go racing," Heptig said. "I never looked back. Racing is my passion."
Heptig praises his wife, Flossie, as a big part of why he races.
"She understands how much I love it," he said. "She gets that it's like therapy for me. I work hard, and then I play hard. Plus she takes care of the home front while I'm racing on these weekends."
The couple has two boys - ages 17 and 13.
"My 13-year-old son is very into cars and racing," Heptig said. "We are actually building a 944 SP1 race car, and as soon as it's done, he wants to get out on the track and ride in it. Now that the boys are older, Flossie has been able to come to a few races with me, like the Rennsport Reunion last year in Monterrey and Road America this year. She's having a great time - as long as there is a spa nearby."
On balancing work with play, Heptig said: "It's like two different worlds. When you leave and go race, you have to be focused on the race. That's what I love about this. When you're on the track, it's the only thing that exists. When you leave the track, you have to go back to the real world, and it takes a few days to get integrated back in.
"But that's what's great about club racing - it forces you to focus, and I just find it therapeutic and relaxing."
Besides the PCA race scene being therapeutic for Heptig, he said nothing beats the camaraderie and friendship within the 118,000-member PCA.
"One of the best things about club racing is competing door-to-door, mirror-to-mirror, two inches away from your best friends," Heptig said.
About Porsche Club of America/PCA Club Racing
The Porsche Club of America (PCA) celebrates good friends, good conversation and a common passion for the world's finest automobile - Porsche. Since its founding in 1955, this close-knit community of Porsche owners has grown to 143 regions throughout the United States and Canada and is the largest single-marque club in the world. PCA activities include racing, rallies, autocrosses, tours, and shows, as well as driver education, Porsche restoration and technical sessions. The PCA continues to thrive around the unbridled joy provided by Porsche.
PCA Club Racing enters its 25th year by featuring more than 2,000 licensed racers and 32 sanctioned races per year, more than any other single-make racing organization in the world. PCA Club Racing was established around guiding principles that remain true today. In summary, they provide a class for all Porsche sports cars; fun, safe and clean racing; and uniform organization and operation.