Beautiful Weather, Happy Drivers Prove Porsche Club of America's 2016 Oktoberfast at Daytona to be Major Success
Tuesday, November 1, 2016
Photos by Stephen Krupnick / TravelsWithStephen.com
DAYTONA BEACH, Fla. (Oct. 26, 2016)—With sunny skies, a light breeze, and weather in the mid-70's, more than 150 Porsches competed in Porsche Club of America's 2016 Oktoberfast at Daytona presented by Porsche of Melbourne at the legendary Daytona International Speedway over the weekend. 
"This event was fantastic and I want to thank all of the volunteers for putting on an event that impressed so many people," said Steve Williamson, Oktoberfast event and club race chairman who also represents the Citrus Region of PCA.
The event utilized the 3.56-mile road circuit at Daytona, which includes portions of the famed 2.5-mile oval and its 31° banked turns. In addition to the club races, drivers were able to participate in Drivers Education and autocross categories.
"It was exciting to have not only the 944 Cup series compete in their championship round at Oktoberfast, but also the PCA Club Racing Porsche Cayman GT4 Clubsport Trophy East series," Williamson said. "I'm glad both series were able to successfully wrap up their seasons at this event."  
The 944 Cup series includes various models of the 924S, 944, 951 and 968 and is dedicated to these front-engine, water-cooled Porsches. 
The National Champions for the three 944 Cup classes from the final race Sunday include John Torgersen in the SP1 Class, Fred Beasley in the SP2 Class, and Denny Hiffman in the SP3 Class. All three drivers are former 944 Cup regional champions as well.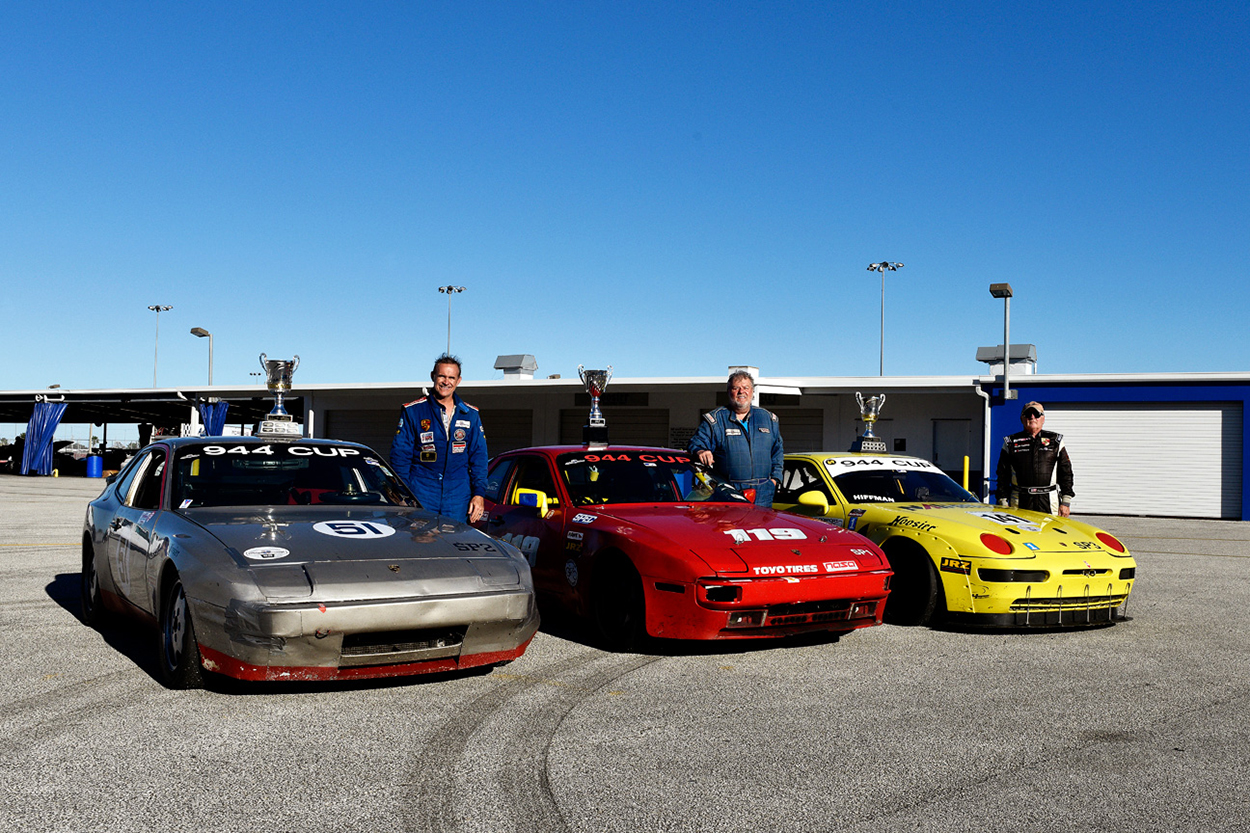 Above, from left: Fred Beasley, SP2 champion; John Torgersen, SP1 champion; Denny Hiffman, SP3 champion.
In other Oktoberfast racing news, Ken Nielsen, who competed in the Stock-J group, won the endurance race on Sunday. He also placed second in both sprint races Saturday in his No. 12 Bodymotion Porsche 911 GT3 entry.
"You really become buddies with everyone you race with in Porsche Club of America," Nielsen said. "I had the two toughest races of my life during our sprint races on Saturday with my good friend Kevin. We switched spots for positions one and two about five or six times. When we got out of the car, we hugged each other."
"I feel really fortunate to have been racing with PCA for the past 14 years," Nielsen said.
Alan Benjamin, who raced his 1968 Porsche 911 T/R in the GT5 Class, placed first in class in Sprint 2 Saturday and first in class during the enduro race Sunday.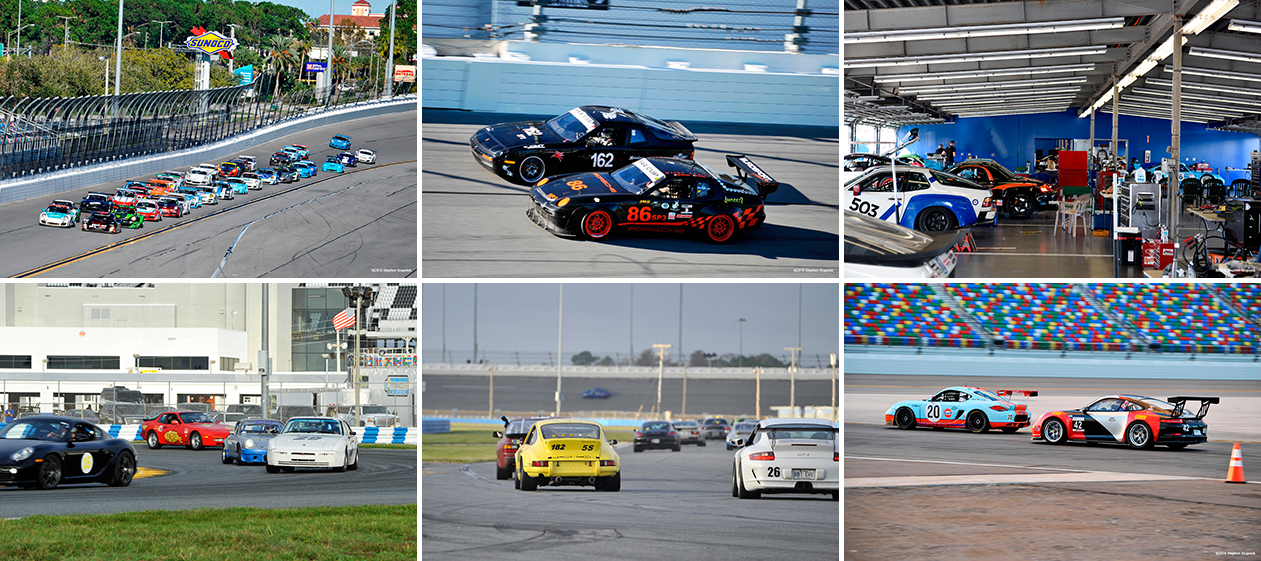 "I don't know how long it'll take to get this grin off my face and get rid of that post-race euphoria," Benjamin said. "Everyone drove clean, the weather was perfect, and everything ran flawlessly. PCA did a fantastic job."
Benjamin's car is one of 28 cars ever made in the world. The rare car clearly had no problem on Daytona's tough track.
"It's amazing because my 1968 car was competing with many modern cars with a lot more technology," Benjamin said.
In other Club Racing news, the PCA Club Racing Porsche Cayman GT4 Clubsport Trophy East series wrapped up its inaugural 2016 season with a thrilling endurance race Sunday with rookie Curt Swearingin passing David Baum in the last lap to get his first win of the season.
Swearingin, who represents the Tennessee PCA Region, slowly climbed up the ranks throughout the 80-minute enduro race until he was in position two going into the final lap, with Baum, representing the Western Michigan PCA Region, in first place for the Championship class.
"It was just a great finish," said Swearingin. "I'm so glad my team and I finally got a first place finish in our last race of the season."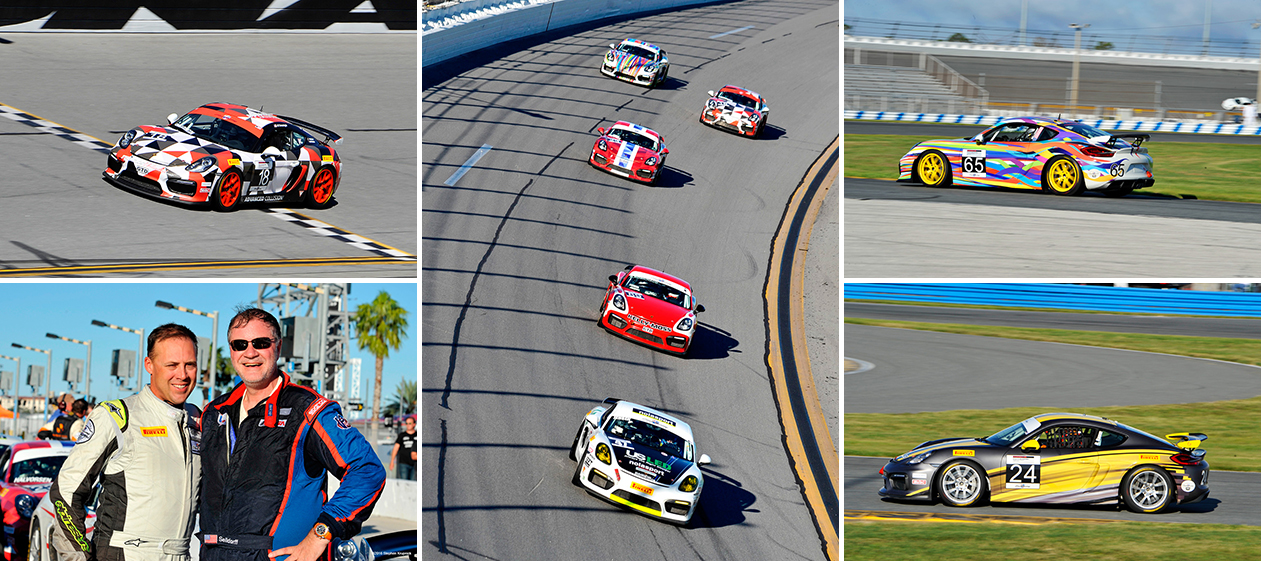 The series also announced the tentative 2017 schedule at their championship celebration banquet on Sunday evening at the Daytona 500 Club. The series has grown from six events in its inaugural season to eight events for the 2017 season at some of North America's most challenging courses. Barber Motorsports Park, Monticello Motor Club, and Canadian Tire Motorsport Park will be three new additions, increasing the series' growing profile with competitors and fans following an extremely successful first season.
About Porsche Club of America/PCA Club Racing
The Porsche Club of America (PCA) celebrates good friends, good conversation and a common passion for the world's finest automobile - Porsche. Since its founding in 1955, this close-knit community of Porsche owners has grown to 143 regions throughout the United States and Canada and is the largest single-marque club in the world. PCA activities include racing, rallies, autocrosses, tours, and shows, as well as driver education, Porsche restoration and technical sessions. The PCA continues to thrive around the unbridled joy provided by Porsche.
 
PCA Club Racing enters its 25th year by featuring more than 2,000 licensed racers and 32 sanctioned races per year, more than any other single-make racing organization in the world. PCA Club Racing was established around guiding principles that remain true today. In summary, they provide a class for all Porsche sports cars; fun, safe and clean racing; and uniform organization and operation.
---
For more photos of the Oktoberfast race weekend, visit photographer Stephen Krupnick's website.