Model Guide: Porsche 912 and 912E
Thursday, January 19, 2017
Article by John Benton of Benton Performance
Photos courtesy Porsche
The information presented below is meant to be an overview of the 912 and 912E and key features that make them unique. PCA has a great Tech Q&A forum open to Test Drive participants and PCA members that cover issues with these Porsches and their remedies. Other online forums, such as 912 Registry, Rennlist, and Pelican Parts, can be excellent resources where you can find information covering ownership experiences, DIY projects, and quirks and intricacies of the cars. When you're ready to start looking for your 912 or 912E, The Mart is a great place to start. And remember; always take your prospective Porsche to a qualified technician for a pre-purchase inspection.
---
Lead image: 1965 Porsche 912
The Porsche 912 was introduced to the European market in 1965 and was based on the brand-new 911, sharing virtually everything but an engine. The 912 was equipped with an air-cooled flat four, continuing a formula that had worked so well for the outgoing 356 as Porsche further refined the 911 — and its new flat-six engine — into what is now widely considered the most iconic sports car of all time.
Basically, to build the 912, Porsche mated a 911 in its entirety to a 356 SC engine. In this application the engine was tuned to 90 horsepower and 90 pound-feet of torque, down five hp from the 356, but with a stronger mid-range. Some would argue that this was a match made in heaven, with balance, style, and performance that eclipsed most sports/touring cars of the era.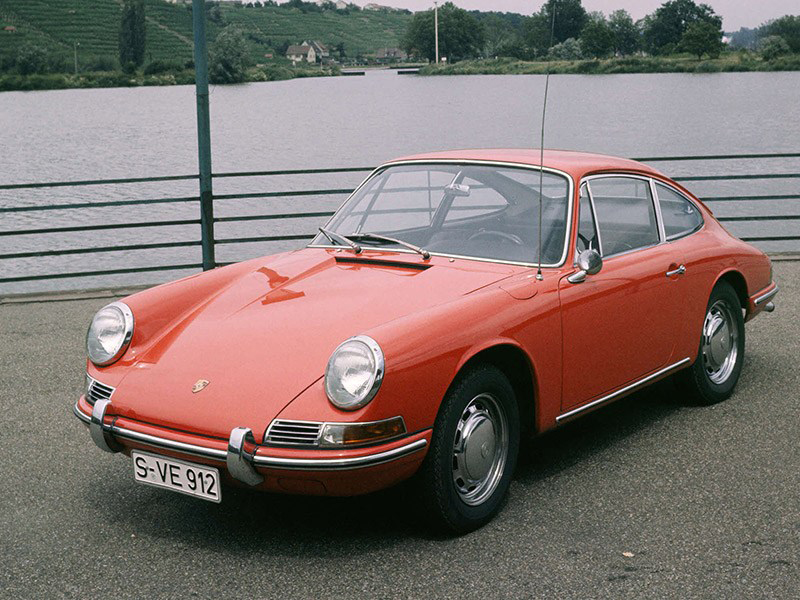 Above: 1967 912
The very first short-wheelbase (aka, SWB) 912s were built with non-adjustable front strut towers, a water bladder for wiper fluid, and in some cases a painted dash. These cars even carried over the fluted shift knob from the 356. A four-speed manual came standard and a five-speed was available as an option — though in my experience the five-speed is more common. Road & Track timed the 912 with a five-speed from 0-60 miles per hour in 11.6 seconds, respectable by 1960s standards.
The US model was not available until the 1966 model year. The 1966 models were now fitted with adjustable strut towers and a plastic reservoir for wiper fluid. The canted 912 script was still present on the glove box and the right side of the rear deck lid.
For 1967, the 912 adopted the new block script that is now synonymous with Porsche. The shift knob was now a round ball with or without the shift pattern on the top. Two-toned visors, full carpet across the transmission tunnel, and other subtle changes found their way in. This would be the last year 4.5-inch wheels were offered.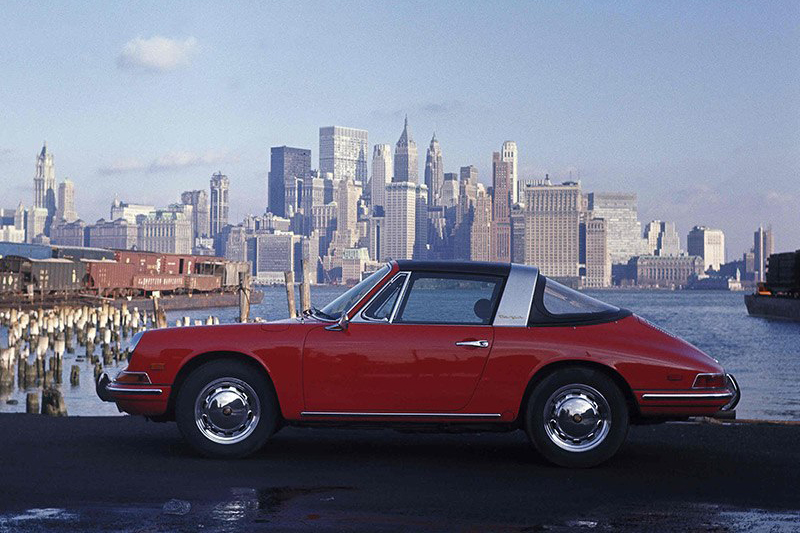 Above: 1967 912 Targa
Because the 912 shared the 911 platform, the 1967 912 was also the first year for the Targa, a novel take on a convertible with a roll bar and removable roof panel and soft plastic rear window.
1968 is the most misunderstood of all the model years. It was saddled with both DOT and smog requirements for the US market. The engine required a smog pump and other modifications to limit emissions. DOT requirements included a dual-circuit brake system, breakaway steering column, winged door handles, side reflectors, padded dash, and much more. The 1968 912 was also completely restyled on the inside with a new gauge design and molded door panels. This was the last year of the short-wheelbase 912. This was the first year for 5.5-inch wheels.
In 1969, Porsche addressed stability issues by adding more than two inches to the wheelbase of the 911 (aka, long-wheelbase or LWB cars). This carried over to the 912, as did most other refinements, including flared wheel arches, improved ventilation, electric defrost, and an improved electrical system. And for some, the sad loss of wind wings. 912 production ceased after the 1969 model year until…
…By early 1976, Porsche expected the last 914s to sell out. With the new 924 slated for a 1977 launch, the automaker needed a stopgap entry-level model. The 1976 912E was offered to fill the task in the US for one year only. It followed the same formula as before: A 911 was mated to an air-cooled flat four — this time a fuel-injected Type 4 Volkswagen engine. Fewer than 3,000 units were built. The E was the only 912 offered with a corrosion-resistant galvanized chassis and is the most comfortable version of the 912.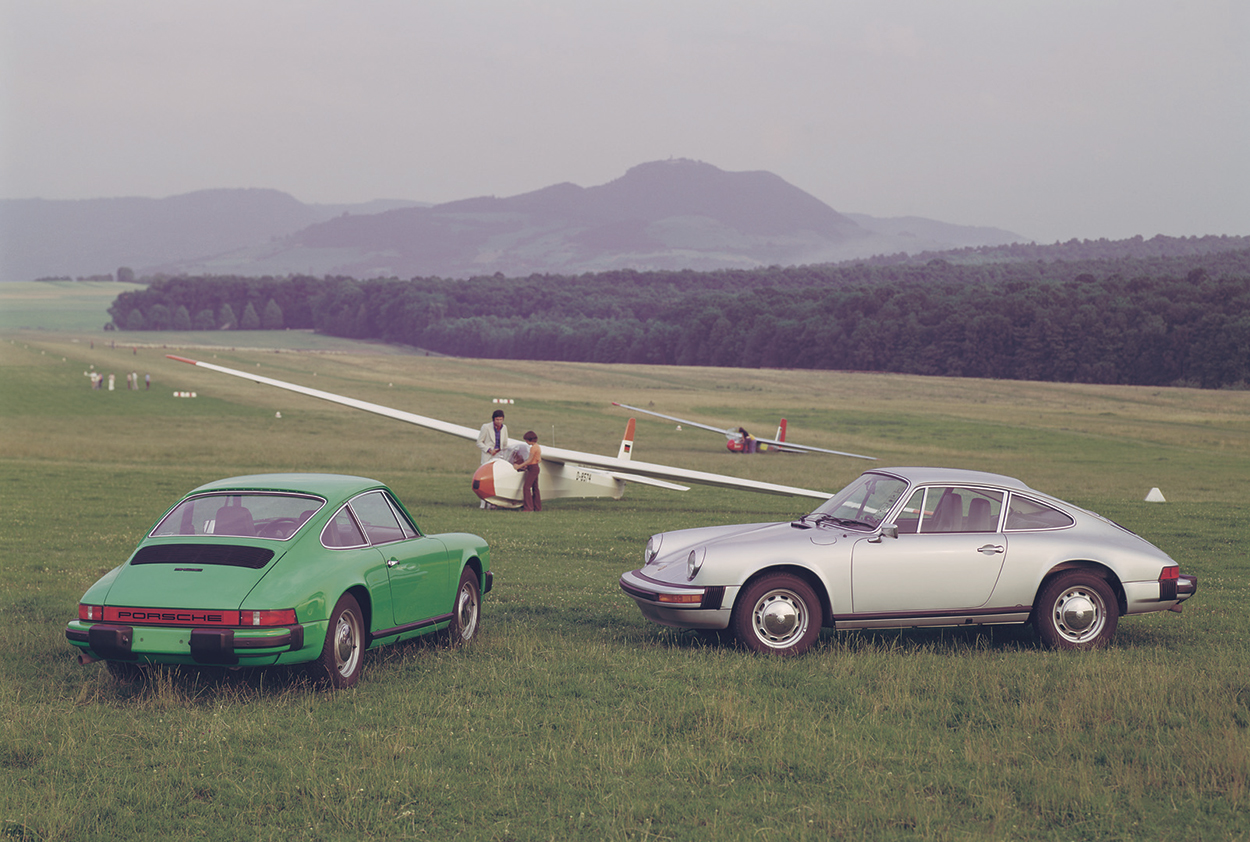 Above: Two 1976 912E models
When looking for a 912 you must do some research beyond what's contained in this model guide. Drive as many cars as you can. Pay for a pre-purchase inspection before you buy one. Be patient and take the time to enjoy the process. There are potentially many pitfalls, but you can limit them by being aware of things like rust, collision damage, poor repairs, and lack of maintenance. You must also realize that this is a 50-year-old machine that will require maintenance and care as part of the ownership experience.
If you are fortunate enough to own one of these gems, be a good custodian. Take care of your 912 like the rare machine it is.  The 912 in this form will never be built again, and it is up to you to preserve, as much as own and enjoy, these fine examples of automotive history.

Above: Translated using Google Translate: "A Porsche is a car with an incomparable mixture of profile, character, and elegance, a car for connoisseurs and experts — a visible compliment to their lifestyle. Today Porsche presents the 912 model."