Relive Steve McQueen's Le Mans with the graphic novel based on the movie [w/video]
By Benjamin Shahrabani
Images courtesy Garbo Studio S.A.
Title: Steve McQueen in Le Mans: Part I
Author: Sandro Garbo
Publisher: Garbo Studio
Format: Hardcover, 64-pages
Price: $32
Where to Buy: The official website
1971's movie Le Mans was Steve McQueen's love letter to racing. McQueen plays driver Michael Delaney, returning to the famed track after suffering an accident and the loss of a friend the year before. Largely improvised with a rudimentary script, Le Mans shows lots of random footage of the racing cars, the individuals, and the crowds at the race in 1970 and intercuts them with the barest minimum of storyline — and even less dialogue.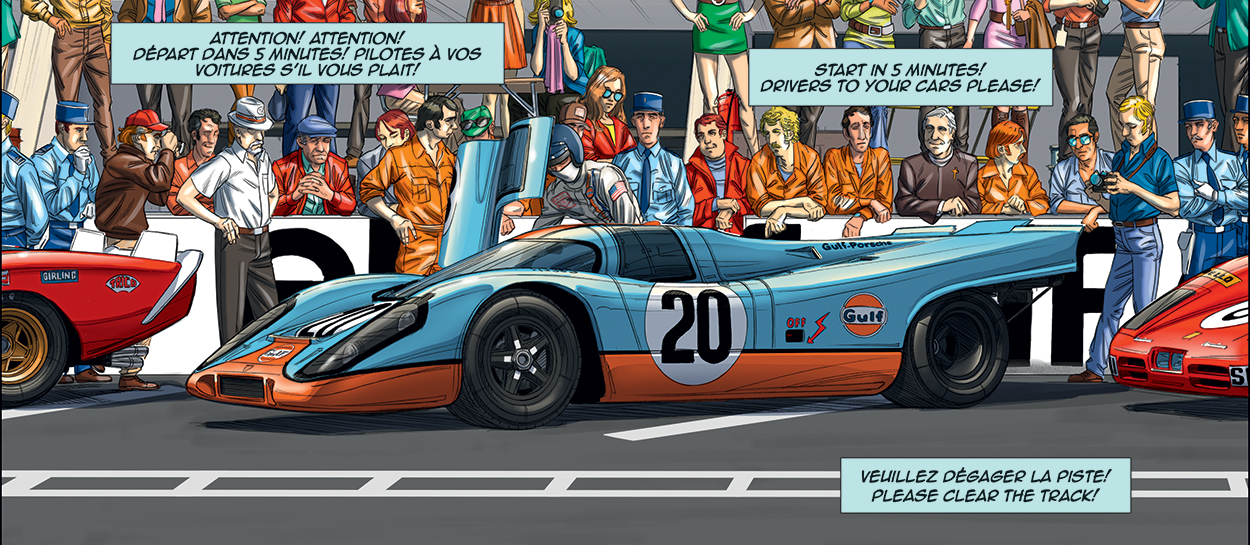 To come back and win, McQueen's character not only must endure the mental and physical stress of 24 hours of racing, but also beat his arch-rival, Erich Stahler, played by Siegfried Rauch with Germanic efficiency. Nearly 30 minutes elapse before we hear McQueen utter so much as a word. There's a hint of romance involving the widow of a driver killed in the accident that derailed Delaney's bid at Le Mans the year before. But most dialogue is spoken in passing while engines thunder past. While not a box office hit at the time of its release, Le Mans has since become a cult favorite, one of a handful of movies that can't be remiss from any motorsport enthusiast's collection.

Le Mans also seems to have made a large impression on artist Sandro Garbo. Inspired by a dream in which Steve McQueen appeared and told him to create a graphic novel based on the movie, Garbo recruited a talented team of artists — Florian Afflerbach, Jared Barel, Julien Dejeu, Thomas Lebeltel, Guillaume Lopez, and Pierre Ménard — and set to work. Three years later, the Steve McQueen in Le Mans graphic novel is the product of much hard work, and is a wonderfully rendered tribute to the man and all the machines you might be familiar with from the movie. Of course the Porsche 917K and Ferrari 512 are well represented, as well as the 1970 911S McQueen's character drove in the movie's iconic opening scene — and which he subsequently purchased for personal use after filming ended.


Steve McQueen as he appears in the Le Mans graphic novel
The art in Steve McQueen in Le Mans is stunning. Garbo and his team have a strong intuition for both visual narrative and scene structure, and the 64 pages of this large format graphic novel have a distinctly cinematic feel. Kinetic action sequences are made all the more exciting by the use of dynamic camera angles. The writing is by no means lacking either. While the book is based on the 1971 movie, and is officially sanctioned by the Automobile Club de l'Ouest (ACO) and McQueen's estate, this is a tribute book, not a scene-for-scene recreation. Garbo didn't feel too constrained by the movie that came before, and he takes some liberties, filling in some of the film's unspoken narrative with scenes of his own creation — arguably giving the book a  better story than the film.
Available in four different languages with further installments to follow, and only from the novel's dedicated website, Steve McQueen in Le Mans would be a welcome addition for the McQueen, motorsport, or Porsche enthusiast.
Be sure to watch the teaser video below.