Treffen Hill Country: Members experience Texas Hill Country in and around Austin
Article by Jon Hornaday
Lead photo by Vu Nguyen
Porsche Club of America's Hill Country Region (HCR) had the honor of hosting the first-ever springtime Treffen North America, the event formerly known as Escape and held annually in the fall. 
Thanks to the leadership of HCR President Tracey Gross and Vice President Tuffy von Briesen, plus an energetic and friendly group of 43 HCR volunteers, Treffen Hill Country was a great success.
Some 230 registrants in 150 Porsches gathered at the Hyatt Regency Lost Pines Resort just east of Austin, Texas, March 29 – April 1, for four days of great food, mix-and-mingle social events, amazing drives into the Texas Hill Country and some of its German heritage towns, plus two hours of parade laps on the Formula One track at the Circuit of the Americas.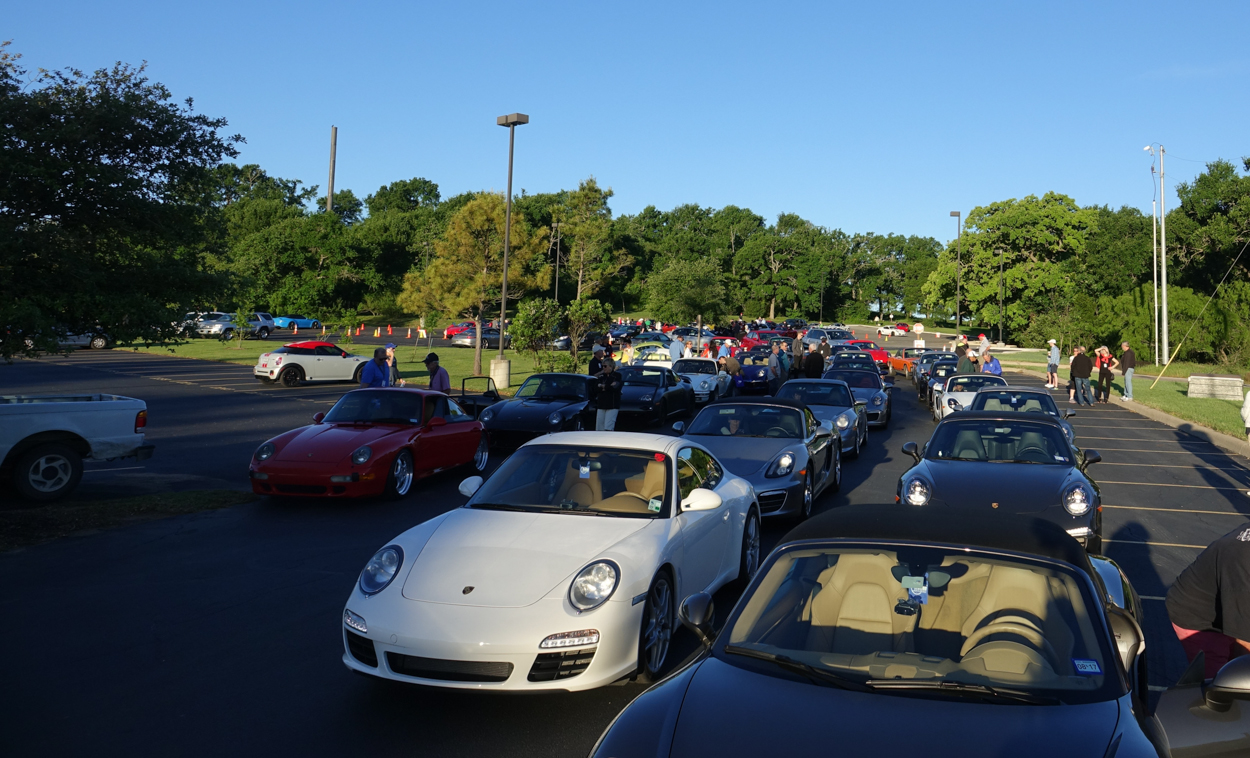 Photo by Skip Carter
Attendees came from all but one of the 13 PCA zones and 47 Regions, including two members from Ontario in the Upper Canada Region, and others from relatively far flung locations such as the Pacific Northwest, the Dakotas, numerous California Regions, as well as the Midwest and the East Coast. And, of course, there was a strong showing from the nearby Texas Regions and those from neighboring states. Twenty-seven of those attending also attended Treffen Lake Tahoe last fall.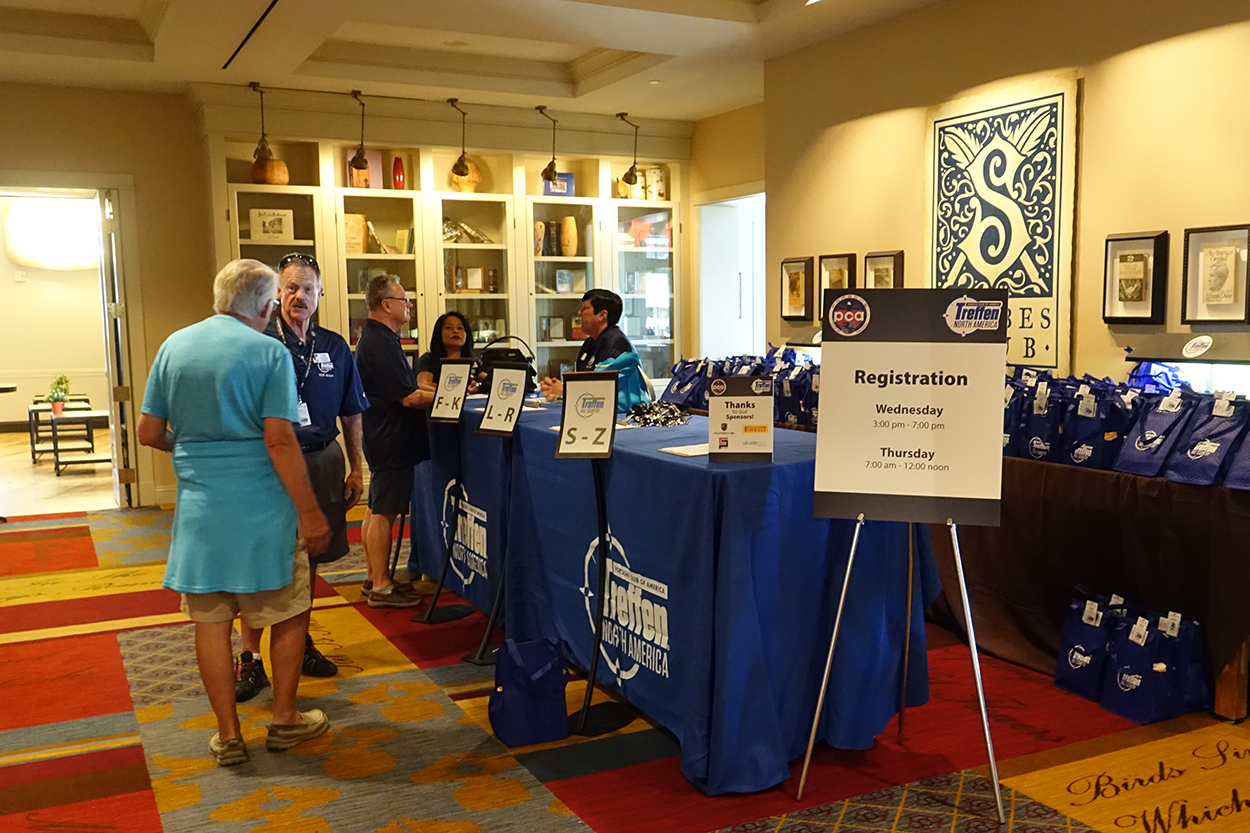 Photo by Skip Carter
Things got underway Wednesday afternoon with a quick and seamless registration adjacent to the Hyatt's Scribes Club lounge as members arrived throughout the day. Cordial and helpful Hill Country Region volunteers staffed the registration area, which was stocked with a generous spread of hors d'oeuvres. It was a great opportunity to meet some of the fellow PCAers in attendance.
On Thursday, with a more than ample continental breakfast that included breakfast tacos, followed by four separate fun-filled drives into the scenic and twisty roads of the Texas Hill Country. Drivers and their passengers were treated to views of the iconic Texas Bluebonnets, the Highland Lakes, drives along bends of the Guadalupe River to the town of Gruene — home to the oldest dance hall in Texas and one of the area's famous barbeque restaurants.


Photo by Skip Carter
While the day's tours were a big hit, Thursday afternoon proved to be the most talked about event of this Treffen. After staging the Porsches and checking out the car show at the Circuit of the Americas parking lot, the F1 track was open for two hours of parade laps. Before and after this once-in-a-lifetime experience, the COTA Velocity Lounge offered a generous spread of hors d'oeuvres. Clearly the opportunity to drive your Porsche on the F1 track was a high point, among many, of Treffen Hill Country.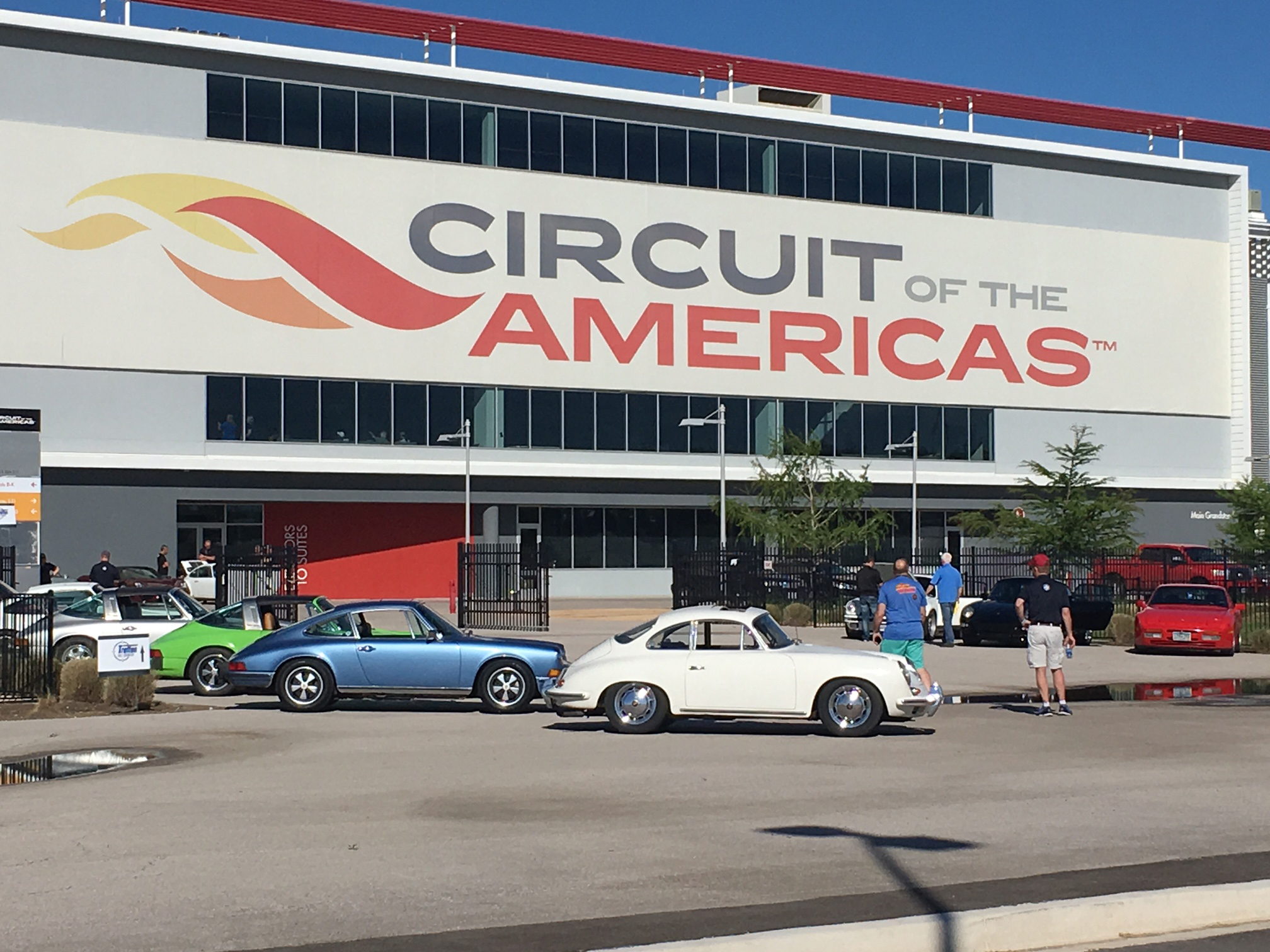 Photo by Richard Baron
Starting the day with a "cowboy breakfast," Friday was devoted to checking out some of Austin and the area's attractions, with coach-driven tours to local craft breweries, wineries, and Austin's renowned gourmet food trucks. All proved to be very successful.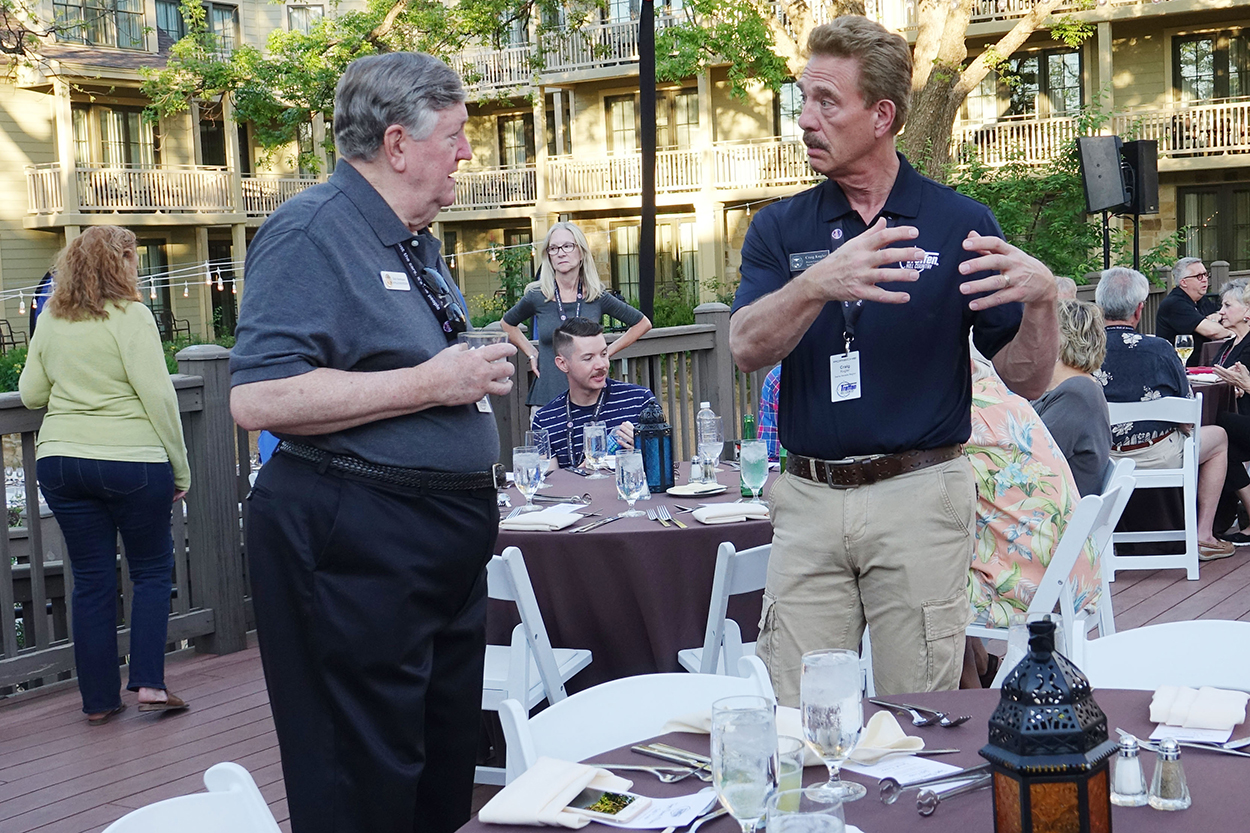 Photo by Skip Carter
Friday evening was a multi-course dinner billed as Tapas y Mas, held outdoors at the Hyatt's Pecan Court where members had another opportunity to meet and visit with new friends. While tapas does mean small dishes, the three-course servings were anything but small, including gulf shrimp and strip loin.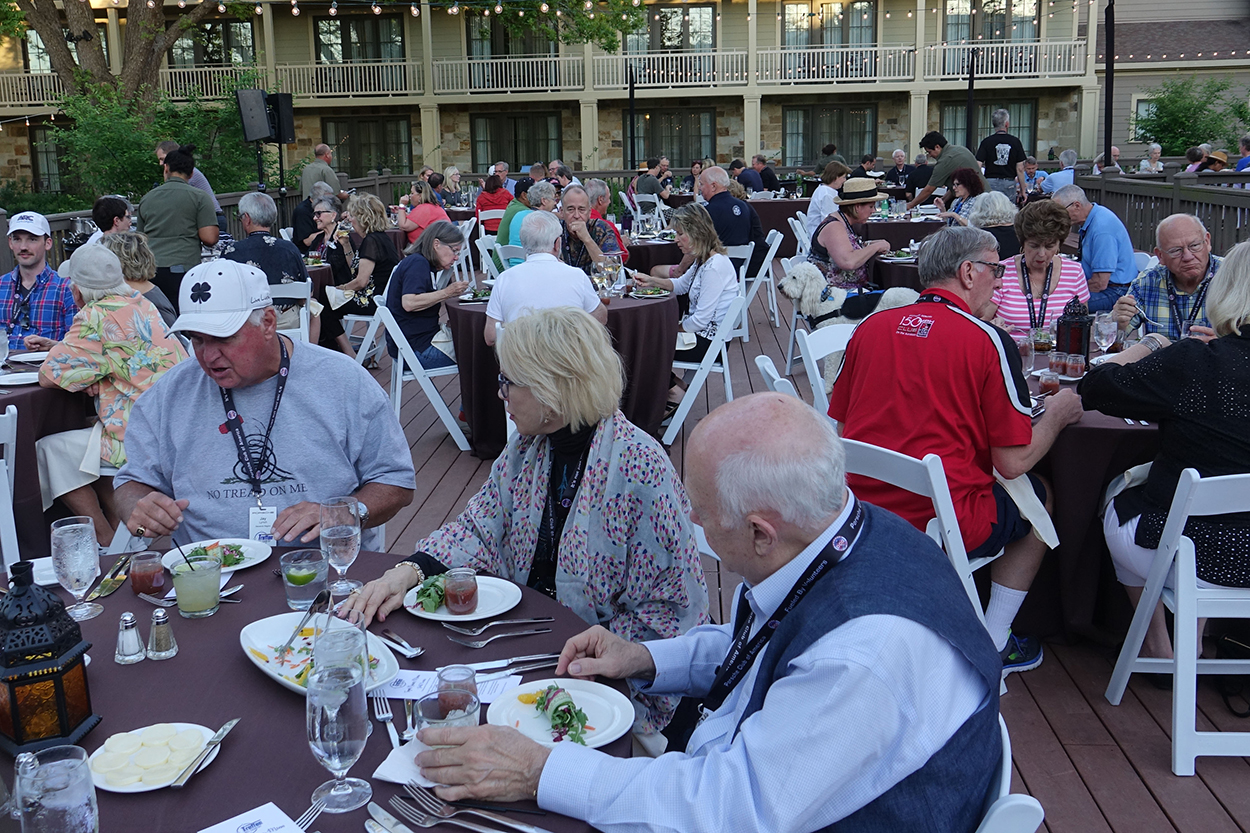 Photo by Skip Carter
Saturday was another early day, beginning with a hearty "farmhouse breakfast," fit for a farmhand … and hungry Porsche drivers and passengers. Three of the Thursday tours were repeated, plus a new tour through the Hill Country to the charming town of Wimberley and a nearby winery with an amazing Italian restaurant.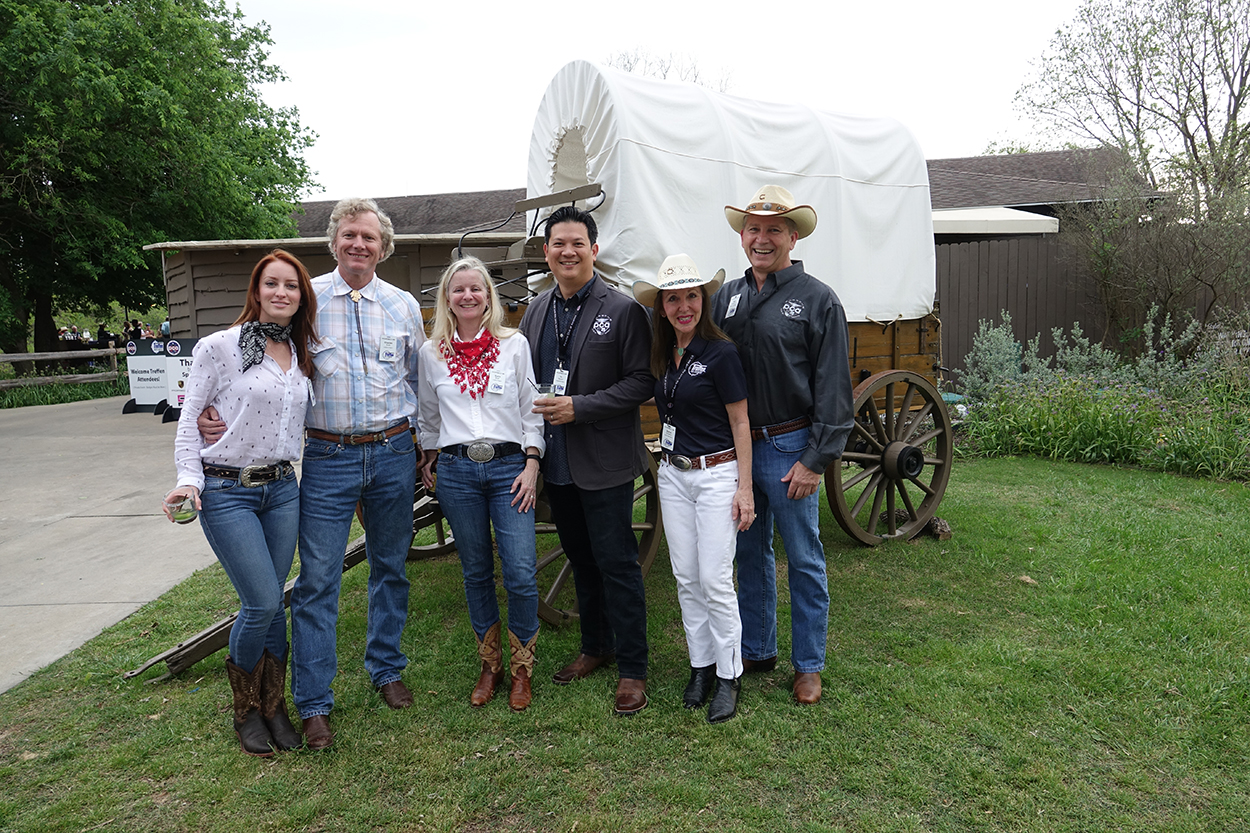 Photo by Skip Carter
While Austin is known as a high-tech center and a music-centric city, the Saturday evening "Texas Two-Steppin' BBQ" seemed to have brought out the inner-cowboy in Porsche folks everywhere. Most everyone put on their best boots, belts, cowboy hats, and jeans for the event, which included a western band and two-step dance lessons. A friendly Alpaca came to visit, and there also was a very large Longhorn steer, complete with saddle for those wishing to climb up for a great photo op. And then there was the food, featuring seared salmon, grilled chicken, and hot-off-the-fire ribeye steaks. The frequently unpredictable Central Texas spring weather held off on approaching storms, and all enjoyed this fun event at a large outdoor pavilion overlooking the Colorado River.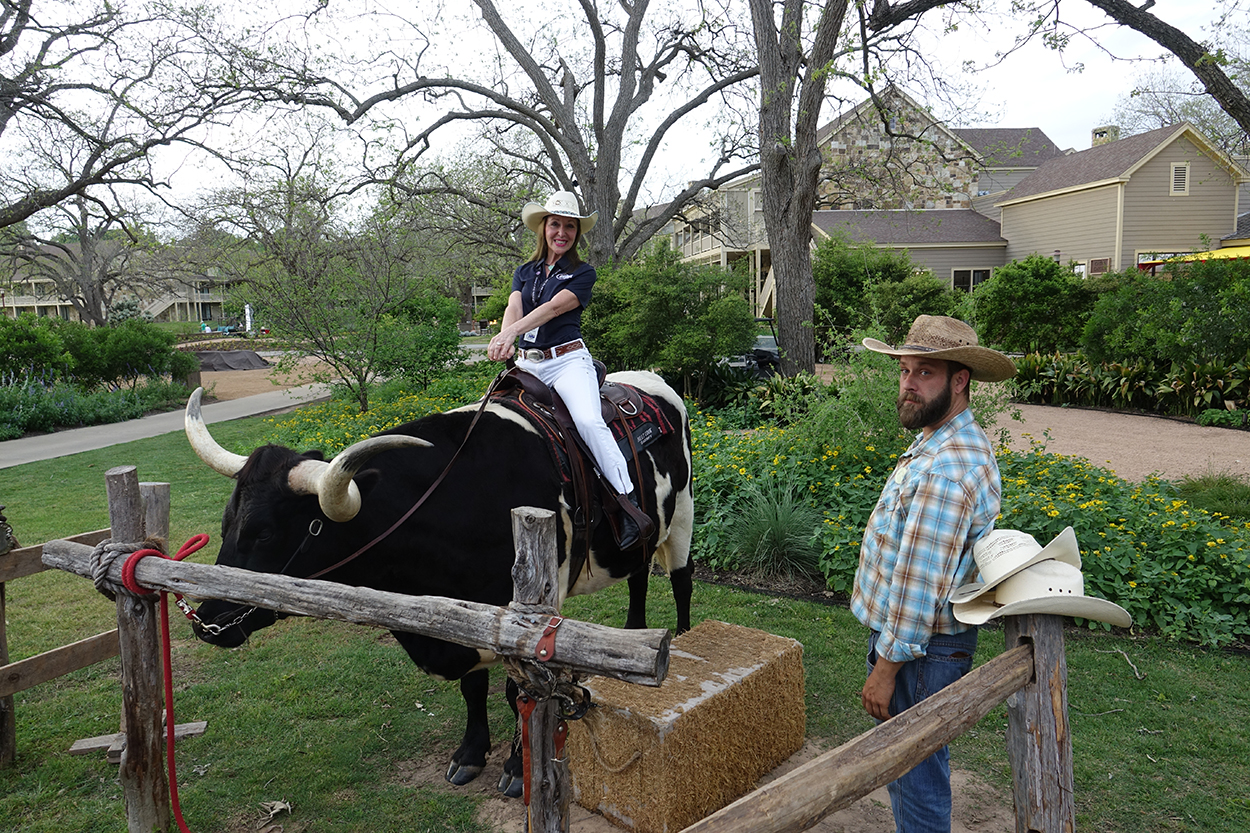 Photo by Skip Carter
That evening, PCA National President and Hill Country Region member Caren Cooper welcomed everyone to the barbecue and introduced several of the volunteers responsible for planning and executing the event including Treffen North America Chair David O'Neal along with Facilities Coordinator Ginny O'Neal, Registrar Leslie Sikorski and Craig Kugler. Among guests enjoying the evening were PCA National Vice President Tom Gorsuch and Executive Director Vu Nguyen.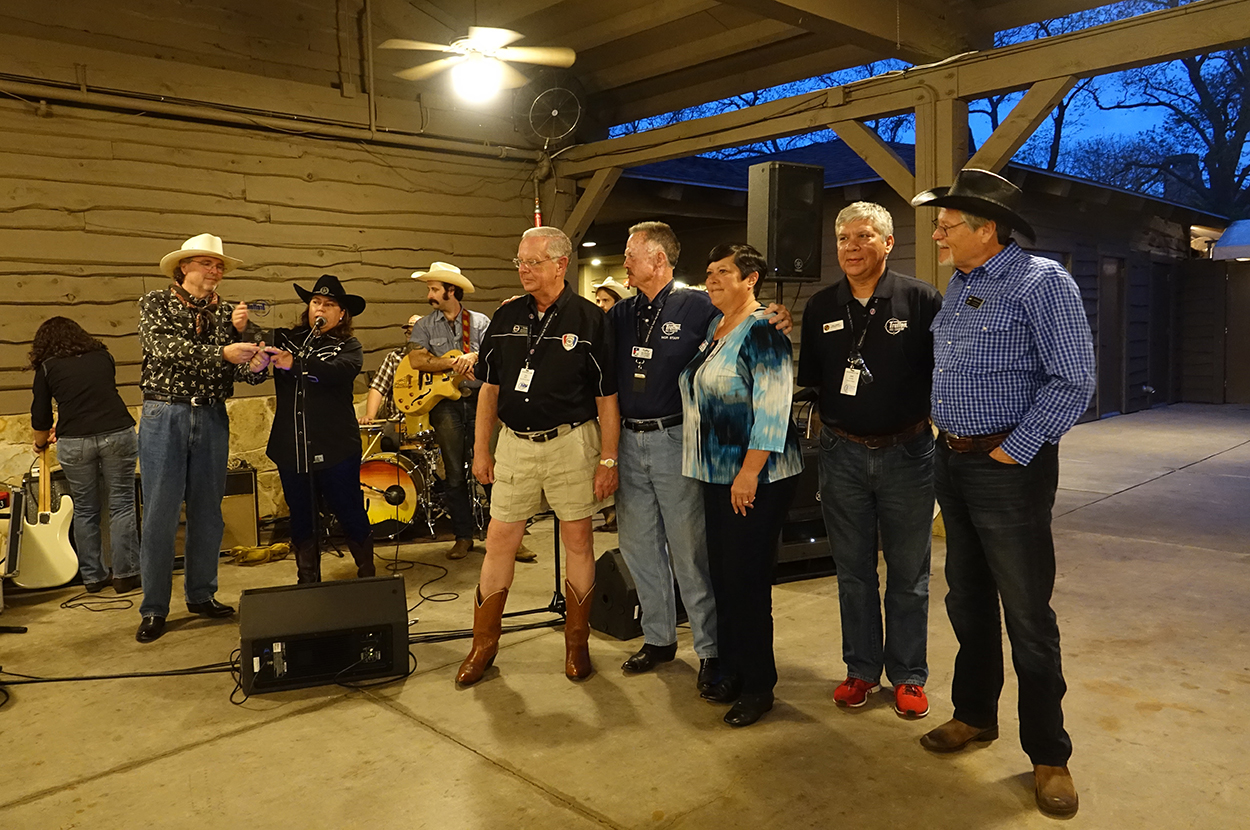 Photo by Skip Carter
Several in attendance are already making plans for Treffen Asheville, Sept. 20-24. Hill Country Region has exciting roads and beautiful scenery in the hills, while Asheville will inspire with its fall scenery in the mountains — not too far from the famous Tail of the Dragon! Looking forward to seeing you there!