Attending the largest Porsche-only swap meet in the world
Article and photos by Damon Lowney
This past Saturday, Porschephiles descended upon a parking lot at Hersheypark for the Central Pennsylvania Region's Porsche Only Swap Meet, where attendees could find just about any Porsche car, part, accessory, and toy for sale by vendors and PCA members alike.
Doors opened at 7:30 AM, and the most dedicated Porsche cognoscenti swarmed in to get the most sought after items before they were spoken for. This writer, with no Porsche parts or accessories needed at the moment, arrived a few hours later and crossed fingers that the rain would hold until mid-afternoon, if not until the end of the meet at 4 PM. ("What's the Hershey Swap Meet without a bit of weather?" was a common utterance.)
Unfortunately the rain came early, around 1 PM, yet it was apparent that the event's claimed 600+ vendors and "around 1,000" Porsches were present and accounted for, and lots of business had been done that morning. This is the largest Porsche only swap meet in the world, after all. New and custom parts and body panels were for sale by swap meet stalwarts (think Rennline, Restoration Design, Sierra Madre, and more), while hundreds of PCA members set up shop under tents or on tailgates, looking to sell off stashes of parts both rare and common. At least one PCA couple was giving away cookies to customers as an extra incentive to stop by their tent.
Crabcake sandwiches were on hand at a food truck for sustenance (a reasonable $6), so I picked one up on my way to the People's Choice Concours, where the Porsche 928 was well-represented, in addition to groups of 944s, lowered 964s (one had super stylish phone-dial inspired wheels by Rotiform), 356s, and even a certain red 912 that appeared in the March 2017 Porsche Panorama and was the subject of "Gramma Elsie's Car."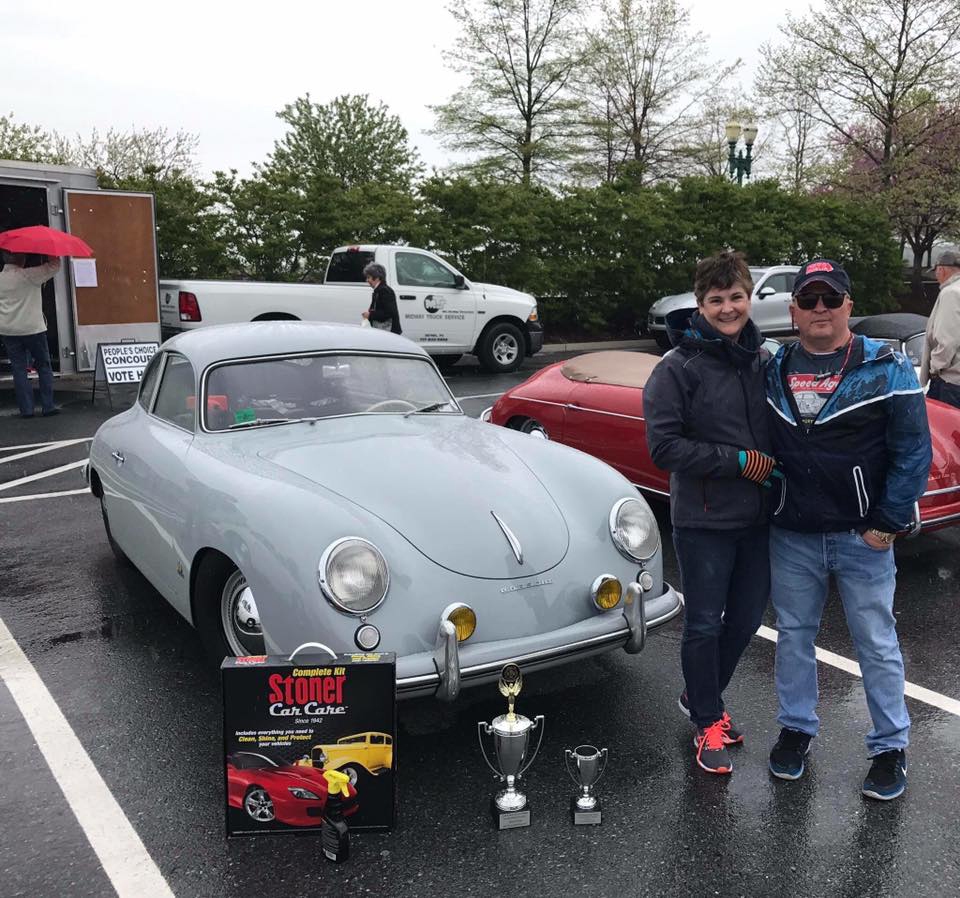 Above: Mike Copperthite's 1953 356 was the winner of the People's Choice Concours. Photo courtesy Mike Copperthite.
In spite of all the cool Porsche stuff one can find at the swap meet, I've attended the event for three of the past four years just to hang out with friends and ogle the German machinery — especially the Porsches for sale section, where I am always delighted to see a rare model I've always wanted, only to check my bank account and walk away thinking, "Maybe next year."
Next year I'll be attending yet again — Porsche parts needed or not — and I'm sure the folks at Central Pennsyvlania Region would like to see you there too. In the meantime, click on the lead image to start a photo gallery of this year's swap meet.