Porsche Parade in Spokane was largest ever [w/video]
Lead photo by Damon Lowney
This past week, a record 2,500 PCA members descended upon Spokane, Washington, for the 62nd Porsche Parade, hosting and participating in dozens of activities, including a concours d'elegance, driving tours, an autocross, time-speed-distance and gimmick rallies, tech quiz, and more. Of course, at the end, the club held the signature Parade of Porsches across the city, escorted by police.
The Welcome Party started the week off Sunday night on a great note with the unveiling of the new 911 GT3 (no, it wasn't equipped with the manual). Porsche Cars North America CEO Klaus Zellmer and other Porsche executives attended the dinner as well.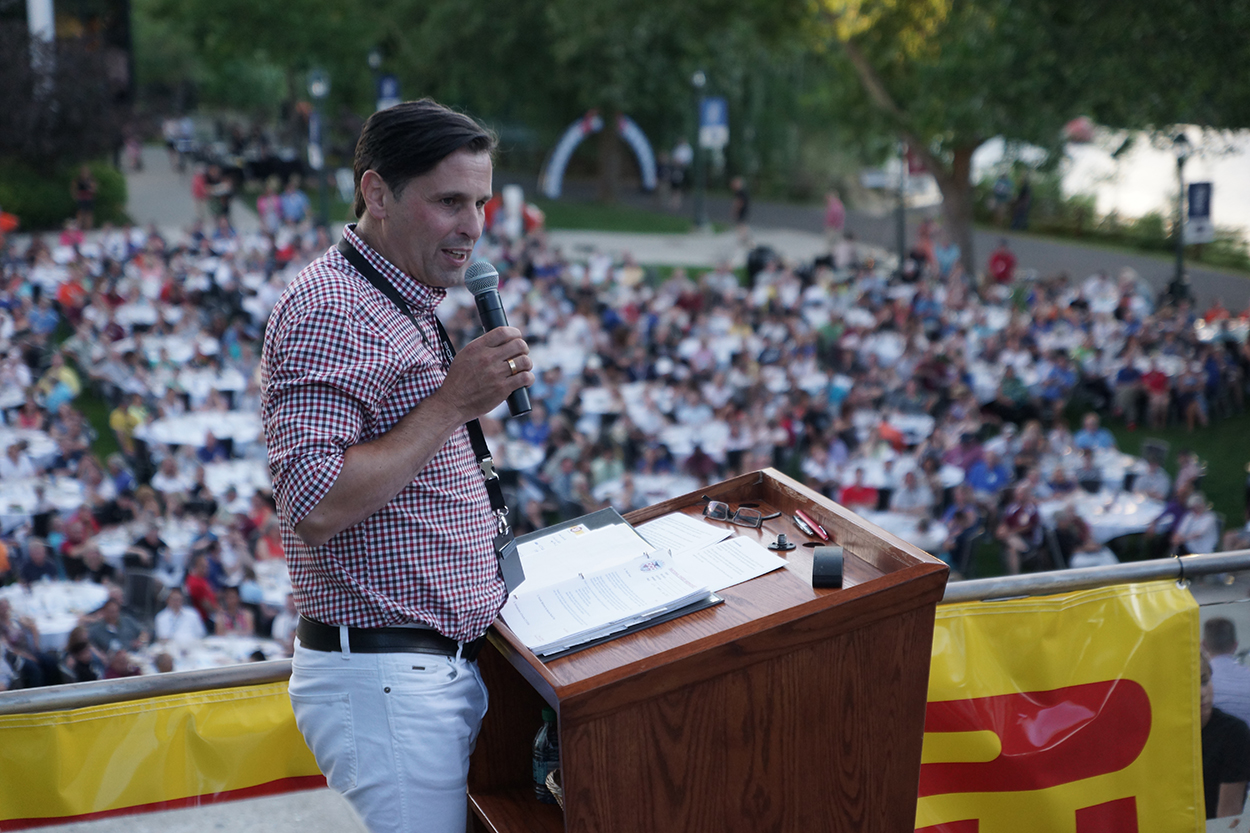 Above: PCNA President and CEO Klaus Zellmer speaks at the Welcome Party. Photo by Damon Lowney.
Members who entered cars into the concours arrived as early as Friday to finish last-minute preparations for the show — an unofficial early start to the week's festivities. We always recommend Parade attendees check out the concours prep area to see truly dedicated members attempting to bring their cars as close to as-new condition as possible. This author visted at 11:30 PM the night before the concours, and there were still 15-20 people still working.
The concours had a great showing of all types of Porsches on Monday, from a classic 356 America Roadster to the latest SUVs and everything in between. They were spread out across Riverfront Park with Spokane's monumental clock tower rising above the show field, which seemed to always be in view.
Dr. Wolfgang Porsche, chairman of the supervisory board at Porsche, made it to Spokane in time for the concours banquet. It's always a treat to see members of the Porsche family at Parade, showing their appreciation for and enjoying what is the largest single-marque car club in the world. 
No Porsche Parade would be complete without driving tours, and there were plenty of them. Members joined tour groups led by volunteers, and could also opt to head out on their own with or without directions provided by PCA. With the Washington-Idaho state line a short 20 miles away from Spokane, many members explored two states at this Parade.
A longtime staple of the weeklong event is the time-speed-distance rally, in which a driver and a navigator work together (without GPS!) to drive a route, down to the most precise detail. The goal is to arrive at each checkpoint exactly on time, with points taken away for checking in early (drove too fast) or late (drove too slow). The gimmick rally, on the other hand, requires members to rely on imagination and creative thinking at each checkpoint rather than time, speed, and distance.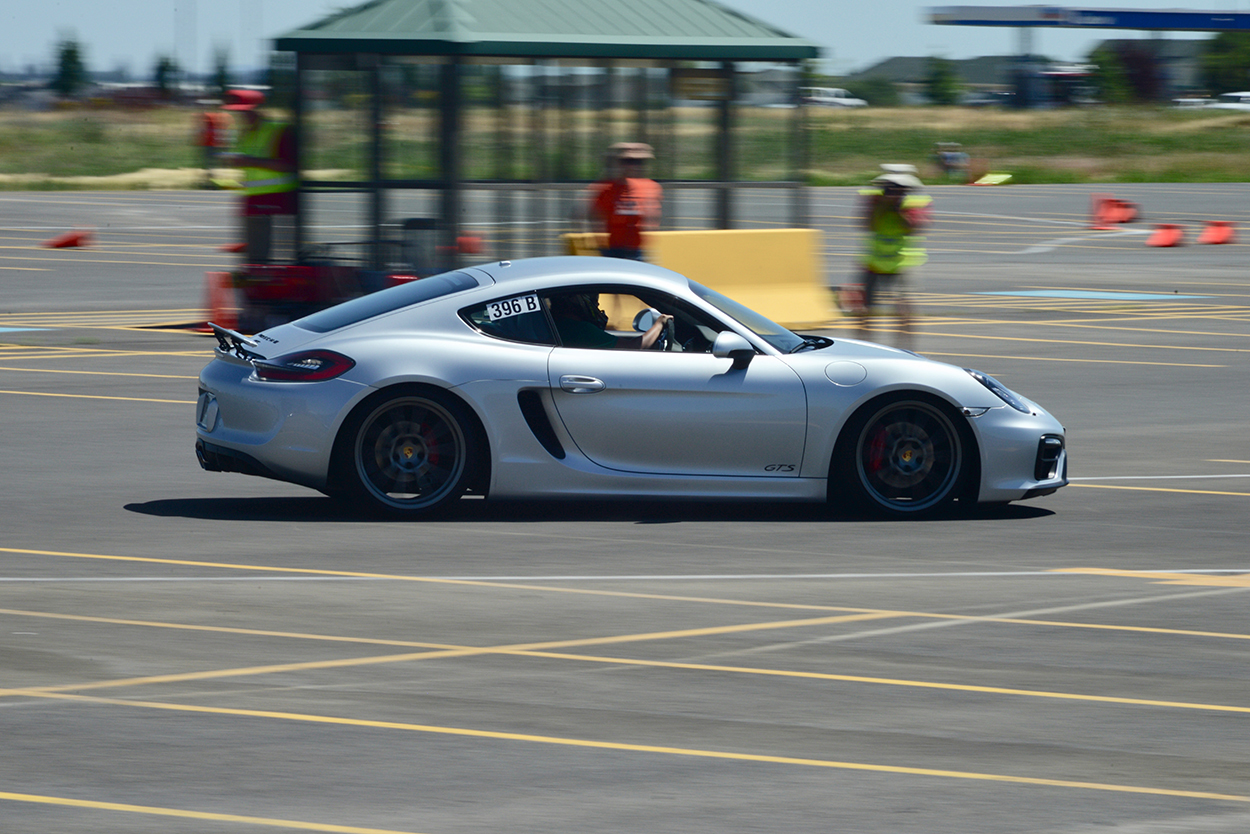 Above: Member drives a Cayman through Porsche Parade autocross. Photo by Trevor Novotnak.
The autocross, always a well-attended and competitive Parade activity, took place over two days. We're happy to report most cones survived the competitive driving, and a handful of them even attended the Autocross banquet on Friday.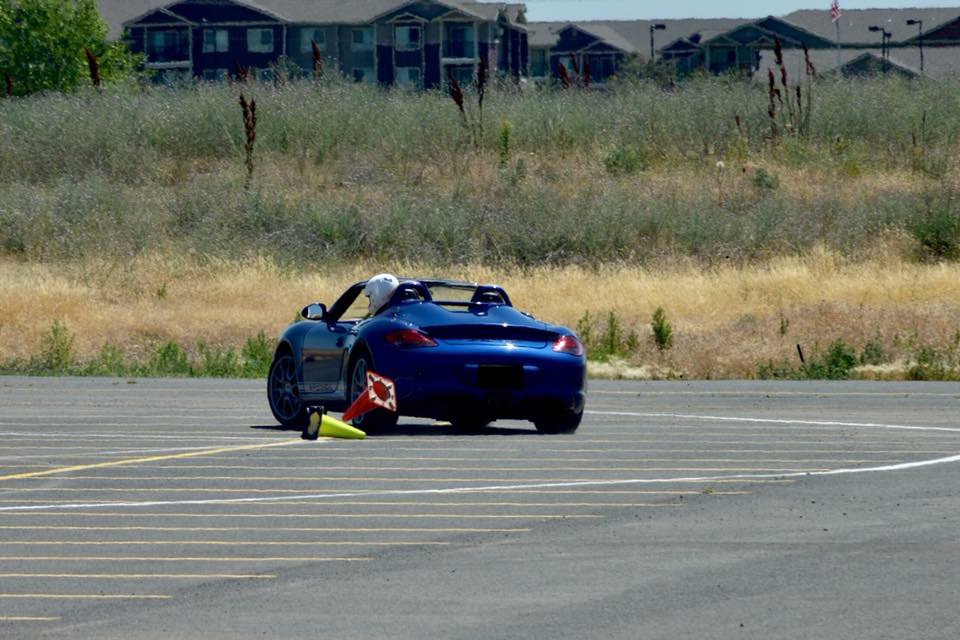 Above: Cone killer at Porsche Parade autocross. Photo by Trevor Novotnak.
Tech sessions were held on Friday covering a variety of topics, while those confident in their Porsche knowledge could take the tech quiz.
Parade Juniors, not to be left out, also had a variety of activities to choose from throughout the week, including radio-controlled car racing, art activities, and more. When members come to Parade, we encourage them to bring their children — they won't be left out of the fun and potentially may become future members and leaders of the club.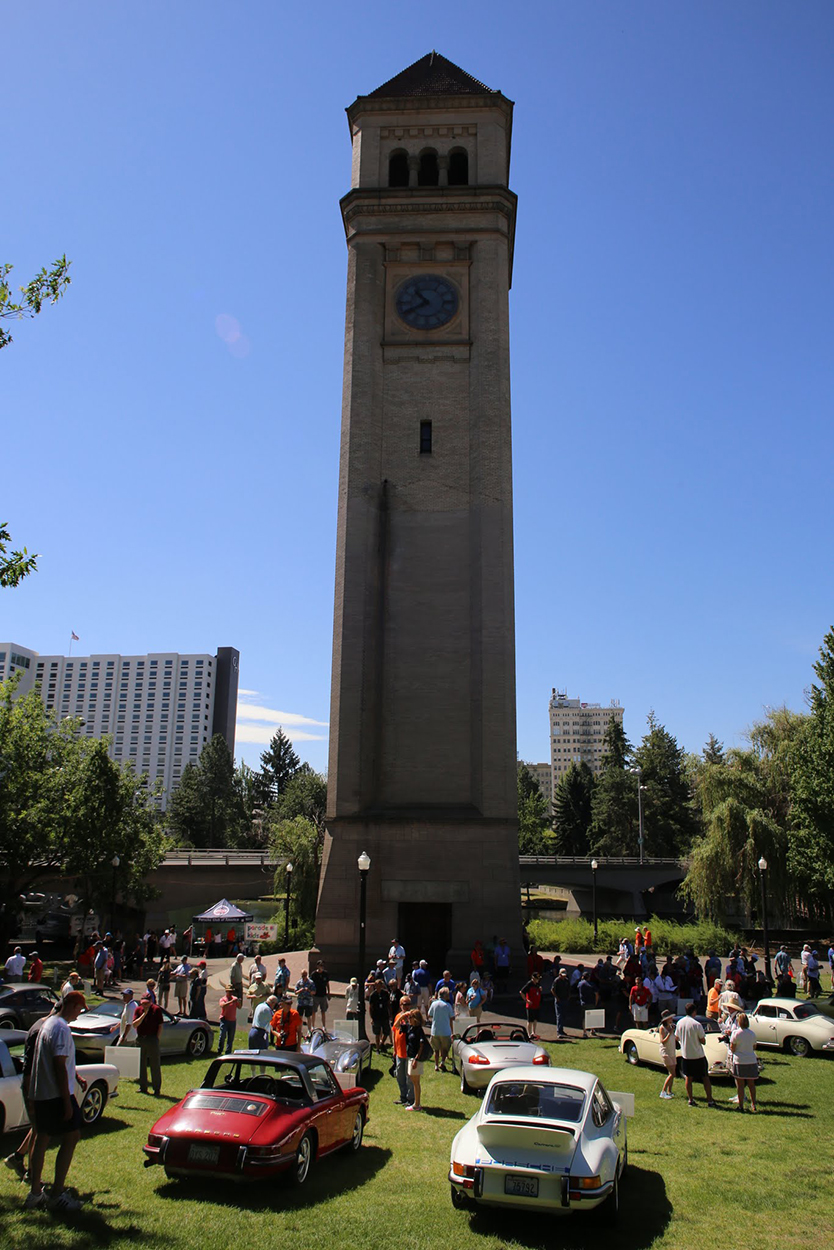 Above: The clock tower in Spokane's Riverfront Park. Photo by Greg Phillips.
A special treat of the past few Parades has been the inclusion of the fulltime Porsche Panorama team. In addition to some faces you may have recognized from last year's Parade, such as Executive Editor Amy Skogstrom, Art Director Richard Baron, and Production Director Allen Lane, this year newly installed Edit-in-Chief Rob Sass and Associate Managing Editor Emma Smith were also present. You may have also seen reporter David Mathews, photographer Michael Alan Ross (see video below), and reporter/photographer Randy Wells milling around town with cameras and notebooks in hand — usually accompanied by members and their Porsches. You can be sure to see many stories from this year's Parade in upcoming issues of Panorama.
Of course it was all over too soon, and on Saturday the last hurrahs were the aforementioned Parade of Porsches, which went off without a hitch and culminated in a photo of all the Porsches remaining at the event, and the Victory Banquet.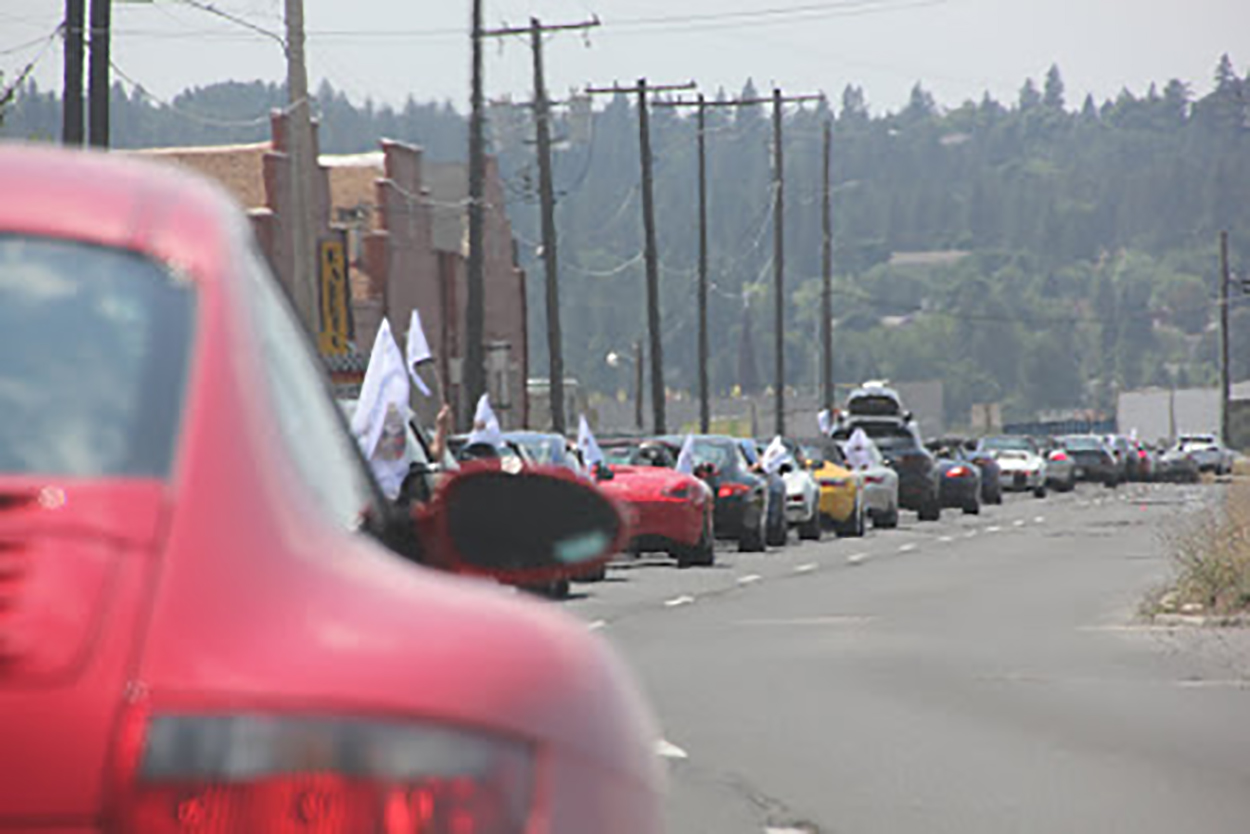 Above: Parade of Porsches. Photo by Greg Phillips.
Next year Porsche Parade will take place in Osage Beach, Missouri. We hope to see you there!
In the meantime, stay tuned to the Parade 2017 website as awards and event results continue to be posted.