First Drive: Porsche Panamera Sport Turismo
Article by Tom Voelk
Photos courtesy Porsche
Humans need to define and categorize things to understand the world. It's not just a house, it's a mid-century modern, colonial, or craftsman home. The trees around them? Birch, spruce, or maple. Maybe Japanese maple.
That brings me to Porsche's new Panamera variant, the Sport Turismo. At the press launch outside of Victoria, British Columbia, two-dozen excellent automotive writers sat around and debated just what this machine is. A station wagon? Nope. Technically, those are defined by a vertical tailgate rising off the back bumper. Sport Turismo's rump is curvy, sloping, and graceful. Shooting Brakes are supposed to be two-door vehicles and Sport Turismo has four. An SUV?  Uh… no. Besides, Cayenne covers that segment.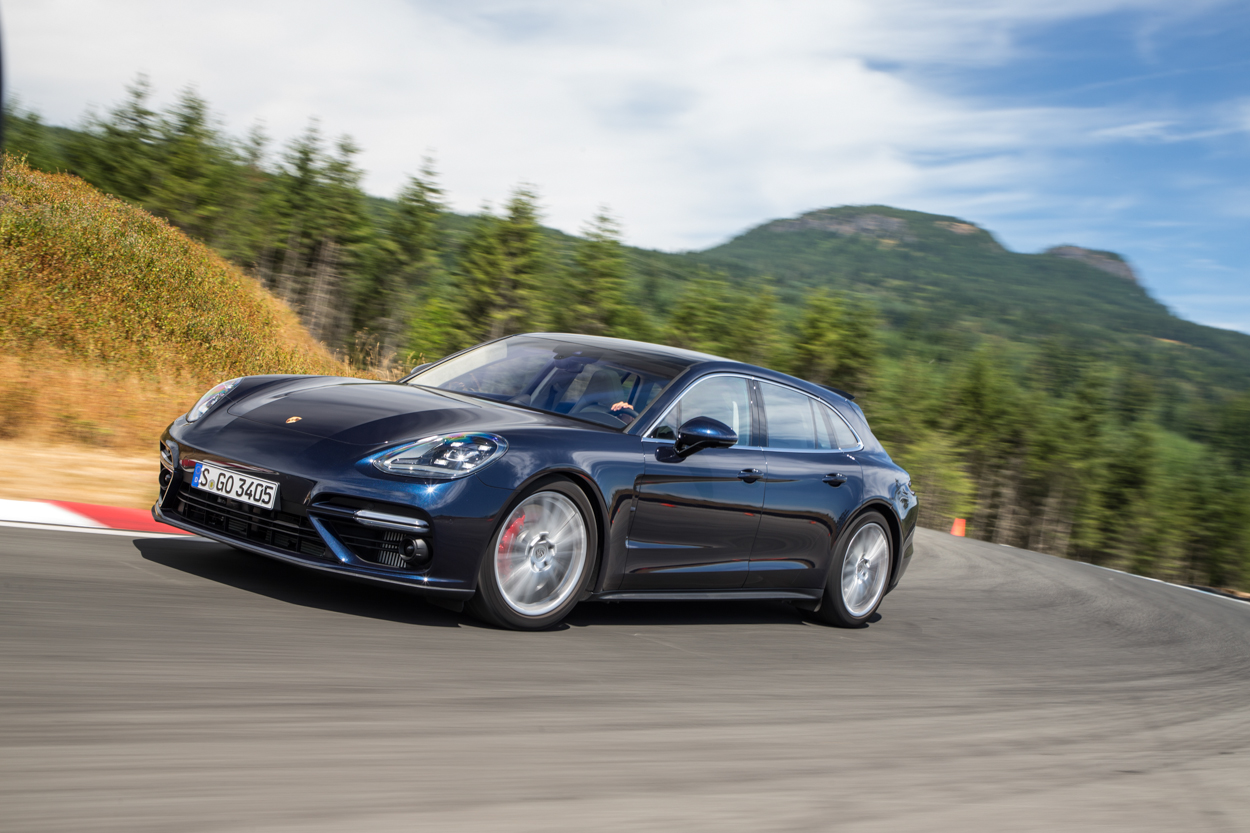 Above: 2018 Panamera Turbo Sport Turismo in Night Blue Metallic.
There's no clear decision on what to label it as we file towards the cars in the brilliant Canada sun. But the overall consensus is that they're lovely to look at. 
The question-of-the-day immediately switches to "Which one's better looking, the standard Panamera or the Sport Turismo?" My checkbook would vote for the ST. It brings to mind a chopped Cayenne with a dash more menace.
There's more to Sport Turismo than an extended roofline. The trunk's lower load edge offers easier access and the shapely rear means the boot gobbles up an additional suitcase. Drop the split seatbacks and a bike slides in without removing the wheels.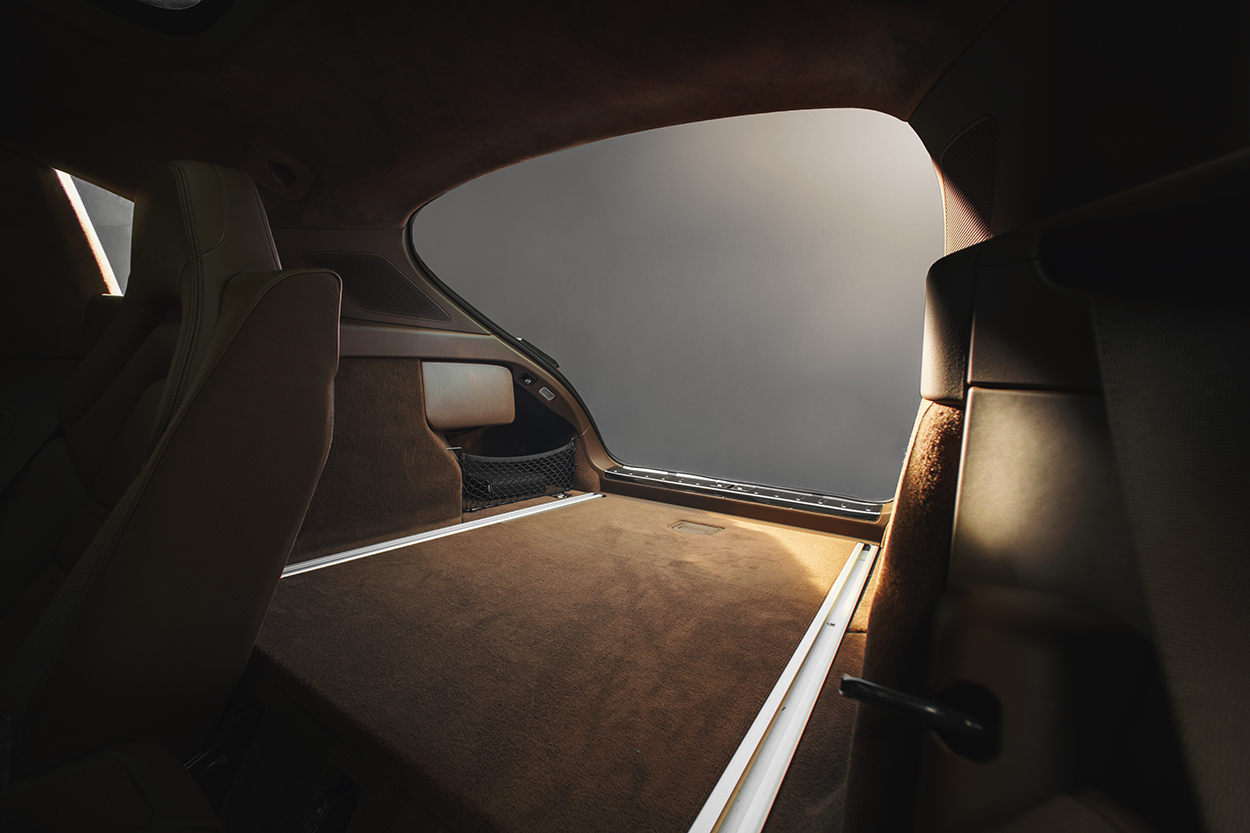 ST adds something else — uncertainty. Buyers must now choose between the original recipe and Extra Crispy. The tiebreaker might be the back seat. Sport Turismo accommodates three passengers in what Porsche calls 4 + 1 seating, which isn't available in the sedan. Middle riders might be snug but headroom is fine. At 5'9" my hair was not restyled against its will. To keep unwanted relatives out, the two-seat rear configuration with center console can be ordered.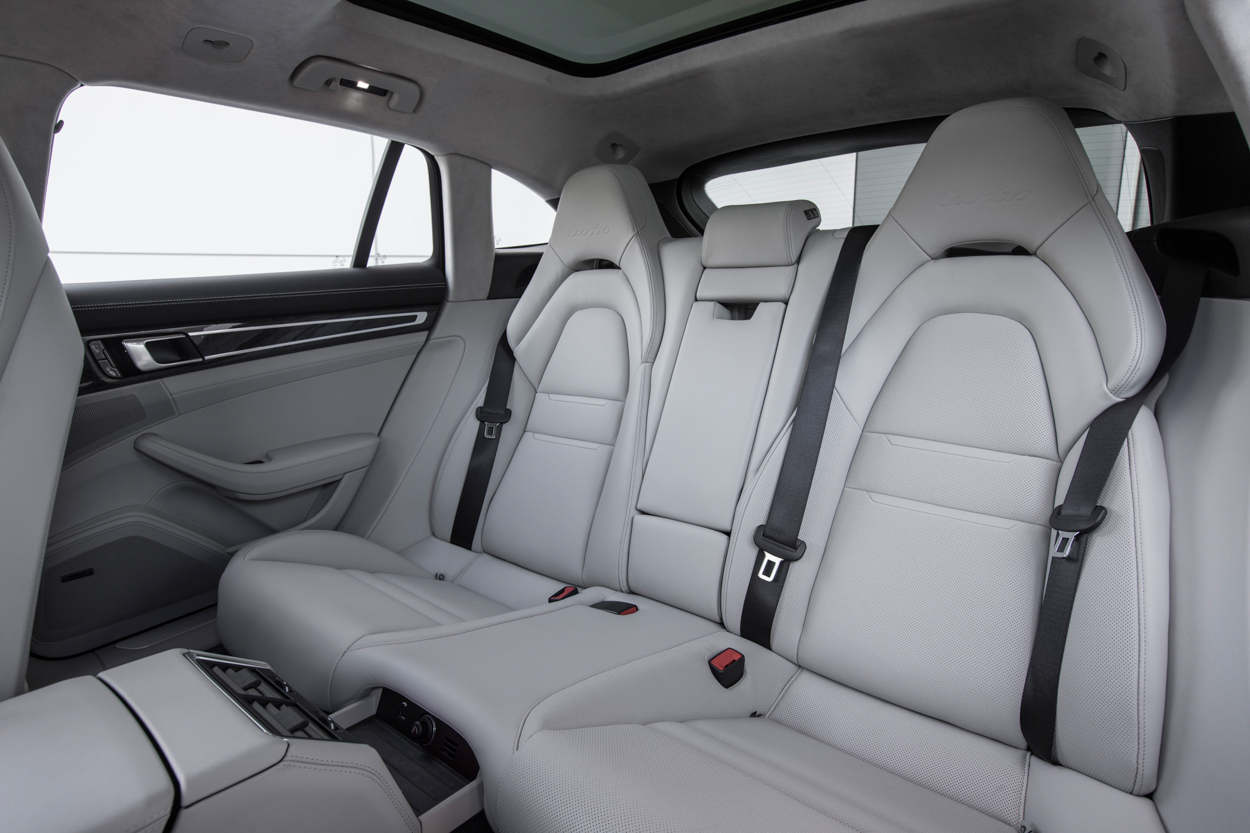 Above: Panamera Sport Turismo gets a middle seat in the back standard, what Porsche calls 4+1 seating; buyers may opt for the traditional four seats if needed. The Panamera sedan, on the other hand, is not available with 4+1 seating at the moment.
Porsche engineers didn't just slap a new hatchback and seatbelt on the existing model then head out for a couple Krombacher Hefeweizens. The shape changes how the car moves the wind so a new active rear lip spoiler was developed that adds up to 110 pounds of downforce in its most aggressive position. Open the standard panoramic roof and the angle of the spoiler changes to reduce wind noise. How Porsche.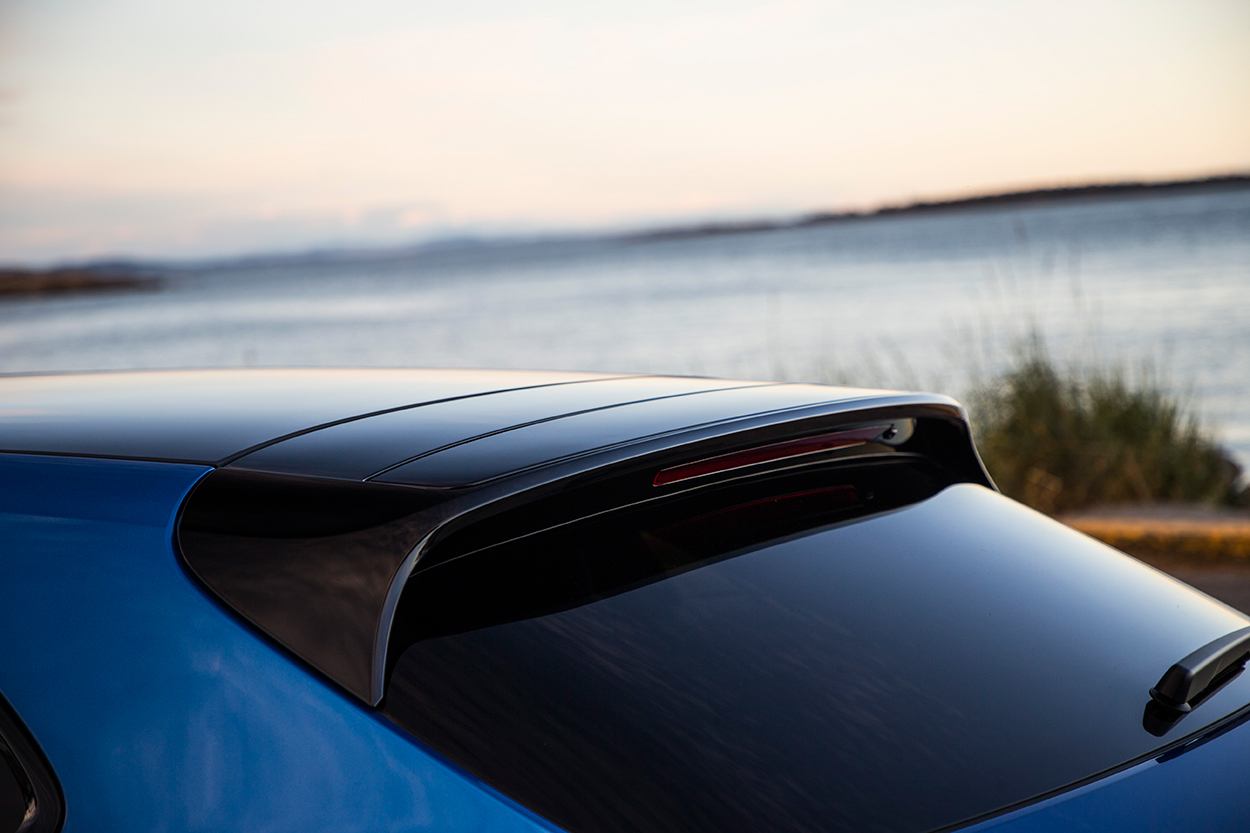 Above: Panamera Sport Turismo's unique, active spoiler, mounted above the hatch.
Sport Turismo can take on more passenger weight so its brake discs are larger. The suspension is retuned, employing a three-chamber air suspension that's standard on all but the base model. Porsche Active Suspension Management is standard across the board with Normal, Sport, and Sport Plus modes that are easy to distinguish. 
All four Sport Turismo models are equipped with all-wheel drive and Porsche's new 8-speed dual clutch automatic transmission (regrets to the four people who would have chosen the manual gearbox).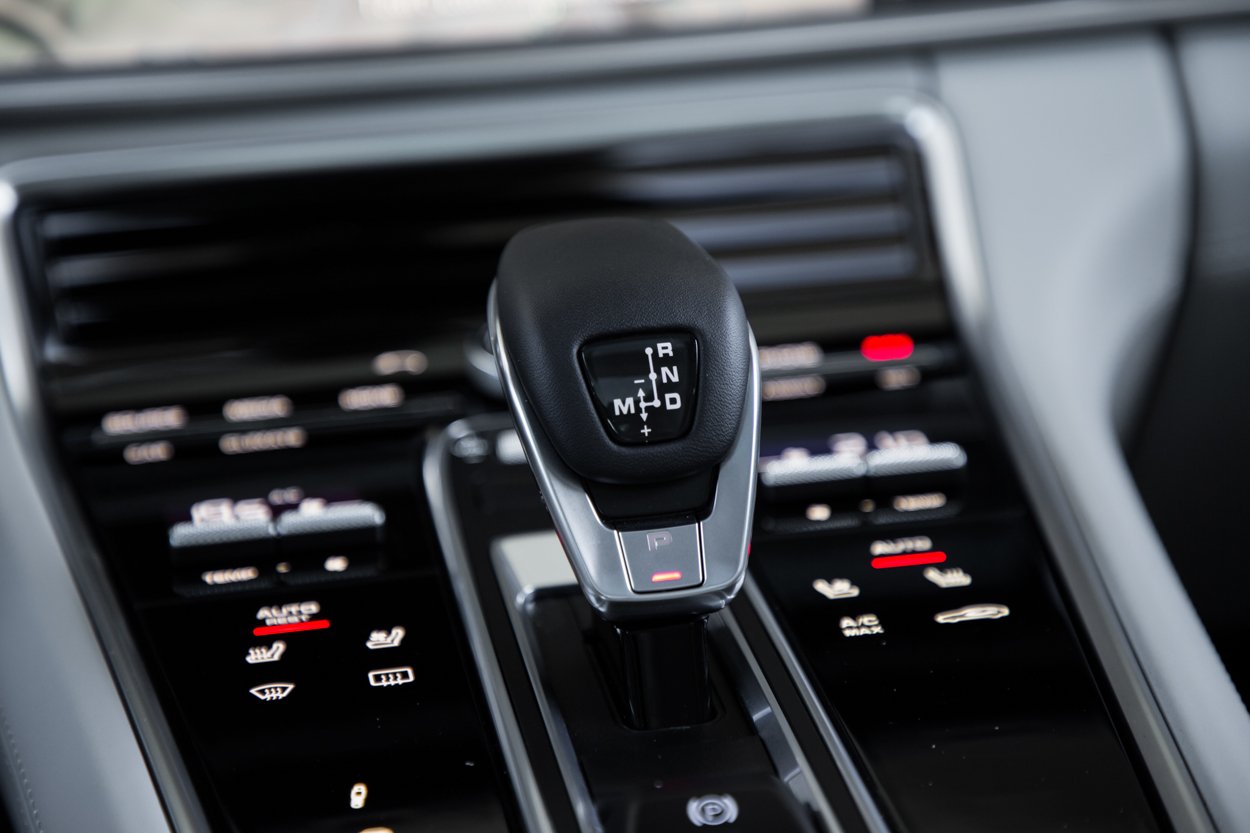 Above: All Panameras are equipped with a new 8-speed dual clutch automatic transmission (PDK).
Starting at $97,250 when destination is included, the base Panamera 4 Sport Turismo is motivated by a 3.0-liter V6 with a single twin-scroll turbocharger nestled between the cylinder banks. It makes 330 horsepower and 331 pound-feet of torque. Zero to 60 miles per hour happens in 5.2 (or 5 seconds with the Sport Chrono Package). Top speed is 160 mph.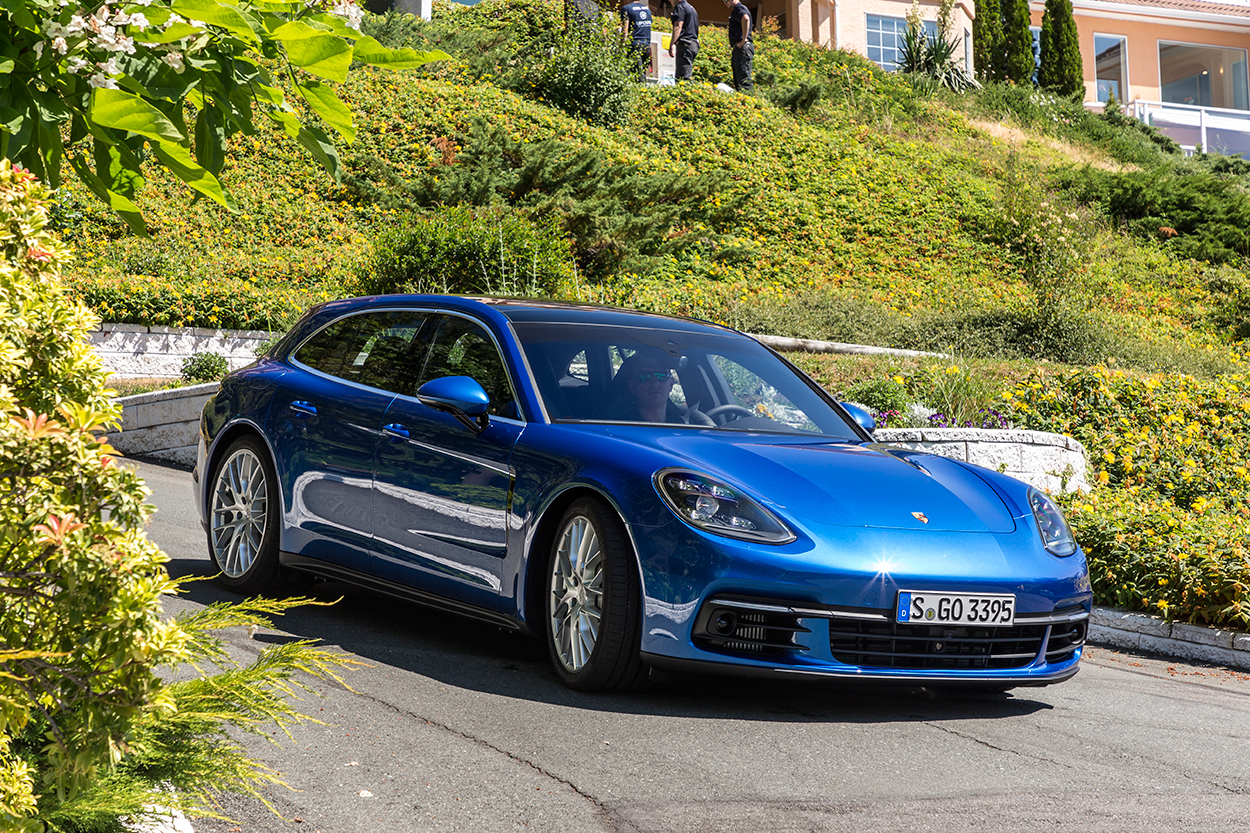 Above: Panamera 4S Sport Turismo in Sapphire Blue.
The 4S Sport Turismo at $110,250 gets a 2.9-liter twin-turbo V6 that pushes the power to 440 hp and 405 lb-ft of torque from 1750 to 5500 rpm. Zero to 60 is a quicker 4.2 (4.0 with Sport Chrono). Top speed rises to 177 mph.
Speed Racer will gravitate to the Panamera Turbo Sport Turismo with a 4.0-liter twin-turbo V8. Its robust 550 hp and 567 lb-ft of torque from 1960 to 4500 RPM serves up a 190 mph top track speed. It scorches from rest to 60 miles an hour in 3.6 seconds or 3.4 seconds with the Sport Chrono setup. It starts at $155,050.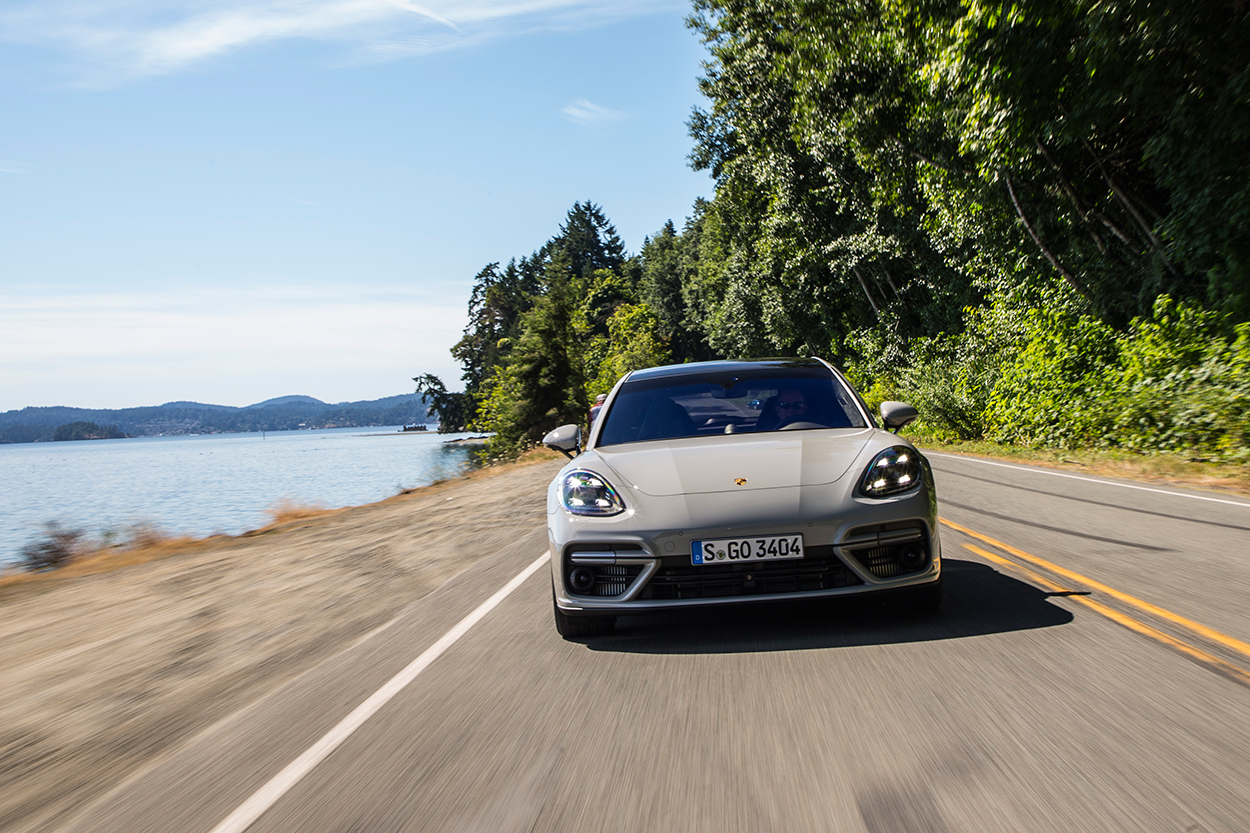 Above: Panamera Turbo Sport Turismo in Crayon.
An intriguing choice is the plug-in 4 E-Hybrid Sport Turismo ($105,050 before tax credits). Sport Chrono is standard on the E-Hybrid though it differs from gas-only models in many ways. An "E-Power" mode provides all-electric propulsion up to 86 miles an hour. Switching to "Hybrid Auto" lets the car automatically select the best mix of 2.9-liter twin-turbo V6 and electric motor. In Sport Plus, the E-Hybrid uses engine power to actively charge the battery so the electric motor is always available to chip in extra punch. Total system power is 462 hp and 516 lb-ft of torque from 1100 to 4500 rpm. Zero to 60 is 4.4 seconds with a 170 mph top speed.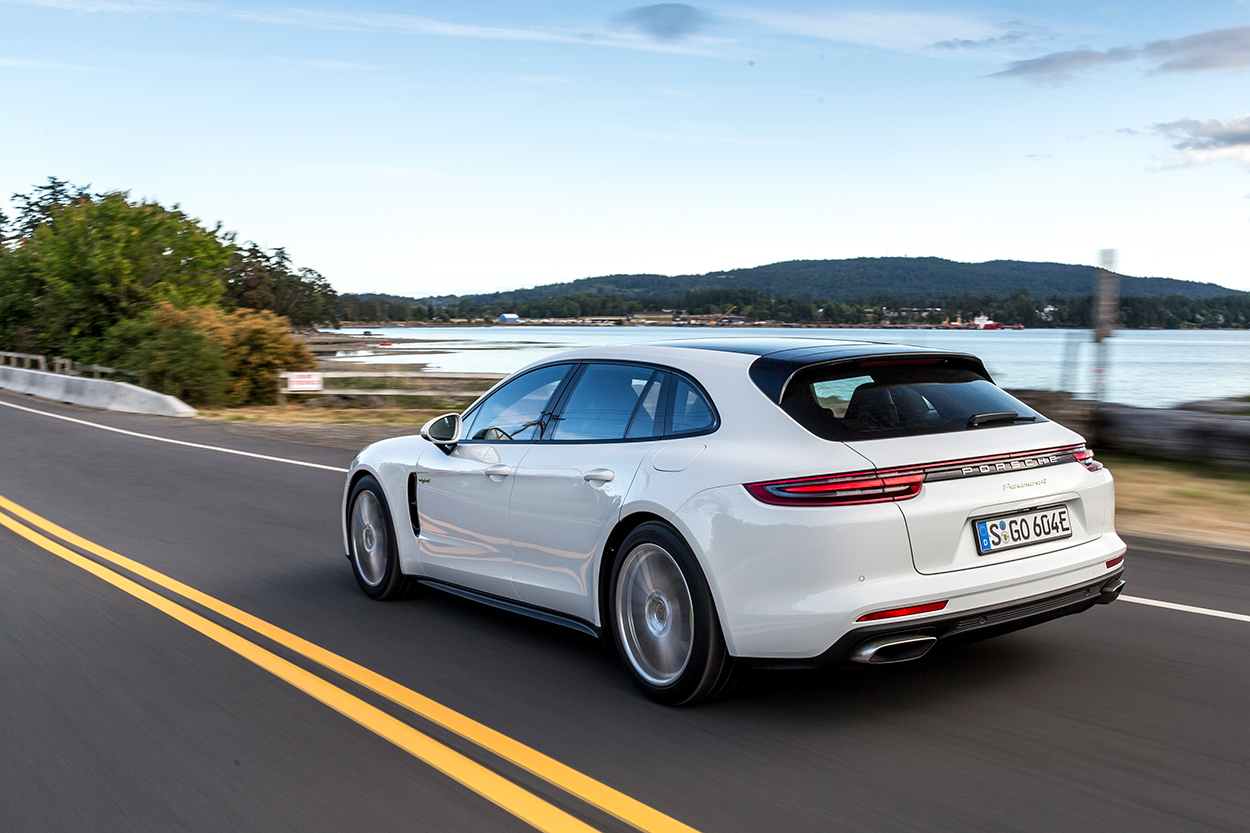 Above: Panamera 4 E-Hybrid Sport Turismo in White.
There are no US fuel economy ratings at this writing but the Environmental Protection Agency estimates a standard Panamera averages between 21 and 24 miles per gallon drinking specified premium fuel. The E-Hybrid might use very little gasoline if it's plugged in each night. Hinting at the Sport Turismo E-Hybrid's abilities, the Panamera Turbo S E-Hybrid that was also driven (but only available in the saloon style) has an estimated pure electric range of 31 miles using the New European Driving Cycle, which tends to be, shall we say, optimistic. A full charge takes about six hours using a 230-volt 10-amp connection.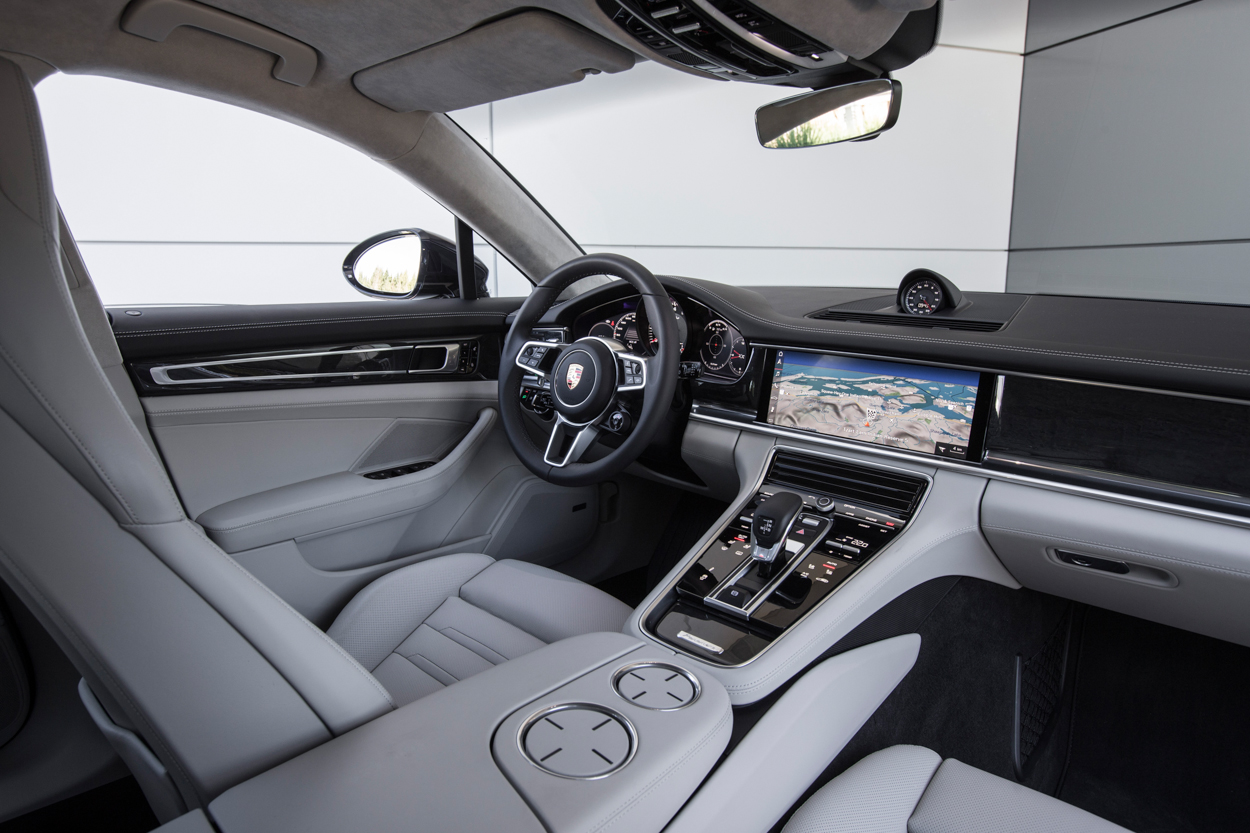 The Sport Turismo's body style might be hard to categorize but the driving experience is not. It's pure Porsche. I sampled the E-Hybrid and V8 Turbo versions on Vancouver Island's twisty picturesque roads. Porsche engineers have every right to be proud of the new air suspension's pamper-to-performance range. It elegantly quells body roll and dive under hard braking. 
I found myself daydreaming about driving cross-country in the ST while slaying corners and slinging past RVs on the narrow two-lane roads. It's quiet, comfortable, and relaxed at speeds that would provide free overnight accommodations if the county jail is to your liking. The only thing difficult about piloting this car is keeping the speed down.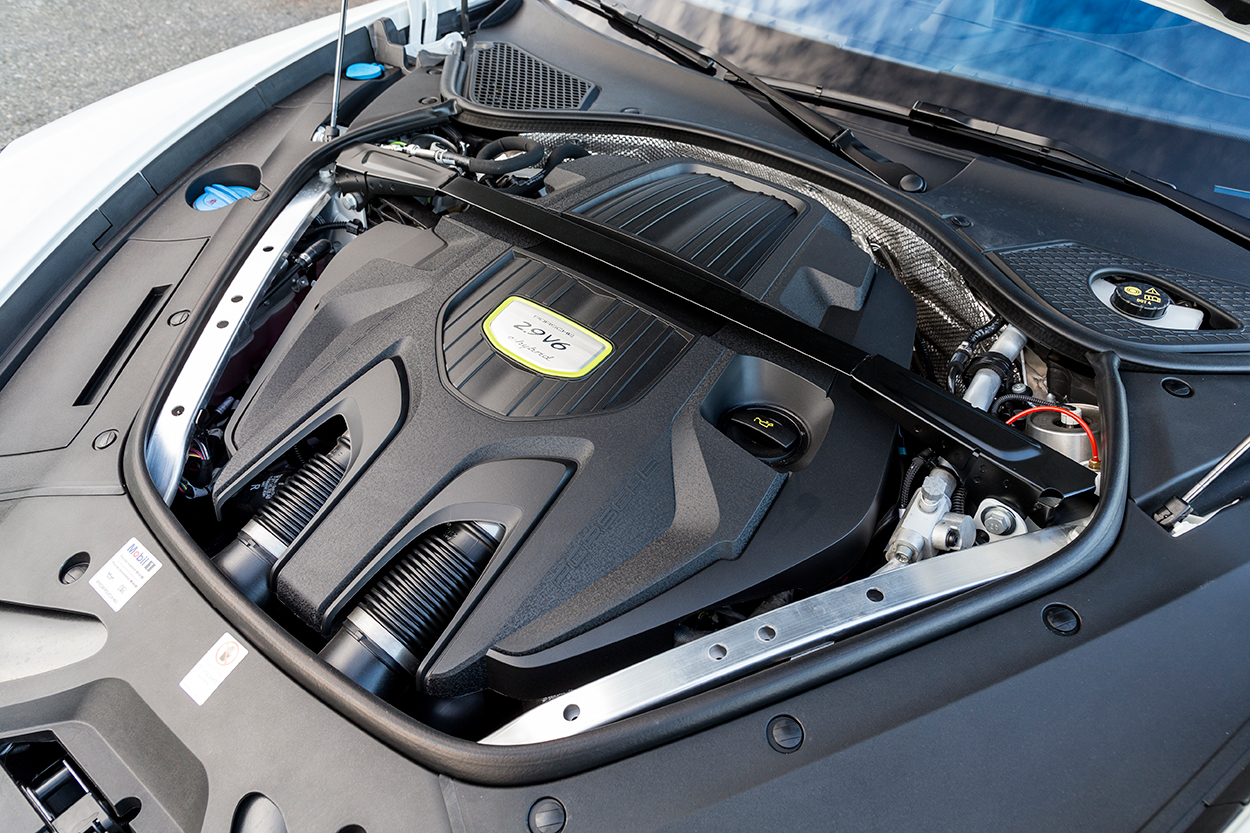 Above: Panamera 4 E-Hybrid engine bay.
While the V8-powered Turbo has more impressive acceleration specs than the E-Hybrid, it's not as easy to discern between them during everyday driving. The E-Hybrid's electric motor provides deep, satisfying torque off the line that makes the car feel quicker than it is. Not to worry, the hybrid's gas/electric dynamic is seamless and in some cases soundless. Your financial planner will certainly point out the hybrid costs $50,000 less than the V8. 
So at the end of a solid day of driving, the assembled writers gathered for dinner and concluded the Sport Turismo can best be defined as, well, a Porsche. It provides the same impressive comfort, technology, and performance of the classic Panamera while adding an extra dollop of practicality (and arguably, style). Struggling between the Panamera sedan and Sport Turismo? Buy the one that makes you happy. Both are the definition of exceptional engineering.