A bit of Spanish perfection: Back roads from Bilbao to Madrid in a GT3 RS and a 918 Spyder
Wednesday, August 2, 2017
Article and photos by John Mayhead
I'm a motoring journalist, which means I get to see a lot of cars. This familiarity sometimes breeds contempt, and I find myself ignoring various Ferraris, Aston Martins, and McLarens that other people would drive for hours to see at a show. F430s, DB9s, MP412Cs… all a bit 'meh.'
But there's one make of car that I just can't walk past: I have a bit of a Porsche fetish. No matter what the model, whether it's a battered, old 924 or a shiny, new 991, I just can't resist pressing my nose up to the glass or, better still, taking it out for a drive.
So, when Chris Bucknall, organizer of The Grand Tour (not the Clarkson trio, I'll explain later) asked me to co-pilot a 2016 991 GT3 RS from Bilbao in northern Spain to Madrid via some of the finest roads in Europe, I didn't have to give it much thought. "YES!" I almost shouted at him … and then found that there was a catch.
Well, not really a catch. Just that the guy who owned the GT3 RS also owned a 918 Spyder, which he was driving on the Tour. And he might want to swap for a day or two. "Oh, OK… I can live with that," I replied. I'm an easy-going guy after all. 
So, about The Grand Tour. About 30 years ago, Chris and well-known British concours organizer Jeremy Jackson-Sytner established an annual weeklong European car tour, pulling together great cars, amazing roads, and the top hotels. The Grand Tour has been running ever since. Then last year three other Brits came along and, by unfortunate coincidence, chose the same name for their venture.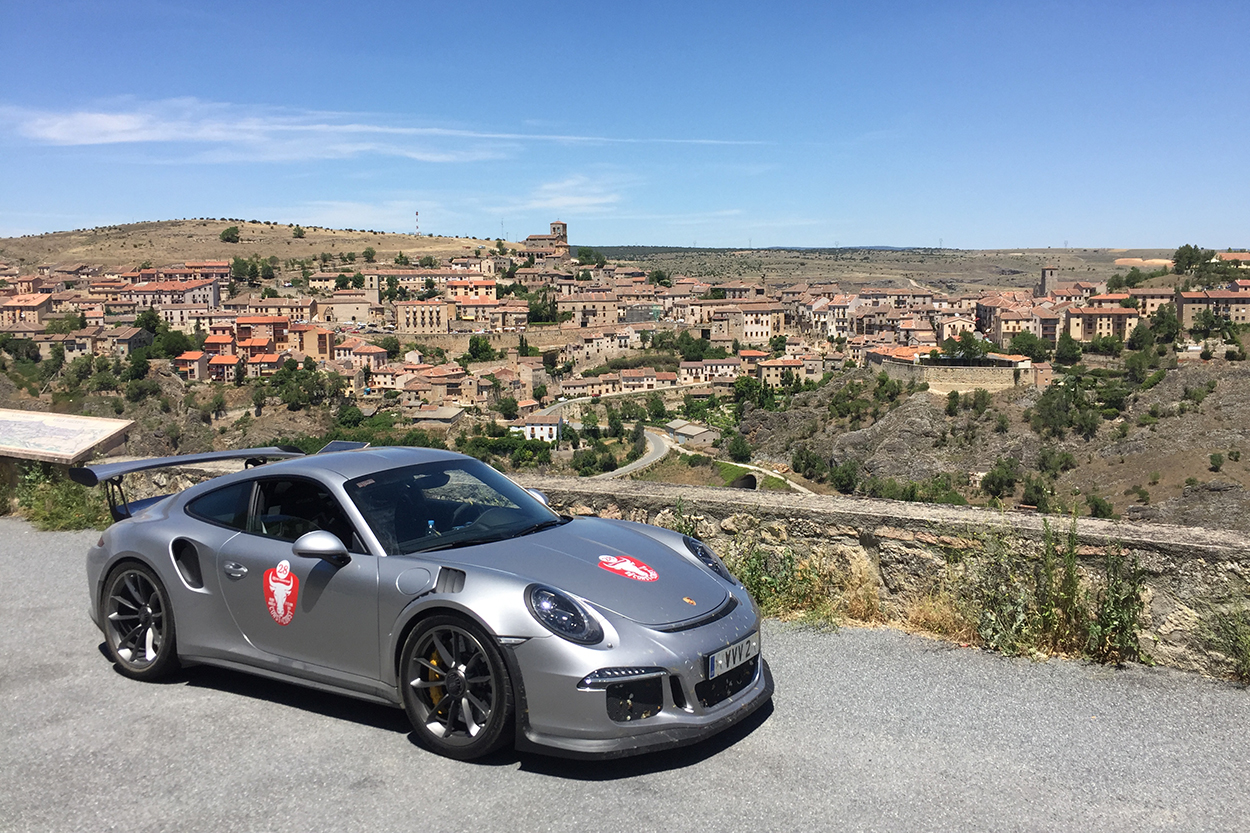 Back to the Porsches. I met the Spyder first, as it rolled off the back of a transport truck at Bilbao airport, the first of 28 cars taking part in the 2017 Grand Tour to be unloaded. It's stunning in the flesh — it hunkers down on those huge wheels like one of those African beetles that can't be killed. It's not beautiful in a traditional sense — not like the flowing lines of, say, a Ferrari F12 (the second car off the transporter) — but it has the unmistakable look of sheer competence.
Then came the GT3 RS. On the outside, it's typical 911 Rennsport. There's the distinctive shape, the big brakes, the huge spoiler. But jump inside, and it is a slightly different prospect to its earlier namesakes. The original RS 2.7 was a proper, stripped-out racing machine, especially in Lightweight form. Sure, this modern RS has the interior door pull-straps, Plexiglas windows, bucket seats, and roll bar, but it also is a nice place to be. The leather, Alcantara, and carbon-fiber trim create a stylish, lightweight, and comfortable interior. 
That's right, I called a GT3 RS comfortable. While this is no luxury grand tourer, the 918-inspired carbon buckets are extremely comfortable, even over long distances. They grip you just enough to keep you stable even when taking the tightest of bends at speed, but they don't feel too firm. The rest of the cabin has the same style: It's reassuringly 911 (five dials, central console box, Sport Chrono analog timer embedded in the dash), yet built with a combination of utility and comfort. There's even a pair of  drink holders that pop out of the dash. They're all carbon, of course. As I said, leichtbau.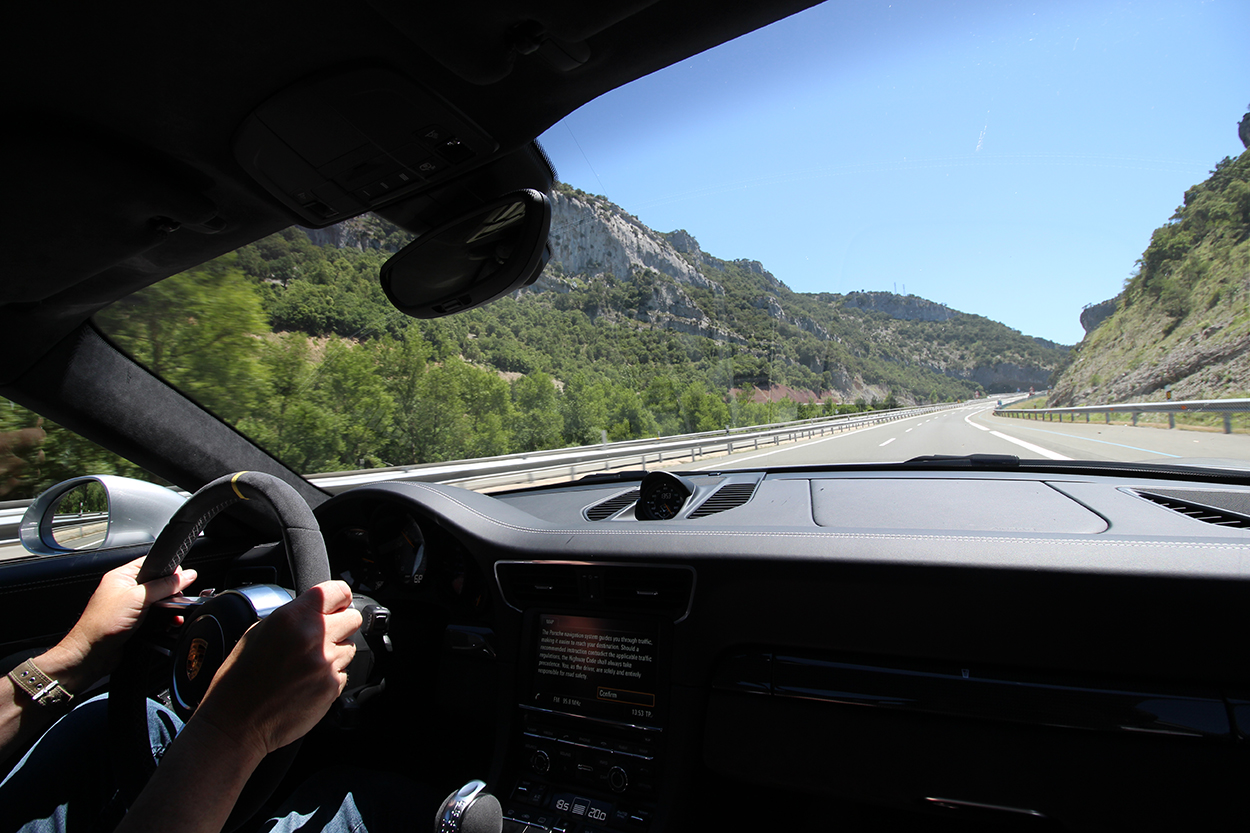 There's another unexpected element of comfort that only becomes apparent when you start driving: the ride quality. Okay, so this is no Rolls-Royce, but as we threaded out onto the smaller roads leading south from Bilbao and the road surface started to become more challenging, the GT3 RS took it all in stride. I had expected the juddery, board-with-a-wheel-at-each-corner feel that you get with some road cars that are born from racing machines, the sort that rattle disgruntledly if you run over anything larger than a rumble strip. Instead it coped with everything thrown at it, and we survived with our teeth intact.
That said, we weren't exactly driving the worst streets in the world. Between Bilbao and Madrid is a network of wonderfully twisty, smooth roads that begged us to drive our cars hard. From the airport, we quickly made our way off the autoroute and into the hills. The roads here tend to be wide, well signposted, and — most importantly — seemingly empty of any local traffic.
In this environment, the GT3 RS goes from being a good car to one of the best cars I've ever experienced. The combination of massive 265-millimeter front and 325-mm rear tires — mounted to staggered 20- and 21-inch diameter wheels, respectively — that stick like glue and huge downforce (twice that of the preceding GT3) allow the car to turn into corners with such supple urgency that you start to wonder if you'll ever reach the breaking point. When you do, there's no sudden snap as you lose traction. No, this car is too clever for that.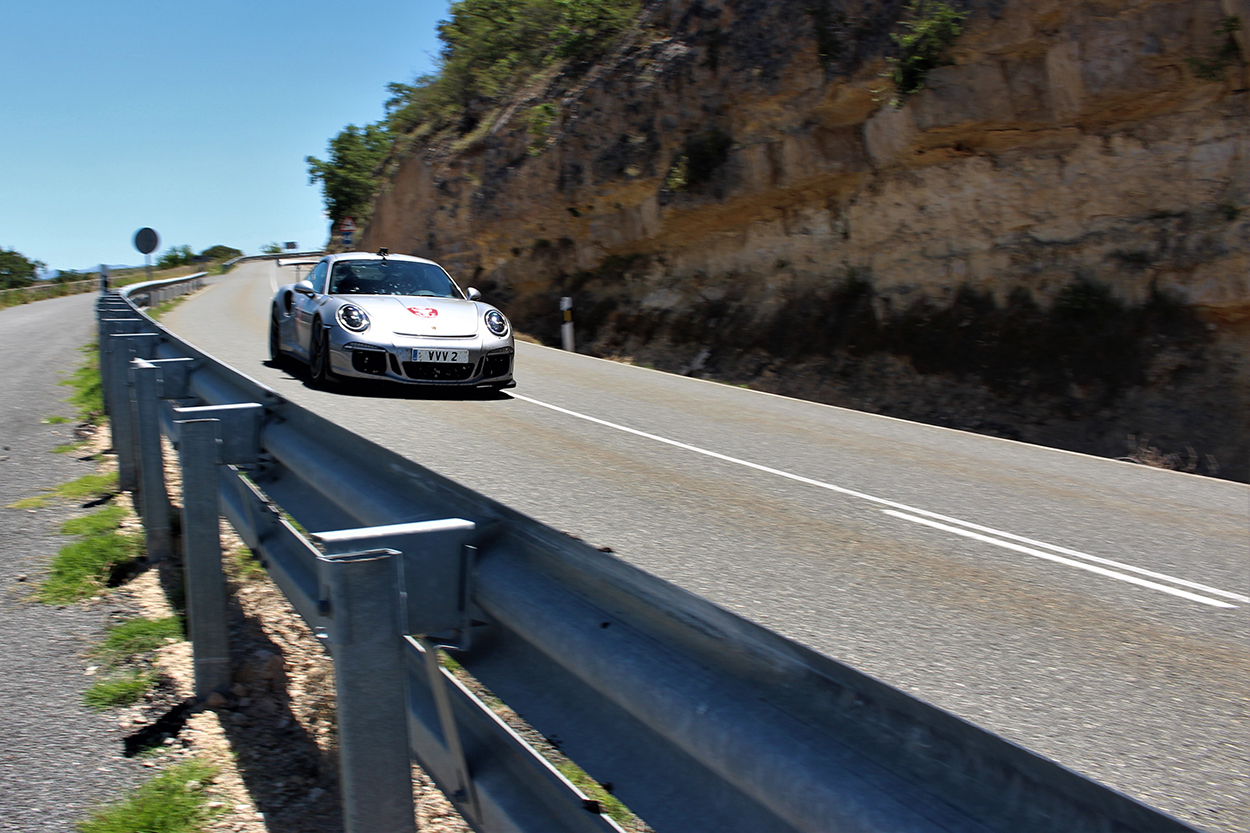 The throttle response is great too. In sport mode, downshifts are immediate and, coming out of corners, power is delivered quickly and competently through the superb PDK gearbox. Slick is an understatement. Then it is rev, rev, rev until the GT3 RS redlines at a shade under 9,000 rpm.
Out from the hills, we found ourselves driving through a landscape that could easily have been mistaken for Utah. The roads remained fabulous — snakes that wound their way off into the mirage-strewn distance, interspersed with wide straights that willed us to plant the gas pedal to the floor. We'd met up with the 918 Spyder by now, and I watched in awe as it leapt away from us, heat haze shimmering above the engine deck like a fighter jet's exhaust. We soon caught and passed some of the other Grand Tour entrants: an Aston Martin DB9, a Ferrari F430 Scuderia 16M, and a 1976 Lamborghini Urraco. The Lambo drifted to the left just as the Spyder overtook, its total lack of any rear view meaning its driver had no idea the million-dollar Porsche was there. Squeaky-bum time, we call that in England. 
The rest of the day was the same, spent on awesome roads where the GT3 RS could keep up with the 918 Spyder on everything but the straightest. Both Chris and I were falling more and more in love with the most performance-oriented 911. By the time we reached our hotel, high on a hill in an insanely beautiful town, we were buzzing with adrenaline, which took a few beers and lots of car chat to dispel.
The following day we were to drive the GT3 RS for the first half, then swap into the Spyder. We set off early, and as we drove we discussed how we thought the 918 would compare. We expected it to be powerful, of course, but thought its 600+pound weight penalty might dull its handling around the corners compared to the RS. How could it match the lightweight 911?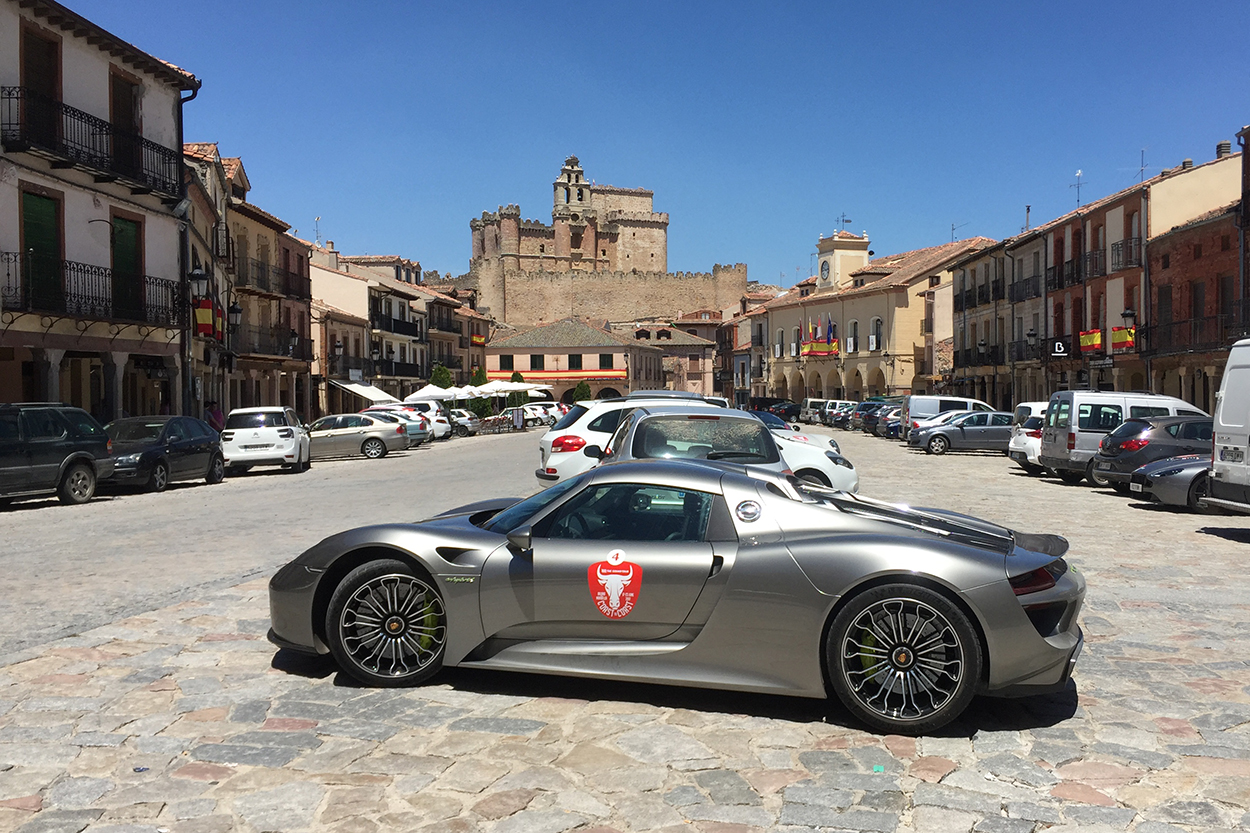 Halfway up a mountain, I jumped out of the GT3 to take some video of the other cars. Five minutes later Chris pulled up in the Spyder, having swapped keys with the owner. I clambered in and dropped into the seat, which felt familiar. Everything else was different. While the GT3 RS instrument cluster has the five-dial familiarity of the 911, this was another planet. The central console is one, big carbon control system — half of it touchscreen. The windshield is the next thing that you notice. Its Le Mans heritage is clear as it wraps around you, giving a great view of the road. But it is the sound that you will never forget. The motorsport-derived V8 shrieks with each downshift while braking for corners and howls up to redline during acceleration — musical sounds accompanied by an awesome whirring noise as the electric motors gather and dispense energy. Everyone who experiences it uses the same analogy: It sounds like a space ship.
The 918 also delivers power like something Han Solo would be proud to pilot. We both thought the GT3 RS had great throttle response, but the 918 is on another level. It's instant power on throttle, and the acceleration actually hurts your eyes. Look out of a side window and the whole world seems to slow down — you almost expect white lines to streak from the back, like the Millennium Falcon when it enters hyperspace. The Kessel Run in 12 parsecs? This would do it in 11. Lifting off the throttle immediately snaps your body forward as engine braking takes hold and the electric motors produce their own braking force while generating energy for the lithium-ion battery.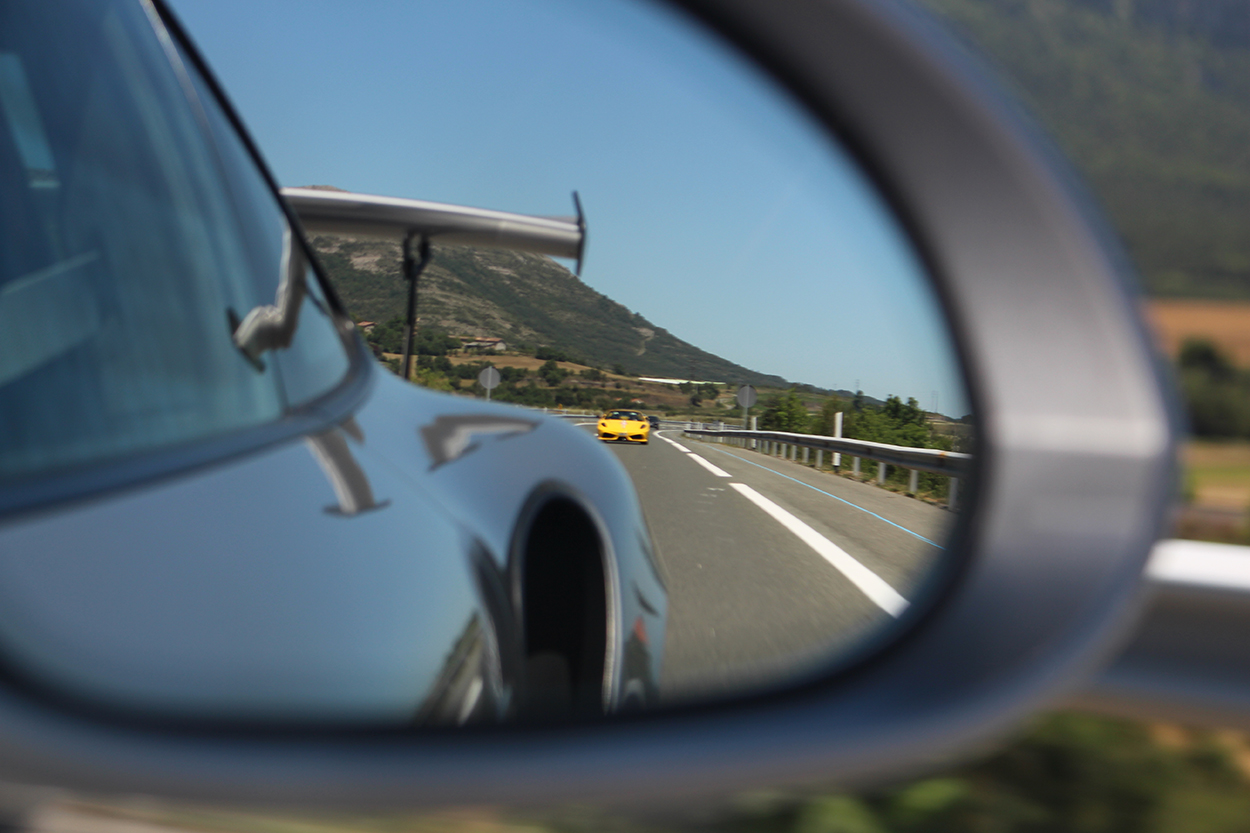 Then there are the turns. If there had been great roads on day one, day two's ribbons of asphalt made them feel like suburban back alleys. We wound our way through mountain passes and tunnels and alongside verdant riverbeds. The roads were superb: great surfaces with amazing sweeping corners, clear signposts, loads of Armco barriers and — still — almost no other traffic. I found myself wondering if there was a bored local road designer who had always wanted to make a race track and, finding himself in the middle of the Spanish countryside, decided, What the heck. I'd pay to drive these roads any day of the week.
So, was the Spyder's weight as detrimental in the turns as we had speculated? Of course not. This is Porsche after all — technology had been used to overcome physics. It felt light, nimble, and, above all, superbly quick in every environment. It was shout-out-loud good.
On day three, I had to leave Chris and the rest of the group while they continued on their way to Marbella, the final destination. At Madrid airport, I had time to reflect on the two cars and come to terms with how I feel about them. I love the 918. It is a truly phenomenal machine, a hypercar that combines cutting-edge technology with an awesome presence. But I am besotted by the GT3 RS. I'd own one over any Ferrari, any Lamborghini, and any Aston Martin, and I'd drive it every single day. In fact, I'd move my office to a town an hour's drive away, just so I could drive it on roads it was meant for. In no time at all, it would be stone-chipped, bug-spattered, and full of junk, yet both the car and I would have permanent grins. It's that good.
Right now, I'm trying to figure out how to persuade Chris to let me accompany him on The Grand Tour USA. This August, they are taking a five-day tour from San Francisco up through Sonoma, Napa, the Sacramento Valley, Lake Tahoe, and then back to Monterey for VIP access to the events of Monterey Car Week. Oh, and Derek Bell will be joining the tour. I think my calendar is free.
For more information on The Grand Tour please visit www.grand-tour.co.uk.