Post-Parade Pastime: Emory Porsche Campout Reunion
Article and photos by Bruce Sweetman
Lead image: Cameron Healy's 1953 pre-A Cabriolet and Kevin Owen's 1955 Continental head a long line of 356s.
Two significant Porsche gatherings took place in the Pacific Northwest in the same week this past July: the Porsche Parade in Spokane, Washington and the Emory Porsche Campout Reunion in McMinnville, Oregon. Driving 400 miles west from the Parade to the Campout the temperature dropped ten degrees, but the most noticeable change in atmosphere was something less tangible — the vibe. While the Parade follows certain rules and standards the attitude at the Campout is more laissez-faire.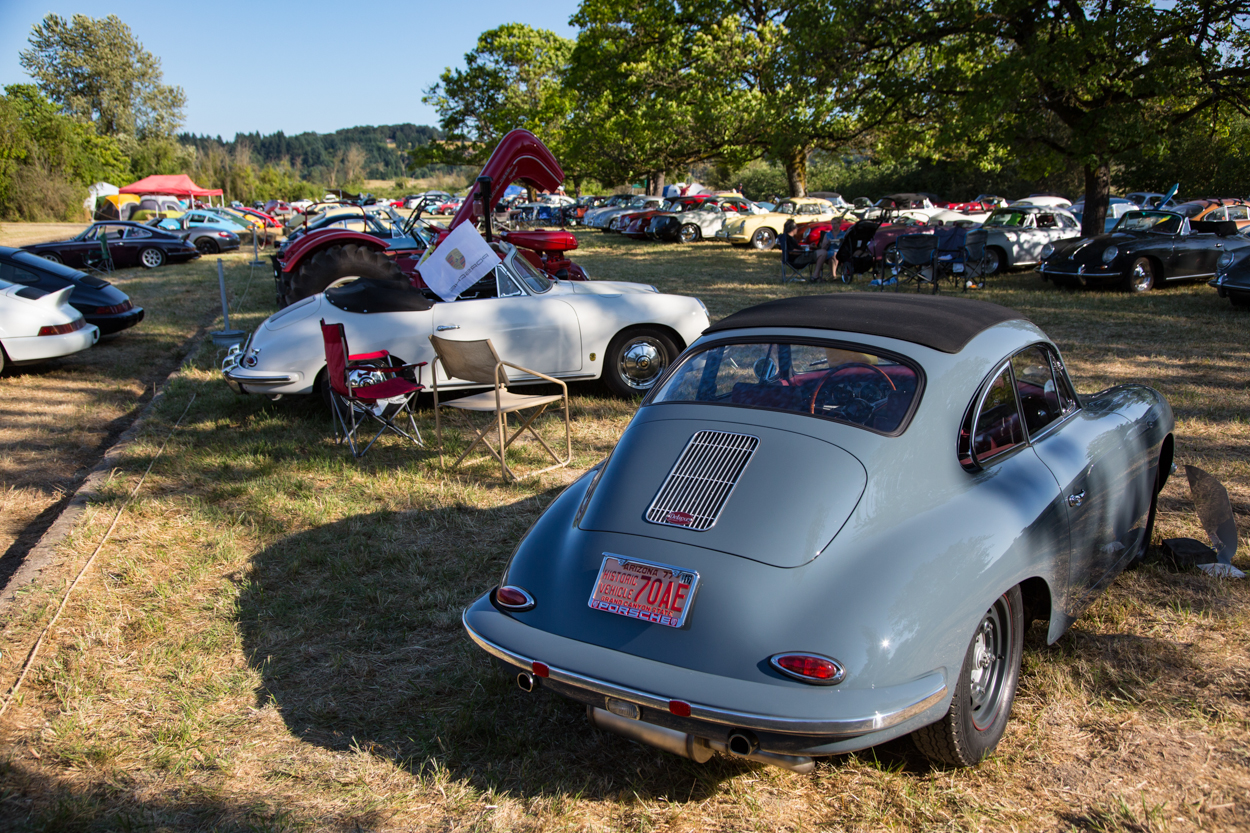 Above: The 1960 356B "Coupe Deluxe" from Arizona Deluxe Customs took home top honors in the Outlaw category.
The laid-back Campout allows you to park wherever you like without regard to group, class, model, or year. Entering the Emory family's 50-acre property off a rural two-lane highway Porsches are parked next to tents or tucked neatly beneath shade-trees. Porsche 356s predominate, early 911s are well represented, and Outlaws are abundant. Welcome to the Emory Porsche Campout Reunion.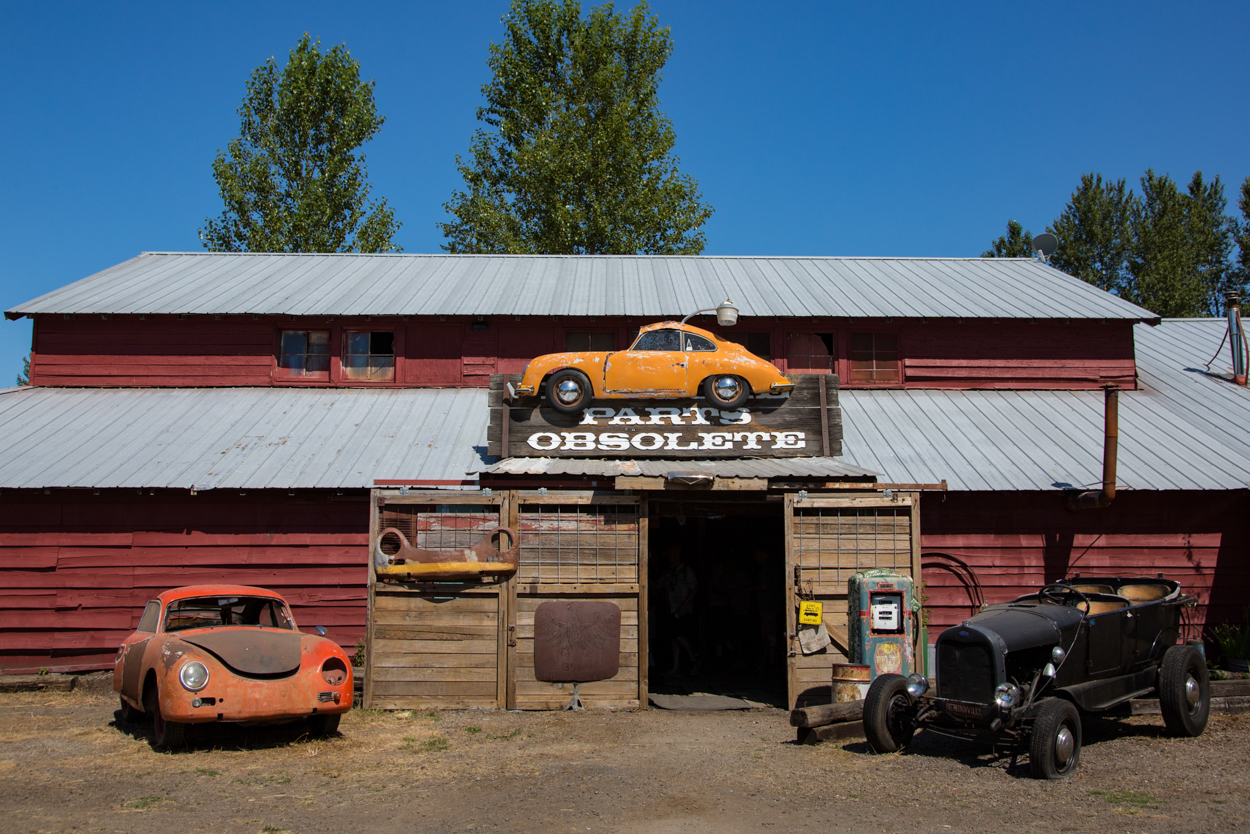 Above: A treasure trove of vintage Porsche parts and advice located in McMinnville, Oregon since 1992—Gary Emory's Parts Obsolete.
The automotive legacy of the Emory family stretches back to the late forties when Neil Emory opened Valley Custom Shop in Burbank, California. His son Gary established Porsche Parts Obsolete in Costa Mesa in 1975, moved his operation to Oregon in 1992, and shortly thereafter the Campouts began. Meanwhile, Gary's son Rod was welding up Porsche race cars, Outlaws, and Specials on-site in McMinnville until 2012 when he relocated Emory Motorsports to Los Angeles. "When Amy and I moved there was no way that this event could continue," says Rod. "The first 18 campouts were kind of like our little Porsche family getting together for Christmas every year. As families spread out, every once in a while you do a little reunion. Well, here we are five years later and this is that reunion."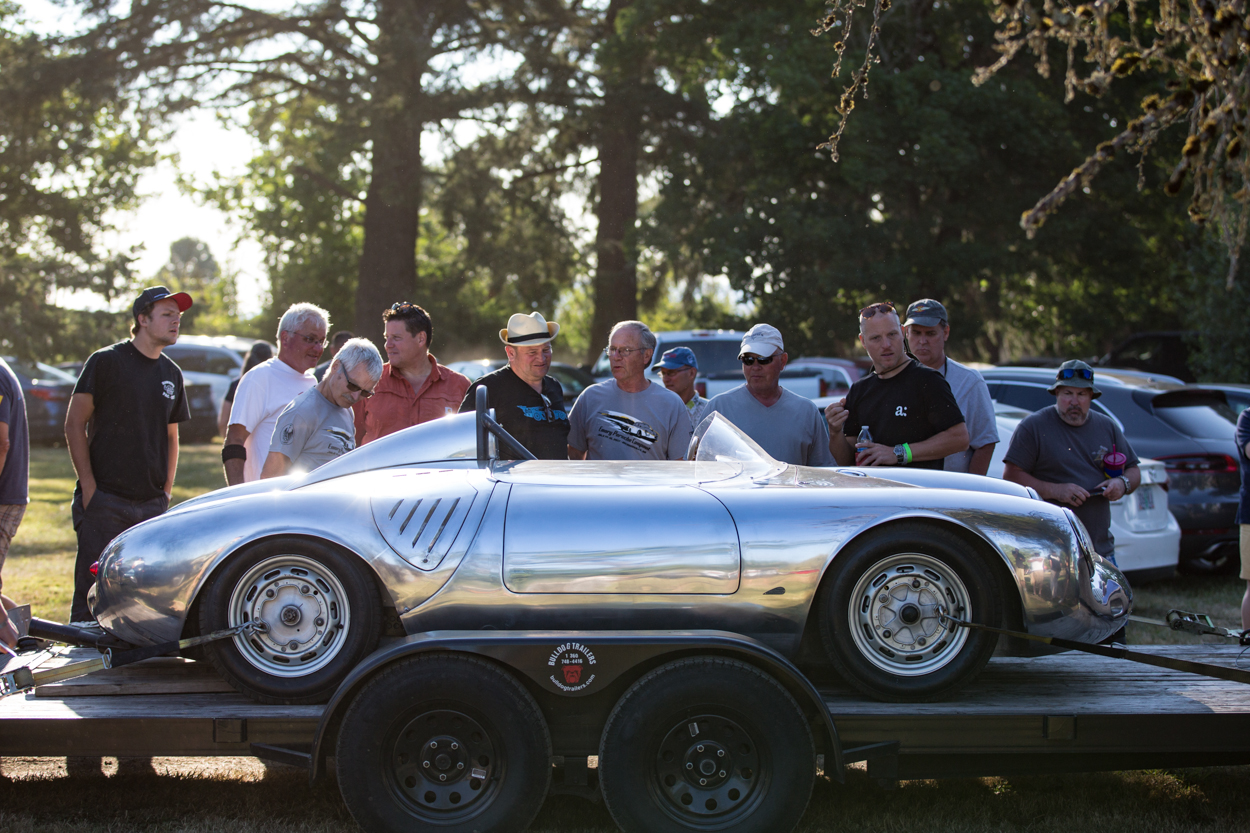 Above: Steve Terrien caused a stir when he showed up on Saturday evening with his 1958 550A Spyder. Earlier in the week it was featured in the Historic Display at the Porsche Parade in Spokane, Washington.
The team applied all they had learned from previous Campouts to make this the best one yet. Most of the 500 people and 250 cars registered arrived on Friday to find sites on the well-groomed property. Those who chose not to pitch a tent missed out on level ground, a starry night, and a 5:40 AM sunrise.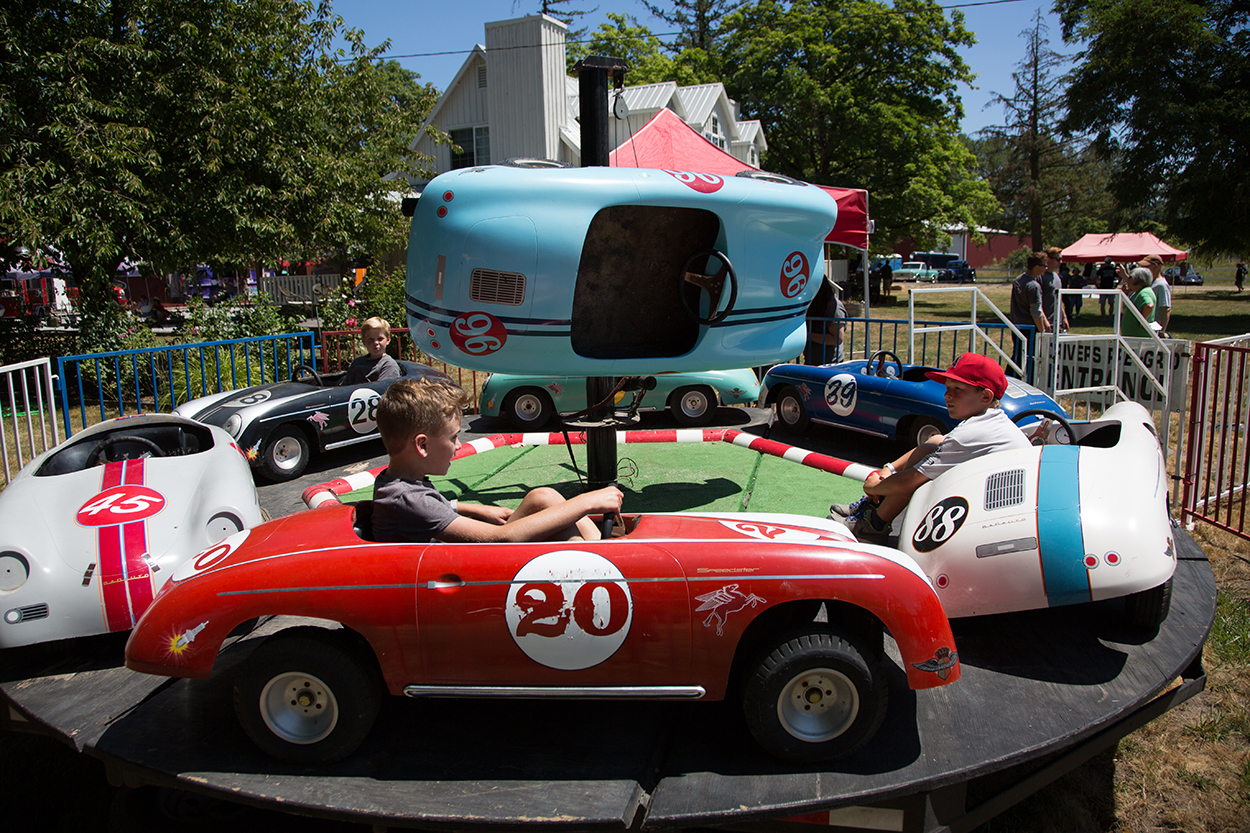 Above: Kids enjoy the Speedster carousel built by Bata Mataja with cars modeled after Rod Emory's childhood Porsche go-kart body.
"I wanted to stay out here and camp, and my kids said they didn't want to, so we're staying in a hotel," said Al Knittel of Lewiston, Idaho. "We came here last night and then they wanted to camp — you know, once they got here and saw what was going on." Maybe it was the kids on cool bicycles, the Speedster carousel, or the mellow mood that pervaded.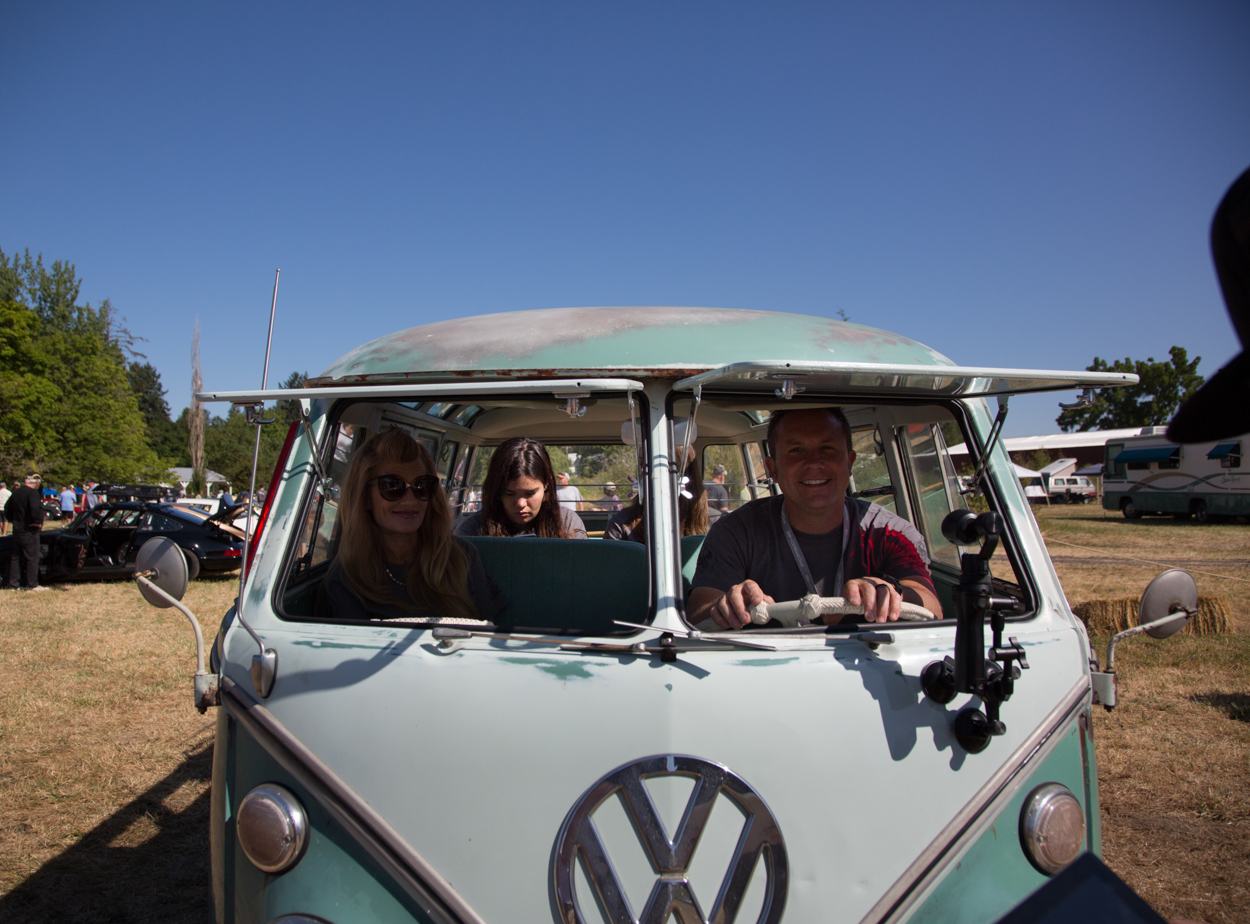 Above: Event host Rod Emory shuttles guests around "Emoryville" in his 1963 Deluxe Microbus.
As people emerge from their tents on Saturday morning Emory Motorsports founder Rod Emory is already busy shuttling kids and adults around the 50-acre compound in a 1963 VW Deluxe Microbus — Safari windows open to the world. The smell of coffee wafts from camp stoves and food trucks do brisk business as folks socialize in a common area.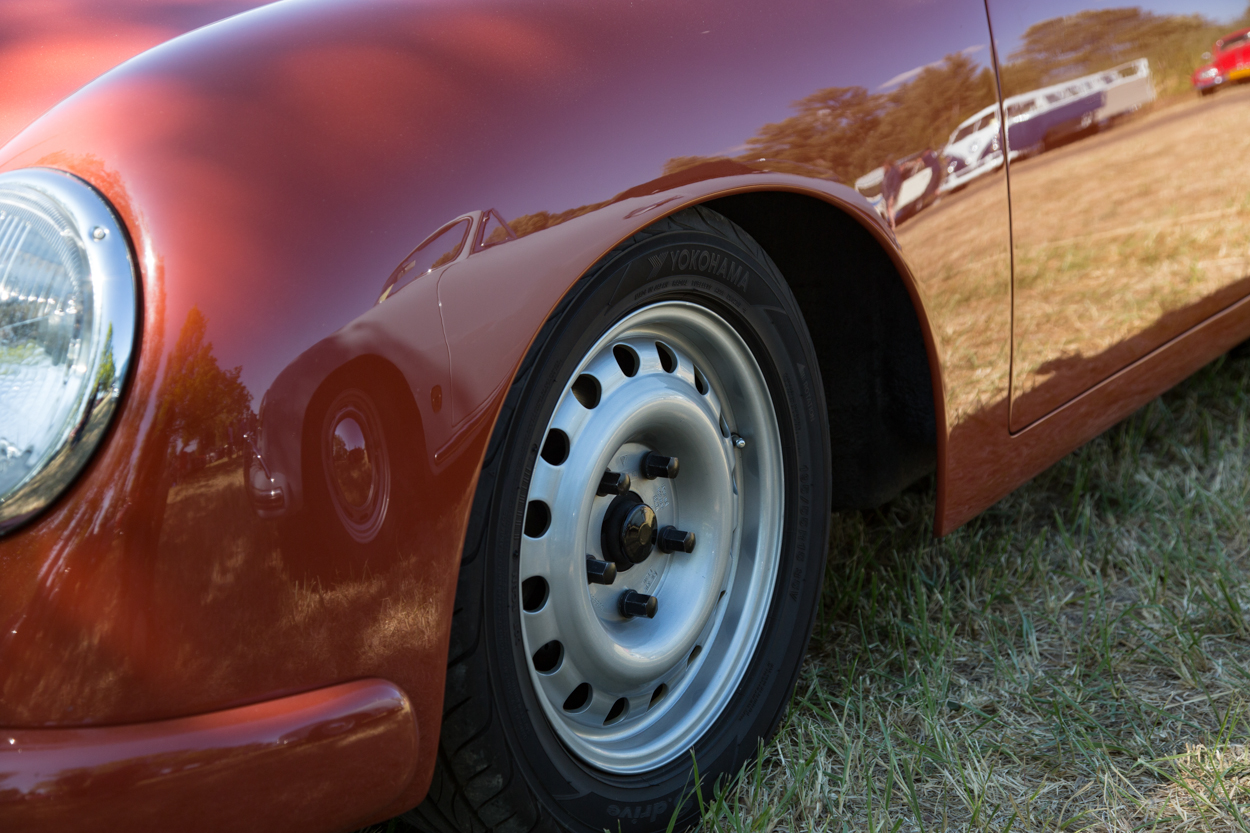 Above: Repurposed — The Porsche 944 turbo spare wheels are popular with the 356 Outlaw crowd.
Porsche campers get to know their neighbors and their cars. "I pulled in yesterday and set up my tent. Then I did a lap around and I came back and some people had parked next to me," said John Hurd of Lake Oswego, Oregon. "We both had the yellow French headlights and one of them said, 'Oh, we have matching cars.' Then he looked at my car again and said, 'Oh my God, that's my old car!'"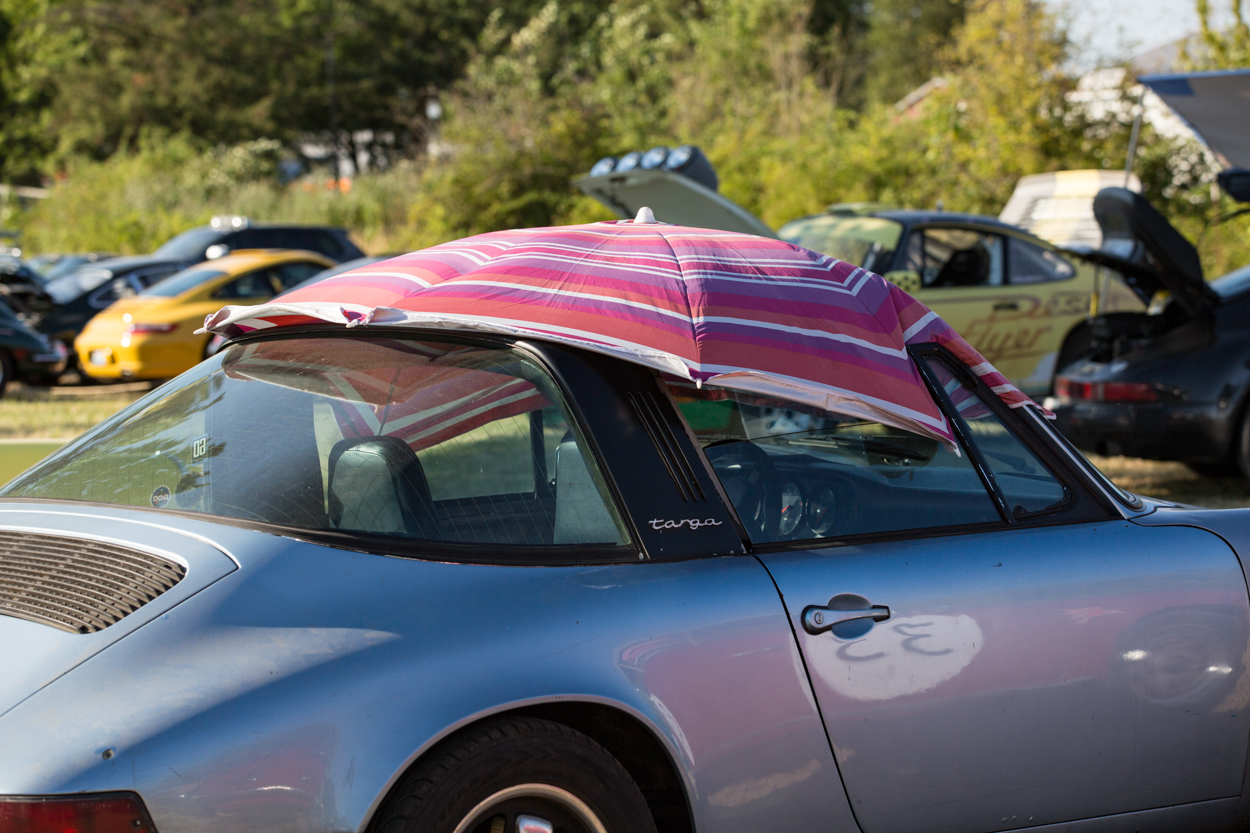 Above: One way to top a Targa.
After Saturday's BBQ dinner, Rod Emory held court through the open sunroof of his Microbus and handed the microphone to Jeff Zwart, who spoke about the joys of the 1,200 mile drive from Colorado in his pre-A Coupe, speaking for others who had made the journey from as far as Chicago and Florida.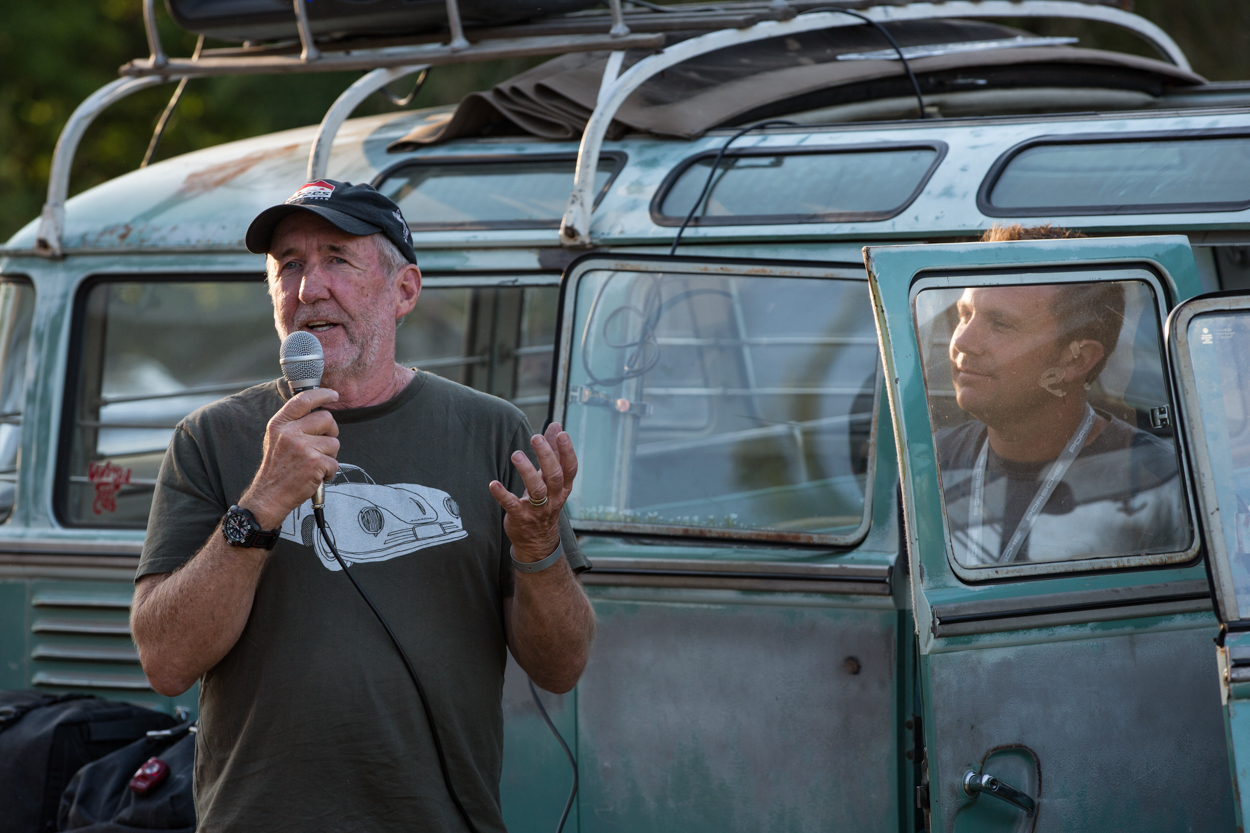 Above: Commercial film director, photographer, and racer Jeff Zwart talks about driving his 1953 pre-A 356 cross-country while event host Rod Emory looks on.
There were plenty of sponsor gifts to hand out and the People's Choice Awards presentation was short and sweet with just three categories: Coupe, Open, and Outlaw. A 1955 356 Continental won 1st Place Coupe; a 1959 Cabriolet won the Open category: and a 1960 356B Coupe Deluxe took the top Outlaw Trophy, which, given the nature of the show, could be considered the top honor. Rod Emory lauded the builders: "There're always builders out there who do something a little bit special and a little bit unique and inspire you," he said. "The crew from Arizona Deluxe Customs really went above and beyond." And lest we forget, the Campsite Award went to the guy with the teepee.

Above: The Campsite Award went to TeePee Cody, a.k.a., Gene Shirley, standing in the middle behind his 1962 356 B Outlaw.
While there are no definite plans for another Campout Reunion, it could happen. Meanwhile, the Porsche Parade will take place each year as surely as summer follows spring. If Porsches make your heart beat faster, make plans to attend one of these events. Just remember to pack a blazer or a tent depending upon your destination.