Model Guide: First-generation Boxster — an affordable flat-six powered roadster
Wednesday, September 20, 2017
Article by Pedro Bonilla
Above: 2004 Porsche Boxster S. Photo courtesy Porsche.
The Porsche Boxster was presented to the automotive industry in 1993 as a prototype at the Detroit Auto Show. The Boxster, whose name combined "boxer" for its horizontally opposed boxer engine and "roadster," quickly gained popularity as magazine articles spread the word of an entry-level, two-seater, mid-engined Porsche.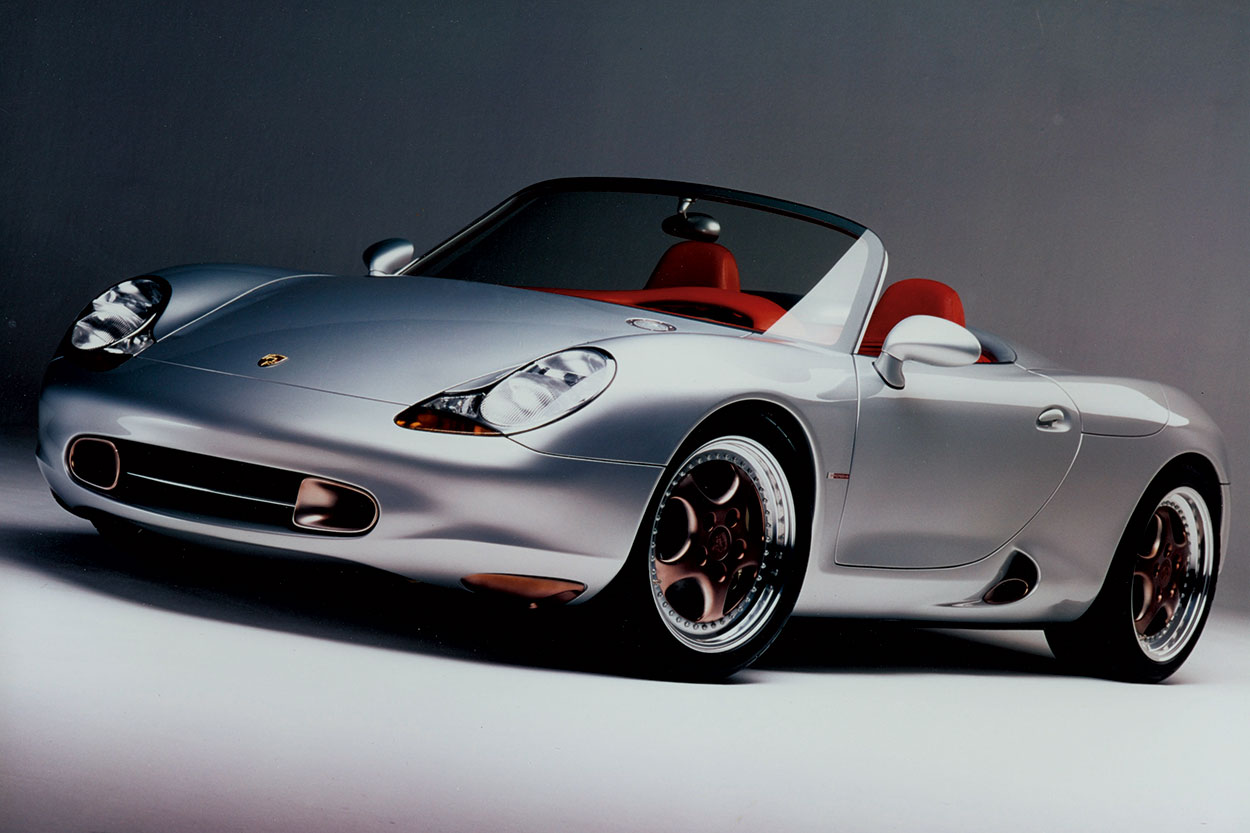 Above: 1993 Porsche Boxster concept as shown at the Detroit Auto Show. Photo courtesy Porsche.
At the time, to say that Porsche was struggling economically would be a gross understatement. Porsche vehicle sales had declined sharply (from 50,000 units in 1986 to just under 14,000 in '93), especially in the US, where Porsche sold 50% of its production.
In 1993, Wendelin Wiedeking, an engineer and former head of production at Porsche, was appointed CEO. One of his first moves was to bring in Japanese (Toyota) consultants into the manufacturing plant, which was perceived as an insult by most of the workers, since Toyota had just recently offered to purchase Porsche. Fortunately, the family was unwilling to sell.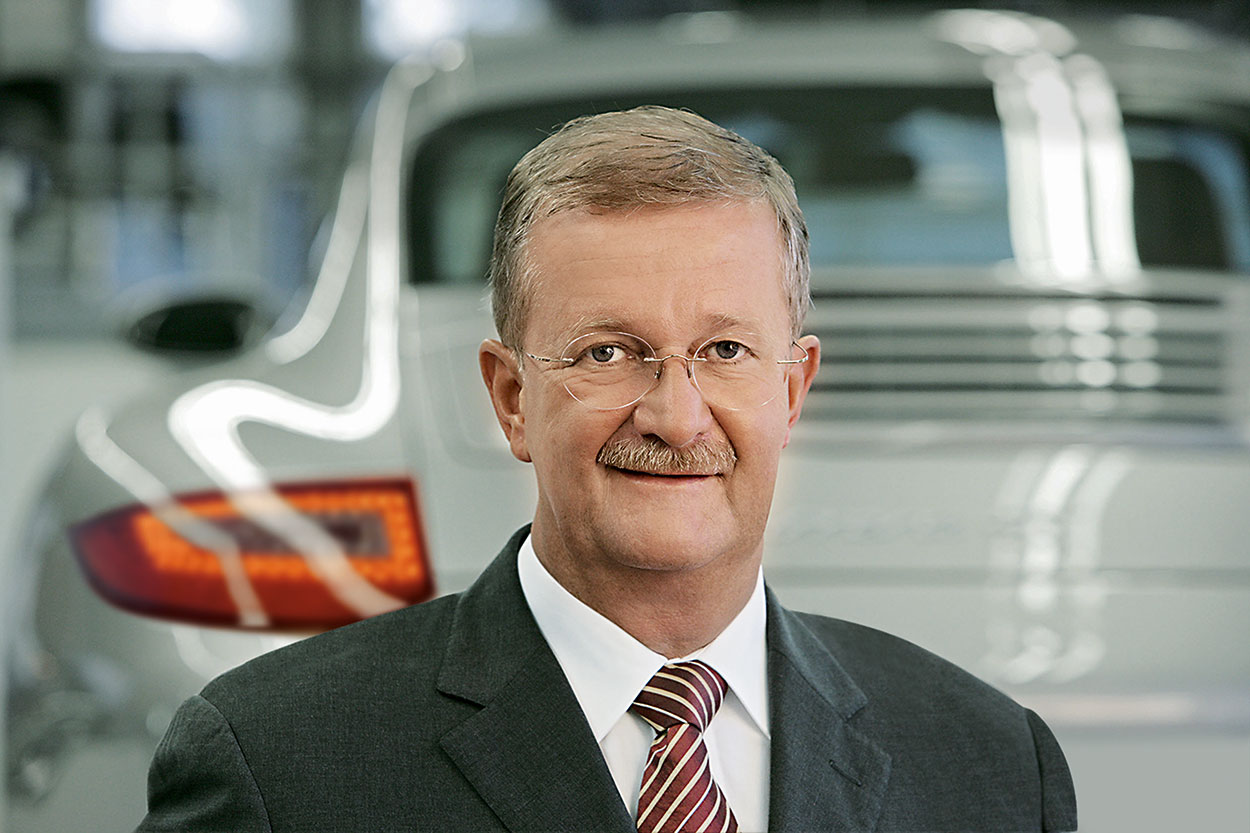 Above: Former Porsche CEO Wendelin Wiedeking. Photo courtesy Porsche.
With the input from the consultants, Porsche streamlined its manufacturing, going to a JIT (just in time) production method that dictated the complete elimination of waste and produced just what was needed, when it was needed, and in the exact amount in which it was needed. Porsche entered the modern era of automated manufacturing. Now, a sexy, new, entry-level Porsche was all that was required to jumpstart sales and take advantage of the JIT method. 
Porsche saw that the roadster market was growing quickly, and looking to the highly successful Mazda Miata that had been introduced in 1989, decided to follow suit. Drawing inspiration from the very successful 550 Spyder of the 1950s, Porsche officially introduced the Boxster.
Based on recommendations from the Toyota consultants, Porsche also streamlined production in order to be more efficient, so the Boxster was co-developed and co-engineered with the forthcoming Type 996 Carrera. These were the first production cars with water-cooled flat-sixes from the company, and they shared many of their components.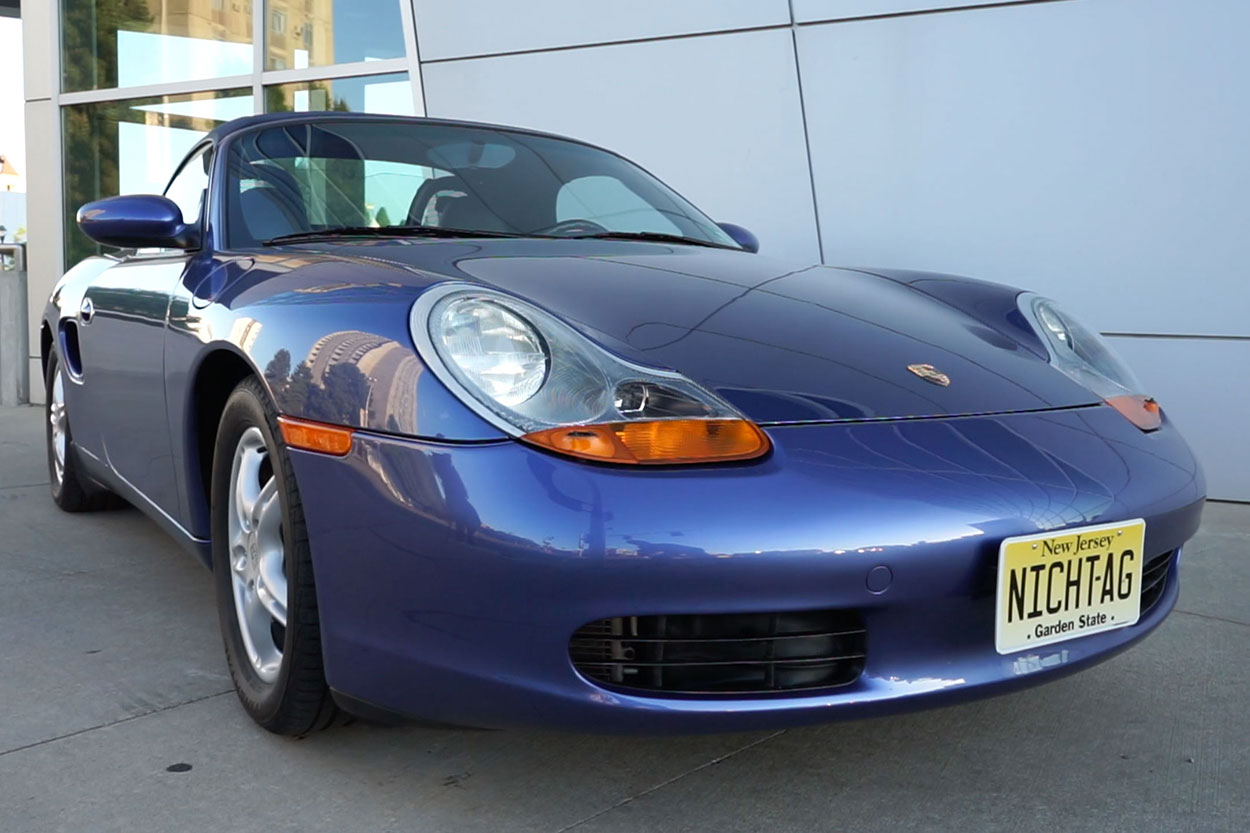 Above: 1998 Porsche Boxster. Photo by Damon Lowney.
The Boxster became an instant success! Between 1996 and 2003 it was Porsche's best-selling model, and it, along with the closely related 996, are credited with pulling Porsche out of a sales slump and paving the way for its next best seller, the Cayenne SUV.
In 1996 Porsche had North American (Canada and US) combined sales of 7,524 units. In '97 it almost doubled sales to 13,731 units and by 2004 had grown to 33,289 cars per year.
This "instant" success was both a blessing and a curse. Porsche had to immediately open a second manufacturing facility (in Uusikauppunki, Finland) in order to keep up with demand since the Stuttgart facility was overwhelmed.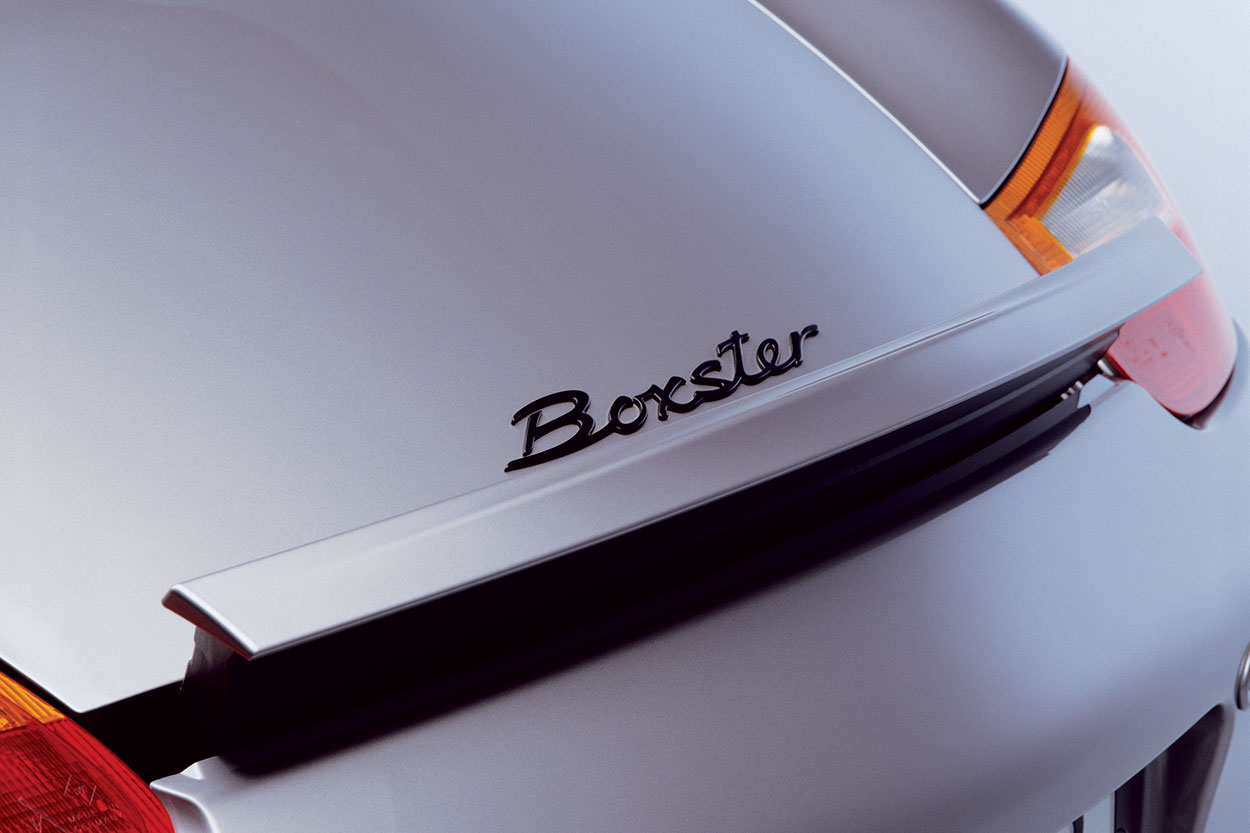 Above: Porsche Boxster with its retractable spoiler extended. Photo courtesy Porsche.
It made its debut in Europe for the 1996 model year and then came to America for model year 1997. When it was introduced in the US in 1997, its MSRP was $39,900.
For 1997, 1998, and 1999 the Boxster was sold with a 2.5-liter flat-six, making 201 horsepower and 181 pound-feet of torque. It was available with a five-speed manual or a four-speed Tiptronic automatic and myriad factory options that would easily bloat the car's price to $50,000 or more per unit. Several 986s were ordered with so many options that they easily surpassed $100,000.
With model year 2000, Porsche expanded the Boxster platform by offering two versions: the Boxster and the new, more powerful Boxster S.
The base car was lifted to 217 hp and 192 lb-ft courtesy of an increase in displacement to 2.7 liters. The Boxster S had a 3.2-liter flat six that made 250 hp and 225 lb-ft and also included larger brakes and an extra radiator for better cooling. Something to note is all Boxsters now used electronic throttle control instead of a throttle cable.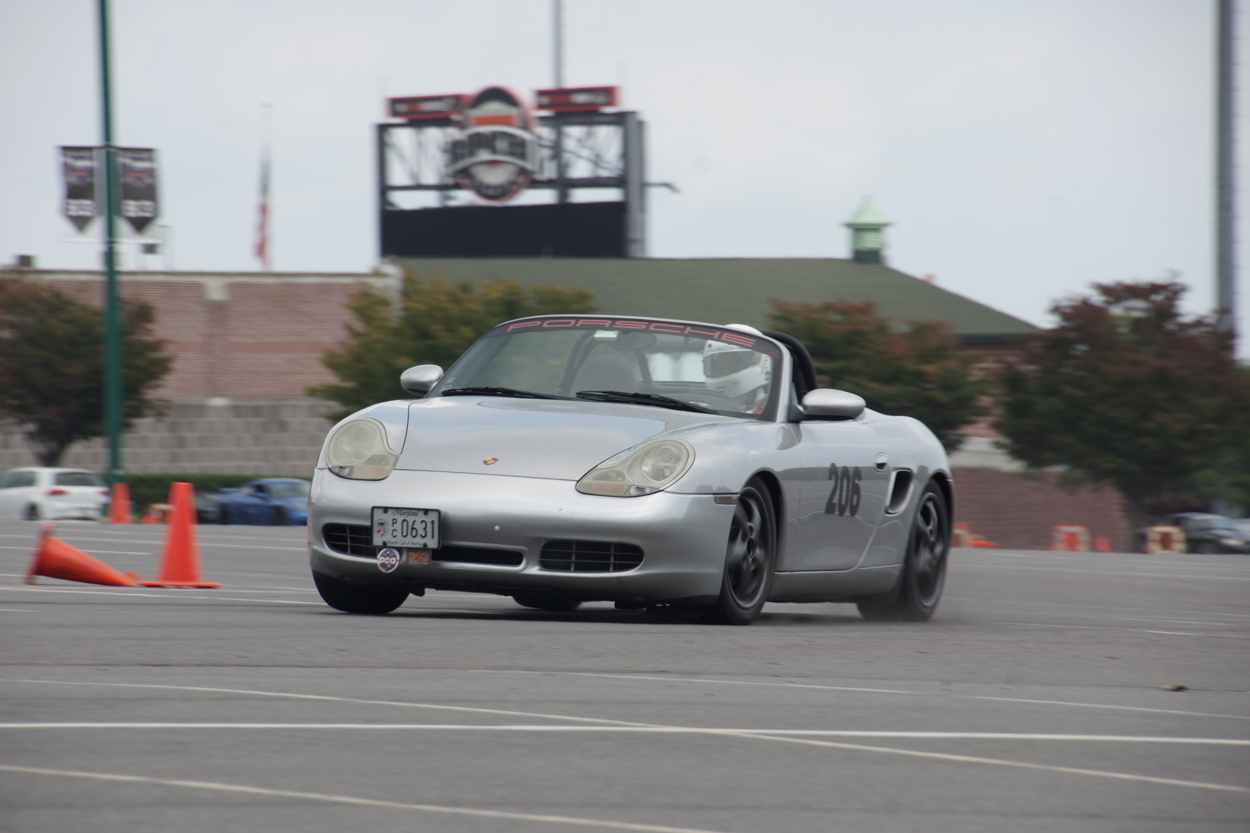 Above: 2000 Boxster S at an autcross. Photo by Damon Lowney.
Every year Porsche made at least incremental improvements to the Boxster, but during model years 2001 and 2002 the base and S models carried on largely unchanged. In 2003, Porsche made some significant updates to the 986 addressing long held concerns. In addition to a slight increase in power and torque for both the base (228 hp and 192 lb-ft) and S (258 hp and 229 lb-ft) models, the Boxster finally had such creature comforts as a glove box, glass rear window, a layered roof liner, and more.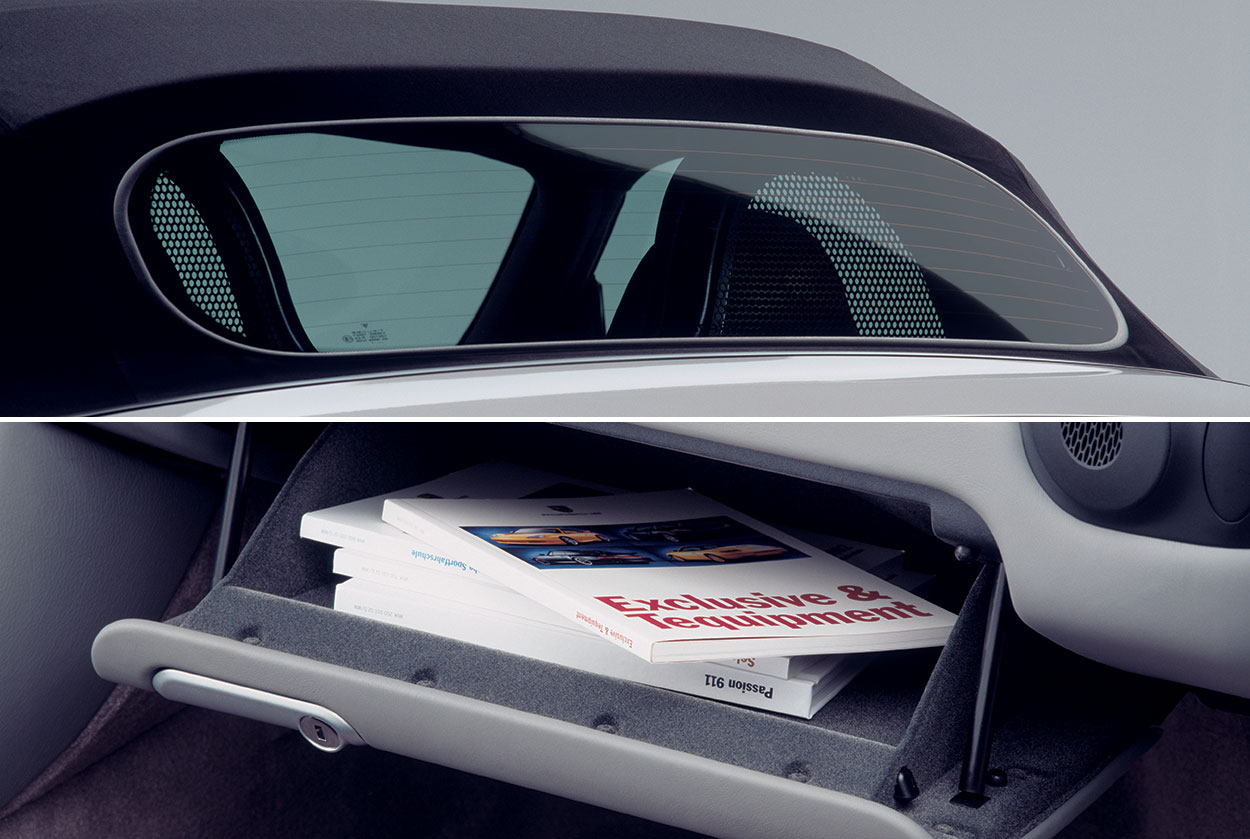 Above: 2003 Boxster now had a glovebox anda glass rear window.
The last of the 986s were offered for model year 2004 virtually unchanged from 2003, but their MRSPs had grown to $42,600 and $51,600 for the base and S models, respectively. A special edition Boxster S, dubbed the 550 Spyder 50th Anniversary edition, was offered at $59,900 and included many factory options as "standard."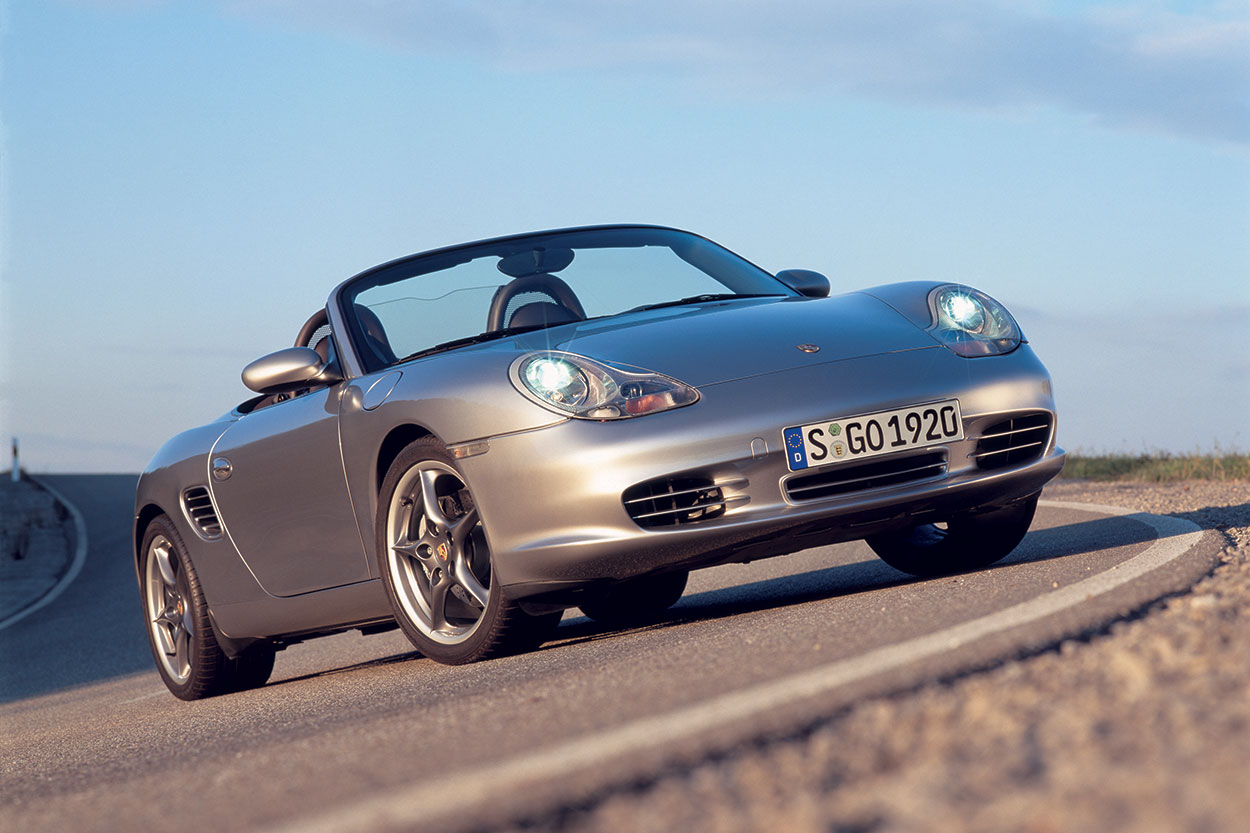 Above: 2004 Boxster S Spyder 50th Anniversary Edition. Photo courtesy Porsche.
Throughout its history the 986 Boxster has been picked on and demeaned by some for its looks and water-cooled engine but was generally well received by the automotive press and, of course, the thousands of customers who lined up to buy them.
When we mentioned earlier that the Boxster's instant success was also a curse, we were referring to the quality issues that they went through initially. Because production was ramped up so quickly, Porsche did not inspect each and every engine block (as it had done before) prior to engine assembly. As a result, a number of porous blocks made it into production, later causing Porsche to replace affected engines when their coolant mysteriously started disappearing.
Porsche did not want to replace the porous blocks slated for the assembly line and reduce Boxster production numbers, so it was decided to bore the cylinders out and place steel sleeves, which would solve the porosity in the blocks. Unfortunately, some of those sleeved engines failed due to a slipped sleeve, requiring Porsche to replace even more engines. Fortunately most of the engines with these issues have already been flushed out of the market and replaced. I haven't seen or heard of a slipped sleeve or porous block in years.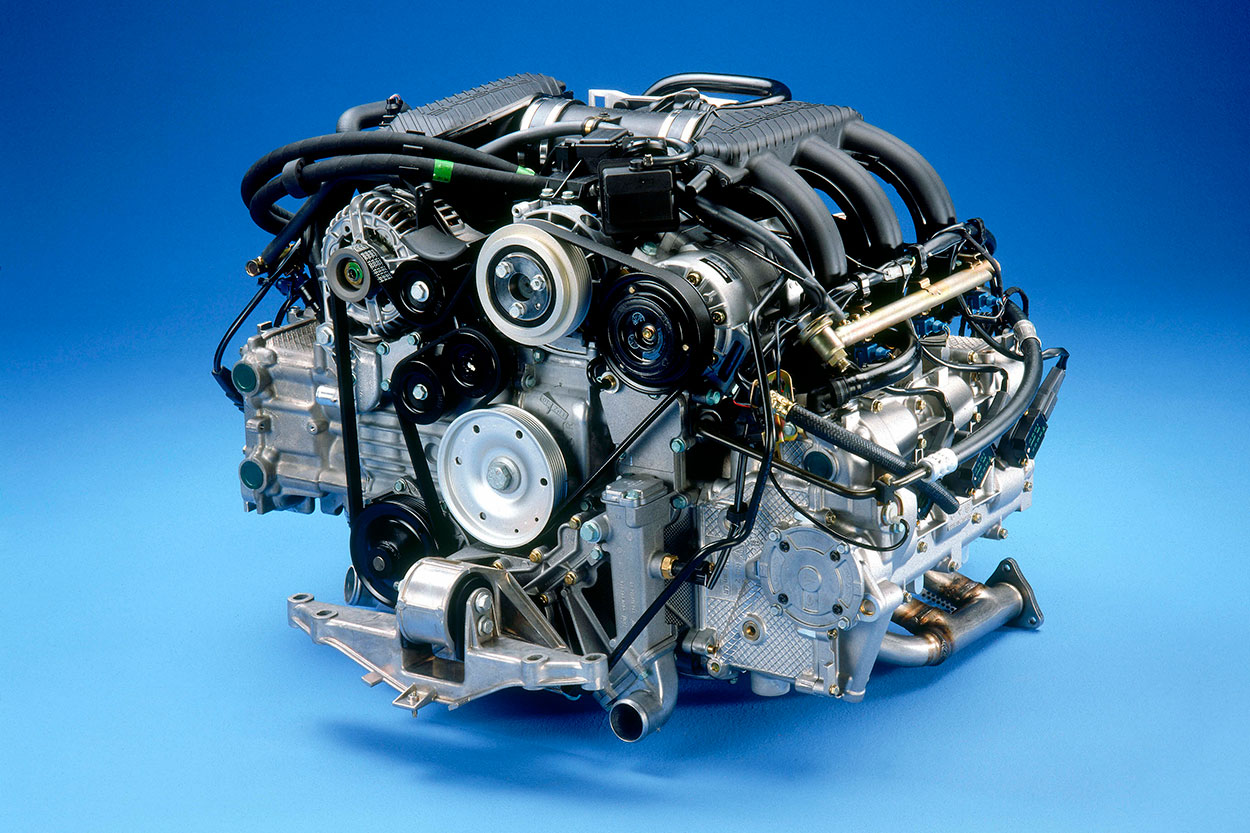 Above: 2.5-liter water-cooled flat six from a 1997 Boxster. Photo courtesy Porsche.
For those of us who have owned — or still own — a first-generation Boxster, it has been a fabulous platform that is pure and simple and incredibly fun to drive, whether at the track or on the street. The simplicity of the car together with its light weight and mid-engine layout has made it an icon.
Like any other car, it, too, has had its issues. In particular the infamous intermediate shaft (IMS) bearing problem. The good news is that an IMS bearing is a wear item that can be replaced, and many owners opt for longer-lasting aftermarket solutions when the time comes.
Since its inception the Boxster has been depreciating year after year, and now, at 20 years old, the depreciation has finally stopped. According to Hagerty Classic Insurance Company, values of the 986 have leveled off and are expected to climb. So if you have thought about owning one, now is a great time to buy at the bottom of the market. We are already starting to find owners who are restoring and preserving them for future generations. To this end, Porsche now considers the 986 a classic and has started to provide selections of new, genuine Porsche parts for it through the Porsche Classic program.
So, now that you know so much about the first-generation Boxster, you really want one. Great! A 986 Boxster is one of the best sports cars to purchase for many reasons, among them:
Boxsters are fun to drive
generally well cared for by their previous owner
built to last. My '98 just turned 280,000 (s)miles.
look great
Someone else took the new car depreciation hit
Boxsters make the best mid-life crisis fulfillment (I know, I've had three … Boxsters, not crises)

Above: 2002 Boxster S. Photo courtesy Porsche.
The next question is: Where can you find one for sale?
Go to your computer and start searching PCA's online classifieds section, The Mart, as well as Cars.com, AutoTrader.com, Craigslist.org, eBay.com and multiple Internet forums such as PedrosBoard.com, Rennlist.com, and PelicanParts.com.
If you don't mind traveling to find the right car, when searching on the Internet use a South Florida or Southern California zip code. (Be careful of potentially flood-damaged cars following Hurricane Irma.) Why? Because those are two of the largest Porsche markets in the world and you can probably find exactly what you're looking for in one of them, if not both. Also, those two markets enjoy salt-free roads in the winter that are generally in better condition than those in northern markets, where freezing tears up the pavement and beats up the suspension.
You'll have to decide (probably based on your budget) whether you want a base Boxster or a Boxster S. The S will usually cost an extra $4,000 - $5,000 over a base car.

Above: 2001 Porsche Boxster S (left) and Boxster. Photo courtesy Porsche.
The one question I get asked the most regarding used Boxsters is, "Which one should I buy?" My answer always is, "Buy the newest one you can afford," because as the model years progressed the factory constantly upgraded them. If you like the original 986 then look at the 1999s. If you want a more refined 986, then look at the 2004s. Cars that are newer and have fewer miles will generally mean a higher price.
The best advice I can offer is be patient. Decide what particulars you want in your Boxster and search until you find it. You will.
Even though you think you may have found your perfect used Boxster, before you commit, even before you secure a pre-purchase inspection (PPI), you need to be aware of some issues that could impact your purchase or your purchase price. Don't buy with your heart — buy with your head.
I'm sure you've heard or read about many of these issues, but some of it has been exaggerated throughout the years. Here's the skinny:
All 986 Boxsters (and 987 Boxsters and Caymans up to 2008) have an intermediate shaft and therefore an intermediate shaft bearing. The truth is that no more than 10% of them will have an IMS failure by the time they reach 100,000 miles. The good news is that 90% or more won't! When the IMS fails, it fails suddenly and there aren't really any measures you can take to avoid it except being preemptive — meaning inspecting oil for metallic debris when it's changed or by replacing the bearing with a new one.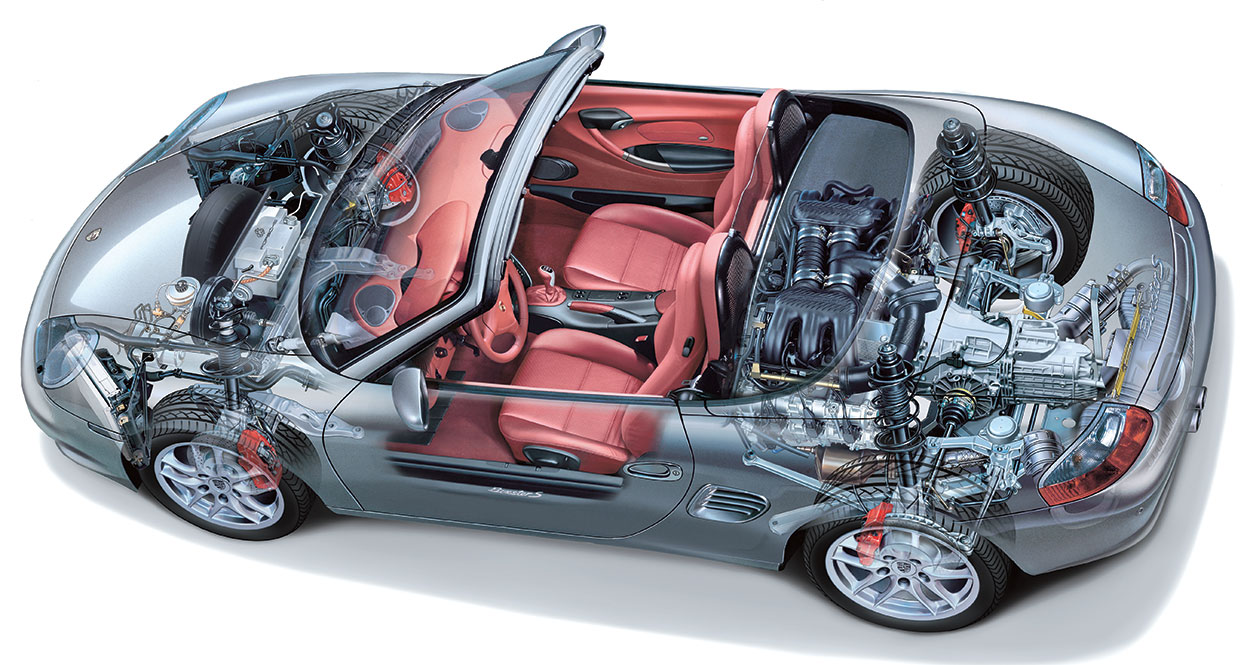 Above: Cutaway drawing of a 2003 Porsche Boxster. Image courtesy Porsche.
There are several superior aftermarket fixes for the IMS issue, including ball bearings, cylindrical bearings, and plain bearings made of different materials A quality aftermarket replacement is a better way to go than replacing with an OE bearing but please do your homework and check each one of those options to make sure that it's the right one for you.
When you make your purchase is the best time to address the IMS bearing if it hasn't been already. It is a good investment whether you intend to keep your Boxster for many years or not. You will get your money's worth and peace of mind.
These cars tend to lose coolant when the expansion tank in the rear trunk cracks due to age. If you see a low coolant level, give the rear trunk the sniff test. Try to lift the liner and check under it. If the expansion tank has cracked, there will be coolant under the liner. If you find a cracked tank, it can be fixed for about $400, but you should also reduce the amount of your offer.
Give the car a good, overall panel inspection. 986s are not prone to rust, but if you see rust bubbles anywhere, especially in the lower panels, it's a good indication that the car has been flooded at some time. If it has, walk away.
Many of the small details inside such as scratches or tears in the seats can be repaired, so don't get too hung up on these.
Ask for a test drive. Boxsters should feel very firm or solid and be rattle free. If you hear any noises, make a mental note and then physically check those areas or alert the shop that you'll have perform the pre-purchase inspection.
Many of these cars could have aftermarket parts for added engine performance or suspension, brake, and/or exhaust upgrades. If so, check them to make sure they are of good quality and have been installed correctly and, more importantly, safely.
Get a pre-purchase inspection. A PPI will save you money in the long run and is probably the best investment you can make when purchasing a used Boxster. Make sure that the inspector is well regarded and thorough. You don't want any mechanic just giving it a once over and telling you that it's okay for it's age. A good inspector will create a personalized and particular inspection report for your potential car that will list in detail the car's history, including build sheet with all original options, interior, exterior, engine, drive train, individual systems, etc., letting you know about issues found, cost to repair those issues, and sometimes an overall fair market value for that car in that market. In conclusion, you want your PPI to have enough correct information so that you can make an informed purchase decision. Finally, don't forget to do a title search through Carfax.com or AutoCheck.com.
Good luck hunting.
For more information on Boxsters and more, please visit my website: 
www PedrosGarage.com