Porsche 911 GT2 RS laps Nürburgring in 6:47.3, a road-legal production car record [w/video]
Wednesday, September 27, 2017
Photos courtesy Porsche
It seems like Nürburgring Nordschleife lap times have been falling at an exponential pace lately, and Porsche has always preferred to have the fastest car around the 12.8-mile track in Germany. Not to be outdone by the competition, the automaker's new 911 GT2 RS just set the production car lap record, a physics-defying 6 minutes and 47.3 seconds, on September 20.
The 887-horsepower 918 Spyder hybrid supercar lapped the track in 6:57 only a few years back, which is more than 30 seconds faster than Porsche's previous supercar, the mid-2000s Carrera GT (7:28.71). Then along came the Lamborghini Huracán Performante with a mere 640 hp, which blazed across the start/finish line in 6:52.01 in October 2016 and was met with skepticism from various parties after the time was released to the public. One can only imagine what Porsche engineers and drivers felt when the Lambo's lap time was announced. So it was off to work, and Porsche's mission was even clearer than before.

Above: From left: Eugen Oberkamm (Director Motorsport – Development Complete Vehicle), Andreas Preuninger (Director GT Model Line), Lars Kern (Porsche Test Driver) und Dr. Frank-Steffen Walliser (Vice President Motorsport and GT-Cars) after the record lap at the Nuerburgring Nordschleife.
"At the start of the development process, we set ourselves a lap time target for the GT2 RS of less than 7 minutes and 5 seconds," said Frank-Steffen Walliser, Vice President of Porsche's Motorsport and GT Cars departments. "The credit for beating this target by 17.7 seconds goes to our development engineers, mechanics, and drivers, who demonstrated an exceptionally strong team performance."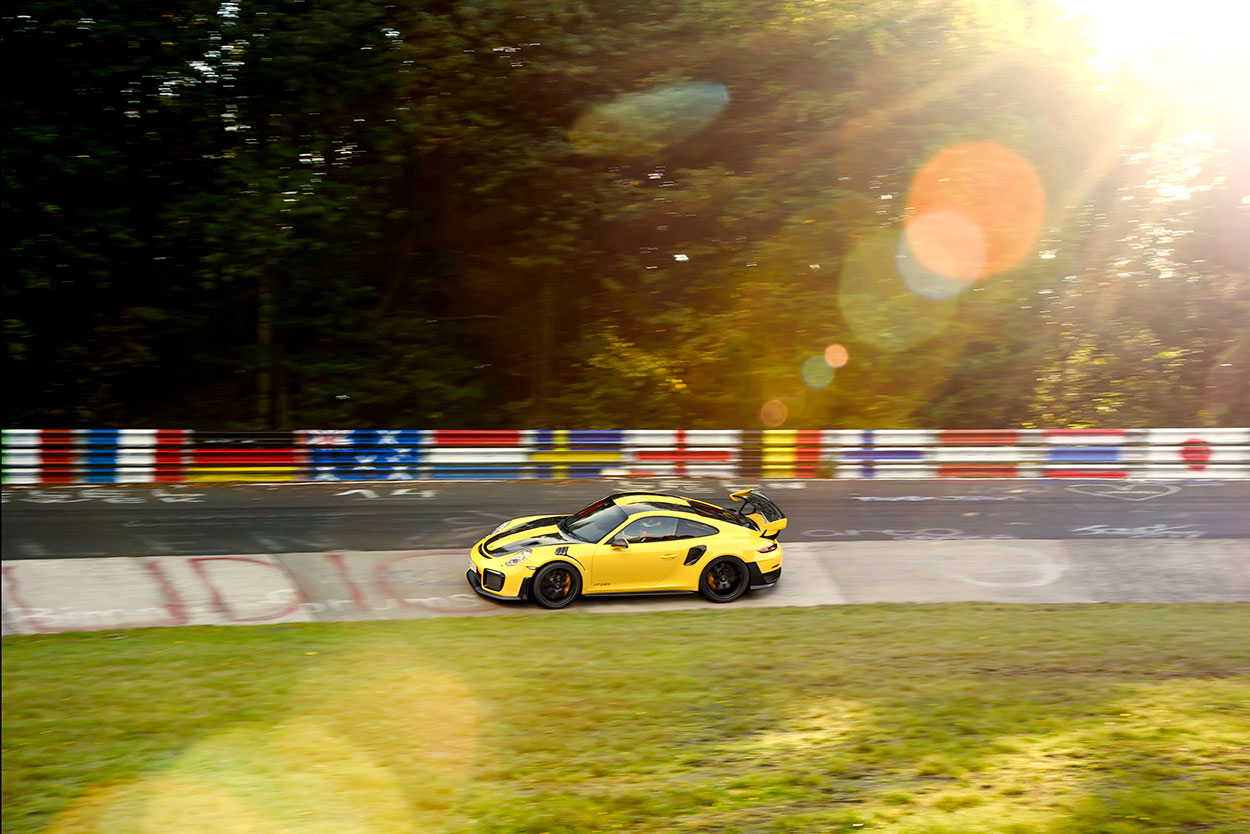 Porsche Test Driver Lars Kern set the record, and Factory Driver Nick Tandy also joined in the attempt directly following a race in Austin, Texas. Porsche says both Kern and Tandy were able to beat the Huracán's record of 6:52.01 on their first attempt and then went on to clock in under 6:50 for five more laps.