Storm-proofing Porsches: A Hurricane Irma story
Photos by George Kveton
As Hurricane Irma bore down on south Florida, tearing through several Caribbean Islands as a category 5 storm, PCA Gold Coast Region member George Kveton was in Switzerland paying close attention to the news. Reports didn't have Marco Island, where he owns a home, in the direct path of the hurricane, but "it wasn't looking good," he said. He also keeps three Porsches in the garage and two boats behind his home.
So, instead of watching the storm from afar, Kveton skipped a business meeting and hopped on a flight to Florida to shore up his property. Fortunately his home (and the attached garage) was designed to withstand winds up to 150 miles per hour.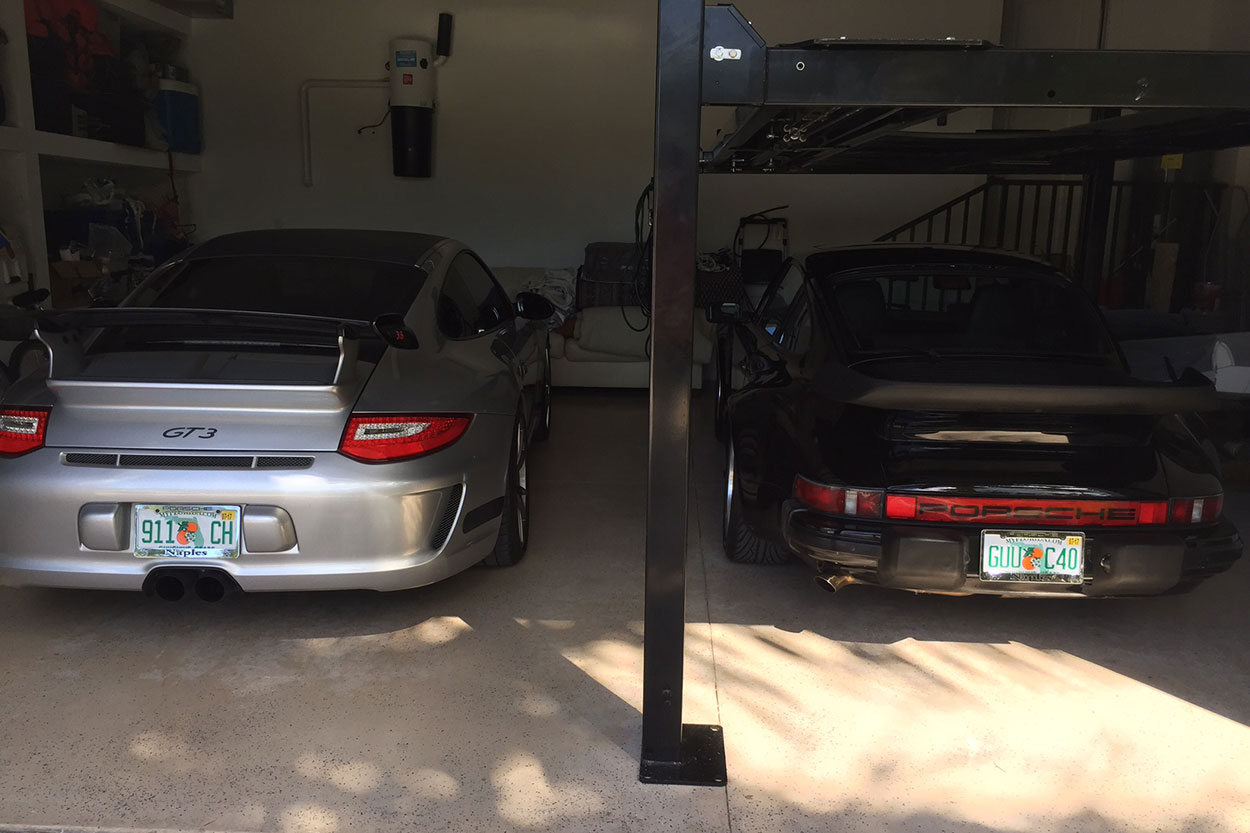 Above: Before Kveton prepared his Porsches for the storm.
"The next thing was, what about the storm surge, because they're predicting 10-15 feet" of flooding, he said.
"Marco Island is close to sea level, not a lot of elevation," Kveton explained. "Multistory parking doesn't really exist." So after securing his boats and making other preparations, he finally focused on protecting his Porsches — "Take care of yourself first," he advised. "These things can all be replaced."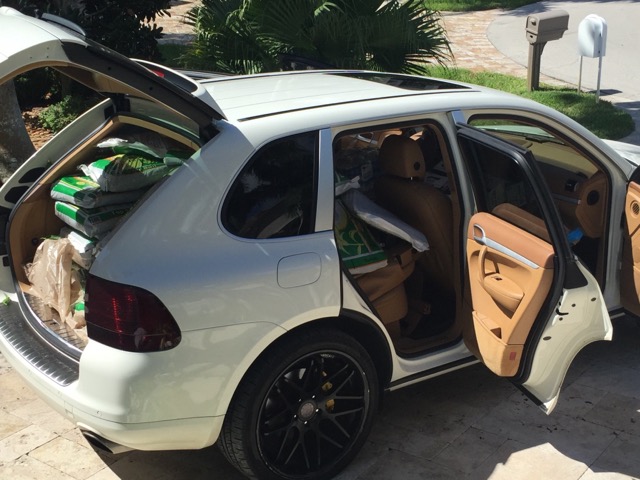 Above: Loading up on supplies before the storm.
Time was on his side, so he hatched a plan to keep two of his Porsches safe, a 2011 911 GT3 and a 1986 911 Turbo. "I bought the biggest tarp possible, took some duct tape, and made [the 911 GT3] into a present," he explained. The 911 Turbo donned a regular car cover and was parked on a lift and raised, while the GT3 was parked underneath. Since his garage sits about 10 feet above sea level, he was confident the Turbo would be out of harm's way when raised up. He left his third Porsche, a Cayenne, alone and parked it on the garage floor.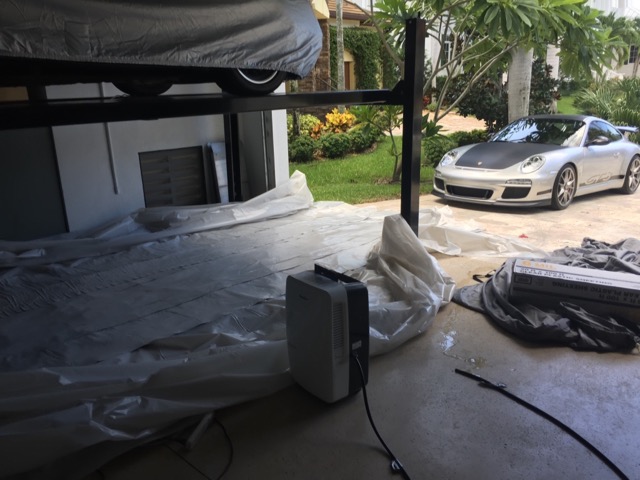 Irma made landfall in the Florida Keys on Sunday morning, September 10, and it was veering towards mainland Florida's west coast instead of to the east as originally predicted. At 3:35 PM, the hurricane, now a category 3 storm, made landfall in Marco Island.
"The eye went right over my house," Kveton exclaimed. "If you left your cars outside, they would have been destroyed." Though his house could withstand the winds up to 130 miles per hour, it had large glass windows and no shutters. With a clear view, Kveton watched the carnage unfolding outside. "There was a lot of debris from palms falling all over the place."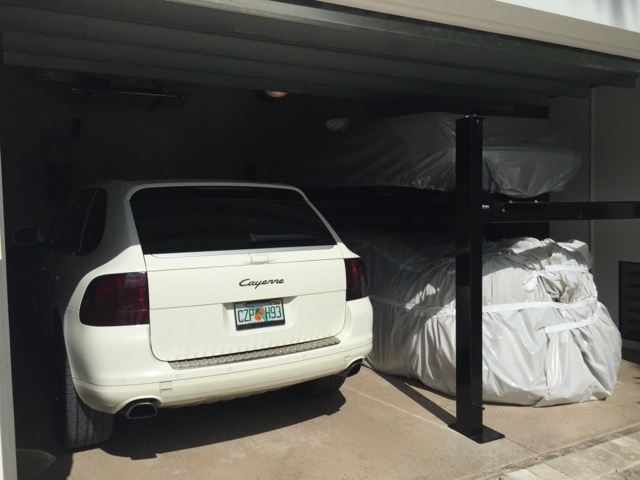 The storm surge followed as Irma moved north, and fortunately for Kveton the flooding was not high enough to flood the garage. "There was some damage to the boats, some damage to the house, but the cars are intact," he said. Only a little bit of water leaked into the garage.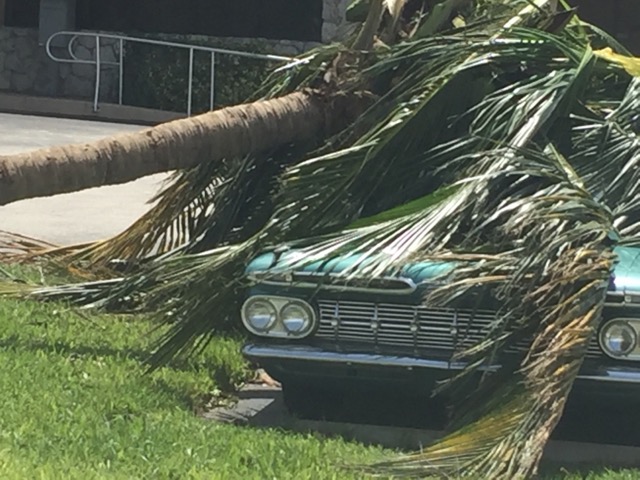 Above: A muscle car left outside in Marco Island during Hurricane Irma.
"The hurricane was a first for me. I don't want to do it again anytime soon," Kveton continued. At the very least, he said he'll be better prepared for the next hurricane and had some tips to share.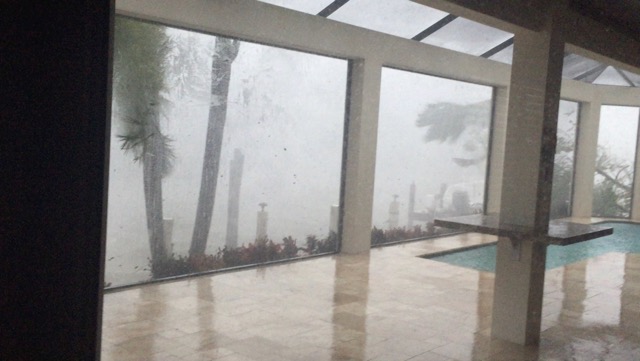 Before deciding whether or not to fortify your home, know if it can withstand the violence of a hurricane. If it can, prepare yourself well in advance, stocking up on water, food, radios, and whatever might help you ride out the storm. And do that before your town or city turns the power off as a safety precaution. Only then should you worry about cars and boats and other possessions. In this case, time was on Kveton's side, and fortunately his tarp-covered GT3 didn't have to be put to the test.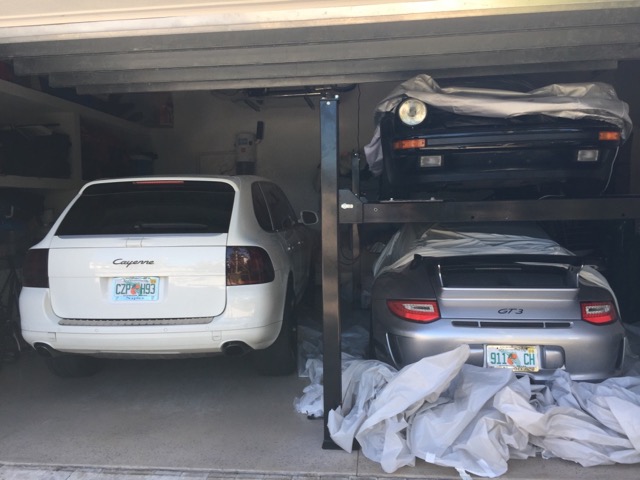 Above: Though flooding didn't quite make it to 10-15 feet and flood his garage, Kveton had peace of mind after taking precautions to protect his Porsches.