Treffen North America brings hundreds of Porsches and PCA members to Asheville
Article by Jon Hornaday
Photos by William "Rusty" Russ / Photo Imaging by Rusty (except where noted)
As soon as the Porsches from 68 PCA regions began arriving at the historic Omni Grove Park Inn, the participants in Treffen Asheville knew they were going to experience something very special.
This grand hotel, the original part of which was built in 1903, greeted attendees in its massive, castle-like lobby, with huge stone fireplaces on each side. Looking to the west was a spectacular view of the Blue Ridge Mountains.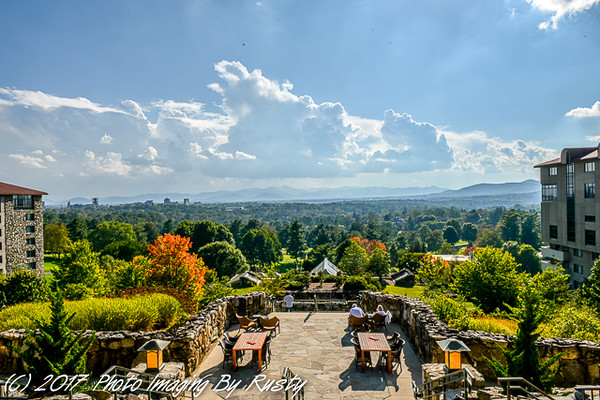 The 455 PCA members (237 primary) arrived in 230 Porsches. These were the quick-acting and lucky folks who were able to make it in, as the event sold out in less than an hour. They obviously saw the appeal of Asheville and the beautiful, winding roads nearby.
On-site registration opened Wednesday afternoon and was combined with the welcome reception, both on the Mountainview Terrace. As the hotel is basically built on the side of a mountain, the terrace was on level eight, down from the tenth floor lobby.
Volunteers from the Appalachian Region were friendly and helpful during the quick and easy Treffen check-in process. Having a bar and hors d'oeuvres just steps away made it all the better. The Region, headed by President Peter Graham, is one of PCA's newest.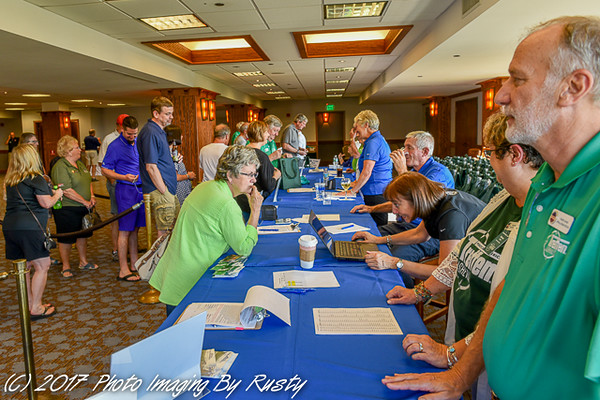 A continental breakfast was served on Thursday and Saturday mornings, with an absolutely overwhelming buffet breakfast on Friday. From made-to-order omelets to an array of pastries to pancakes — and even two types of ham and bacon — it was all there. Some members said it was one of the best meals they had during the event. 
The first group of six driving tours on Thursday assembled southwest of town at the Asheville Outlet Mall and departed between 7:30–9:30 AM. Tours included scenic, twisty drives to Penland, PARI (Pisgah Astronomical Research Institute), Lake Lure Inn and Boat Tour, Wheels Through Time Museum, Tryon International Equestrian Center and the Cradle of Forestry.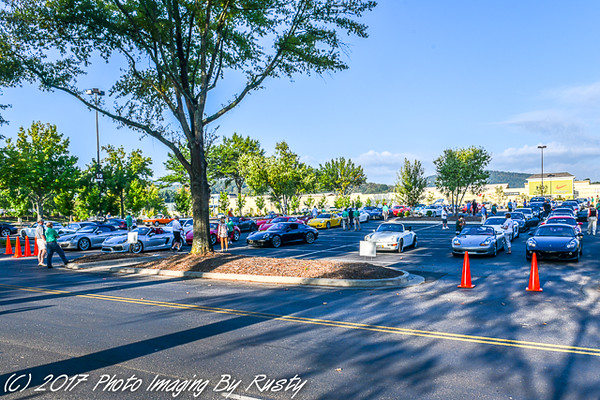 A new feature to Treffen was Thursday evening's downtown dine-around, with a selection of five Asheville restaurants from which to choose. Transportation was provided to each one.
Friday held Navigator's Day Off (NDO) activities, which usually includes transportation, but there was one driving-centric tour for which the area is famous: driving the Tail of the Dragon. It's an 11.1-mile drive with 318 turns. The official tour was limited to 30 Porsches, and it quickly sold out. This noted drive skirts along the southern edge of the Great Smoky Mountains National Park. Many Treffen participants did this drive on their own.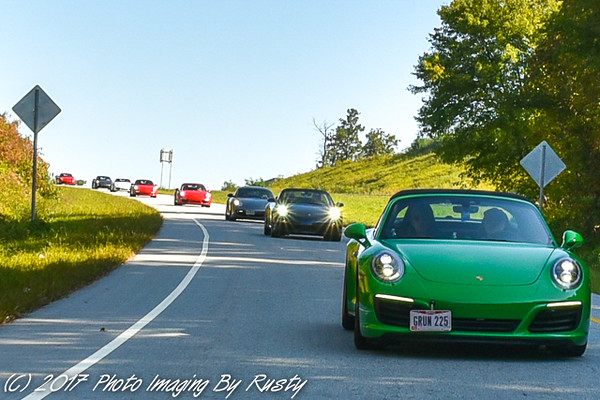 Other NDO activities took registrants by bus to a Waterfall Hike at DuPont Forest, an Art & Chocolate Tour, a Funky Junk tour (which featured re-purposed art, a visit to the Antique Tobacco Farm, and more), and an Asheville Brewery Tour. For those wishing to check out downtown Asheville on their own, a courtesy shuttle was available. 
On Friday evening, it was Tapas on the Terrace, with a seated meal served family style at each table of eight. While the food was both good and plentiful, the biggest treat of the evening was the amazing sunset behind the Blue Ridge Mountains, viewed from the hotel's Mountainview Terrace. The temperature was ideal, and visiting with new Porsche friends added to the evening.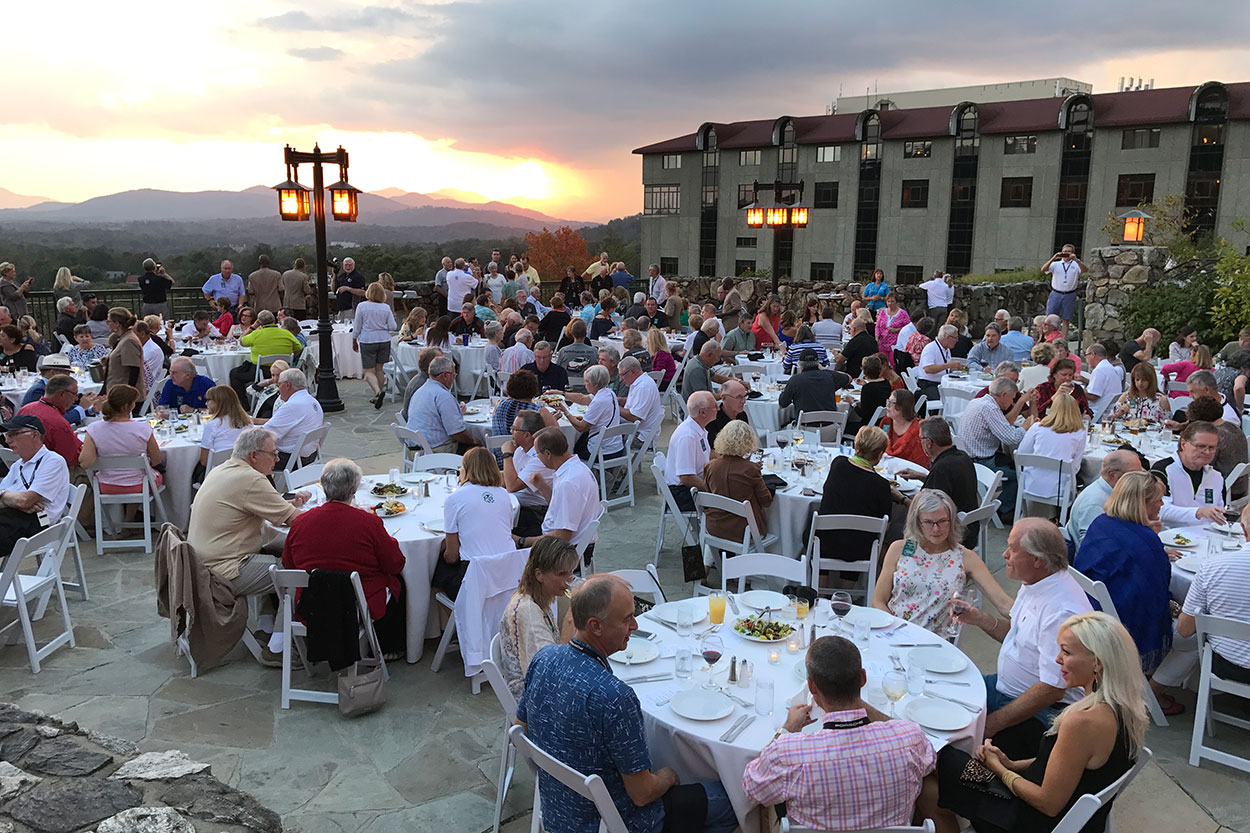 Photo by David O'Neal
Although Treffen tour maps and turn-by-turn directions were not available for DIY drives, the map of 100 Great Drives in the Smoky Mountains provided by local dealer, Porsche of Asheville, plus a very helpful hotel concierge were nice bonuses for those who preferred to explore the area on their own time.
Saturday was a repeat of Thursday's tours, with the evening capped off with dinner at the Omni Grove Park Inn Country Club. Affable PCA Past President Manny Alban presided most of the evening, with introductions and recognition of PCA officers and Treffen sponsors, and Treffen North America planners David and Ginny O'Neal, Leslie Sikorski, and Crag Kugler. Door prize recipients were announced, and a gift of appreciation was presented to the Appalachian Region for its great effort — including spectacular driving tours — under the direction of Treffen Asheville Chair Bob Herrmann and his hard-working team of volunteers. 
So it's time to mark your 2018 calendars for Treffen Tamaya, just north of Albuquerque, New Mexico, April 25-29, and Treffen Banff, Alberta, Canada, Sept. 12-16.