Model Guide: 1984-1989 Porsche 911 Carrera
Article by Damon Lowney
Photos courtesy Porsche excepot where noted.
Above: 1984 Porsche 911 Carrera.
In the mid- to late-'70s, Porsche was preparing to drop its most popular model, the rear-engined, flat-six-powered 911, and replace it with the front-engined, V8-powered 928. Fortunately the company's new American CEO, Peter Schutz, realized what a mistake that would be and kept the 911 alive, which took the form of the well-received 911 SC of 1978-1983. By 1984 the model's future was solid, as evinced by the introduction of the 911 Carrera.
| | |
| --- | --- |
| Pros | Cons |
| It was the most reliable 911 to date | Interior ergonomics leave something to be desired |
| Genuinely quick | Heater is merely adequate |
| Engaging to drive | Manual steering not for everybody |
| Rust resistant |   |
Covering model years 1984-1989, the new 911 Carrera was fundamentally the same car Porsche had been producing since 1964. It wouldn't be a stretch to say brand enthusiasts were of the few people who could tell the difference between a 1974 model — when impact bumpers were introduced — and one of the new Carreras. Thanks to Porsche's philosophy of gradual improvement over time, the old rear-engined design still had life left in it and improvements underneath the skin made it a much better car to drive. The automotive press praised the Carrera and still considered one of the best-performing sports cars.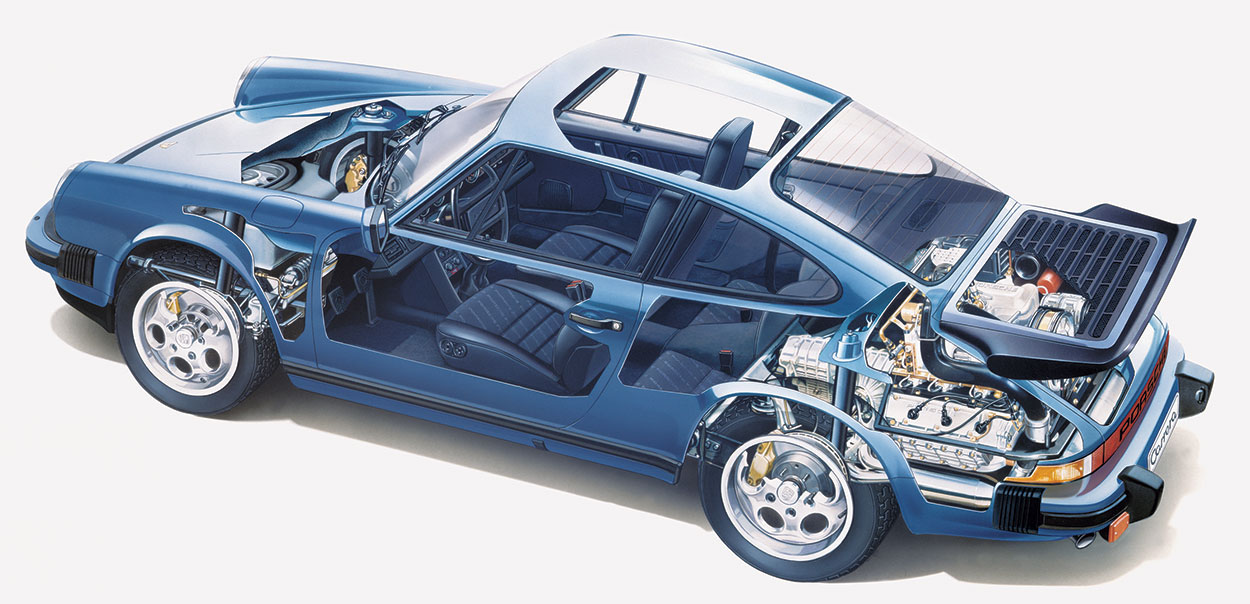 Above: 1985 Porsche 911 Carrera cutaway drawing.
The biggest news for the 1984 Carrera was an updated flat six, which was similar to the one in the SC yet still 80% new, according to Porsche. Displacement increased from 3.0 to 3.2 liters by using the 3.3-liter 911 Turbo's crankshaft for a longer stroke, and the CIS fuel injection system was replaced with a Bosch electronic control unit similar to what was found in the 944. In the North American market, the 3.2-liter flat six produced 207 horsepower and 192 pound-feet of torque using regular unleaded fuel. Weighing in at roughly 2,800 pounds, it was good for a 0-60 miles per hour time of 6.2 seconds, according to Road & Track (February 1984).
The Carrera put the power to the ground with 185/70 front and 215/60 rear tires, respectively, which were mounted to 15 x 6-inch front and 15 x 7-inch rear wheels.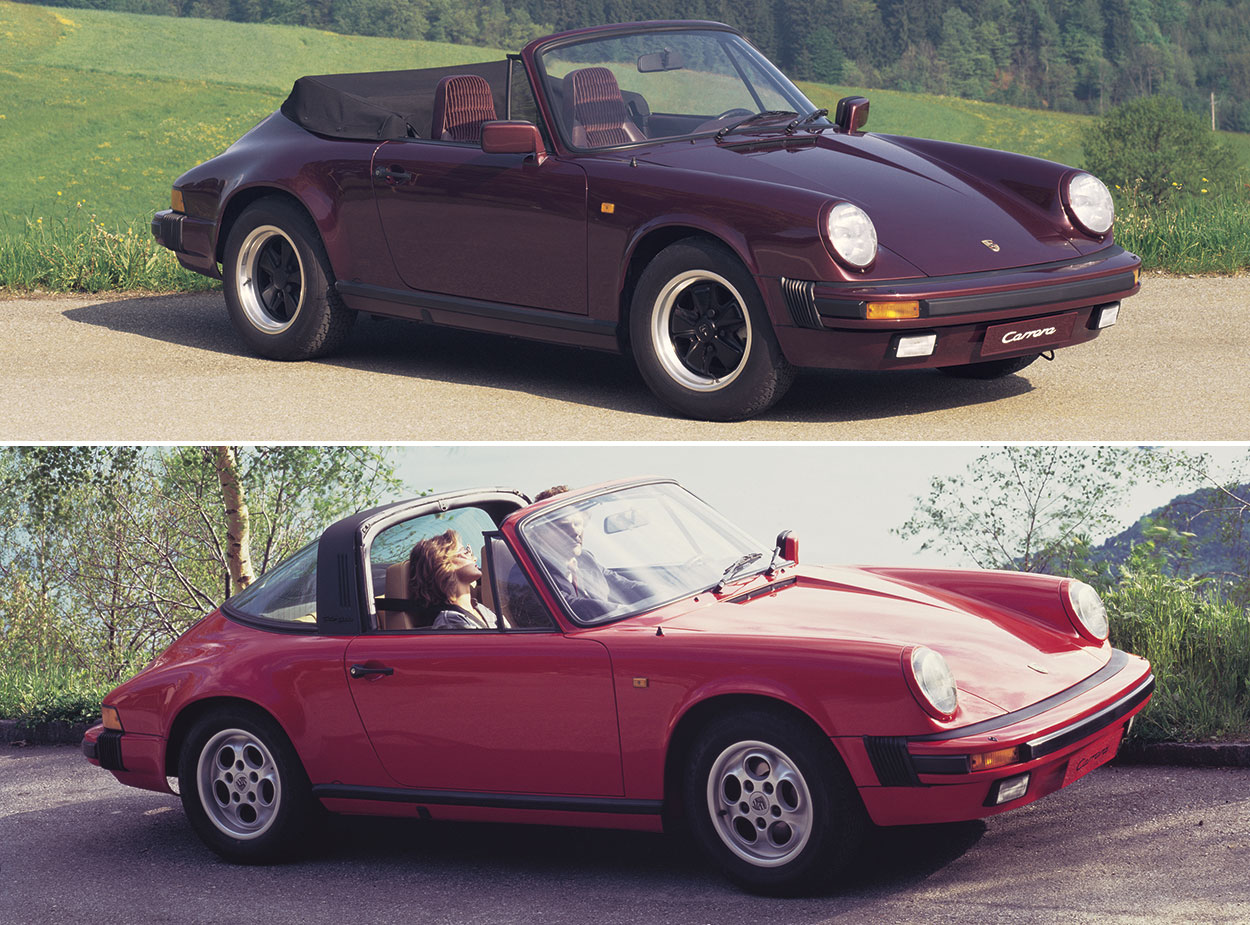 Above: 1984 Porsche 911 Carrera Cabriolet (top) and Targa.
Other key improvements included more reliable oil-pressure-fed timing chain tensioners, thicker brake discs, larger rear-caliper pistons, bigger brake booster, and a brake pressure-limiting valve that reduced the front wheels' tendency to lock up before the rears. The heating system was also marginally improved.
Porsche's Type 915 five-speed manual transmission — used since 1972 and known for its notchy throws and lack of a gear selector centering spring — continued on in the Carrera. The 911 Carrera coupe could be had as a "Turbo Look," which gave it the wider fenders of the 911 Turbo, the whale-tail spoil, plus all of its running gear short of the engine.
1985 brought few changes, though the fuel tank size increased from 21.1 to 22.5 gallons. The Turbo Look body style was extended to the Targa and Cabriolet models.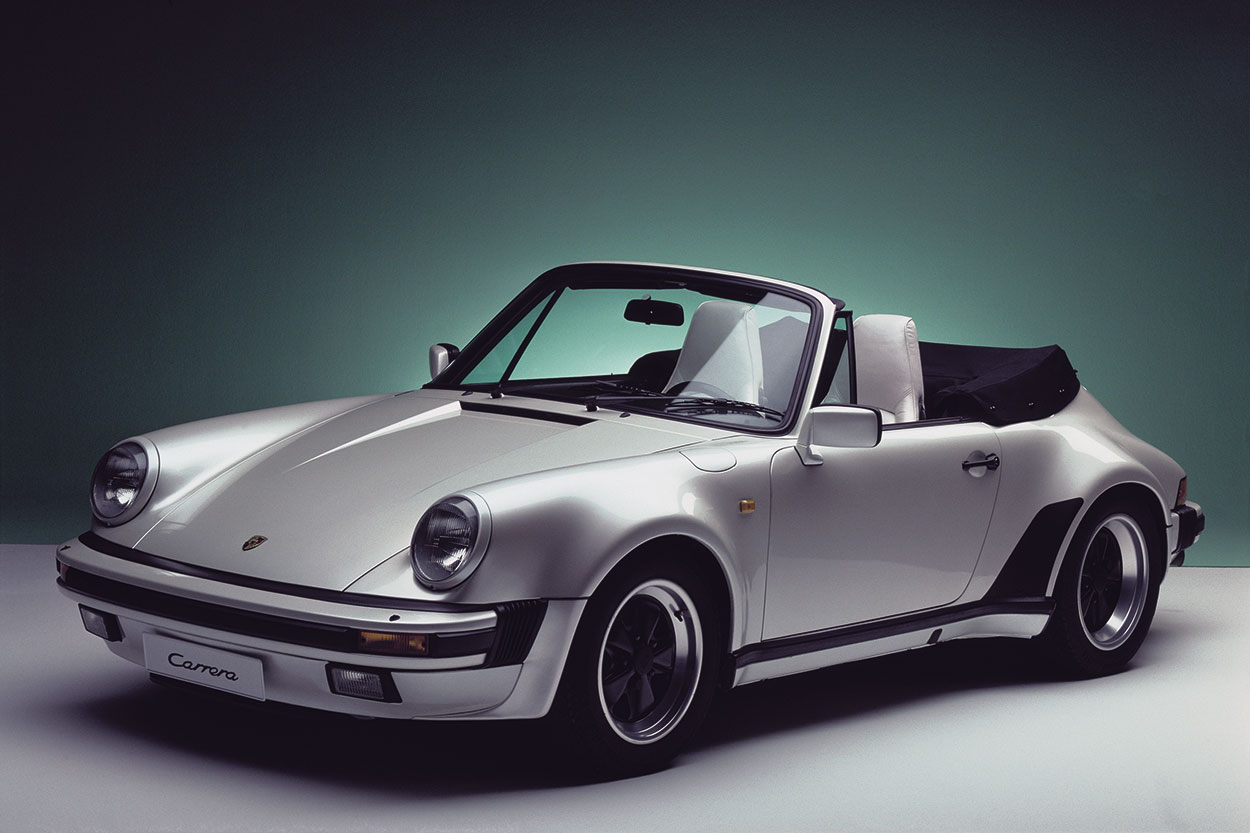 Above: 1985 Porsche 911 Carrera Cabriolet Turbo Look.
The 911 Carrera received a few more changes for the 1986 model year. The anti-roll bars were stiffened, with their diameters increasing from 20 to 22 millimeters up front and 24 to 25 mm at the rear. The seat was lowered to give more head room, and the cabriolet's convertible top gained an electric motor latches for operation at the press of a button.
The 1987 911 Carrera brought a couple significant changes to the engine and gearbox. The engine was retuned to run on premium-unleaded fuel, which increased horsepower to 217 and torque to 195 lb-ft. The old Porsche 915 gearbox was finally replaced by the Getrag G50, which used a hydraulically actuated clutch instead of the previous cable system, and it had a gear selector centering spring for neutral. Shift throws were much improved with a more defined gate. Front tire size was increased to 195/65.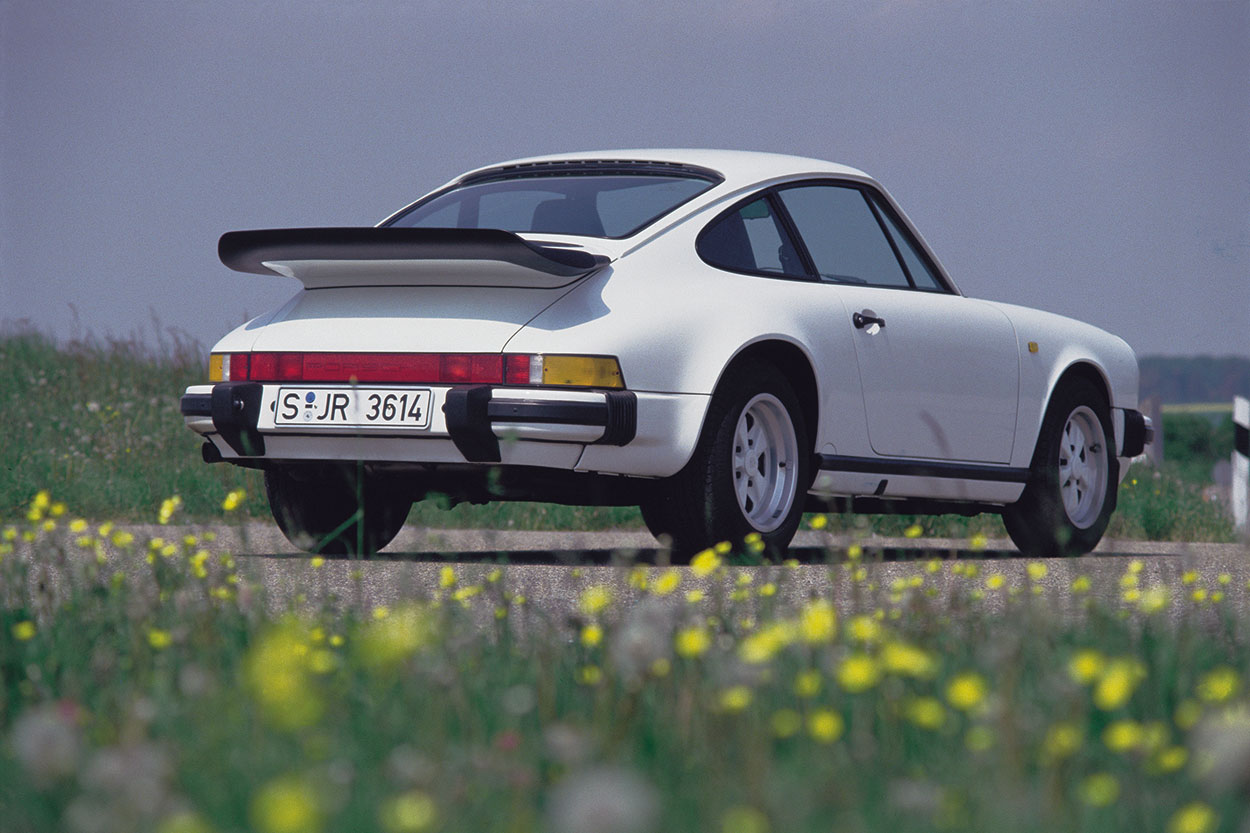 Above: 1987 Porsche 911 Carrera Club Sport
A special model called the Carrera Club Sport joined the 911 lineup, which was a bare-bones Carrera with no rear seats, little sound-deadening, no radio, no sunroof, no fog lights, no air-conditioning — basically devoid of creature comforts in the name of weight savings. Other improvements included different intake valves and subsequently a slightly higher redline, stiffer shocks, and one inch wider wheels (7 inches up front, 8 inches at the rear). The automotive press at the time acknowledged it was more exhilarating to drive, but didn't offer much of an increase in performance. Very few Club Sports were sold, surely in part due to the price, which was the same as the regular Carrera's.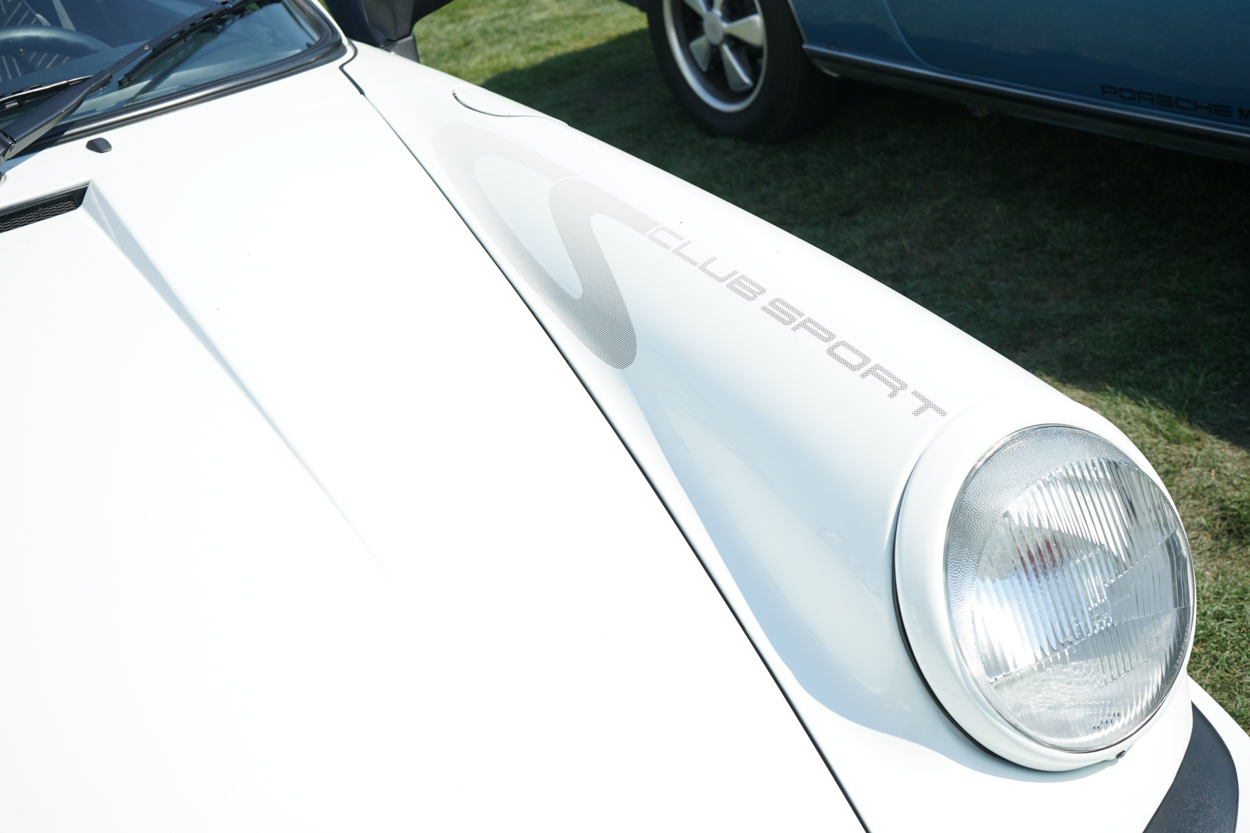 Above: 1987 Porsche 911 Carrera Club Sport at Werks Reunion Monterey 2017. This car is owned by the Porsche Museum. Photo by Damon Lowney.
The 1988 and 1989 model years brought few changes to the 911 Carrera. Electric seat height adjustment was made standard. For 1988, the width of the wheels was increased to 7 inches at the front and 8 inches at the rear, and they were now wrapped in 205/55 and 225/50 rubber, respectively. 1989 Carreras received 16-inch diameter wheels that were 6 inches wide up front and 8 inches at the rear. Tires sized 205/55 and 225/50 were mounted.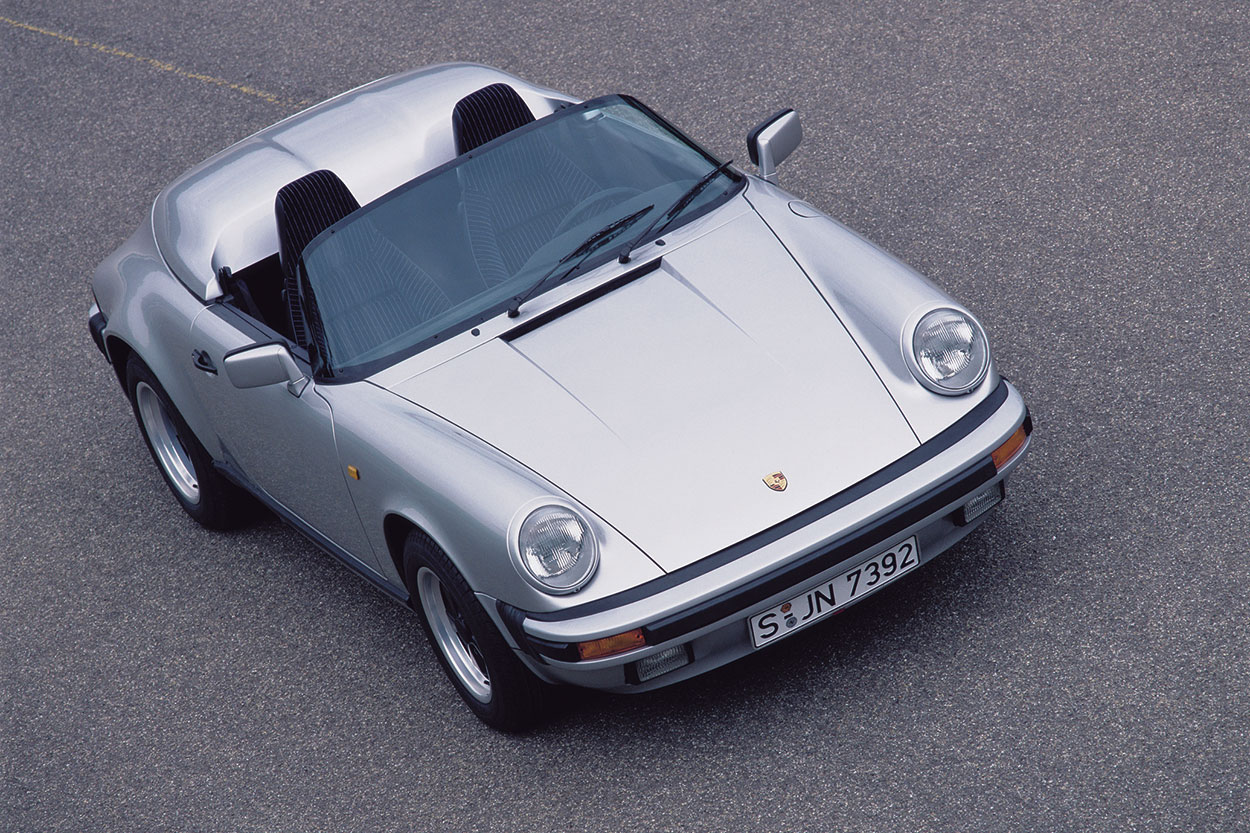 Above: 1989 Porsche 911 Carrera Speedster Turbo Look.
In 1988, a limited 911 Carrera Commemorative Edition was introduced to celebrate 250,000 911s built since production started in 1963. It had diamond-blue metallic paint — wheels were painted the same color — and a silver-blue interior. Ferdinand "Ferry" Porsche's signature was embroidered into the headrests of both seats.
Inspired by the 911 Speedster concept from 1985, Porsche decided to build a production Speedster for the 1989 model year. Just over 2,100 units were produced, and most had the Turbo Look body style. Other defining characteristics were the fiberglass tonneau cover hiding the lowered convertible top behind the rear seats, and the windshield, which was both 3.1 inches shorter than a Carrera's and raked back 5°.
Buying Tips
Excessive smoking or valve noise could mean a pricey valve job is imminent
Resistant to rust, but not rust-proof. Check areas such as the inside of the headlight buckets, door bottoms, lower edges of the front and rear windshields, etc.
Targa tops can leak if seals have gone bad
All in, a well cared for 911 Carrera should be free of major faults. Due to crucial developments since the mid-1970s, it doesn't suffer from maladies such as exploding air boxes (911 SC) or prematurely failing timing chain tensioners (pre-1984). It is also more resistant to other problems that had previously plagued the 911, such as broken or pulled head studs (911 2.7 and 911 SC) or prematurely failing valve guides. That said, be sure to have a qualified Porsche technician perform a pre-purchase inspection to avoid any nasty surprises.