Carrera T is the lightest Porsche 911, comes with performance mods standard
Photos courtesy Porsche
In the quest to appeal to driving enthusiasts, Porsche is starting to give us versions of the 911 that aren't necessarily designed to turn the quickest lap times, but instead embrace the three-pedal manual transmission, light weight, and the unadorned shape of everybody's favorite rear-engined sports car. This might sound like another GT3 Touring Pack variant, but we're actually referencing the new 911 Carrera T, which Porsche announced yesterday. (Also of note, the 911 Carrera T is the Fall 2017 Member Only Raffle grand prize!)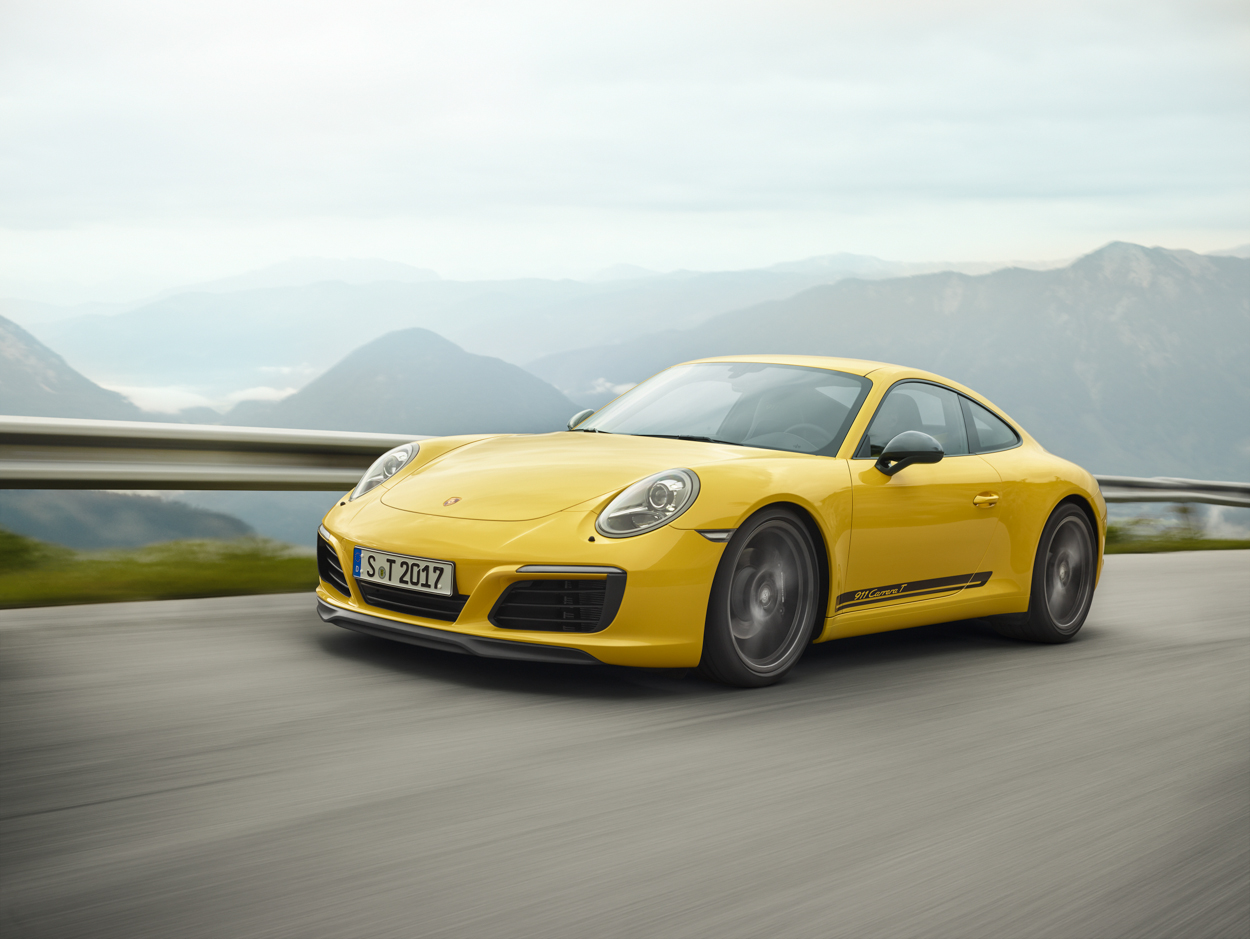 The "T" stands for Touring, and Porsche says the car contains myriad enhancements that lower the weight and raise performance (slightly), and, perhaps most importantly, increase the fun of driving.
The 370-horsepower 3.0-liter flat six is unchanged save for a standard sport exhaust system with black tips. To increase performance, Porsche instead relies on other measures, such as a lower constant ratio for the transaxle, which effectively shortens the gearing for quicker acceleration. Carrera Ts with the seven-speed manual come standard with a short shift kit and a mechanical limited slip differential.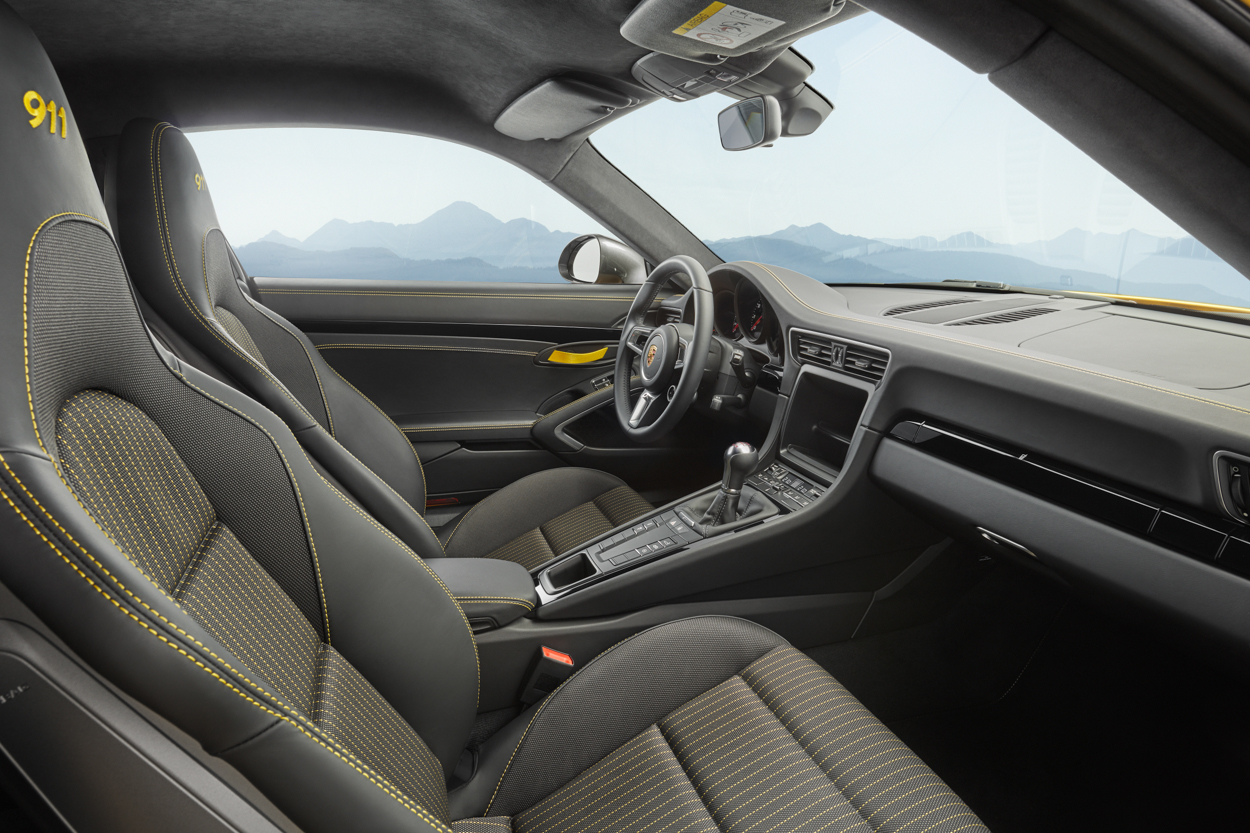 In keeping with the sporting nature of the T, Sport PASM is standard and uses continuously variable shocks, a 10-millimeter lower ride height, and a revised front spoiler lip to keep the tires firmly planted on the asphalt. Sport PASM was not previously offered on a 991.2-generation Carrera. Customers who want to further refine their Carrera T's handling can opt for rear-axle steering, which is not available on the base Carrera.
To reduce weight, the rear windshield and rear quarter windows are made of lightweight glass. The interior plastic door levers are replaced with cloth door pulls. The weight saving lowered the Carrera T's weight to 3,142 pounds, 11 pounds lighter than a base Carrera.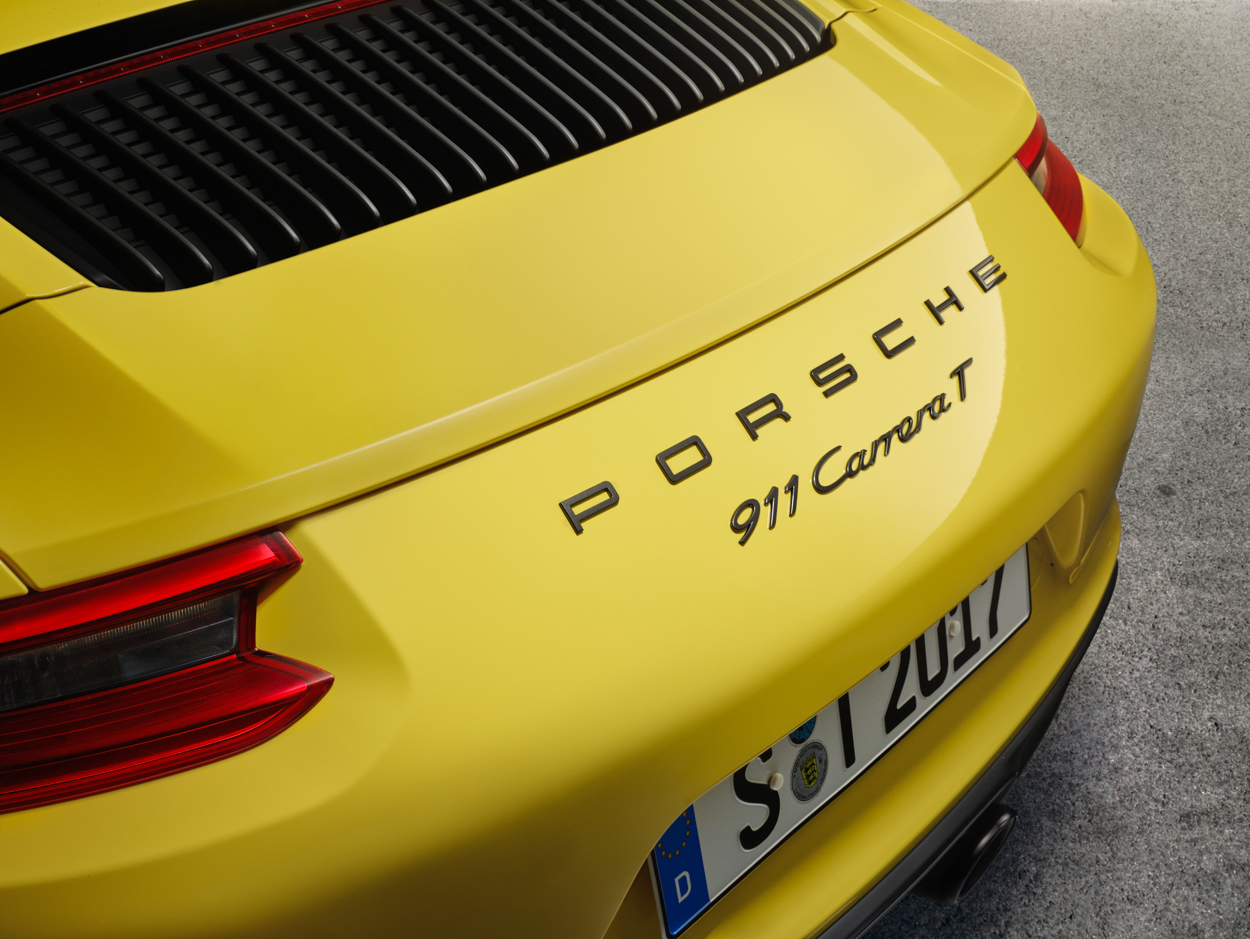 The light-weighting and lower gearing increases acceleration a smidge, as the T equipped with a manual transmission clocks a 0-60 miles-per-hour time of 4.3 seconds, 0.1 seconds quicker than a base Carrera manual. The PDK-equipped T will do the run in 4.0 seconds, a couple tenths quicker than a base Carrera with PDK. Perhaps due to the shorter gearing, top speed drops from the Carrera manual's 183 mph to 182 in the manual T. Top speed for a T with PDK drops to 180 mph from 182.
Carrera T is visually distinct from the Carrera with Agate Grey Sport Design side mirrors, 20-inch Carrera S wheels in Titanium Grey, and a side strip with the model designation. The rear decklid grille as well as the Porsche and model scripts are in Agate Grey.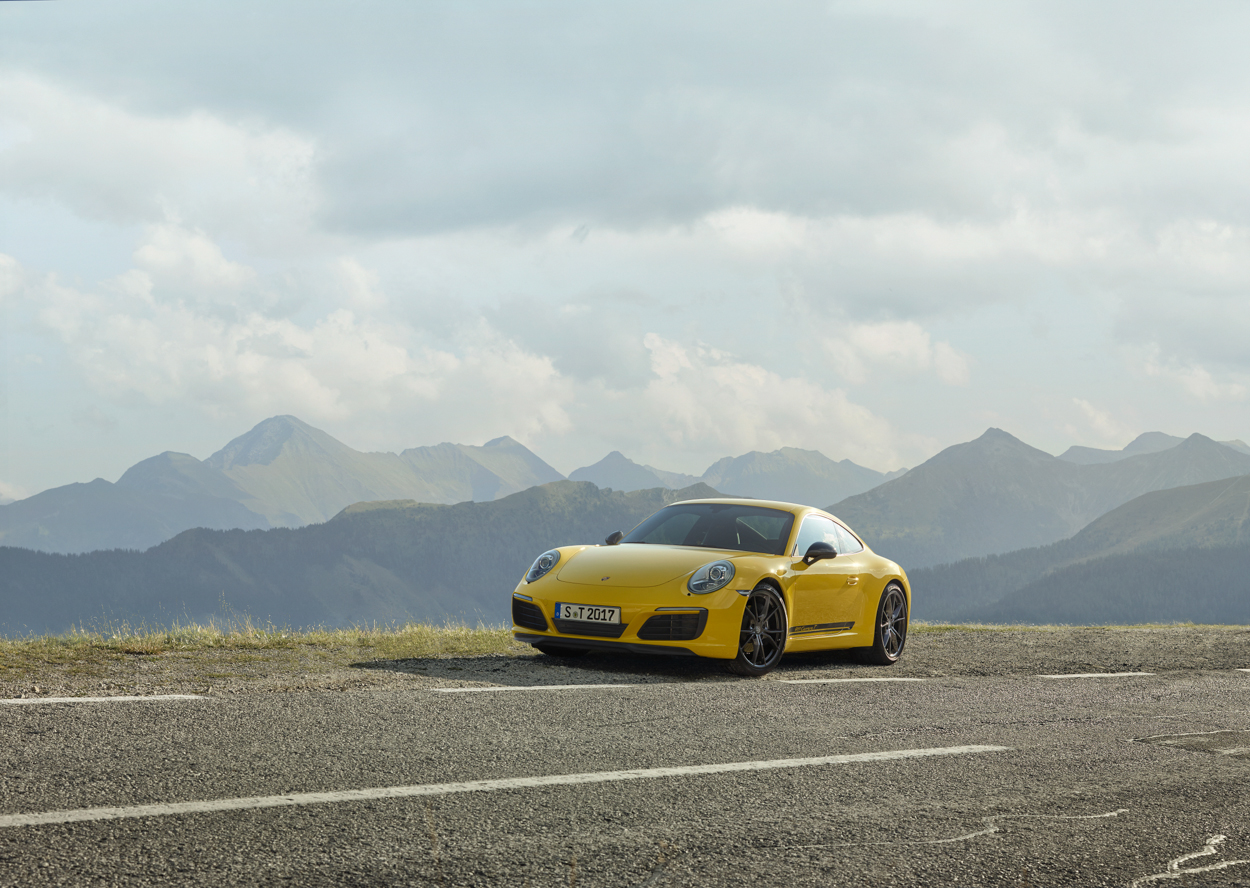 Inside, occupants are treated to four-way adjustable sport seats with "911" embroidered on the head rests and Sport-Tex seat centers or, if so optioned, bucket seats and no rear seats. It's the first time Porsche has offered bucket seats in a Carrera. A GT Sport steering wheel in leather is standard and comes with a dial for selecting drive mode. A Carrera T interior package is available with contrasting colors for the seat belts, door opener loops, seat centers, and head rest logo script.
You can order the Carrera T now, and they should start reaching dealership showrooms in March 2018. Base MSRP is $102,100, not including the $1,050 destination fee. For the record, that's $11,000 more than a base Carrera.