Model Guide: The 964 was a new 911 with classic looks
Friday, November 17, 2017
Article by Tony Callas and Tom Prine
Photos courtesy Porsche
Above: 1989 911 Carrera 4.
Porsche's 964-generation 911 made its public debut at the Paris Motor Show on September 28, 1988, and was sold starting in the 1989 model year. Though in many ways the 964 looked like a slight evolution of 911s past, Porsche in fact significantly modernized the premium, rear-engined sports car. There was no mistaking the longstanding 911 shape, yet the 964 was strikingly different. Large polyurethane front and rear bumpers were the obvious exterior styling changes. Additionally, the five-spoke Fuchs wheels that had been synonymous with the Porsche 911 were now gone and replaced by 16-inch Design 90 alloy wheels.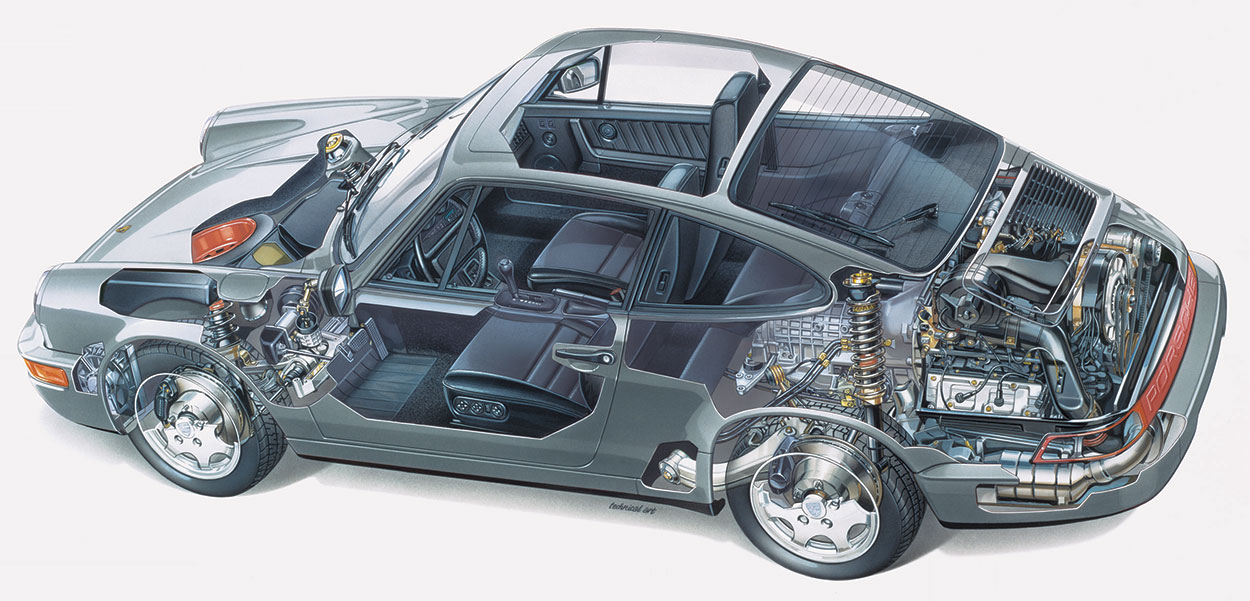 Above: 1991 Carrera 2 cutaway drawing.
Once you were past these two major styling changes, there was a lot more to take in. The 964 used a completely different chassis, fully derived from the 959 supercar, and, for the first time in the 911's history, all-wheel drive. For 1989, the all-wheel drive 911 Carrera 4 (or C4) was the only 964 Porsche offered. The car was equipped with antilock brakes, coil-over suspension instead of torsion bars, and power steering for the first time in a 911, all as standard equipment. The all-new 964 housed a never-before-seen 3.6-liter air-cooled flat-six engine that made 247 horsepower, managed by a Bosch fully sequential fuel injection system with a 55-pin DME (Engine Management Computer) and much quicker processing power. This new management system was capable of bidirectional communication and fault code diagnostics when connected to the then-new Bosch "Hammer" diagnostic tool.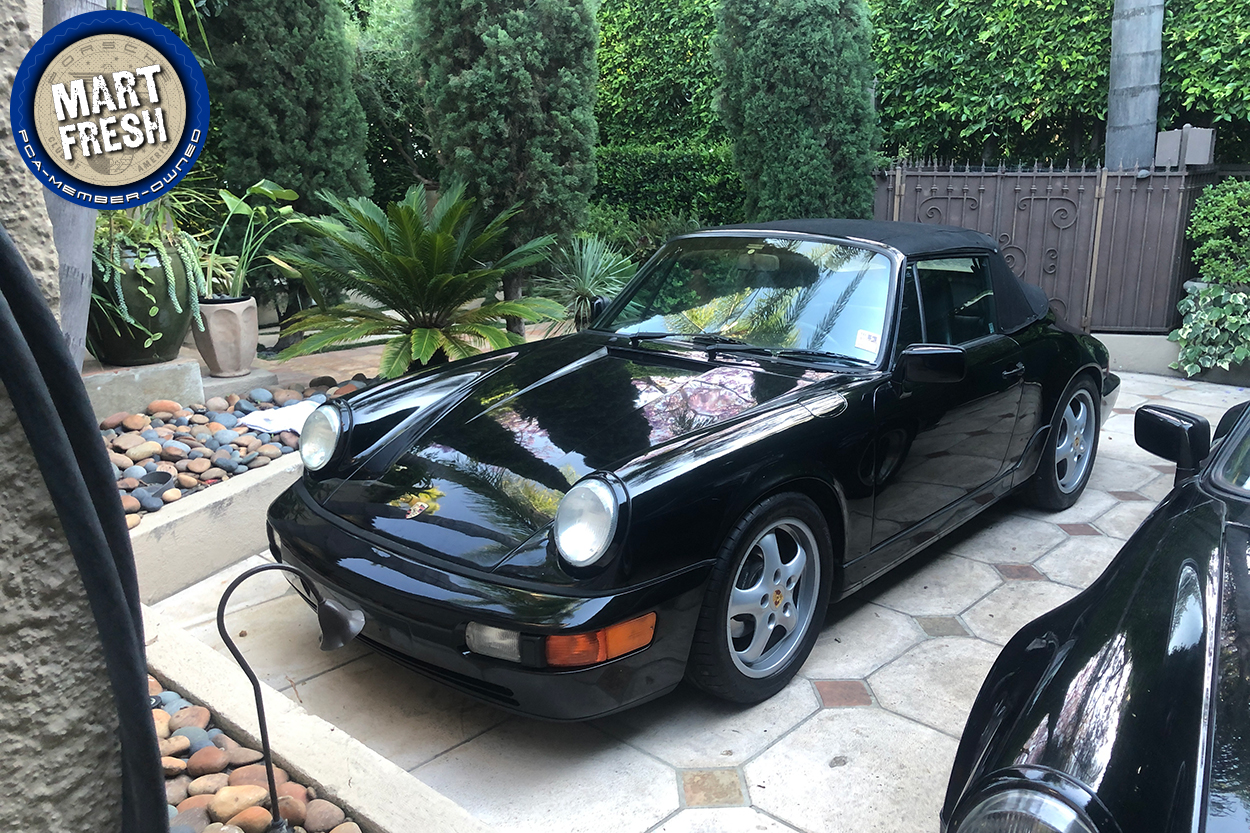 Above: 1990 Carrera 4 Cabriolet.
Oddly enough, the rear-wheel-drive 964 Carrera 2 (or C2) was released for 1990, a year after the Carrera 4. Model year 1990 ushered in many new technological advancements, including the first airbags in a 911, a dual-mass flywheel (with the manual gearbox), and a Tiptronic automatic transmission. Targa and Cabriolet versions were released as well.
1991 brought us the first check-engine light in a 911. Porsche had also repaired an already substantial looming issue with the 3.6-liter engine by adding cylinder head gaskets between the cylinders and heads. The gasket prevents leakage from between the heads and cylinders.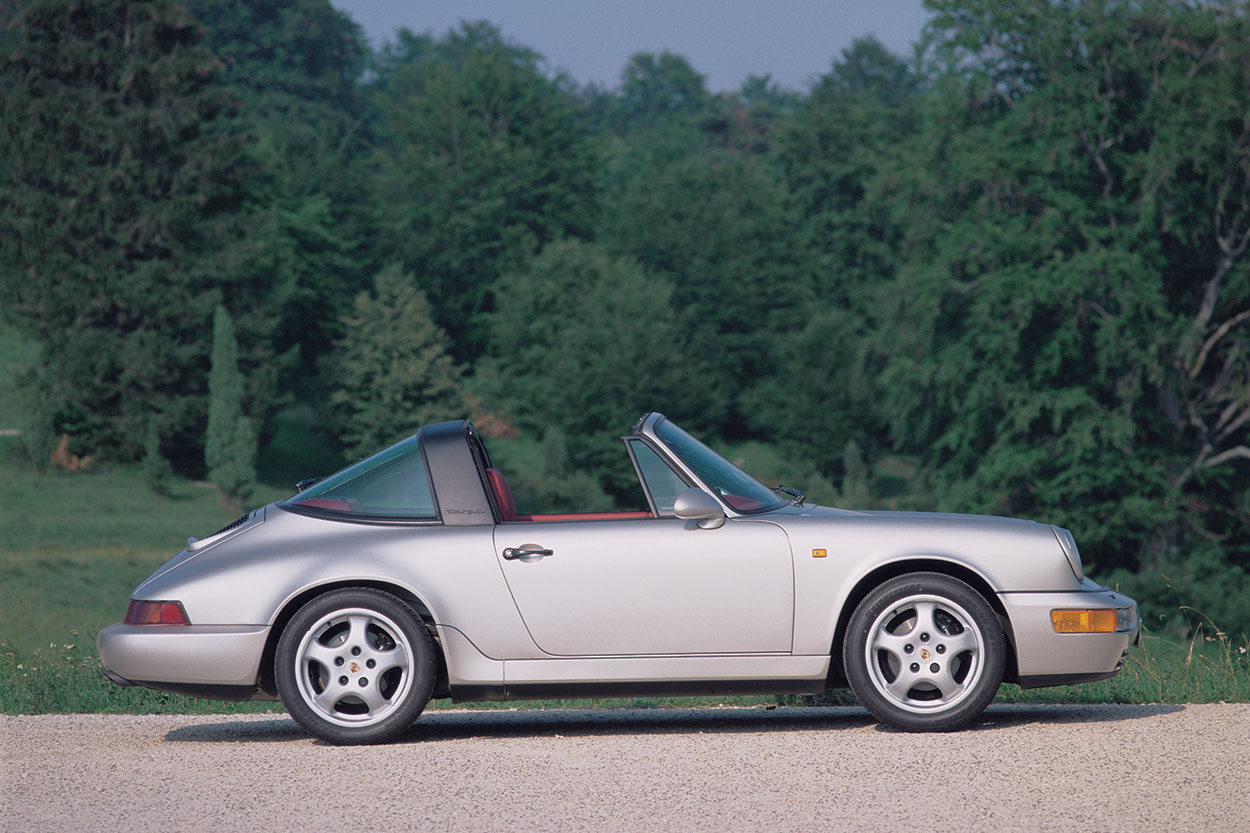 Above: 1993 Carrera Targa.
In 1992 the exterior mirror "aero" design was introduced along with the M471 wide body option. In 1993, the North American market received the coveted RS America, which was sold through 1994. The RS America was a special-edition 911 that ditched power steering and the motorized rear spoiler, was lightened compared to the Carrera 2, and had only four choices for optional equipment: radio, limited-slip differential, air-conditioning, and sunroof. Only 701 were made, so they're quite rare. A Speedster version of the 964 was released for 1994, the final year of the 964, and included a lower, more raked windshield, a streamlined tonneau cover, and choice of wide or narrow bodywork.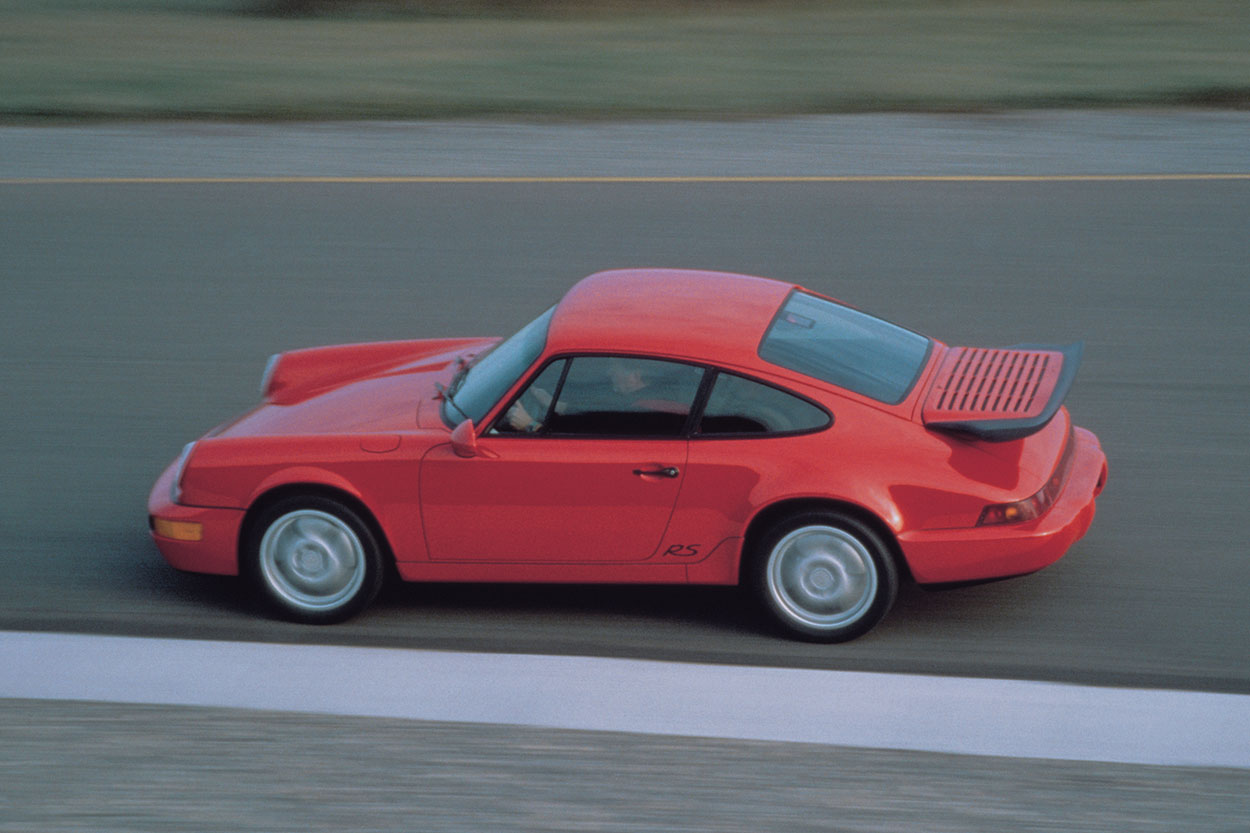 Above: 1993 RS America.
Items also new with the 964:
Dual-ignition (twin spark plug), except turbo
Cooling fan/alternator dual-belt arrangement
Same valvetrain as older engines (non-hydraulic lifters)
Stronger engine case
New, larger catalytic converter (metal substrate)
Upgraded engine oiling (cooling) system
Windshield and rear window are bonded in
Polyurethane fuel tank
Cockpit mostly unchanged, very similar to previous 1974-1989 911s
Redesigned chassis ventilation and HVAC systems
Rear wing motorized and computer controlled
Computerized, backlit dashboard instruments/gauges
Central electronic fuse panel moved to right rear area of front trunk
Considerably larger alternator fitted
Valves and camshafts are adjustable (unlike with successor – the 993) 
Vibration damper integrated into crankshaft pulley
Exhaust ports ceramic-lined
Engine knock sensors fitted
Updated timing chain rail design
Oil reservoir mounted ahead of right-rear wheelhouse, first time since 1972 911
Drive belt tension sensor
NTC-2 engine temperature sensor is potential-free. In earlier 911s, a one-wire temperature sensor was used, and the ground came through the body of the sensor. The threads of the sensor would corrode and cause resistance. The new sensor had two wires, which avoided the issue because one was a dedicated ground
O2 (oxygen) sensor is plunge-proof. This means the 02 sensor in the exhaust will continue to function correctly even if it is submerged in water (driving through a large puddle, etc.). Do not use or spray any chemicals near the 02 sensor connector
First 911 with a throttle cable
All-wheel-drive transfer box with inter-axle clutch assembly — Instead of a normal transfer case, the 964 had a transaxle assembly with clutches in the nose of the transmission. Clutch engagement and disengagement managed torque distribution between the front and the rear axles
First 911 fitted with wheelhouse liners
Central informer for instruments and safety warnings, i.e., the gauge cluster warning lights that illuminate when the ignition is turned on
Potential Issues:
Leave engine underbody panel off to lower engine operating temperature by 15-20° F
Ignition distributor drive-belt failure – immediate failure, no warning. The Gilmer belt inside the distributor originally used in the 964 would strip its teeth and fail, disabling the car. Porsche issued a technical service bulletin about the issue and provided a kit that would extend the life of the belt, which involved venting the distributor to avoid corrosion of the belt's teeth. If a distributor belt fails, it's best to replace the distributor rather than just the belt
Broken motorized rear wing — A cable goes from the wing's motor to the transmission assembly that operates it. When the engine lid is closed, water can drip down the cable and, over time, wash away the internal lubrication of the motor. The fix is to place a rubber o-ring on the cable to stop the water from reaching the motor
Rear-wing "accordion" can tear — The bonded rubber of the motorized rear-wing accordion can tear as it ages, causing the engine to run warmer
Dual mass flywheel failure (causes engine knocking noise) – When the flywheel fails, it sounds like the click-clacking of a connecting rod knock. This can be — and has been — misdiagnosed, resulting in a hefty repair bill that doesn't fix the problem
Higher maintenance costs – The 964 packed a lot of new technology into roughly the same amount of space as earlier 911s, and as a result, it is more labor-intensive to work on and there are more things that can break
All-wheel-drive pump assembly – The Carrera 4's all-wheel-drive system has a pump assembly located in the front trunk that operates using brake fluid. A solenoid that screws into the assembly can fail, and the part is expensive to replace
Model years 1989 through mid-1991 cylinder heads leak – These cars (intentionally) came with no head gasket. They would often develop leaks, resulting in a gray, goopy material oozing out between the cylinder heads and cylinders. Later cars came with head gaskets, which can be used on the earlier cars after extensive modification, which includes replacing the cylinders and pistons and machining the cylinder head. Parts alone cost nearly $6,000 if bought from Porsche
Tail light lenses and center reflector crack
Engine cooling fan hub bearing failure – Two belts are connected to the cooling fan hub. One runs the fan, while another turns the alternator. The bearing in the middle can fail over time. To determine whether or not a bearing is failing requires taking out the cooling fan. Some aftermarket bearings have been correlated to failures. When replacing the fan and alternator belts, it is recommended to only use genuine Porsche parts, as even belts from reputable aftermarket companies are prone to stretching
HVAC control module can cause accelerated battery drain – Over the years, we've seen many 964s with battery drain issues, and they can often be traced back to the HVAC control module located in the dashboard. Normal battery drain on the parked car is 25-50 milliamps. A bad control module results in a 300-400 milliamp drain
The plastic/rubber heater connection piece on the engine fan shroud can disintegrate. Due to the heat cycling, the rubber piece can break
Fuel pressure regulator leaking internally, causing a difficult-to-diagnose rich-in-fuel running issue
Front control arm bushings fail, causing a vibration in the steering wheel at 50 mph and up
Engine case through-bolt O-rings can leak oil — This is the most costly item, please check for this when purchasing a 964 (or later 993)
Gearbox shifter selector seal leaks oil
Brake ABS module is mounted upside down in the front trunk, which invites water corrosion in the connector area. This was corrected in the next generation 911, the 993
Oil cooler and A/C Condenser fan resistors fail, causing cooling fan operational issues (A/C performance and elevated engine temperature issues)
Front oil cooler thermostat failure causes an over heating issue
Engine oil line-hoses leakage
Cylinder head (engine) temperature sensor failure causes drive-ability issues
Please keep up with brake fluid exchanges, otherwise there is a high probability of internal brake component failure
Corrosion of magnesium engine components, e.g., engine valve covers, fan housing, and cooling fan
Truth be told, the 964 has been considered somewhat of a red-headed stepchild since its inception in 1989, but that doesn't seem to be the case any longer. 964 values have risen into collector car status over the last few years. Why, you might ask? It all goes back to the air-cooled "Mezger" flat six engine, which is a proven commodity loved for its sound, robustness, and power delivery. Soon after Porsche released its M96 engine in the 1997 Boxster, and then later in the 1999 996, demand for the race-proven powerplants in 911s from 1964 to 1998 — including the 964 — has risen.