PCA Club Racing 2017 Trophy East winner attends Porsche Night of Champions dinner
Article by Ryan Carignan
Above: Curt Swearingin and his wife Shawnan at the Night of Champions dinner.
Early December is a special time for many people, especially so for those invited to Porsche's annual Night of Champions dinner. For 2017 PCA Club Racing Porsche Cayman GT4 Clubsport Trophy East Series Champion Curt Swearingin, it meant a European vacation with his wife Shawnan that probably wouldn't have happened without Porsche. Though the invite was dependent on a championship-winning performance at the end of the race season, Swearingin had been planning this trip for over a year.
"As I watched the 2016 Champion, Keith Jensen, get an invite to the Night of Champions, which was well deserved on his part, I decided that I wanted that invite in 2017," Swearingin said. "I immediately started training and working toward that goal." Swearingin and his ACI Motorsports team had a mission, and there was only one acceptable destination for 2017: Stuttgart, Germany.
"It was incredible to be at an event with all the Porsche champions and factory drivers," he said. "I was in awe of the things they had achieved in racing, and I thought, 'I'm a club racer, how did I end up here at such an elite night for Porsche?' The Night of Champions dinner shows Porsche's love and commitment to racing and its dedication to celebrating its champions — regardless of professional or amateur status. Words can't express how it felt to be at the Night of Champions 2017."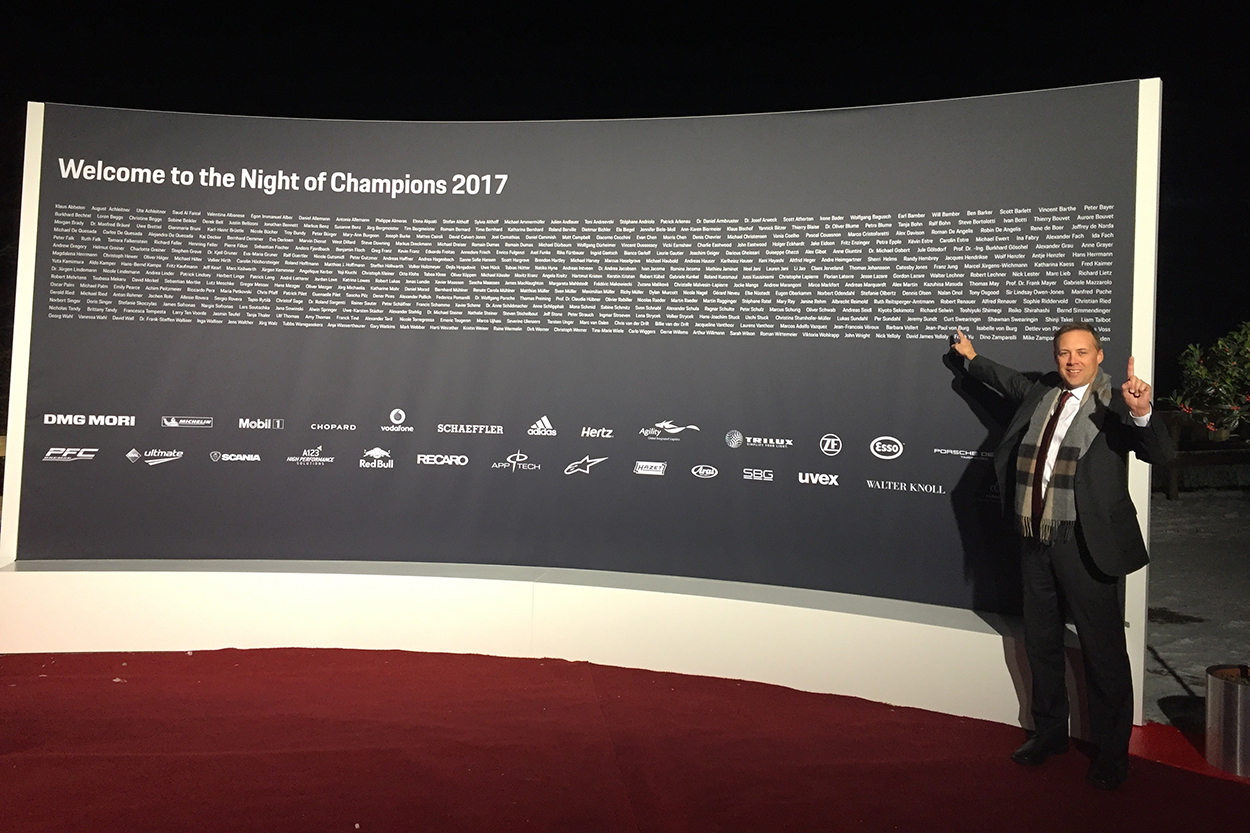 Above: Curt Swearingin points to his name on the Wall of Champions at Porsche's Night of Champions dinner.
Porsche rolled out a red carpet to welcome its champions and their guests, at the end of which was a wall emblazoned with the names of all the attendees. "I couldn't believe that my name was on the wall with all the Porsche star drivers; what a welcome to the event," Swearingin said. Guests were treated to a lively atmosphere and fine dining amongst friends and icons of Porsche racing, including the 2017 24 Hours of Le Mans and LMP1 World Endurance Championship-winning #2 Porsche 919 Hybrid and its drivers. Also included were briefings about Porsche's plans for 2018 and interviews with Porsche Works drivers. "Everywhere I turned I could see Nick Tandy, Patrick Pilet, Brendon Hartley, Mark Webber, and the list goes on and on," Swearingin said. 
The highlight of the trip for Swearingin was an invite to the North American dinner on Friday at the Porsche Museum. This event provided the opportunity for Swearingin to spend time talking to the only American Porsche Works driver — and Swearingin's longtime favorite — Patrick Long. "Patrick was the guy I had idolized and followed for the last 10 years, and one of the reasons I wanted to race. At my first track day at Nashville Superspeedway with Tracks Unlimited, I got to take a few hot laps with Patrick in the rain in a 911 Turbo. I realized how much I needed to learn and that I couldn't drive as well as I thought I could. Patrick is such an awesome guy and it meant the world to me to have that time to talk to him at this event and tell him my story and his role in it."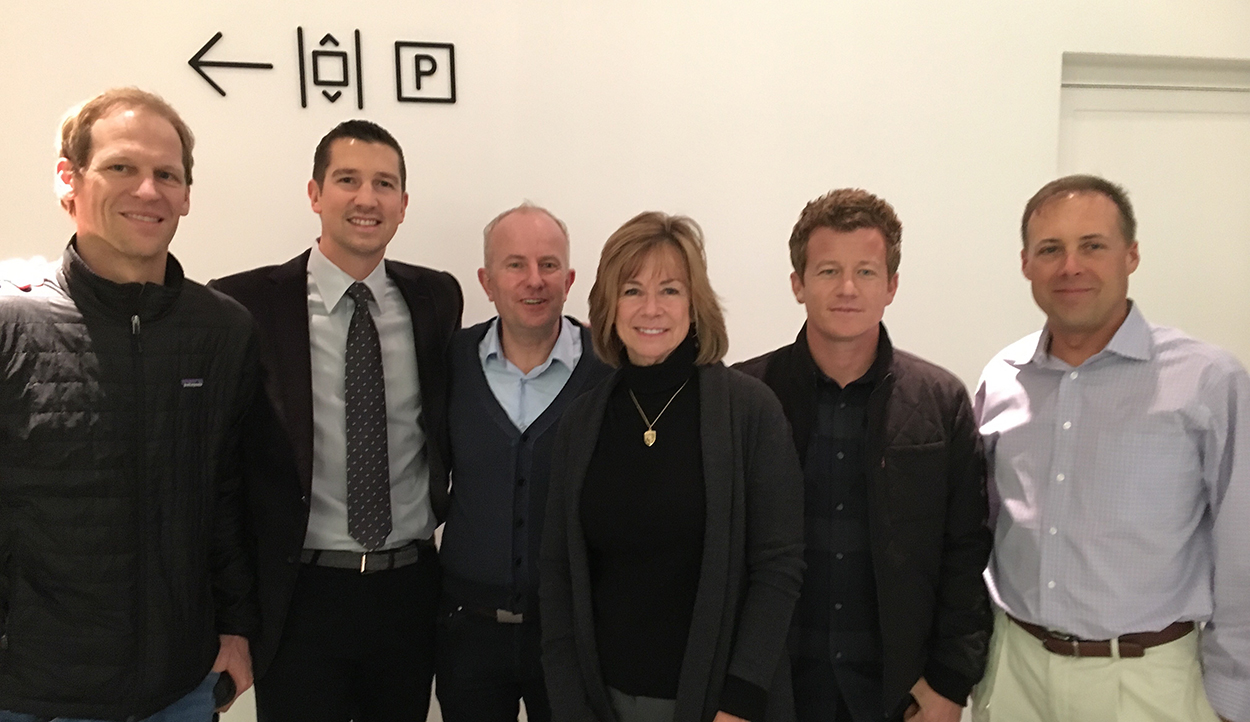 Above, from left: Factory Driver Jörg Bergmeister; Pro Driver Patrick Lindsey; Porsche Motorsport Director of Sales and Marketing Jens Walther; PCA Club Racing Chair Vicki Earnshaw; Factory Driver Patrick Long; and PCA Club Racing Porsche Cayman GT4 Clubsport Trophy East Champion Curt Swearingin.
Invites to the event were also extended to PCA Club Racing Chair Vicki Earnshaw and PCA Club Racing Porsche Cayman GT4 Clubsport Trophy East Series Coordinator West Dillard.
"I am so thankful to all of our racers, sponsors, and volunteers who make PCA Club Racing and the Trophy East series possible. Without their dedication, professionalism, and expertise, we would not have nights like this," Earnshaw said. "I also want to thank Porsche Motorsport North America for their support and acknowledgement of the PCA Club Racing Porsche Cayman GT4 Clubsport Trophy East Series, and for making sure we were part of such a wonderful event."
The Night of Champions provided many highlights and memorable moments for Swearingin and his wife on this European trip, and he already has his sights set on a return in 2018. As with any victory in racing, this was not a solo effort.
"I have so many people to thank for this opportunity, because without them I wouldn't have made it to Stuttgart," Swearingin said.  "Thank you to my family and friends, my team ACI Motorsports, John Memmer and Austin Henry, my pro coach Cass Whitehead, Porsche Motorsports, the Porsche Club of America, LST Marketing, and the PCA Club Racing Trophy East Series."
Swearingin will begin defense of his title in the 2018 PCA Club Racing Trophy East Series' first event at Road Atlanta, April 6-8.