Book Review: Porsche 964 Carrera RS 3.8
Article by Benjamin Shahrabani
Images courtesy Sportfahrer Verlag
Title: Porsche 964 Carrera RS 3.8
Publisher: Sportfahrer Verlag
Authors: Jürgen Barth, Norbert Franz, Robert Weber
Format: 384-pages, hardcover with slipcase
Where to Buy: www.sportfahrer-zentrale.com
How Much: € 264 (~ $315 at time of writing)
The first RS — the Porsche 911 Carrera RS 2.7 of 1973 — was a means to getting the 911 Carrera RSR (RennSport Rennwagen) homologated for FIA Group 4 racing. While over 1,500 RSs were manufactured, GT Championship rules allowed modifications to be made to cars that raced. Henceforth, Porsche set out to develop a stouter racing counterpart to the Carrera RS 2.7 — the 911 Carrera RSR 2.8. In its debut season, the RSR won the Targa Florio, the 24 Hours of Daytona, and the 12 Hours of Sebring, earning Porsche the World Manufacturers and IMSA Drivers Championships. Subsequent RSR models were likewise just as successful on the racetrack before being pushed aside for a new generation of Porsche racecars, the 934/935.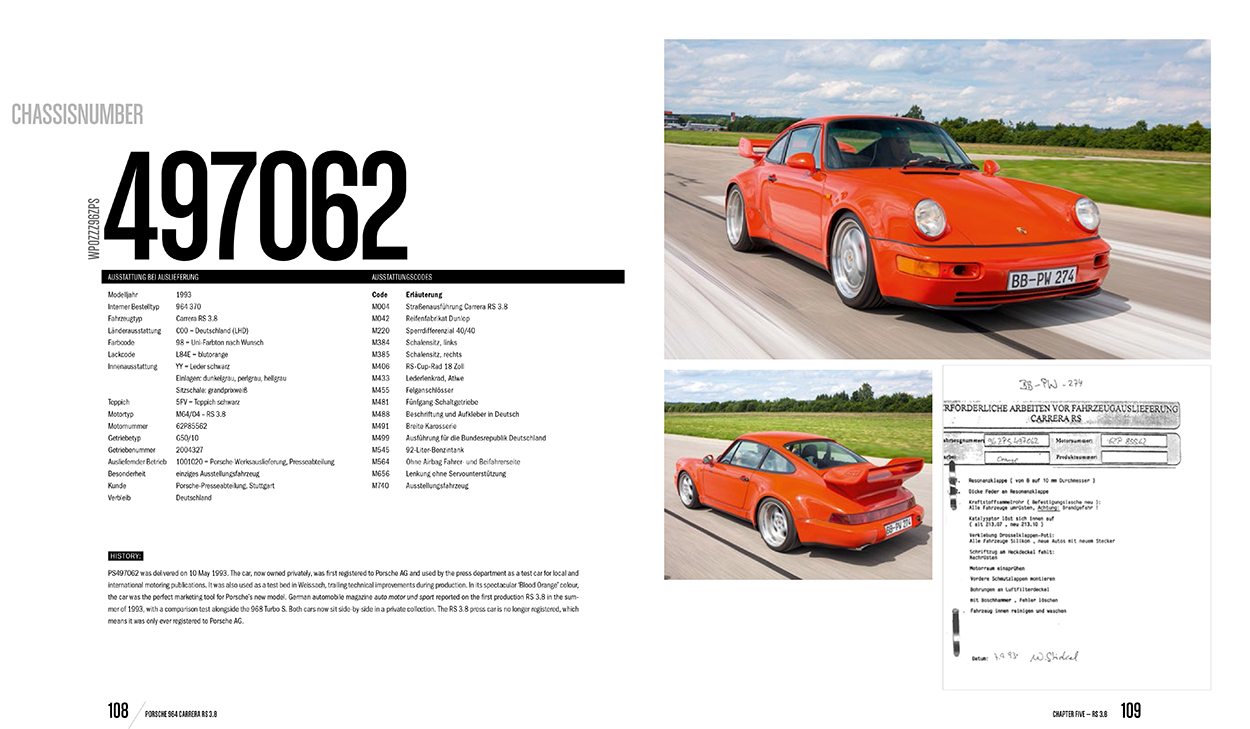 Inspired by its illustrious predecessors and a development of the 964 Carrera RS introduced two years prior, the 964 Carrera RS 3.8 unveiled in 1993 was built in a very small series by Porsche's Racing Department in Weissach-Flacht. The exceptionally rare RS 3.8 featured the wide-body look of the Type 964 Turbo, a massive rear spoiler, and three-piece Speedline wheels. The competition RSR version, which was distinct from the "standard" model with an interior and exterior stripped down and modified for circuit use, would rack up stunning race results, winning overall at the Spa 24 Hours, Suzuka 1000 KM, and 24 Hours of Interlagos, while clinching class victory at Le Mans, Sebring, and a 1-4 class sweep at the Daytona 24 Hours. However, despite their myriad accomplishments and accolades, relatively little information has been available on these successful racers. Until now.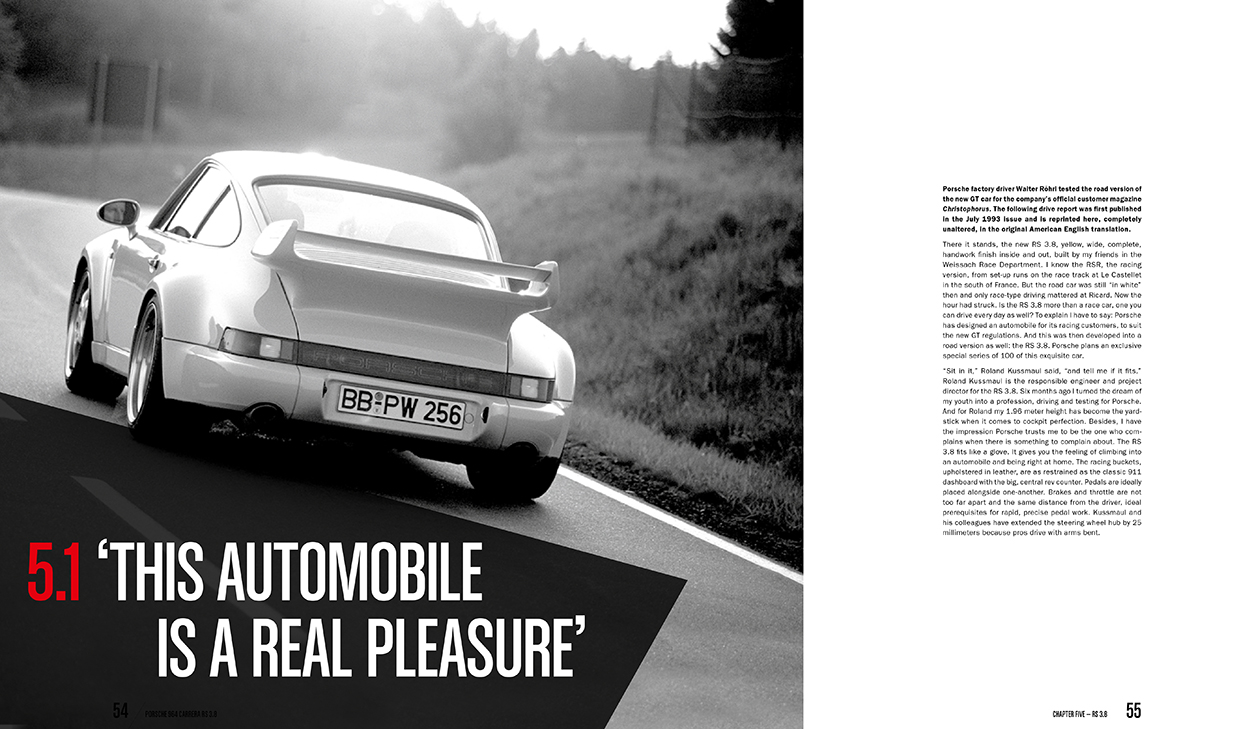 Written by Jürgen Barth, the head of Porsche's customer sports department at the time; renowned Porsche expert Norbert Franz; and enthusiast and publisher Robert Weber, the newly released Porsche 964 Carrera RS 3.8 is an illuminating examination into the history of these very exclusive models that were built with the track in mind. Containing detailed information about development, racing history, and the configuration data on all 107 cars (including RSRs) that were ultimately produced, this tome's meaty 384 pages incorporate more than their fair share of the de rigueur niceties we have come to expect from a publication of this level by way of a foreword by Roland Kussmaul, the legendary Porsche project manager and test and development driver; a "drive report" by driving ace and factory test driver Walter Röhrl; detailed photographs, internal documents, technical drawings; as well as press releases, homologation sheets, and superb production quality. There's a goodly amount of information and pages devoted to the results of a significant car's racing career, however if you are more interested in the technical development of this machine than merely the play-by-plays, this book has the reader fully covered on that aspect as well.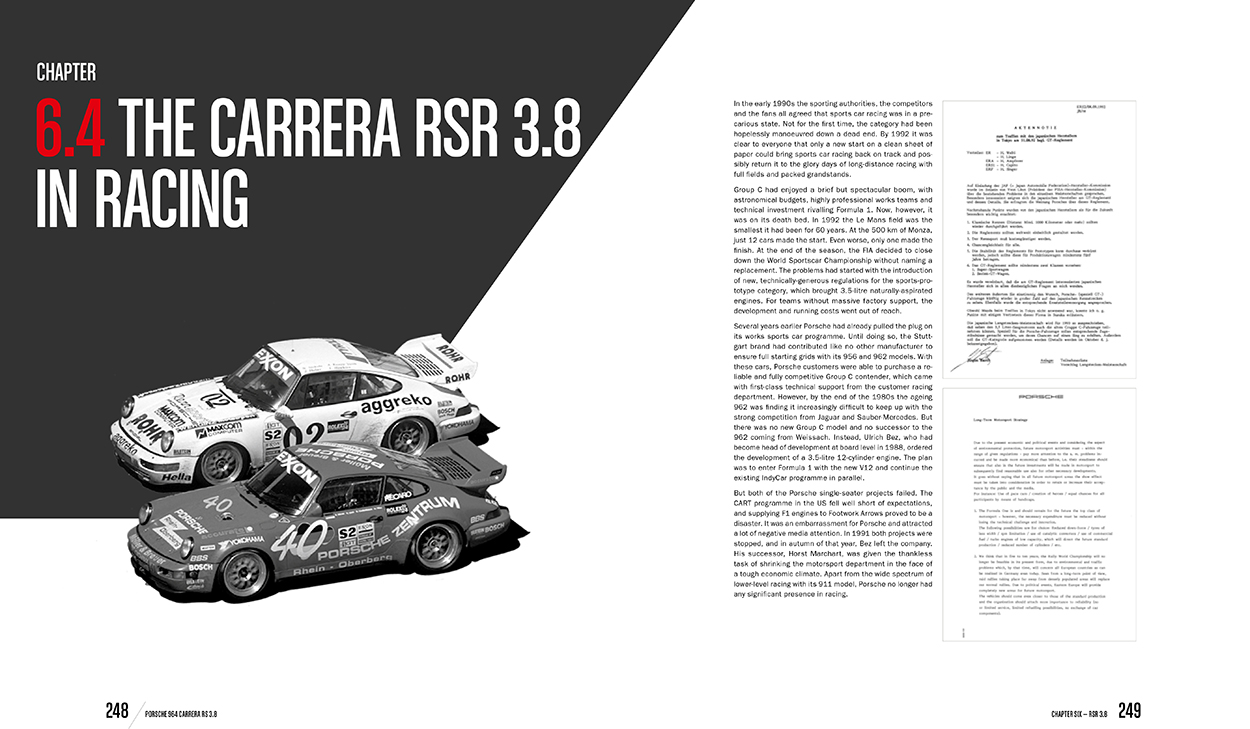 Available in both English and German, the authors have penned a book of almost unprecedented breadth on a very narrow subject. At € 264 — or $320 dollars at current exchange rates — Porsche 964 Carrera RS 3.8 is not an inexpensive investment for your bookshelf, but if you should be lucky enough to own one of these cars, or are just an über enthusiast wanting what must be the definitive word on the model, consider it a small price to pay. Better hurry up though; the publisher has printed these in an extremely limited quantity, so once they're gone...