Check out the Petersen Museum's new 'Sidewalk Speedsters' children's exhibit
Thursday, January 18, 2018
Article by Benjamin Shahrabani
Photos courtesy Petersen Automotive Museum
Above: A Porsche 936 mini replica, complete with a 5-horsepower one-cylinder engine.
A special and whimsical new exhibit dedicated to children and their longstanding fascination with fast cars has opened up at The Petersen Museum in Los Angeles, California. Called "Sidewalk Speedsters: The Grown-Up World of Children's Cars," presented by Lucas Oil, and showcased in the second floor Charles Nearburg Family Gallery, the display features a diverse range of child-sized race cars — from old to new, electric to gasoline-powered, hand-made to quite sophisticated, and ranging from affordable to very exclusive. Some even include manual transmissions, all the better for young drivers to master the art of rowing their own gears.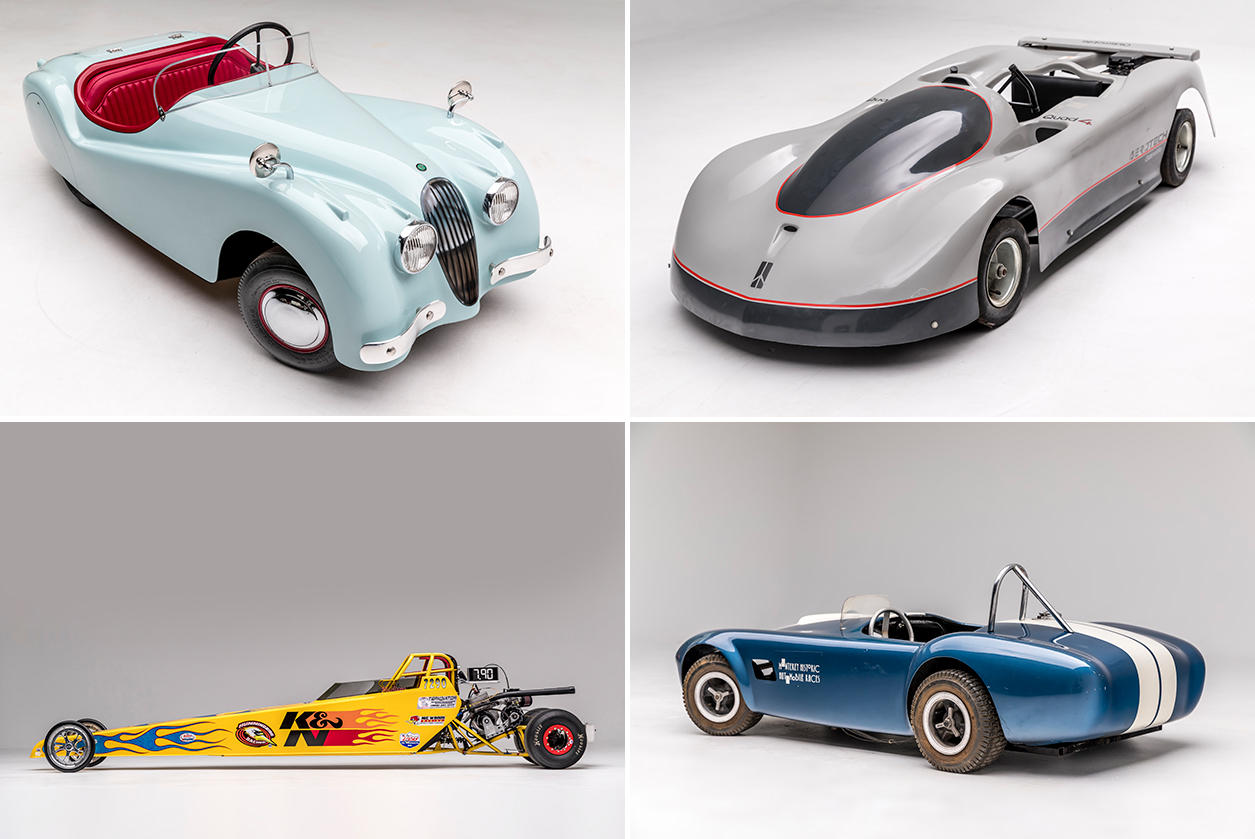 Above, clockwise from upper-left: 1952 Jaguar XK120, 1987 Oldsmobile Aerotech go-kart, 1965 Shelby Cobra, 2005 Motivational Tubing Top-Fuel Pinnacle Junior Dragster.
Entitled "Sidewalk Speedsters: The Grown-Up World of Children's Cars," the exhibit showcases a number of small vehicles from different eras including a 1927 Bugatti Type 52 "Baby," a 1995 Meyness Bentley, 1968 Disneyland Autopia buggy, a 1931 Custer, a 1945 Plexiglas Lucas, a 1938 Maytag, a 1955 "Homemade," a 1939 Motokar, a 1934 National Junior Racer, a "The Lad's Car," "The Junior Automobile," a Chevy Jr., a 1934 Cannonball Racer, a 1954 Vanguard Sidewalk Racer, and a 1955 Viking Craft.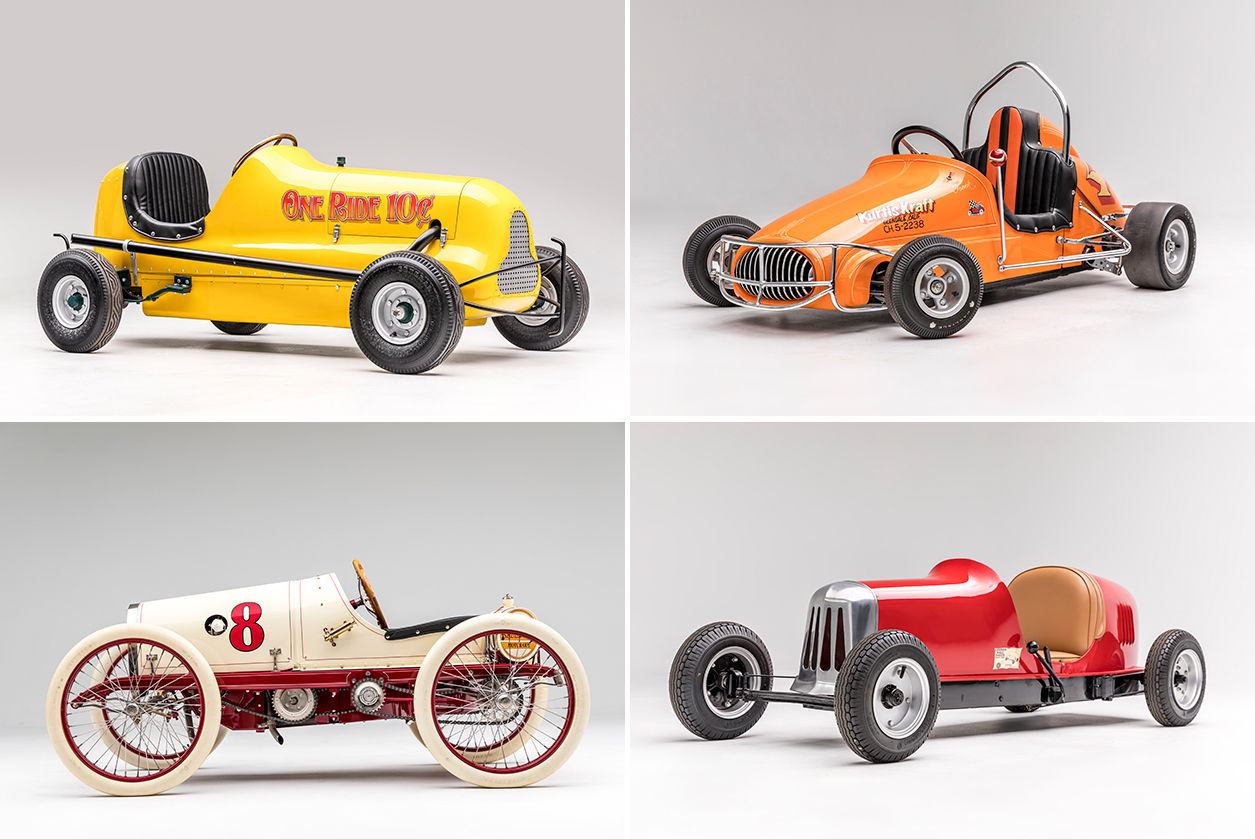 Above, clockwise from upper-left: 1942 Lucas Plexi Flyer, 1955 Kurtis Kraft Quarter Midget, 1941 Cannonball Racer, 1914 Baby Vanderbilt Cup Racer.
"'Sidewalk Speedsters' will mark a playful change of pace for the museum," said Petersen Chief Historian Leslie Kendall. "I had so much fun choosing the vehicles on display, as I grew up racing similar cars. The whimsical selection will perfectly juxtapose the more serious presentations, adding an exciting element of surprise to the museum's overall atmosphere."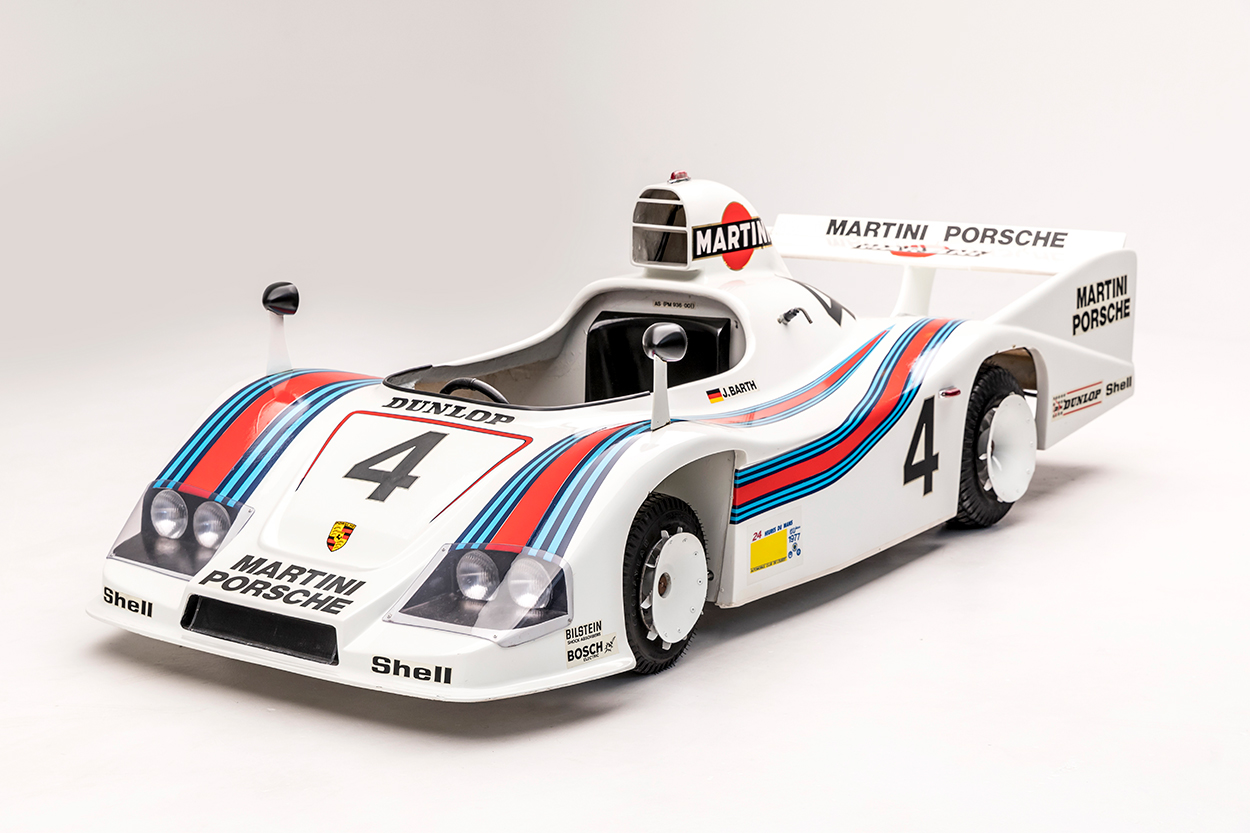 Above: Bruce Canepa's 1977 Porsche 936 Mini has remarable detail.
Of particular interest to Porsche enthusiasts, however, must be a 1986 Porsche 936 Le Mans Jr. from the collection of Bruce Canepa. One of only four Martini-liveried junior cars built by hand in Germany, and powered a one-cylinder, five horsepower Briggs & Stratton engine, the 936 Le Mans Jr. is a scale replica of the 1977 Le Mans-winning race car and features fully functional lighting, disc brakes, coil spring suspension, and, perhaps most importantly, a horn. Be sure to scroll through the photo slideshow for more pics of the mini 936.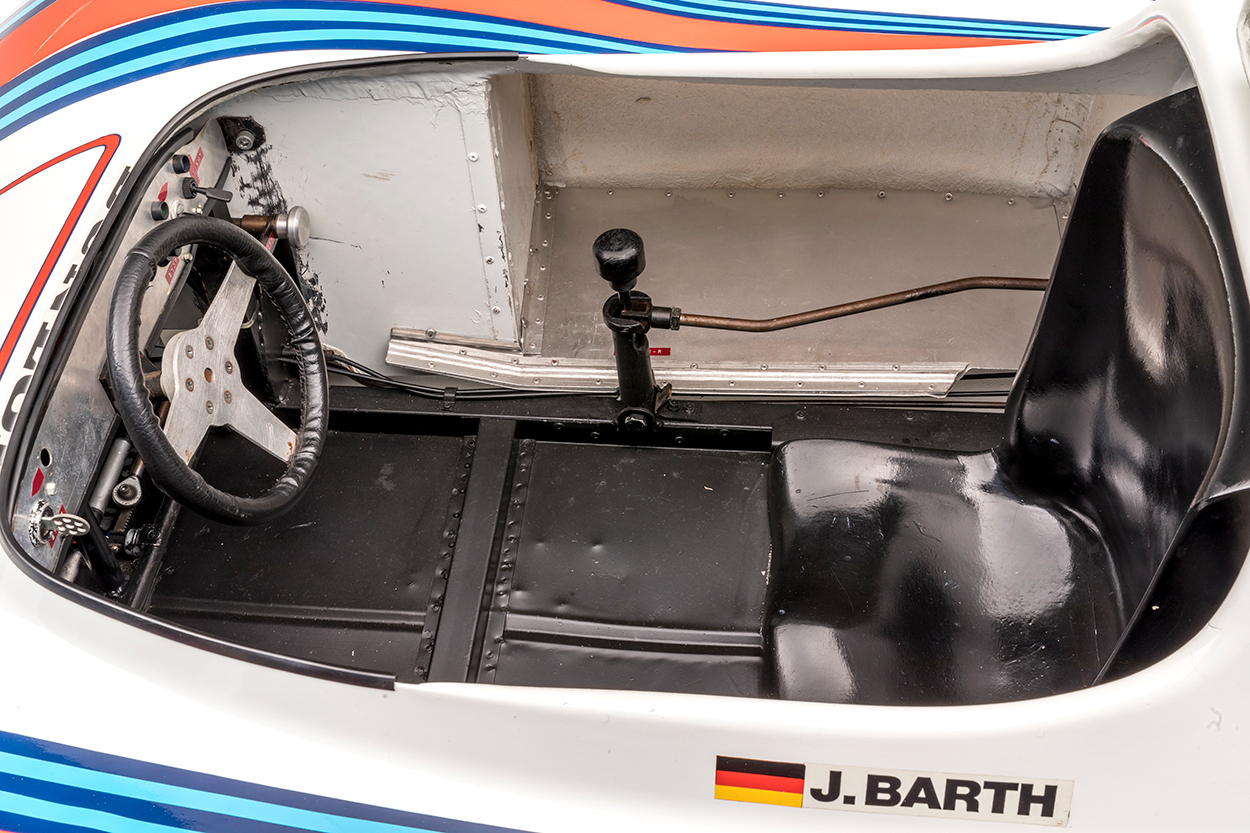 Above: The 936's tiny cockpit has a working ignition to start up the one-cylinder Briggs & Stratton motor, which is connected to a gearbox actuated by the right-side shift lever.
"Sidewalk Speedsters" runs through October 2018. To learn more about this exhibit and the Petersen Automotive Museum, please click here to visit the exhibit's page on the Petersen Automotive Museum's website.
The Petersen Automotive Museum Foundation is a non-profit 501(c)(3) charity. The Museum is located at 6060 Wilshire Boulevard (at Fairfax) in Los Angeles, California, 90036. Admission prices are $16 for general admission adults, $13 for seniors and students with ID, $8 for children ages 3 to 12. Active military with ID, personal care attendants and children under three are admitted free. Museum hours are 10 a.m. to 6 p.m. For general information, call 323-930-CARS or visit www.petersen.org.