'The Porsche Effect' exhibit is open at the Petersen Museum
Tuesday, February 6, 2018
Article by Ezekiel Wheeler
Photos courtesy Porsche unless noted.
Above: Porsche Type 64 at the Petersen Museum's "The Porsche Effect" exhibit. Photo by Ezekiel Wheeler.
History has a funny way of presenting itself in a new light. For decades Porsche has yanked the heartstrings of devout petrol worshipers with every suck, squeeze, bang, and blow of their iconic flat engines. Their newest and largest Porsche exhibit to hit the West Coast of America was exactly what we hoped for and everything we've ever dreamed about.  
What made the night even more special wasn't even the gamut of machinery on display, it was the people. Fan boys and girls, owners, collectors, designers, hat tippers, and builders. Not a soul was left out in favor of meeting a typical car show "VIP" list. This was a family gathering to celebrate a manufacturer that has been able to get a few things right from time-to-time throughout their history — if we're to put it lightly.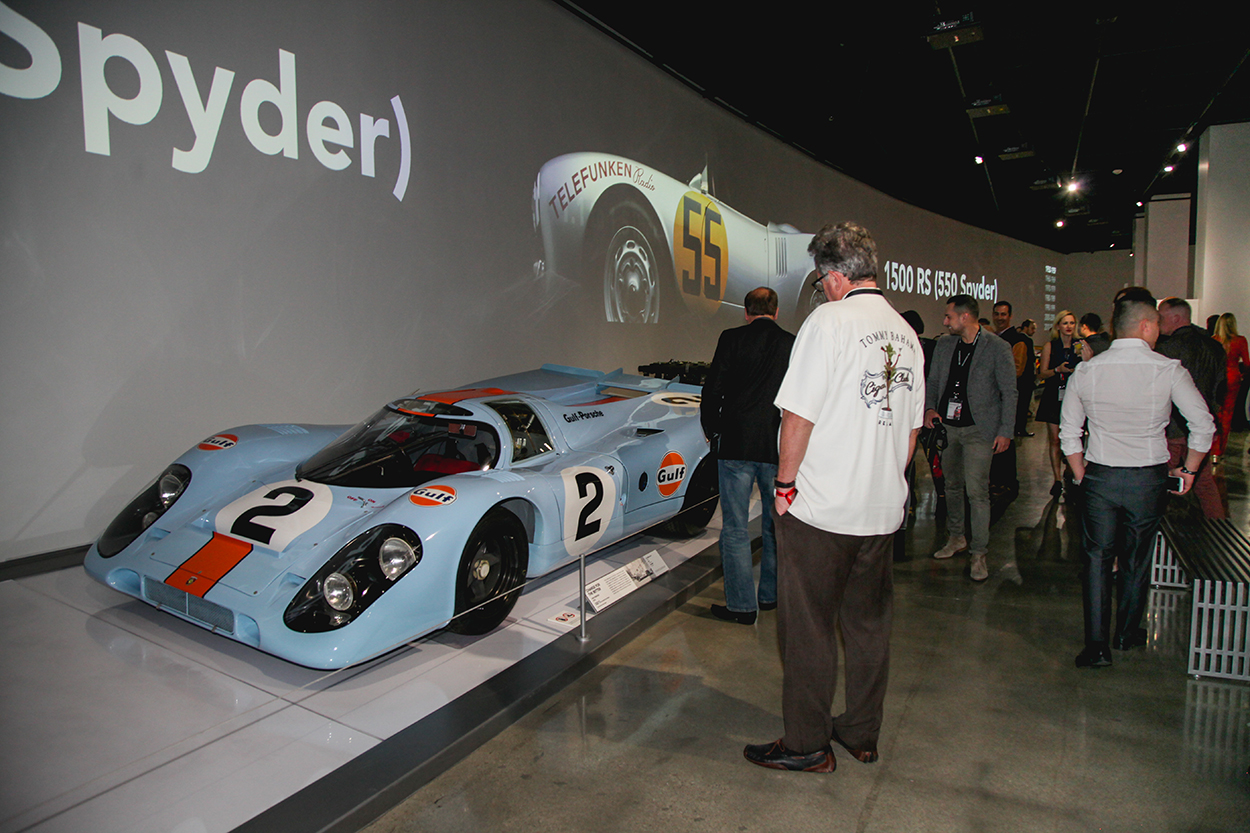 A panel moderated by Tommy Kendall dug deeper into the "why Porsche" story for Chad McQueen (son of Steve), Hurley Haywood (winningest driver of the Daytona 24) Patrick Dempsey (racer and actor), Jeff Zwart (photographer and director), Spike Feresten (Seinfeld writer who penned the "Soup Nazi" episode), and Klaus Zellmer (President and CEO of Porsche Cars North America). McQueen spoke of times with his dad whipping a 911 about a twisty road. Dempsey enthusiastically tossing an entire paycheck from his first hit movie to own his very first Porsche — which he still owns today. Zwart spoke of learning how to drive on a Porsche 901 (before it was renamed 911) his father owned during a time when muscle cars and land yachts ruled the roads. Why the 901 even though the family had a perfectly suitable starter car – a Volkswagen Beetle? Because the Porsche was harder to stall because it had more power on tap. Proper parenting if you ask us. Feresten, after learning the hard way that some Italian cars are better than others (his was the later), had David Letterman offer his collection as a test bed of what car was right for him. Turns out, it was a Porsche. Zellmer, having been raised in a village just outside Stuttgart, was exposed to the brand at an early age, but it was the 959 parked near the center of town that dug the hooks in deep for him.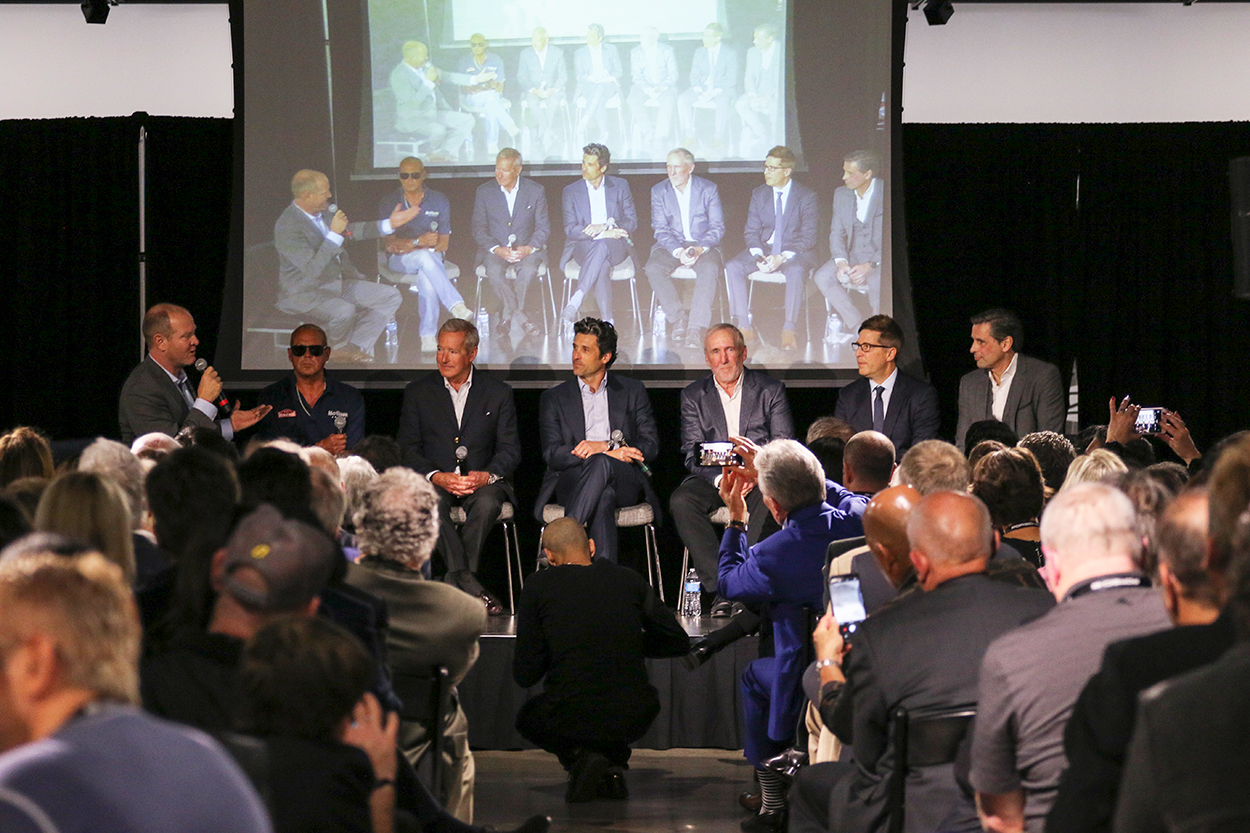 Above, from left: Tommy, Kendall, Chad McQueen, Hurley Haywood, Patrick Dempsey, Jeff Zwart, Spike Feresten, and Klaus Zellmer.
When the memory lane session ended and the ribbon was cut, guests descended the spiral staircase to the exhibit showcase. A column two stories tall looked like an unending Sudoku challenge, but if you read it closely and knew a thing or two about Porsche, each series of numbers were the type numbers for each and every Porsche ever made. When you make it past the second level and look down to the show floor you are greeted by a topographical view of the legendary Type 64 Porsche (before it was a Porsche) race car. Looking as if it were just plucked from a vat of black India ink, the shape is mesmerizing.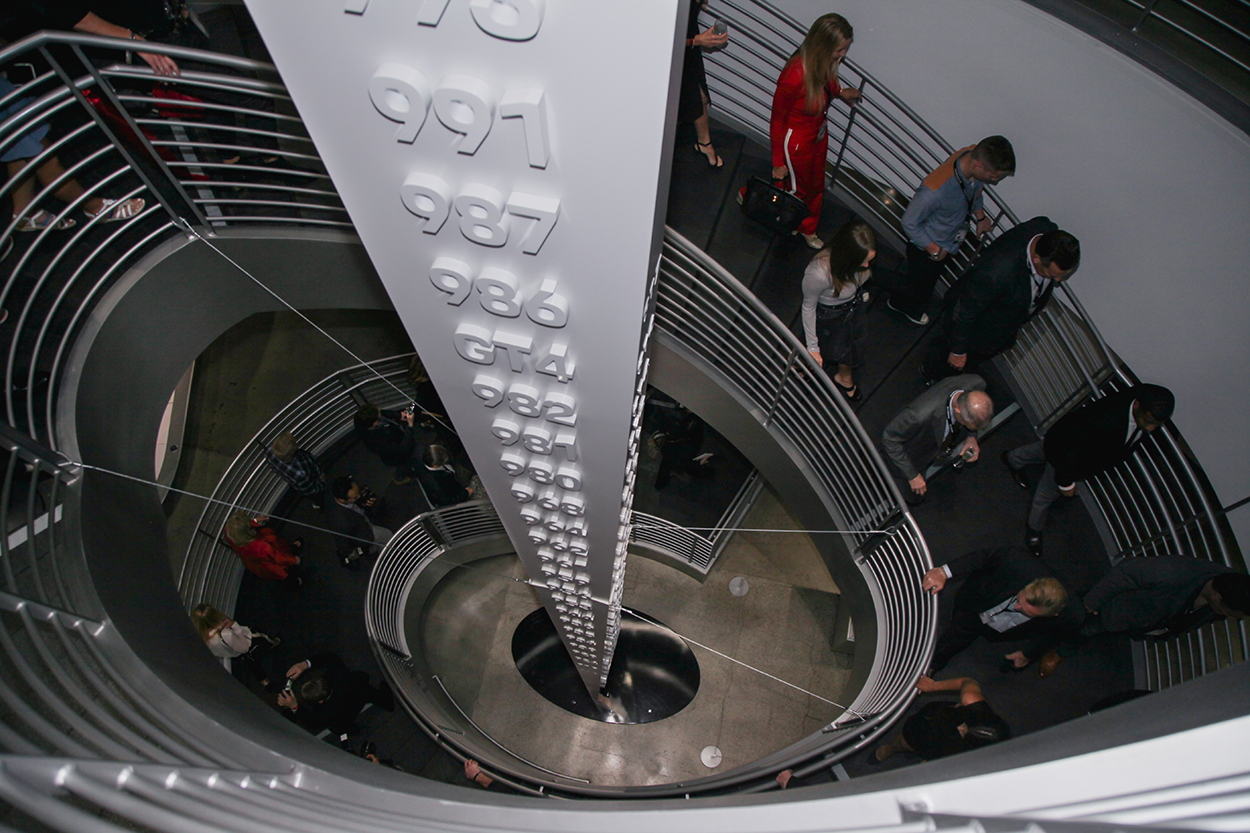 Navigating deeper into the venue, you are greeted by a tantalizing red 901 accompanied by early scale clay models of the earliest 911 concepts. Not to mention a 356 coupe, 959, and Carrera GT concept models in close company. On the walls are several impressive historical moments, including a patent drawing of the 901 chassis, several global stats of Porsche sales (such as the fact that California represents a quarter of all Porsche sales around the world), and even several examples of exceptional design exploration by Porsche Design were on hand. The Porsche Design exhibits included a motorcycle, a bizarre and entertaining skeleton chair, and refined lifestyle accessories many of us either own or yearn to own.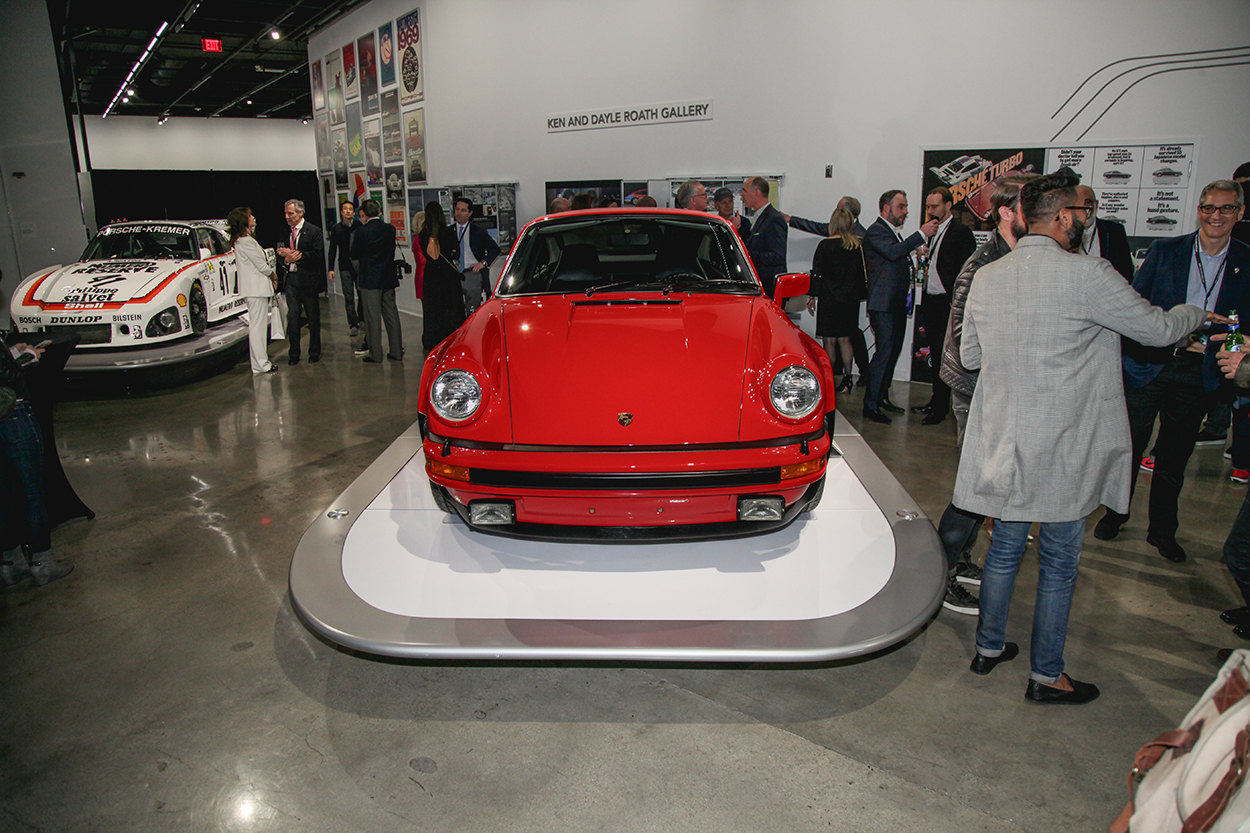 But what's a Porsche exhibit without a few well-curated racing icons? To that end, there was a Le Mans winning 935 race car in the corner, set to a backdrop of pristine original Porsche advertising posters. What's this in the reflection? Is that a Porsche 919 LMP1-class Le Mans-winning race car? Of course, because why not! But first one may peruse a conga line of class-winning chassis, stemming back to an original 550 Spyder. Yep, racing history is certainly covered. Well done Porsche. We can imagine a thunderous applause from all car enthusiasts in California and travelers who will no doubt reserve tickets in advanced to get a little bit closer to the elusive models of their dreams.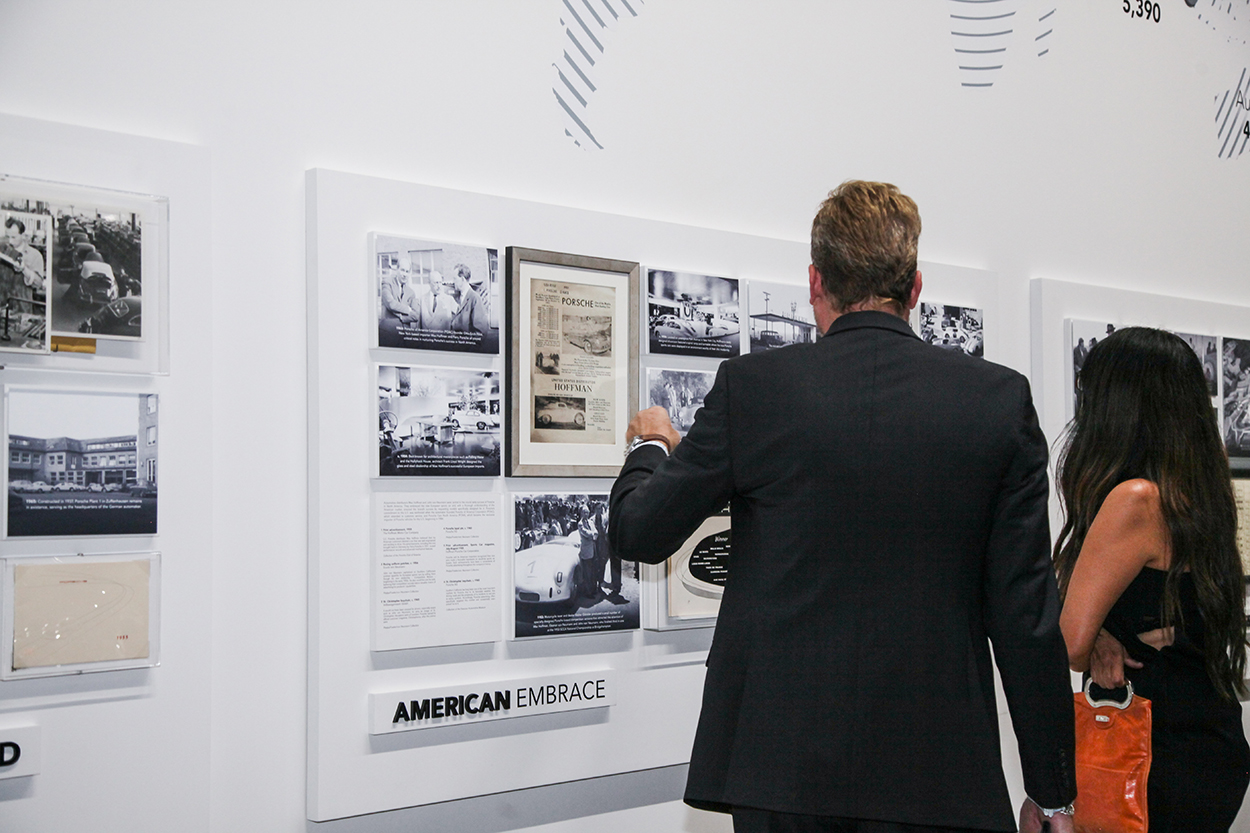 One more thing for those of you destined to visit the Petersen Museum: Be sure to reserve your tour of the Vault. Where you can find EVEN MORE rare Porsche vehicles assembled to help ensure you miss every other adventure you had planned in Los Angeles.