Porsches are the headline cars at the Amelia Island auctions
Tuesday, February 6, 2018
The addition of PCA's Werks Reunion to the Amelia Island Concours landscape sealed Northeast Florida as one of the world's premier Porsche and classic car destinations. The auction companies know that some of the biggest Porsche fanatics on the planet will be in the area the first full week of March, and they've responded with some of the most exciting Porsche consignments that we've seen at auction in some time. Here's a brief rundown on what we know so far:
Gooding & Company
Gooding has a history of bringing some great Porsche collections to market at the Omni Amelia Island Plantation Resort. In 2012, it was the Drendel collection, and in 2016, it was the headline-grabbing Seinfeld collection. This year it's the James G. Hascall collection of some of the most important Porsches of the last five decades. The 12 cars from the Hascall collection are being offered without reserve at the company's Amelia Island auction held on March 9, 2018. Mr. Hascall was a dedicated and diligent collector who began buying Porsches in the 1980s. He and his wife shared a true passion for the marque and participated in numerous road rallies in their cars. "It is a great honor to present this beautifully curated collection of cars featuring an important Porsche model from each decade over the last 50 years," states Angus Dykman, Specialist at Gooding & Company. "Each example was carefully selected by Mr. Hascall and his pride of ownership and care is evident throughout the collection." The hero cars from the Hascall collection cars are: 
1987 Porsche 959 Komfort (Estimate: $900,000-$1,200,000, Without Reserve)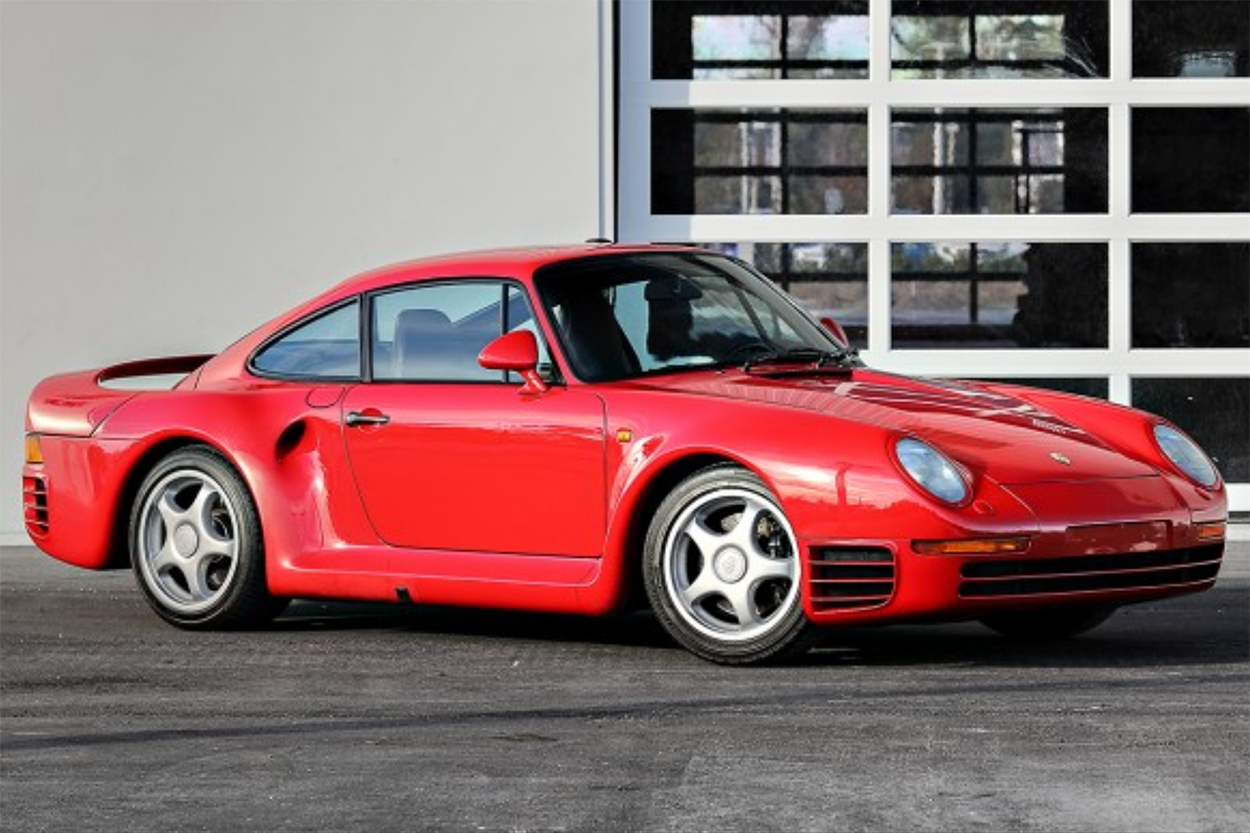 Photo courtesy Gooding & Company
The ground-breaking Porsche 959 took the world by storm when it debuted in the mid-1980s. With twin turbochargers, four-wheel drive, and a host of electronic systems that are still in use in modern Porsches today, the 959 was far ahead of its time. These supercars are capable of nearly 200 miles per hour and can sprint from zero to 60 mph in 3.7 seconds. The car presented here, one of only 242 Komfort models produced, was formerly part of the famed Matsuda Porsche Museum in Japan. The odometer currently displays less than 7,400 kilometers (~4,600 miles).
2005 Porsche Carrera GT (Estimate: $800,000-$1,000,000, Without Reserve)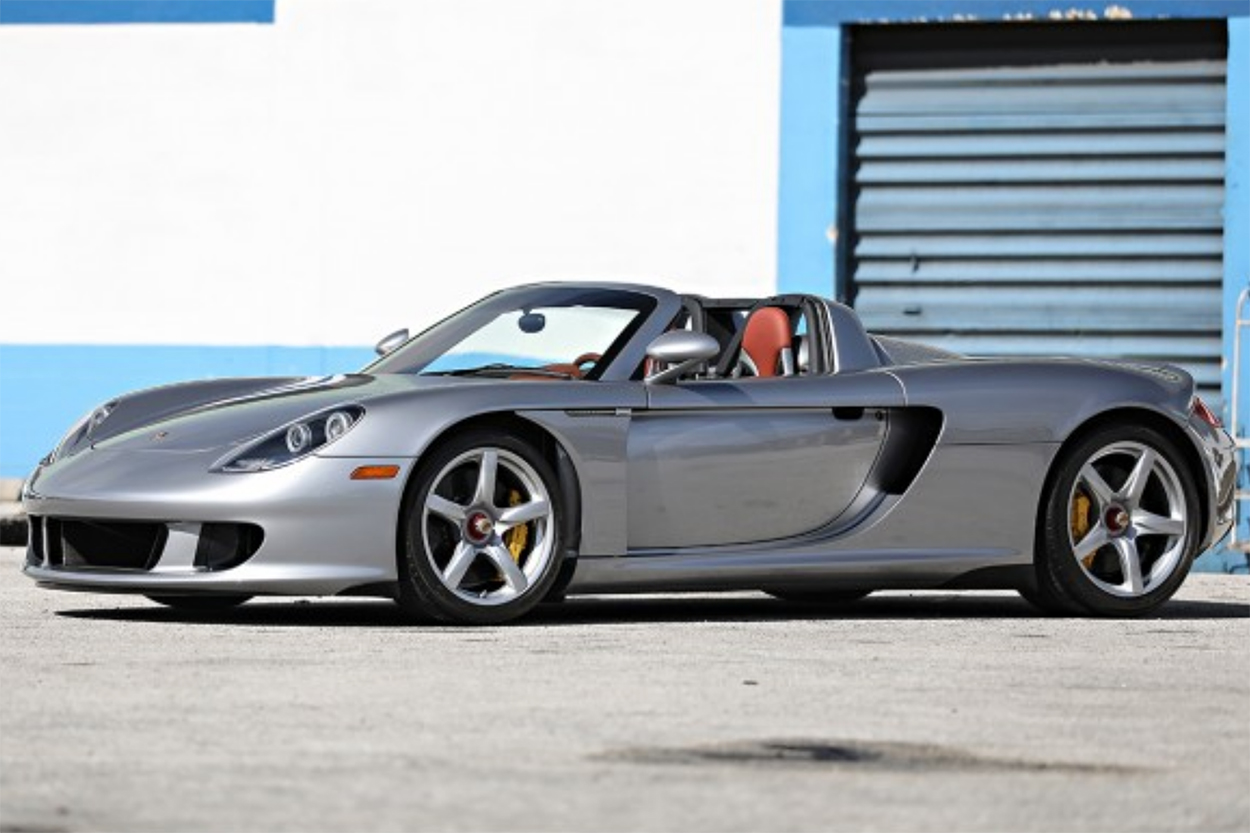 Photo courtesy Gooding & Company
The Carrera GT was unveiled as a concept at the Paris Auto Show in 2000. More exotic than any road model Porsche had produced, high interest in the model encouraged Stuttgart to commit to a limited-production run of 1,270 examples. This Carrera GT was purchased new by Mr. Hascall and is finished in the stunning color combination of GT Silver Metallic over a Terracotta interior. Mr. Hascall sparingly enjoyed his supercar, and the odometer currently shows less than 120 miles. Offering an optional open-air driving experience and a manual gearbox mated to a normally aspirated V-10 engine, this extremely low-mileage Carrera GT is one of the greatest analog supercars ever produced.
Additional Porsches From the Hascall Collection:
Other Gooding consignments at Amelia include a 1957 356 A Carrera GS 1500 coupe barn find, a 1993 964 Turbo S, and a pair of very special 993s — a 1996 Riviera Blue Carrera RS 3.8 and a Speed Yellow 1996 GT2. 
RM/Sotheby's
RM/Sotheby's holds the official sale of the Amelia Island Concours d'Elégance. Not surprisingly, for its 20th Amelia auction, its Porsche consignment news is exciting—likely the greatest collection of rare 964 variants ever assembled, coinciding with the 30th anniversary of the 964's introduction. Billed as the "Exclusively Porsche – The 964 Collection," the group of eleven Type 964s (and one 930) was assembled by a single collector, over the course of a decade and comprises what the auction house calls "the last of the truly hand-built Porsches, yet the first production models with coil-over suspensions, power steering, and ABS brakes." The collection is rich with 964 "specials"—high-performance cars either built or modified in limited quantities by Porsche's Exclusive department.
Exclusively Porsche — The 964 Collection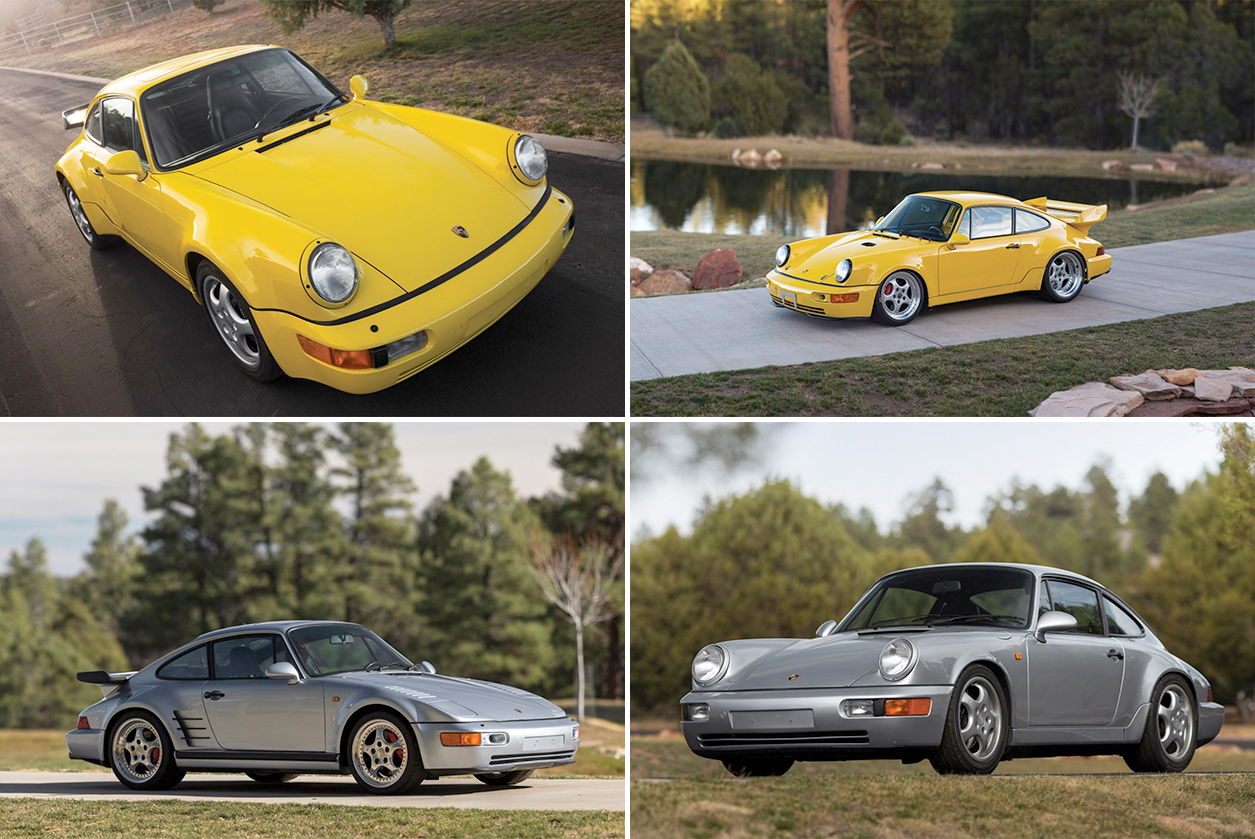 Above, clockwise from top left: 1991 911 Turbo 3.3, 1993 911 Carrera RSR 3.8, 1994 911 Turbo S X83 "Flachbau." Photos courtesy RM/Sotheby's
The collection is led by an essentially brand-new, never raced 1993 Carrera RSR 3.8 finished in very rare paint-to-sample Ferrari Yellow. One of just 45 built, it has recorded just 765 km on its odometer (Est. $1,200,000 - $1,400,000). Also on offer is a one-of-55 1993 Carrera RS 3.8, presented in mint condition with less than 7,000 km (Est. $1,250,000 - $1,500,000); a one-of-86 1993 Turbo S "Leichtbau" (Est. $1,000,000 - $1,200,000); a pair of very rare "flat nose" variants, including the 1994 Turbo S X83 "Flachbau," one of the rarest production Porsches at just 10 ever built (Est. $500,000 - $650,000); and the U.S.-production 1994 Turbo S X85 "Flachbau," one of just 39 (Est. $600,000 - $800,000).
"The 964 Collection is without a doubt the most complete and best collection of limited-production Porsche 964s to ever come to public auction," says Alexander Weaver, Car Specialist, RM Sotheby's. "The owner was well ahead of his time in assembling this group, which represents some of the rarest models in the entire Porsche lineage."
 
The collection also includes:
Bonhams
Bonhams is the most recent of the catalog sales to join the fray at Amelia island. They kick things off first on Thursday, March 8. In Scottsdale, Bonhams had the high Porsche sale with a 550 A Spyder that sold for over $5 million (including the buyer's premium). As of this writing, they've announced very little of their lineup for Amelia, but the highlight so far is a gorgeous, 100-point-restored 1957 356 A Speedster in the striking colors of Aquamarine Blue with a red interior and a silver factory hard top.
Hollywood Wheels also returns with its Porsche Select auction, we'll report on consignments there as they are announced.