New 2019 Porsche GT3 RS ups the ante to 520 horsepower combined with GT2 RS aerodynamics
Tuesday, February 20, 2018
Photos courtesy Porsche
The most powerful naturally aspirated 911 is here: the 2019 Porsche 911 GT3 RS. The automaker will expand upon the formula of the powerful 911 GT3 and increase the horsepower to 520 and to 346 pound-feet of torque. It is the most powerful atmospheric engine ever fitted to a road-legal Porsche.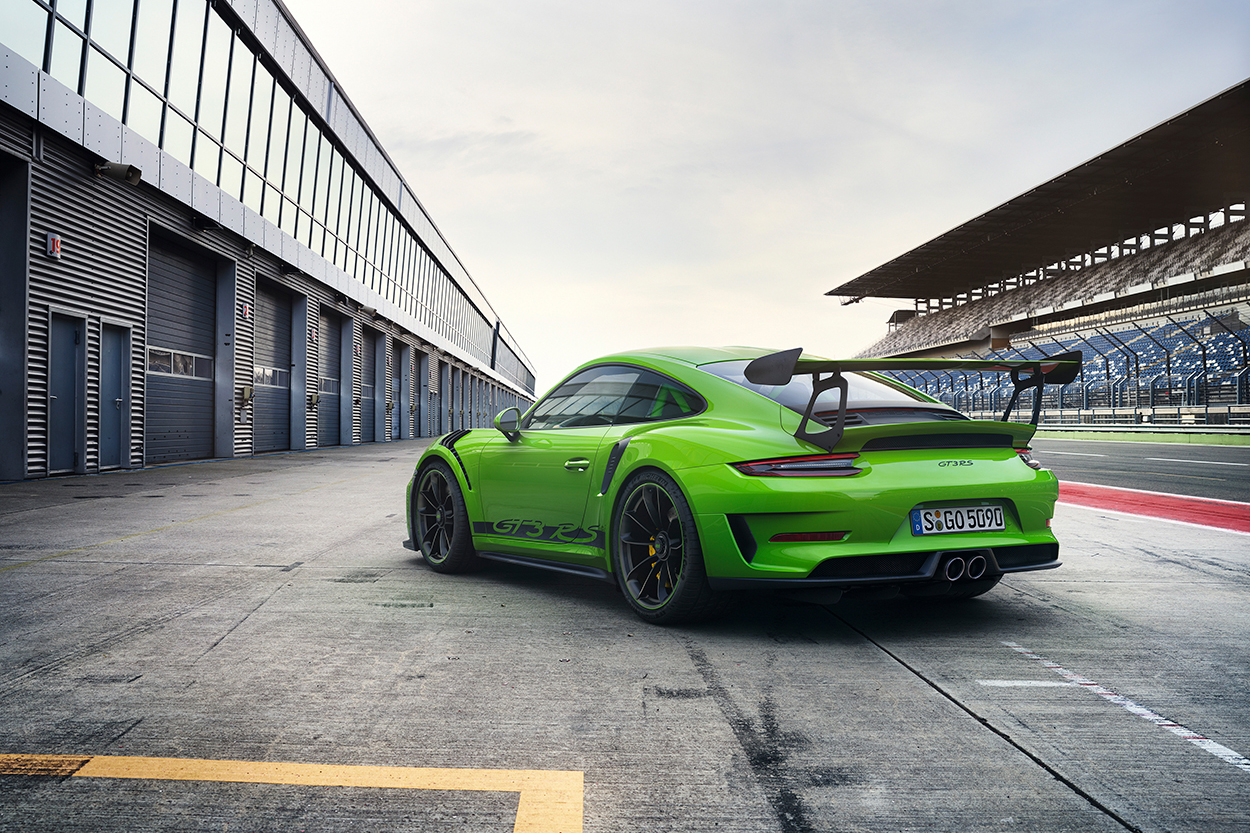 For the record, 520 hp is 20 more horsepower than the 911R, 911 GT3 RS, and the newest GT3, and the aerodynamics are very similar to the last RS models. Porsche says the new RS produces more than twice as much downforce as the GT3 at 124 miles per hour, and includes hood-mounted NACA ducts that appeared on the GT2 RS. Carbon fiber bucket seats are standard, as is the lightweight glass seen on the Carrera T (and GT2 RS).
Among the tricks used to boost horsepower to 520 are those that were seen on the previous GT3 RS but refined: plasma-coated cylinder liners, central oil supply through the crankshaft with larger diameter bearings, and shims that provide valve-clearance compensation. The redline is 9000 rpm. The PDK semi-automatic double-clutch transmission puts the power to the ground through gears with ratios intended to optimize performance. Top speed is reached in top (7th) gear, just like all recent GT cars.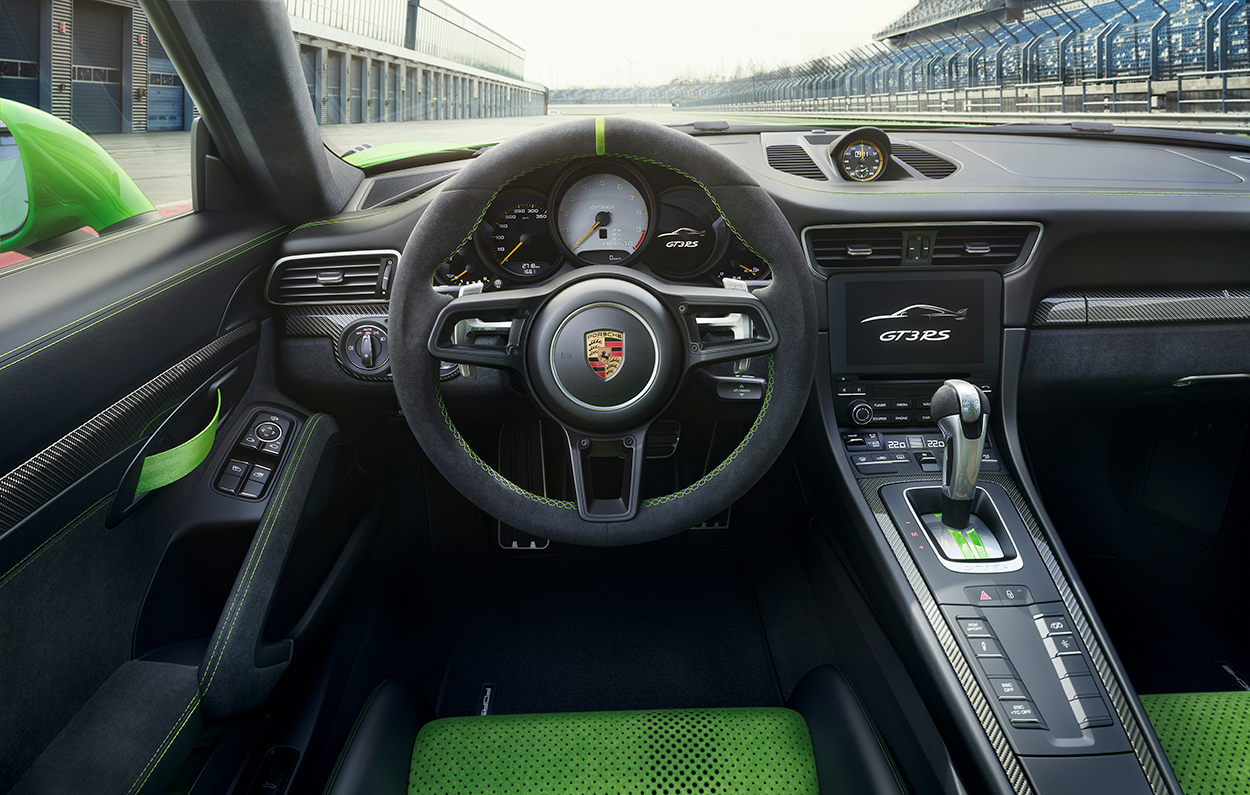 Fully adjustable suspension helps drivers tune the car to their liking, with settings covering height, toe, camber, caster, and sway.
An optional Weissach package, is available on the new RS, which makes "the front and rear sway bars and coupling rods, vehicle roof, steering wheel trim, and shift paddles on the steering wheel" made of carbon fiber, Porsche says. It all reduces weight by an incremental 13 pounds. Those who want to reduce weight even further can opt for forged magnesium wheels, which lighten the car by another 25 pounds.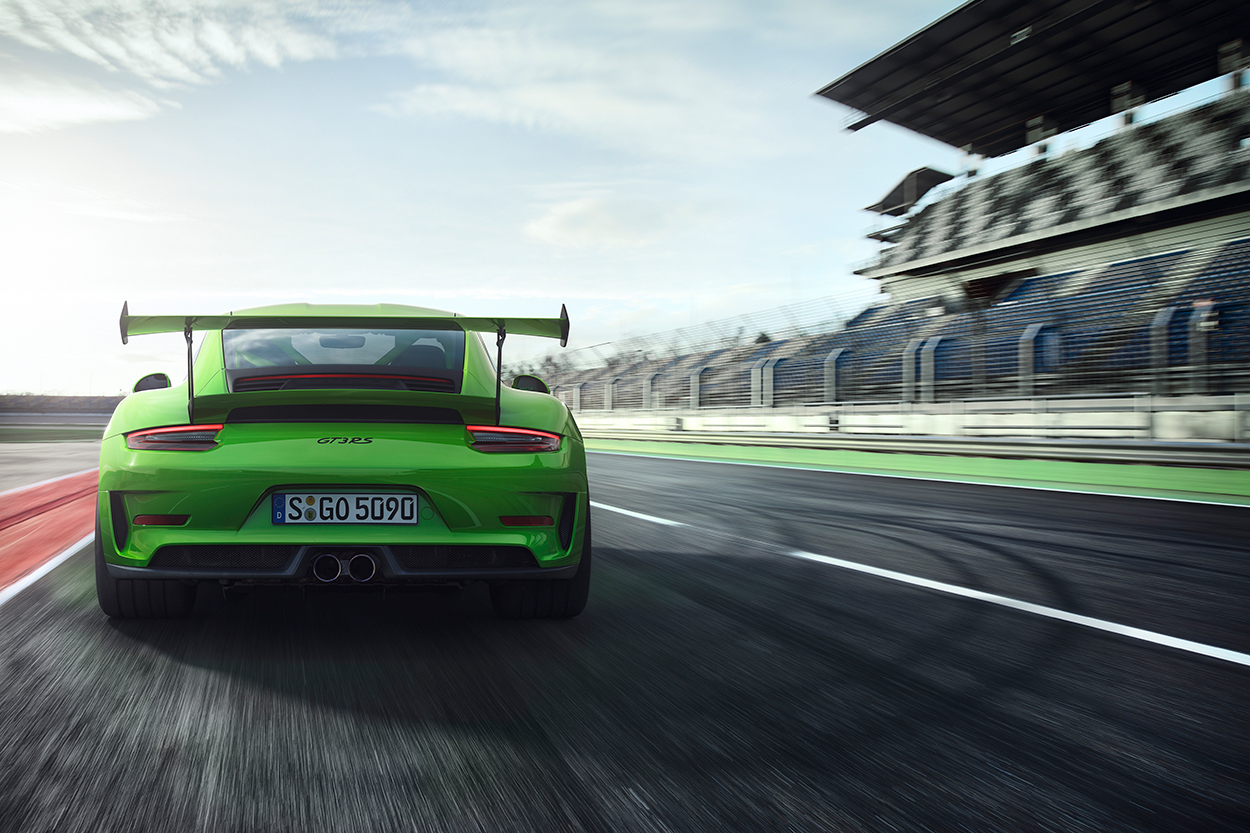 When equipped with the Weissach package and magnesium wheels, the GT3 RS' weight is 3,153 pounds.
Want one? Be willing to fork over $187,500 (not including the $1,050 delivery fee), plus another $18,000 for the Weissach package. The separate magnesium wheels are another $13,000.