Mart Fresh: Four, six, or eight cylinders?
Tuesday, February 27, 2018
Photos by the sellers except where noted
A popular PCA member benefit is The Mart, the club's classifieds section online and in each issue of Porsche Panorama. Mart Fresh is a bi-weekly column in which PCA media staff pick what they think are the "freshest" Porsches currently available, and then attempt to explain their reasoning. Only PCA members and Test Drive program participants have access to seller contact information. Always invest in a pre-purchase inspection for any Porsche you may consider, as seller descriptions and pictures don't always tell the full story.
---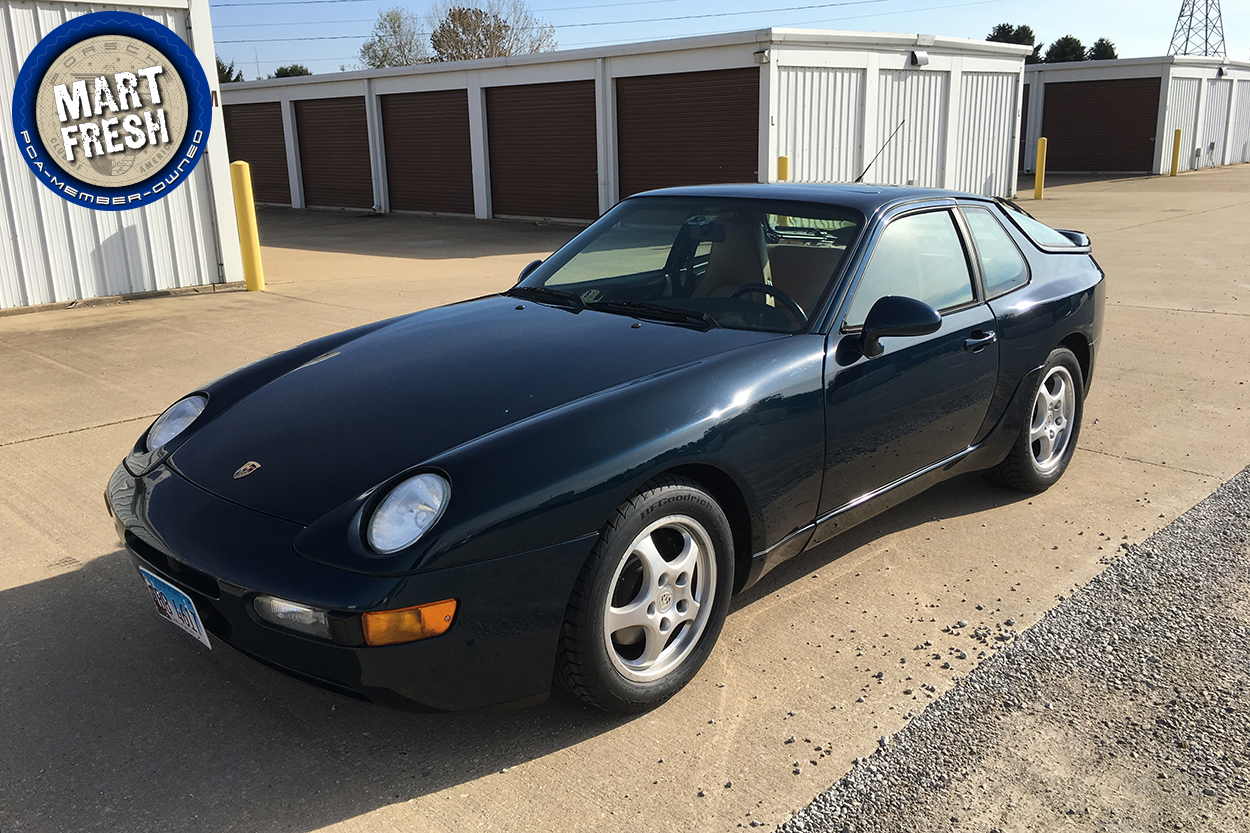 We sound like a skipping CD on this, but 968 six-speed coupes with under 100,000 miles and under $20,000 are on the endangered list. This car's colors are appealing and my suspicion is that it won't last long. It's sorely tempting, but not worth risking finding all of my stuff on the front porch after I get home from Werks Reunion Amelia Island. – Rob Sass, Editor in Chief and Director of Content, Porsche Panorama and PCA.org
Click here for PDF archival copy of ad
---
2011 Porsche Panamera Turbo - $52,500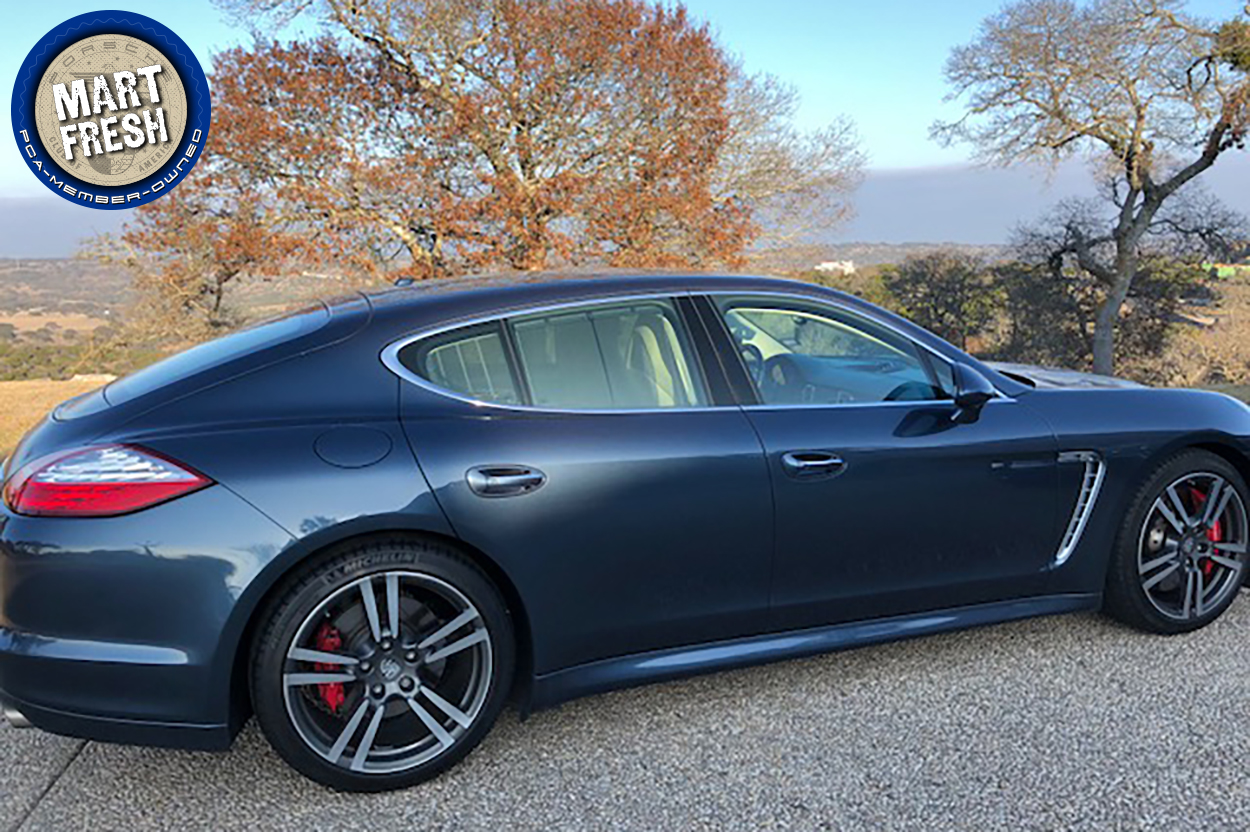 Finally, our family needs can be matched with a Panamera. 
My daughter will be getting her driver's license this year, so we just have the two boys to haul around. I've always loved the Panamera Turbo, especially in Yachting Blue. In fact, I have picked a Panamera for Mart Fresh before; but now the possibility of owning one could become reality. Some may argue that the styling of the first iterations may not be unanimously embraced. Personally, I've always thought they were handsome. Styling aside, any enthusiast will fall in love with the twin-turbo V8, a thundering engine with 500 horsepower and 563 pound-feet of torque. The Porsche Panamera Turbo will accelerate to 60 mph in just 3.5 seconds and runs the quarter-mile in just 11.9 seconds at 114.7 miles per hour — and it can give similar performance with three passengers! Of course it's not just about speed and power. It also offers one of the most serene driver and passenger environments. This example includes the stunning two-tone leather interior with mahogany with inlay, and Comfort Plus and Comfort Memory packages. Technology options include adaptive cruise, four-zone climate control, park assist front and rear with reverse camera, and more. Also, as a hifi audio guy, this example has the must-have Burmester High End Surround System/SAT system. If you've never heard tunes cranked up to 11 on this system, bring your favorite tracks along for the test drive and I promise you your favorite song will sound completely new. The amount of detail this audio system is able to produce is just as amazing as the performance this car delivers. Have I convinced you yet? Last hook…you can buy this at 33% of the original price! I'm done here… – Vu Nguyen, Executive Director, Porsche Club of America
Click here for PDF archival copy of ad
---
1993 Porsche 911 RS America - $86,000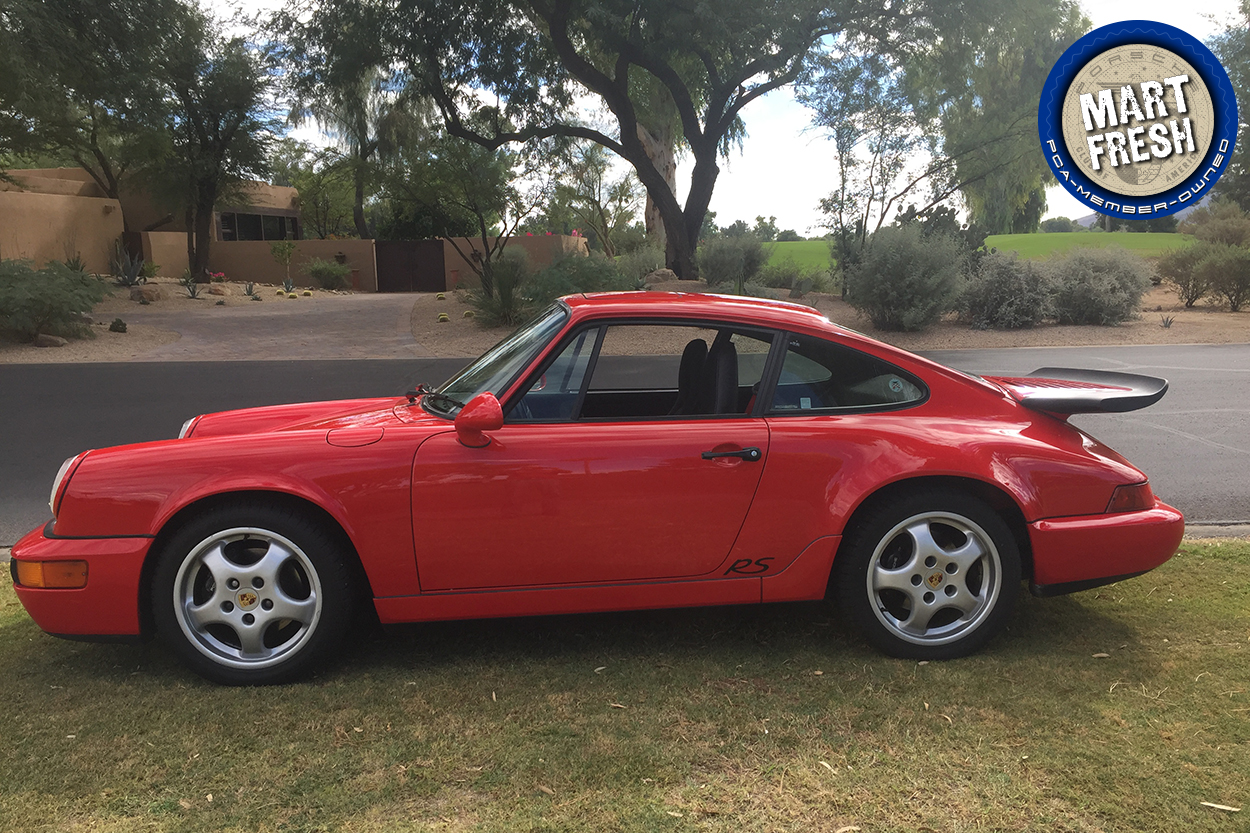 The Porsche 911 RS America will always have a special place in my heart. Though some folks may not see it as a "real RS," I can attest that driving an RSA, with less sound deadening, manual steering, and a visceral feel thanks to minimal creature comforts and the snug factory seats, feels vastly different compared to a normal Carrera. My opinion is probably biased because my first drive in a 911 was in a relative's RSA, but that drive still stands out in my mind 12 years later. That said, to find one in nice condition below $100,000 is increasingly rare — I've heard of a few pristine examples trading hands for more than double that number in recent years — so I'd consider the seller's asking price very reasonable if a pre-purchase inspection checks out. Plus, there's less that can go wrong in the long-term: no motorized spoiler, no power-steering pump, and fewer engine problems caused by leakage between cylinder heads and cylinders that can afflict head-gasket-less early-model 964s. My advice? Buy it and enjoy it on your favorite roads. And be sure to read our model guide. – Damon Lowney, Digital Media Coordinator, Porsche Club of America