LA Lit and Toy Show had the Porsche things you need, plus encompassing tour of SoCal scene
Article and photos by Nathan Merz
Do you have boxes stashed away that to a casual observer would simply contain an old tool kit, a random assortment of fasteners, lenses, or rubber bits? Do you save every Porsche magazine that you have ever read? Do you carefully collect brochures for every car you have ever owned or simply dreamed of owning?
If so, then we hope you were in Los Angeles this past weekend for the 35th Annual LA Lit & Toy Show held at the LAX Hilton. What started out as a few fanatics wanting to trade toys, literature, and small parts has expanded into a four-day veritable cornucopia of Porsche events. Virtually every Porsche-oriented business in Southern California opens their doors and welcomes throngs of visitors from all over the globe. To say this event has grown is a mild understatement.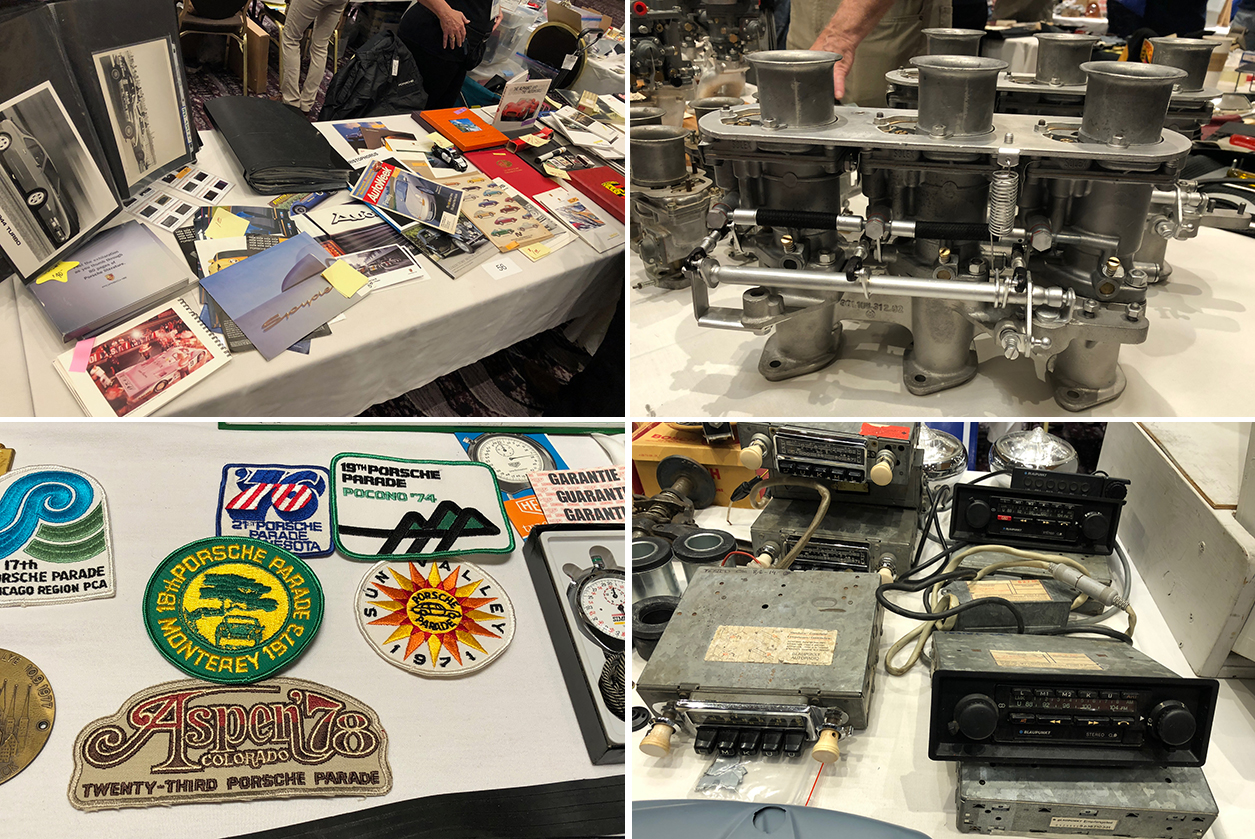 Above: The LA Lit and Toy Show is where a Porsche enthusiast may find all types of literature, parts, and memoribilia.
The four days are action packed, so if you plan to go, be prepared for long days, lots of driving, and many amazing Porsches. We kicked off our event with a trip south to Fallbrook, CA for a peak at the restoration work being performed by CPR Classic Restoration. No less than 20 356s, 911s, and 912s were on display in various stages of restoration, ranging from disassembly to metal and paint work to mechanical rebuilding to reassembly and more. To a Porsche fanatic there is nothing more interesting than seeing cars going through the entire restoration process.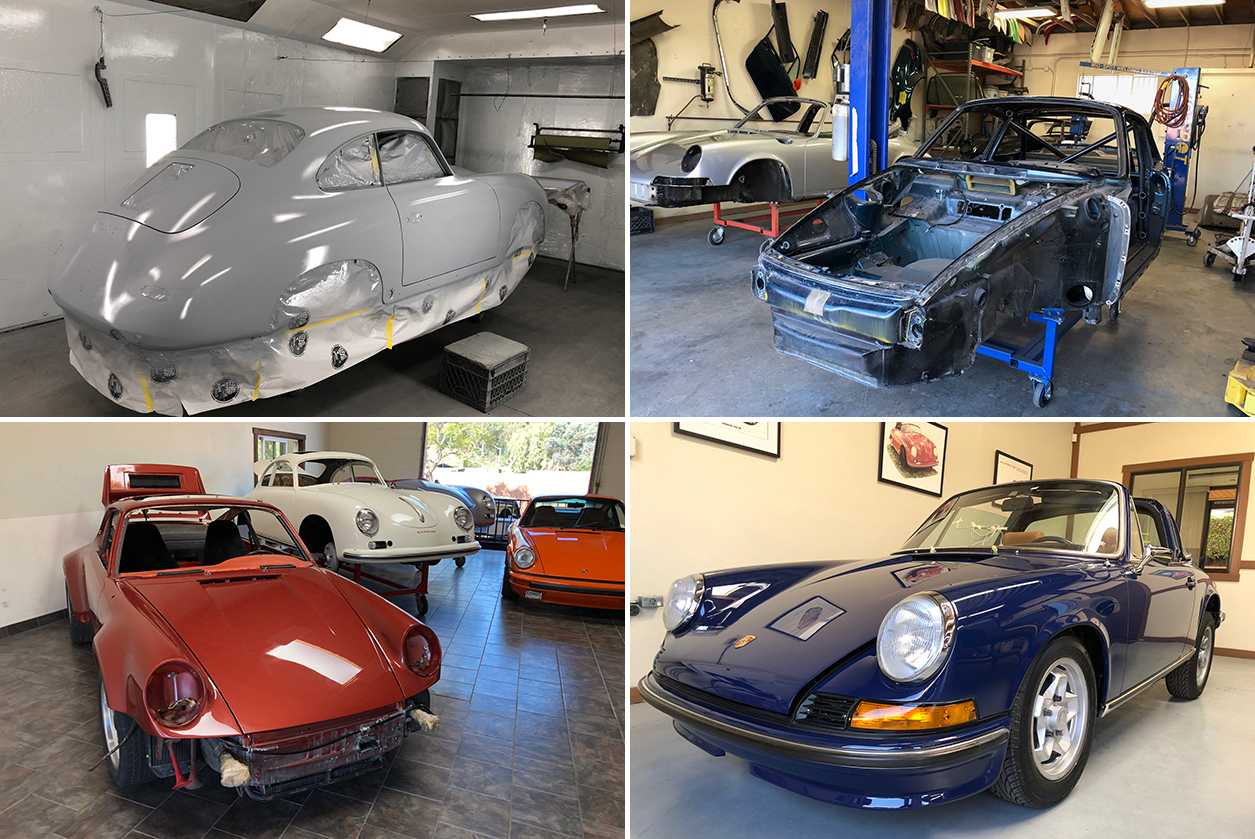 Above: CPR Classic Porsche in Fallbrook, CA.
Following a requisite stop at In-N-Out Burger, we headed north to check out the paint and body work at John Esposito's Porsche Repair shop. It's truly amazing the sheer number of cars in process, and we particularly enjoyed seeing a "working" shop in action.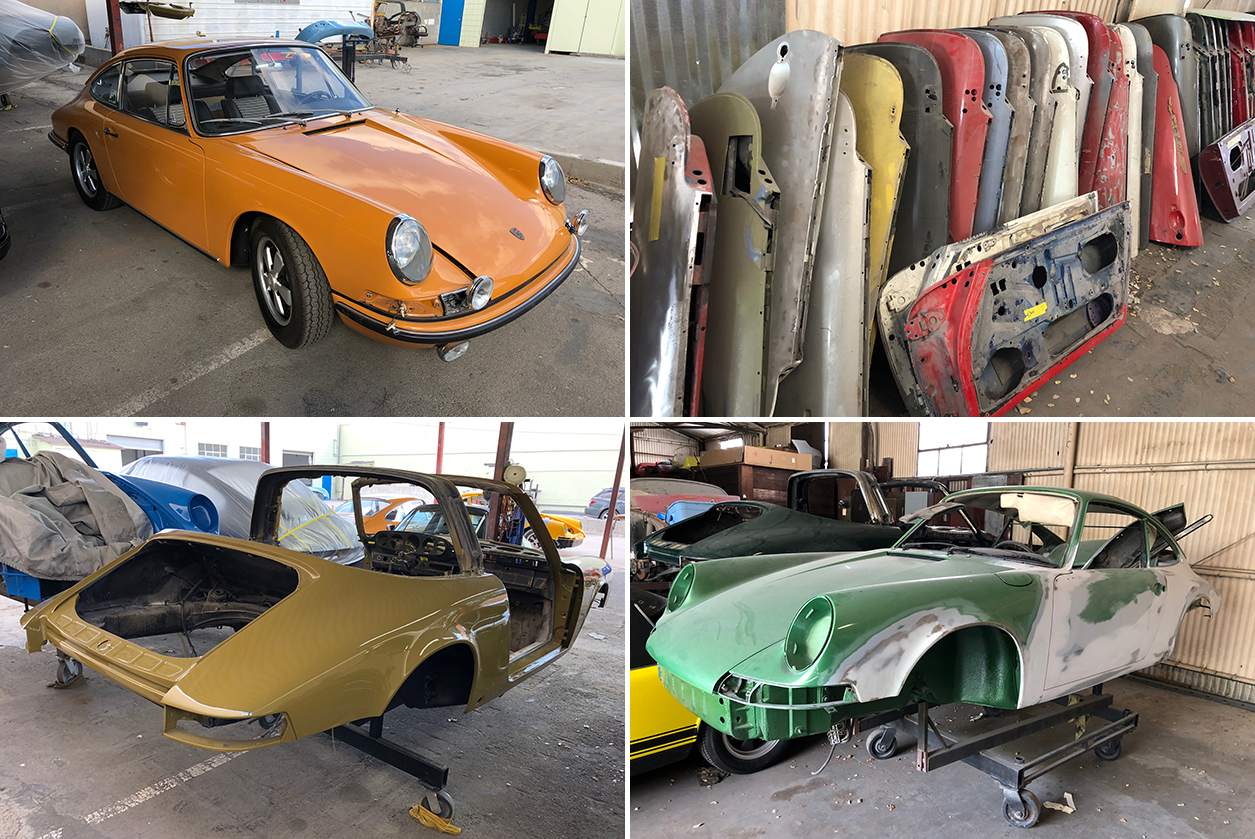 Above: John Esposito Porsche.
We were then back in the car for a short jaunt to the Petersen Automotive Museum, where Porsche is currently the featured marque with its own exhibit, "The Porsche Effect." For the yearlong duration of the exhibit, PCA is also represented with club artifacts from years past. Sadly the busy schedule meant we had just three hours to make our way through the museum, which is packed full with all sorts of classic cars and automobilia from dozens of marques. We recommend blocking out an entire day when visiting the Petersen — and make sure not to miss the "Vault Tour." The sheer variety of the exhibits will make even the most ardent car enthusiasts' minds spin.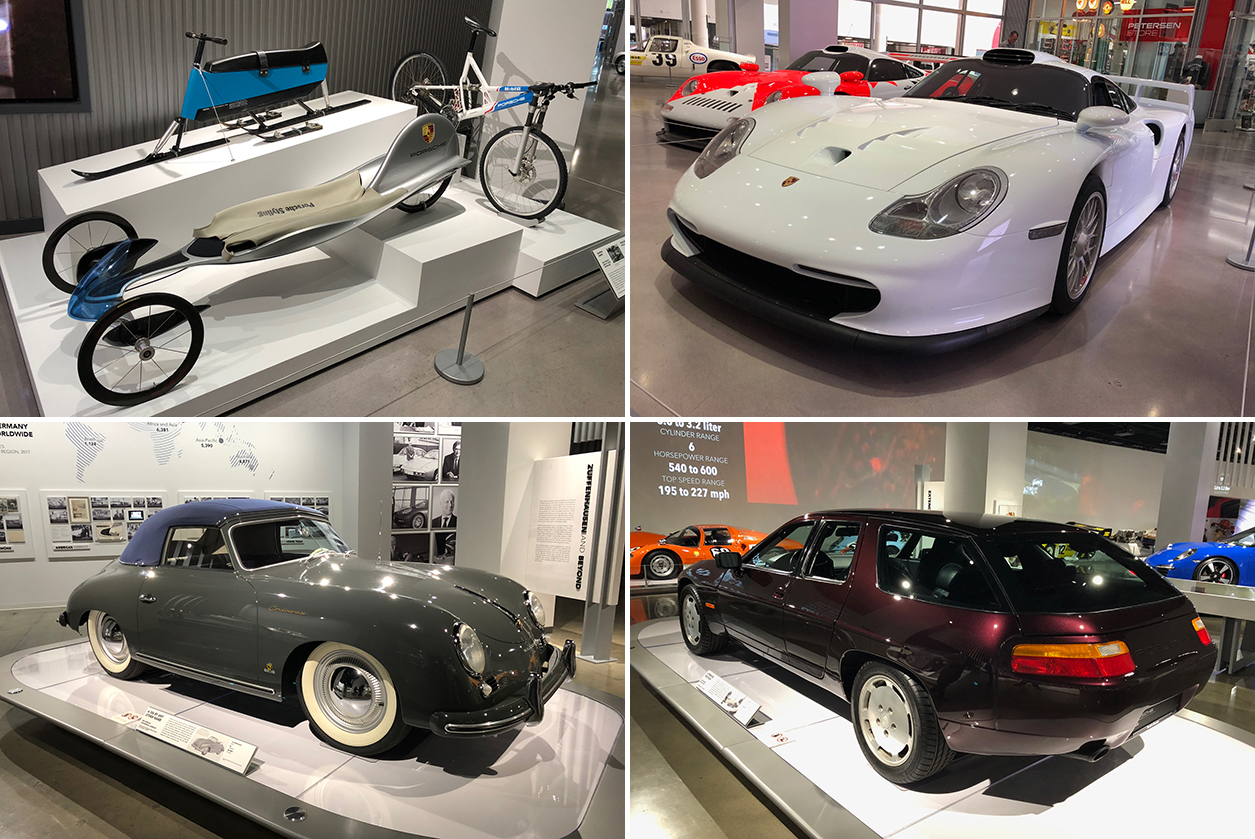 Above: "The Porsche Effect" exhibit at the Petersen Automotive Museum was all-encompassing, with non-automotive contraptions (top left), race cars ((top right, two 911 GT1s), classic Porsches (bottom left, 356 Continental), and even concepts (bottom right, a 928 wagon concept).
No rest for the weary as the next day kicked off with a visit to Callas Rennsport in Torrance. Where else will an original 1967 911R share a stall with a 2016 911R? How about a Rubystone Red 964 Carrera RS with the rare NGT package? It's almost surreal when a 959 doesn't quite make the "cut" and is left looking forlorn in the parking lot.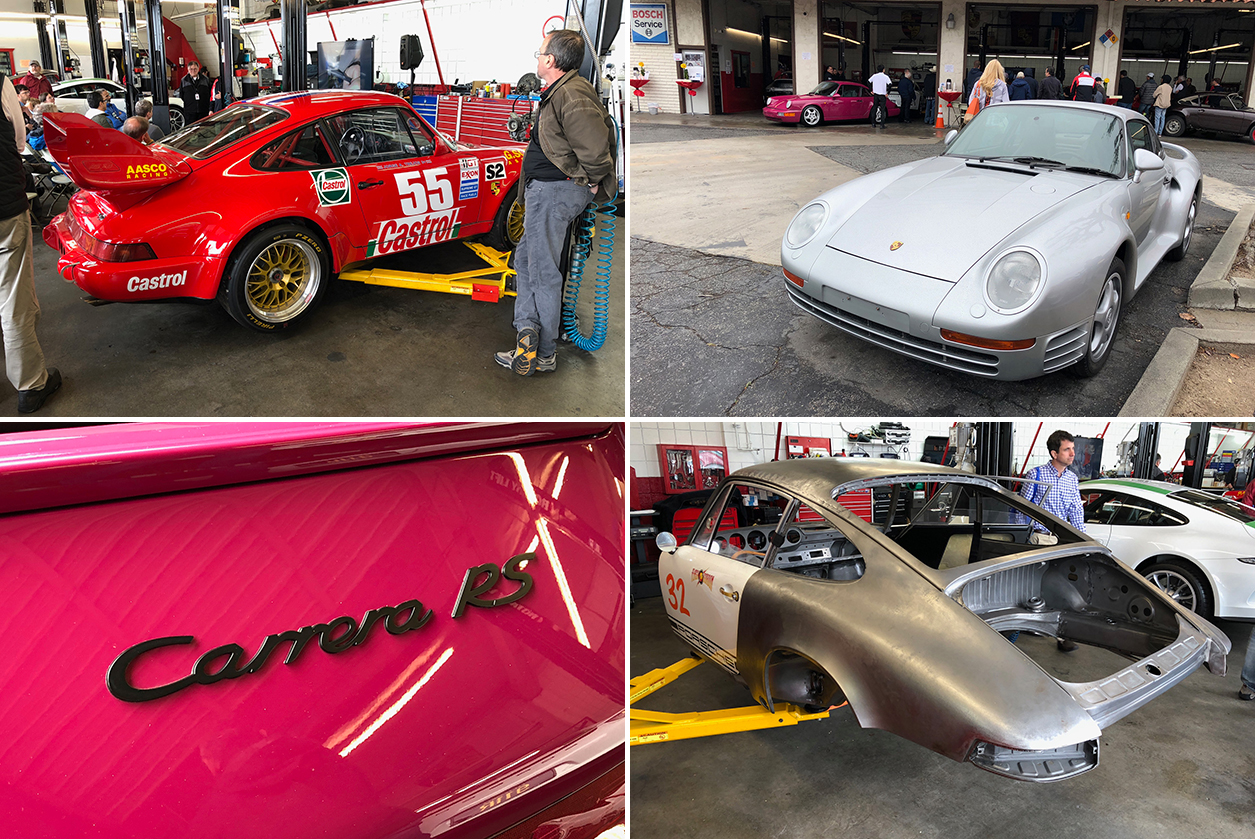 Above: At Callas Rennsport, race cars, 959 supercars, a 964 Carrera RS, and more special Porsches filled the shop and its parking lot.
Next was a quick jog over to Pelican Parts. The folks at the online parts business (and forum destination) put out a great spread, including delicious tacos, as we perused what could be best described as an eclectic collection of European cars. Smiles abound as we checked out the well-executed 911 SC Cabriolet kids car.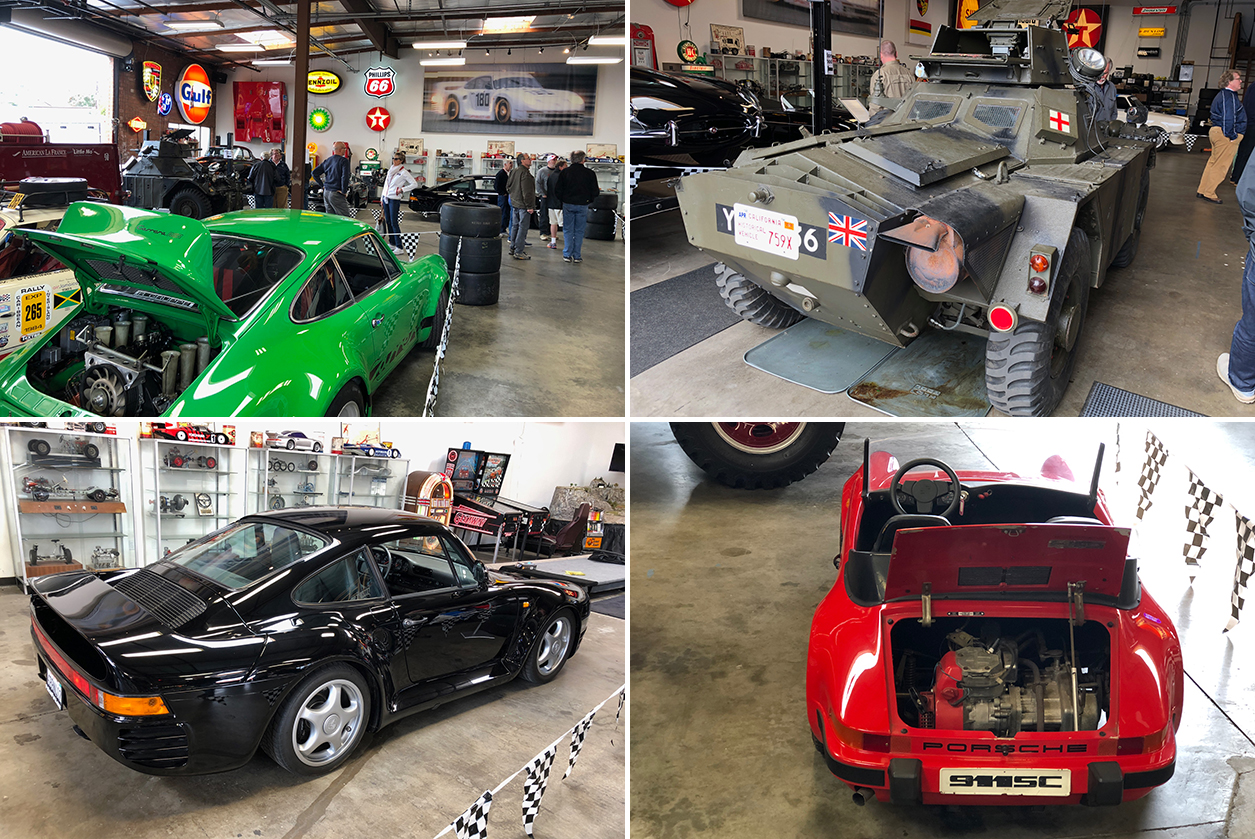 Above: Pelican Parts has many quirky and rare Porsches and other vehicles in its office/warehouse.
Back in the car for a drive to a raucous barbeque underway at Willhoit Auto Restoration shop. It's hard to believe owner John Willhoit gets any work done because the floors are so clean you could eat off them. A quick perusal shows some eye-catching pieces, including a stunning Golden Green 912, Orange 356A Coupe, and so many other 356s you couldn't keep them straight.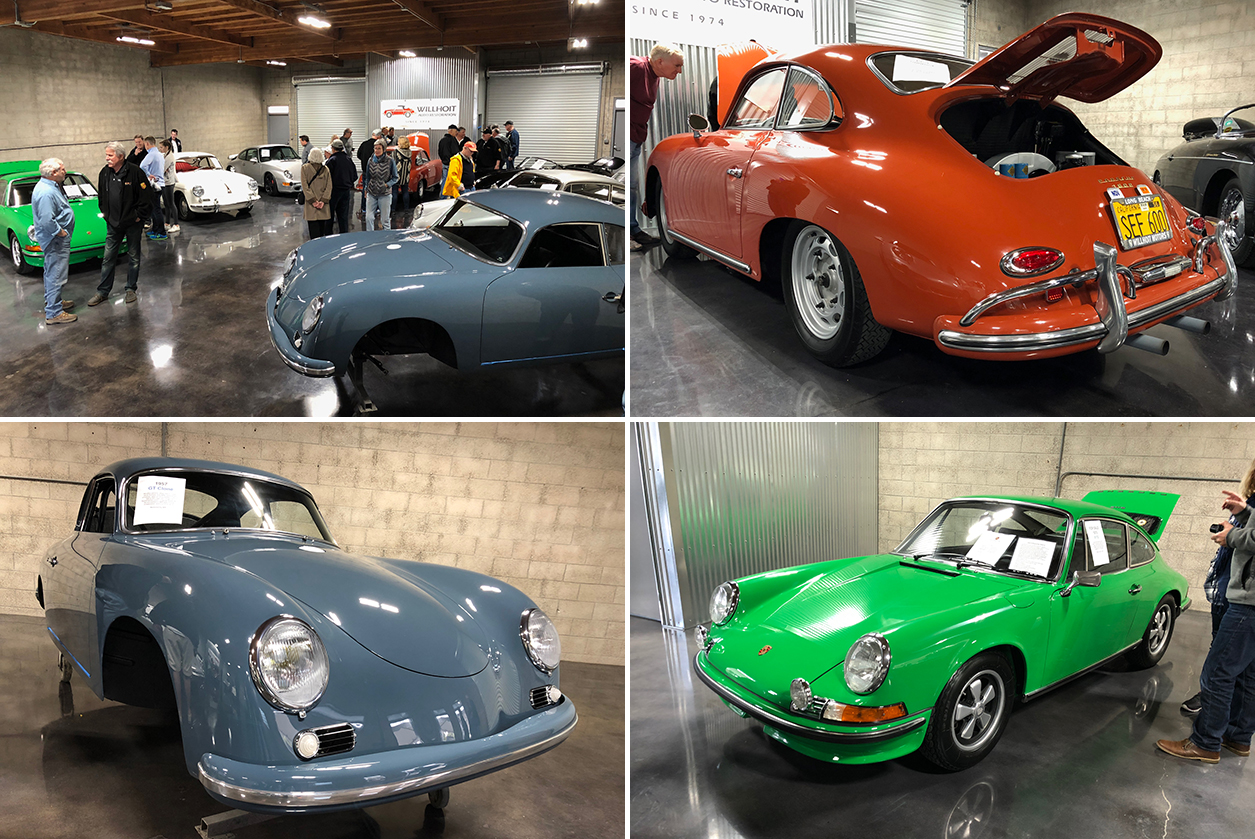 Above: Willhoit Auto Restoration.
Another quick dash south found us welcomed by Paul Kramer to his small dealership in Costa Mesa, AutoKennel, which was crammed full of interesting Porsches. Our favorite? The Pearl Beige 1986.5 928S that was so original it hurt. It took all of our self-control not to leave with it!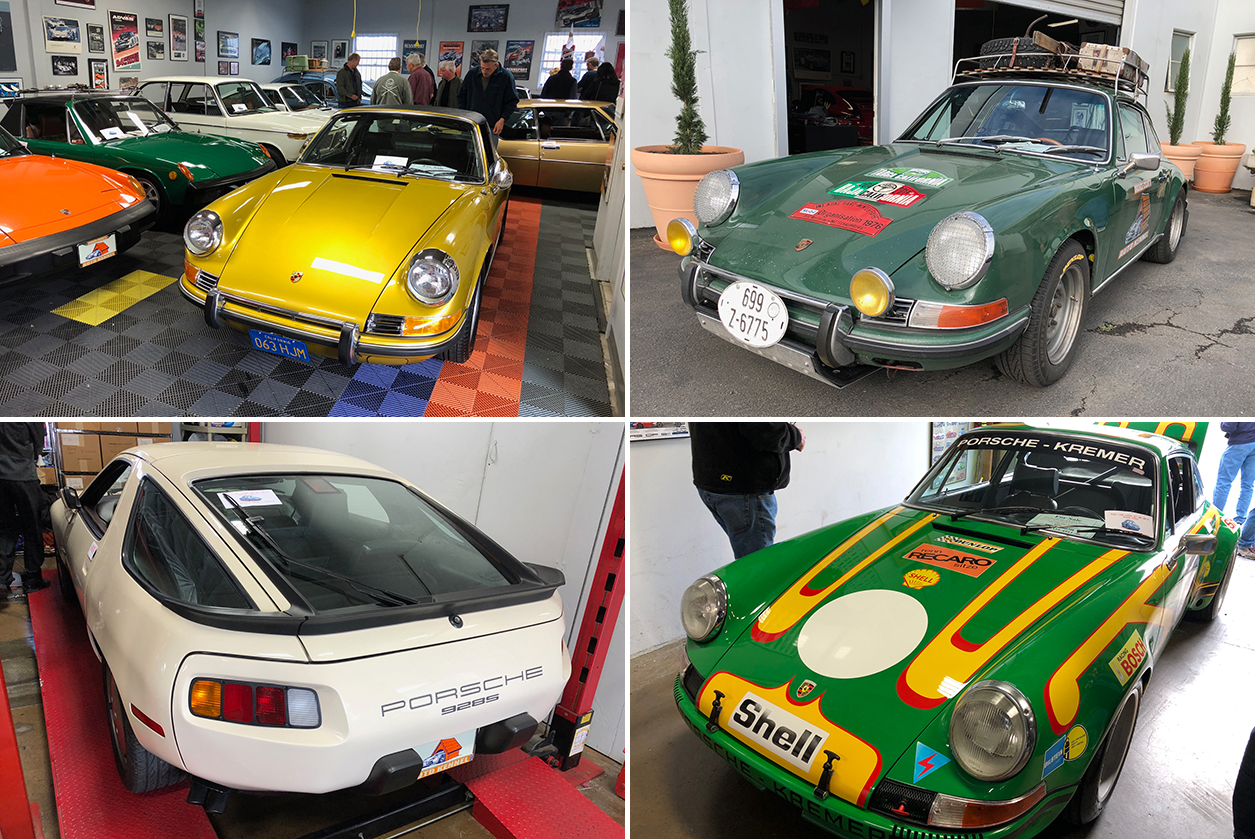 Above: AutoKennel in Costa Mesa, CA had various Porsches for sale in its showroom.
Exhausted, we headed back to the hotel knowing the next day would be an early one to make the most of the flagship event, the Lit and Toy Show. The best finds are always snapped up early, so if you're a committed Porschephile, buy the $30 "Early-Bird" ticket, which gets you in at 7 AM. Who said this was a vacation? When it's bright and early, the vendors' tables are overflowing with the rarest of the rare. Need a pre-A toolkit? Check! 4.5-inch date-stamped Fuchs? Got them! Come with loads of green cash and your walking shoes because the chaos extends over thousands of square feet and the frenzy in the air is palpable.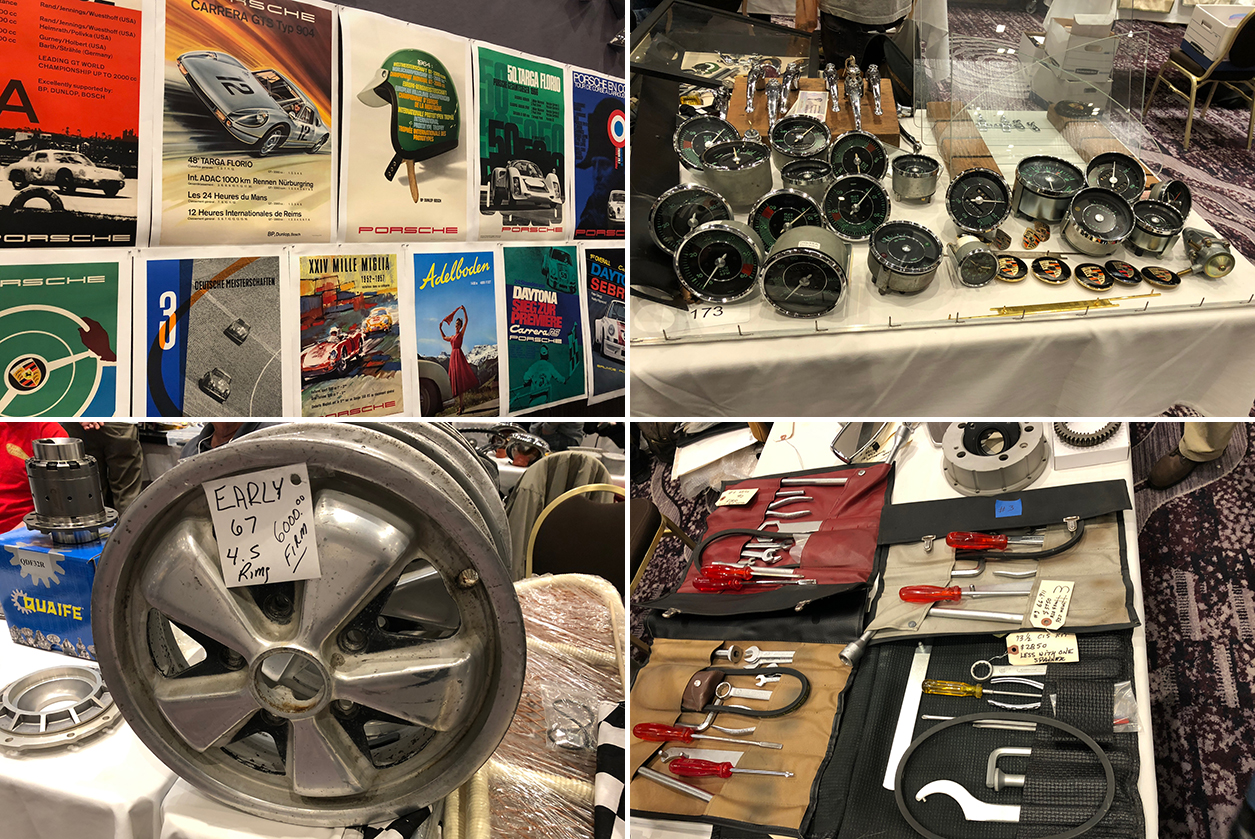 Above: The LA Lit and Toy Show was the anchor event for the weekend. Posters (top left), parts (top right), date-stamped 4.5-inch Fuchs wheels for a 1967 911S (bottom right), and, of course, tool kits (bottom right).
After we finished scouring the vendor booths, we weren't going to sit down just yet… Porsche of South Bay was throwing a bash just down the road, with live music, VIP Porsche owner parking, and plenty of authentic German fare. The event didn't disappoint, featuring eye candy such as a Riviera Blue 918 Spyder, a Rubystone Red 964 Turbo, and a 993-based RUF Turbo R. After gorging ourselves on apfelkuchen we headed out to visit CarparcUSA, where we found another workspace so clean we were convinced it doubled as an operating room. Owner Henk Baars and his team had the sheets pulled back all the way so we could see the cars in various states of restoration — truly amazing.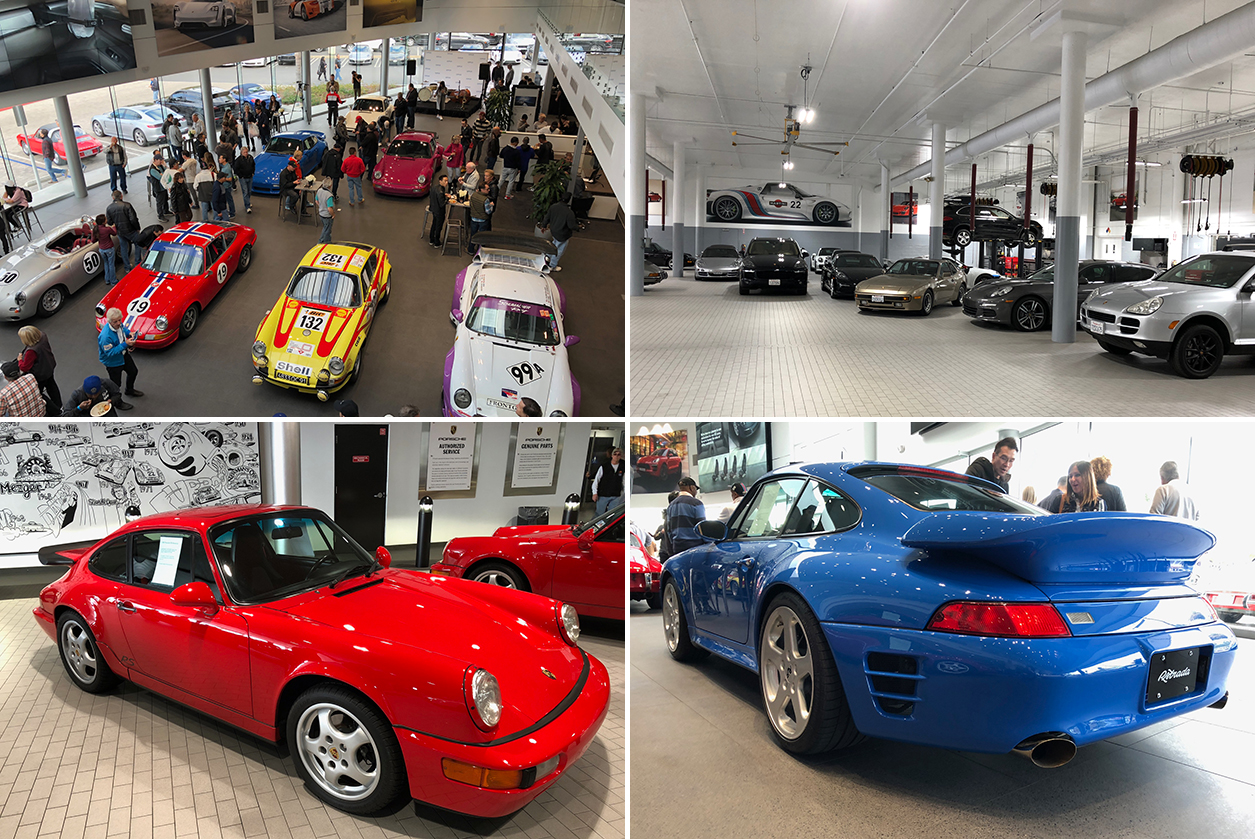 Above: Porsche of South Bay put on a party at its showroom and in the parking lot. Service bay (top right), a 964 RS America in front of artwork from Luftgekühlt IV (bottom left), and a 993-based RUF Turbo R (bottom right).
Our stomachs were growling again, so in the search for free food we drove to European Collectibles, where we weren't disappointed by either the gastronomical or automotive offerings. Who says 356 Speedsters are rare? We counted no fewer than a dozen — only in California! How about twin his-and-hers Hellgrün 1973 911 Carrera RSs? Truly amazing!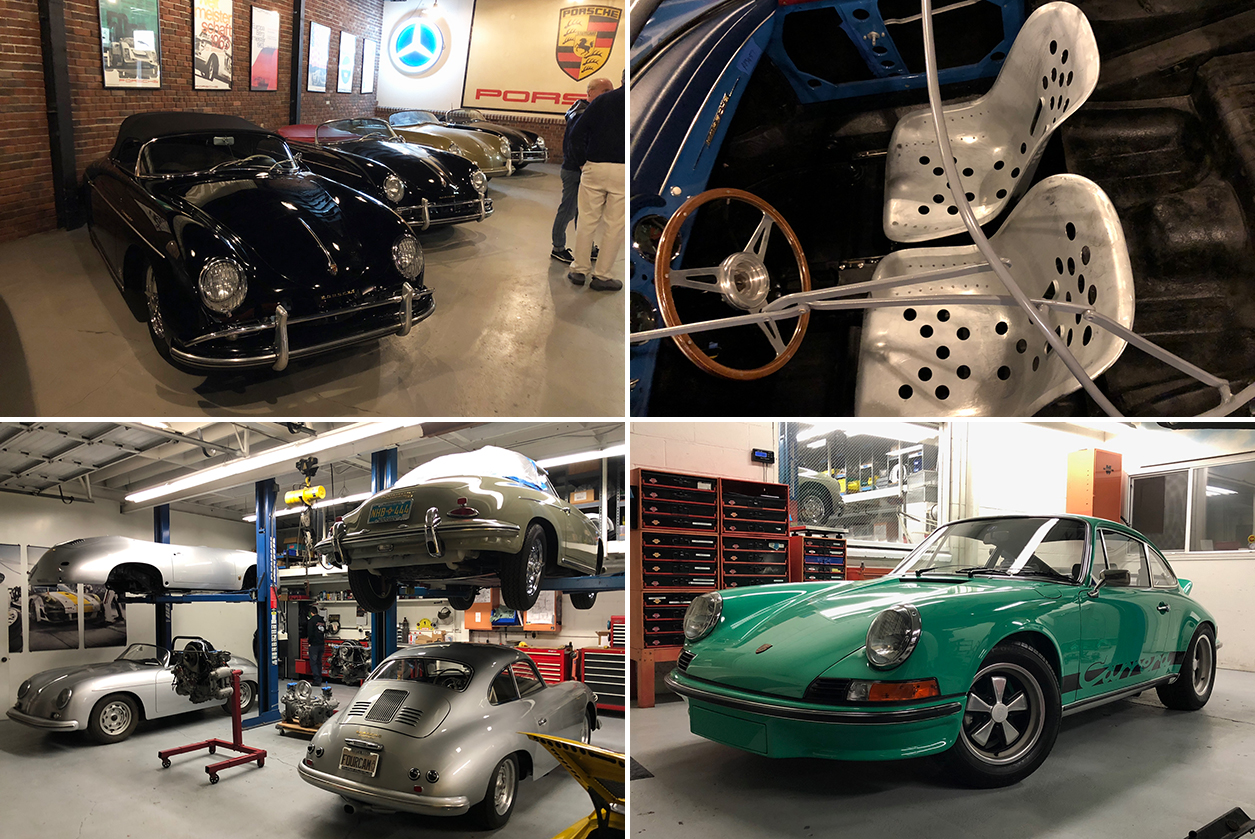 Above: European Collectibles.
With the main event over, it was off to bed to get some rest before the home stretch, the SoCal All-Porsche Swap Meet and Car Display taking place the next morning at the Phoenix Club in Anaheim. Our feet ached, our waistlines testified to our overindulgence on free food, and a definite lack of sleep had set in. The craziness started early as vendors raced to set up their displays while throngs of Porsche fans pushed and shoved to find those rare and coveted parts. A line of California-inspired hot rods, patina'd originals, and late model Porsches jockeyed for space on the show field, their owners thrilled to show off their prized possessions. As we wandered through the crowd we heard the excited conversational snippets of Porsche hunters from all over the globe.
And then it was over. We headed to the airport exhausted and trying to figure out how we could possibly carry of a pair of SSI heat exchangers onto the plane…